If you have ever thought of a simpler and quicker way to grind your spice then you might have probably wondered if you can use a food processor as a spice grinder.
While most food processors have their blades too high above the base such that the blades don't hit the bottom, there are several claims that it is not ideal for grinding spice. Do you think so? Let's find out.
Can I Use A Food Processor As A Spice Grinder
To answer your question, Yes. Food processors can be used as a spice grinder.
As a matter of fact, food processors are quite easy to use to grind spice. Using a food processor as a spice grinder can allow you to have more than one appliance being used for different purposes each.
The only reasonable complaint I have heard about using a food processor as a spice grinder is that some do not ground ingredients at the bottom of the bowl because the blades are above it.
Indeed, using a mortar and pestle is entirely fine. But a compact food processor can be a suitable replacement.
While food processors will do an excellent job, they can be easily cleaned after use, unlike mortars and pestles.
In this connection, mortar and pestle can be used for making pastes. But when it comes to moisture such as smashing lemongrass, fresh herbs and the likes, a food processor will do just as good.
There is a huge difference between a grinder and a food processor which we shall look deeper into as we progress in this article.
Grinders are, of course, the best for grinding spices because they have blunt blades which spin at high speed, designed to pulverize the spice.
In contrast, The standard blade on most food processors is thin, designed to slice through food.
Since Hard spices just bounce around in a food processor bowl while grinding, then the need to get a very good food processor is required because it will work like a grinder only when the combo unit has an interchangeable blade with a blunt edge.
Facts about using a food processor as a spice grinder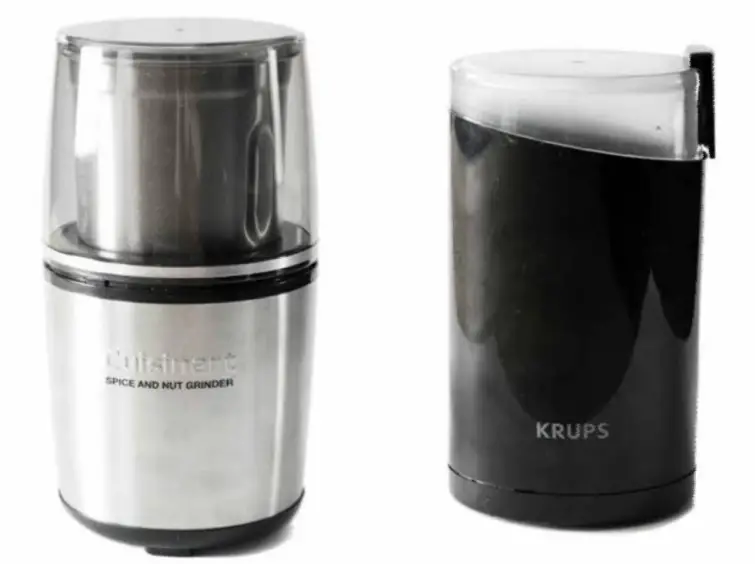 Now that you know that food processor can be used as a spice grinder. You won't want to stop there. There are some important things I need to show you concerning this subject, and some hacks too, especially the practical aspect.
I mentioned the need to buy a very good food processor if you want the best result. When you go to the market, you will come across many appliances and if you are willing to buy the best one you need to properly go through each one.
In every home, there is always a need to get different electrical appliances, especially in the kitchen, and when it comes to grinding spices, a food processor should be topping the list.
Although a grinder is among the necessary appliances you will need in your kitchen, having a powerful and compact food processor could fill in the vacuum.
Since a food processor can replace a spice grinder in our kitchen, I'm pretty sure it will be no one's choice to pay for a cheap grinder that does not offer comfort.
So, if you've got a food processor in your kitchen do not waste your precious time wondering if it can be used to grind your spice since you don't have a spice grinder. You can easily Grind Spices In Food Processor.
Let us quickly examine the major difference between a food processor and a grinder so that we know what results to expect from using the two and why.
We shall also look into other possible approaches to grinding spice in our kitchen as well as a good food processor for grinding spice.
Difference between a food processor and a grinder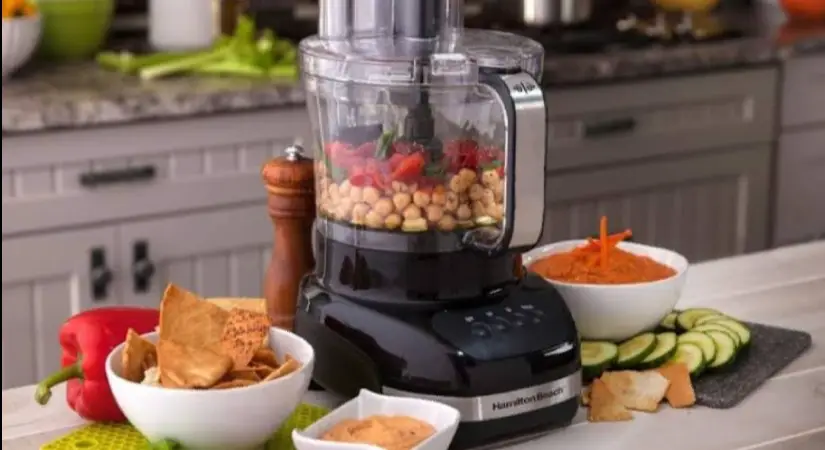 If you are not familiar with the usage of grinder and the usage of food processors, then you will find something new here.
There is a difference between a spice grinder and a food processor. The first thing that comes to most people's mind when they are asked about what mixer they would buy is either a food processor or a mixer grinder.
This leaves most people confused and makes them make the wrong choice of buying something else.
We are going to look into some simple points that clarify the differences between a grinder and food processor and how the latter can be used as a spice grinder.
These points will also help you to make the right choice when it comes to choosing products to buy in the market.
The texture of processed food
You must have noticed that the result of texture from the processed food when you use a food processor is quite different from when you use a grinder.
So, when thinking of whether a food processor can be used as a spice grinder, remember that there will be a difference in processed food.
While some people will advise to not use food processors as grinders, they can be interchangeable depending on the amount and type of spice you want to process.
The final result of each appliance
It is the final result of food processing that shows the primary difference between a grinder and food processor
Just like the name defines, a grinder is ideal for cutting, mashing and crushing ingredients and spices. Based on how it has been constructed, it will give you a fine product without clear particles.
A food processor, on the other hand, is recommended for chopping, grating, shredding, slicing, and so on.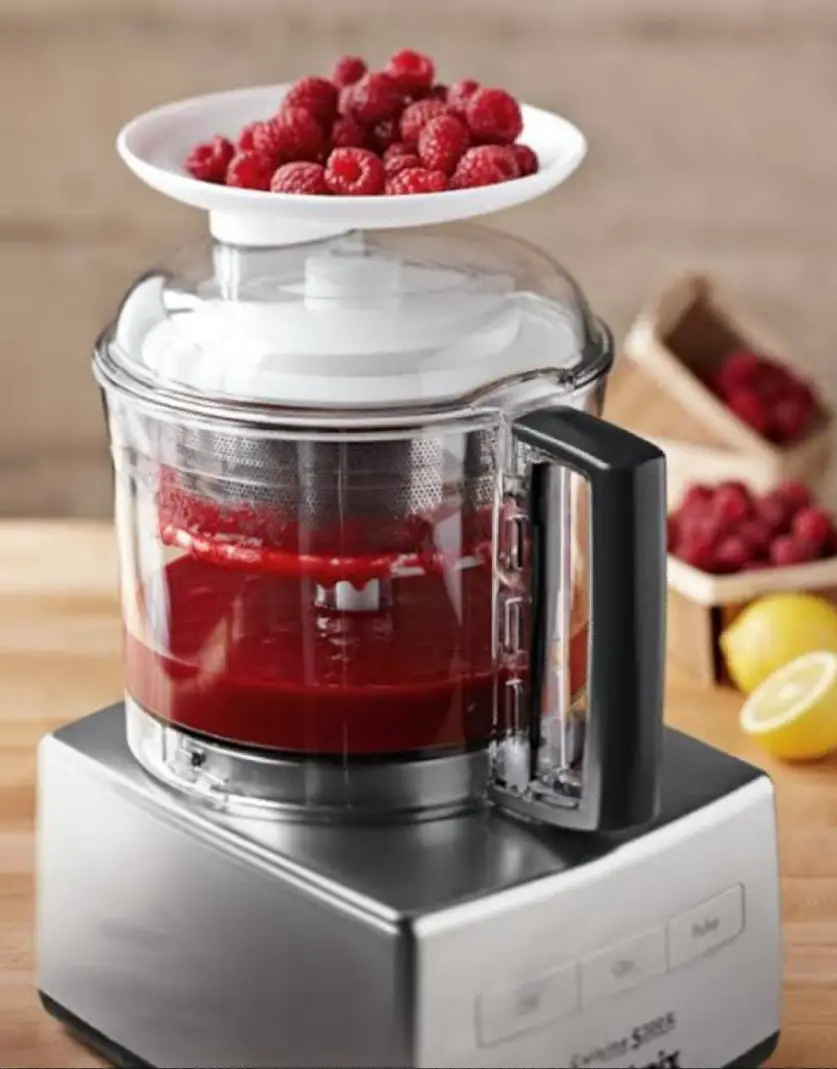 Different product for different food needs
The way you handle and control a food processor is obviously different from how you do to a grinder. This speaks more about their speciality when it comes to some particular spice.
When making items like pastes, patties, spreads, grinding grains, beans or herbs, grinders are very required.
But when you want to make a stuffing, shred (cheese) or mash, then a food processor is ideal.
So you can see that one of the difference is the specifications on different food needs and what is required to process them efficiently
Dissimilarity in technology and style
There is a unique way in which each of these products, that is, a grinder and a food processor, have been designed to cut spice such that they give an entirely different type of end product. (not entirely though).
To this end, it can be seduced that, apart from their external structure, both devices have been formulated to function differently.
The dominant difference is the design of their blades. Most grinders have been made to have a hopper which will bring in food into the blades.
The only similarities that we may need to link from grinders to food processors are that they both have additional parts to sort and filter food.
But when it comes to food processors, they are made with a stationery pump that rotates or simply put, pump-based blades.
Hence, these using most food processors will require you to direct how the food goes into the blades, letting them fall into the actual processor container where these spices are processed.
You will need to play with the crank in food processors when they are made with rotating blades. These crank, when turned on, will make the crank mechanism inside the lid start to work. Hence, the container begins to turn during the process
While there are some important differences to note between a grinder and food processor, they can be suitable substitutes for each other in terms of grinding spices.
I really do hope that this explanation has been able to further clear the air as to whether food processors can be used as a spice grinder.
But what if you do not have any of these two appliances. Are there other suggested approaches to grind spice efficiently?
Other ideal ways to grind spice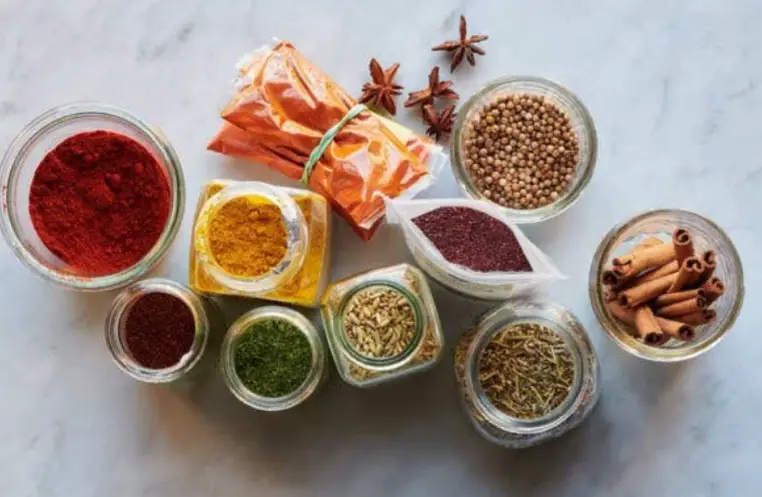 There are always two ways to kill a rat. While a food processor can be used as a spice grinder, a creative cook may be in the position that requires improvisation.
Spices have a significant contribution to the nutrition of our meals. And breaking them down into fine particles in the simplest form requires the use of a good tool or technique.
Just like other appliances we use in the kitchen, the tool that can be used as a spice grinder should be simple and easy to use.
Apart from a portable food processor, here are other recommendations of appliances that can be used for spice.
Other appliances that can be used as a spice grinder
Coffee Grinder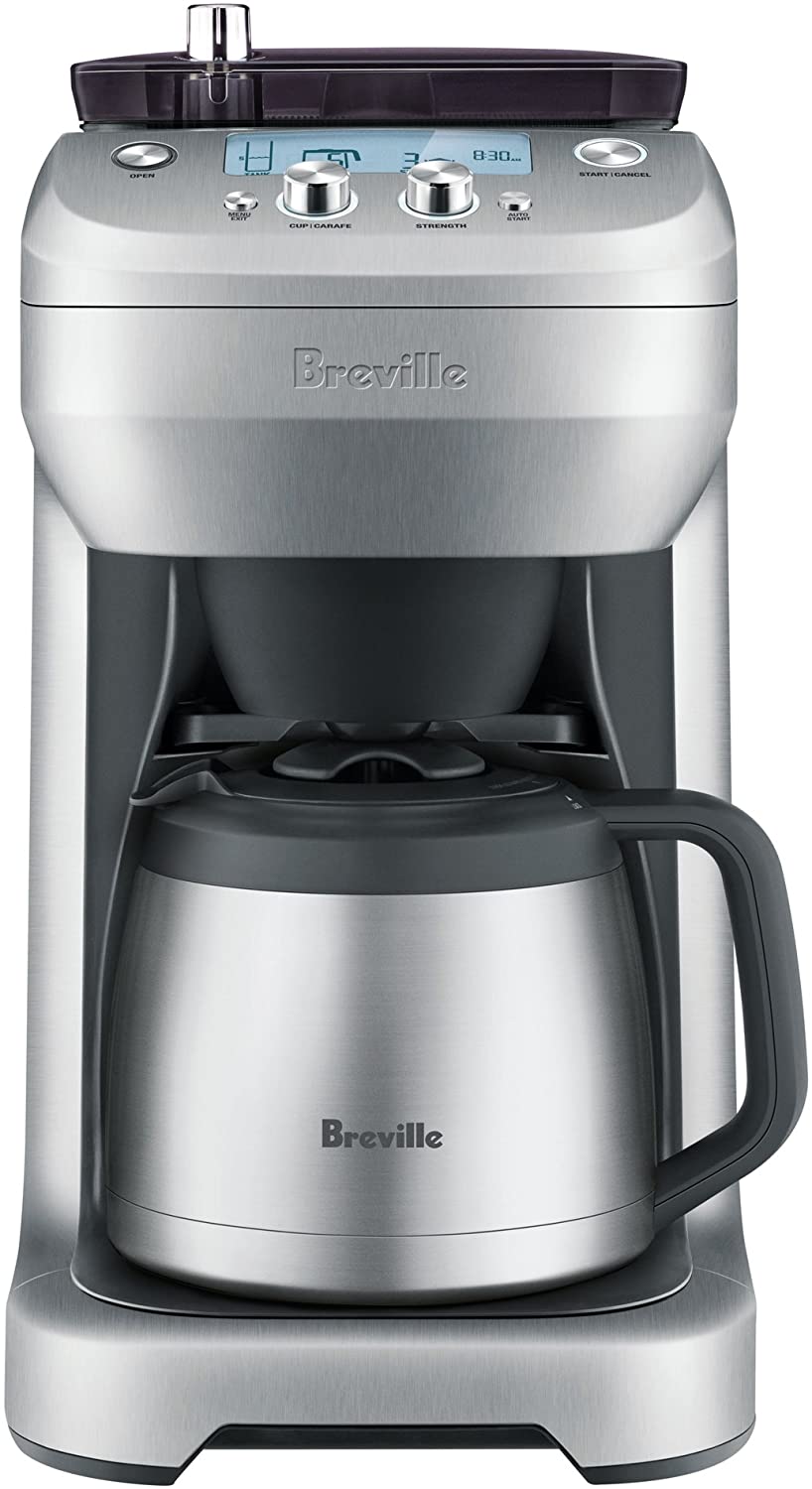 You can choose to purchase an affordable coffee grinder and dedicate it for grinding your spice alone. This is recommended especially when you do a lot of cooking.
When it comes to pulverizing large amounts of spices, a coffee grinder is also ideal. For example, cinnamon will shred under a pestle however hard you munch.
One of the reasons why people may not use a coffee grinder to grind spice is because of how difficult it may be to clean after use. But there are ways it can be cleaned efficiently.
Depending on the amount or type of spice you use it for, using a stiff-bristled pastry brush will definitely remove residue.
You should know how risky it is to leave the grinder plugged while cleaning. Please avoid it.
If you want to deeply remove stuck particles and oil residues,  pulse 1/4 cup of rice through and discard rice into the grinder.
Mortar & Pestle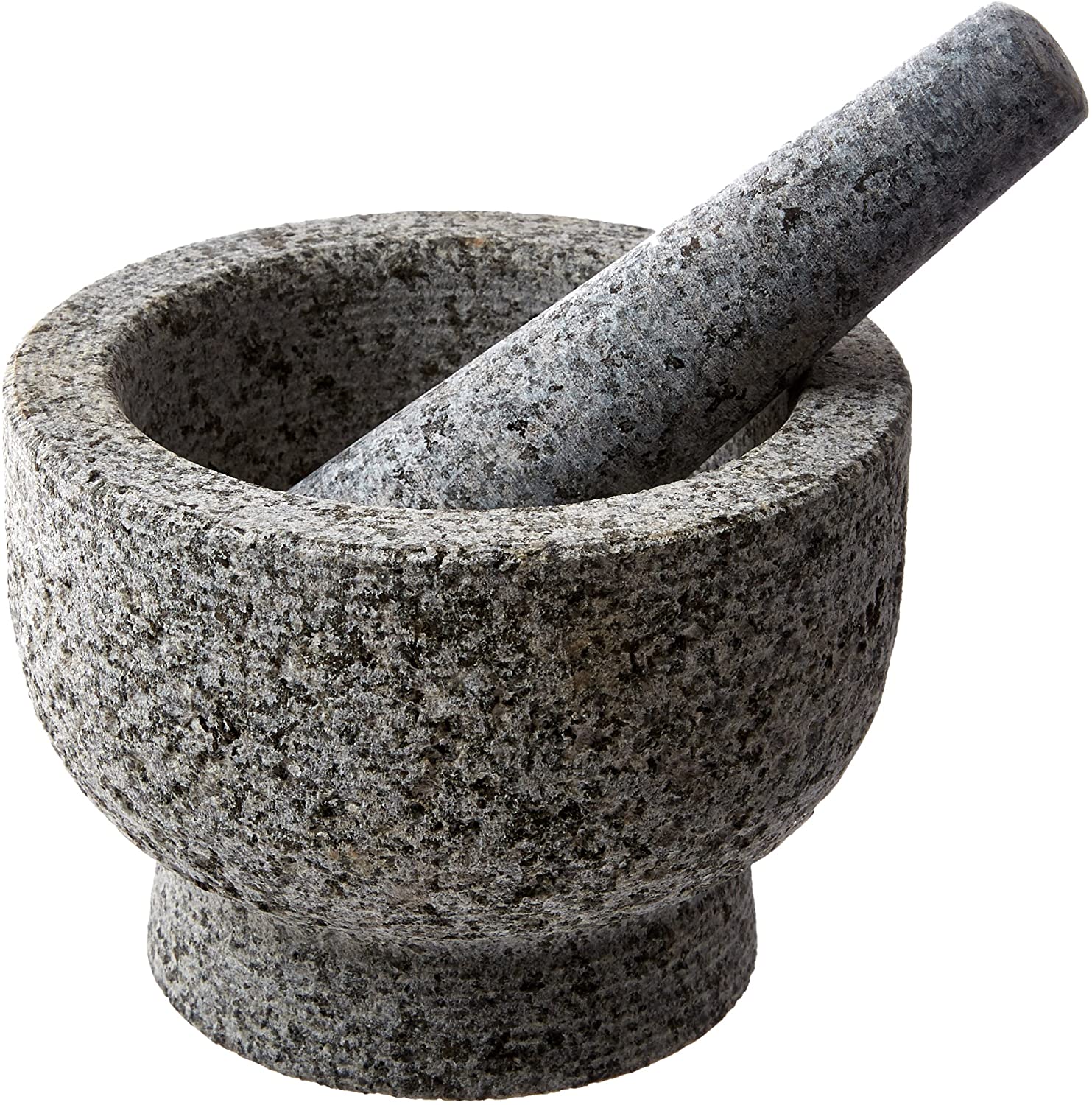 I'm sure the majority of the people who love using hand to pulverized spice will go for nothing but mortar and pestle. It can be a very exciting process to watch spice go into small particles with the works of your hand on a hammer-like pestle.
Just like kneading a beard with a hand, using mortar and pestle for grinding spice brings about some satisfaction.
The only thing to frown at is how daunting the cleaning process may be. You don't want the smell and residue of the previously ground spice to affect the next.
However, when it comes to bruising herbs, and for a more serious spice grinding, however, you will want to use a mortar and pestle.
While they give you instant results, you can satisfactorily monitor how smooth you want your spice to be ground just as you'd do when they are in those food processor bowls.
For crushing small amounts of spices,  for pestos, curry pastes, or sauces like the Mojo, the mortar is taking a firm option.
Microplane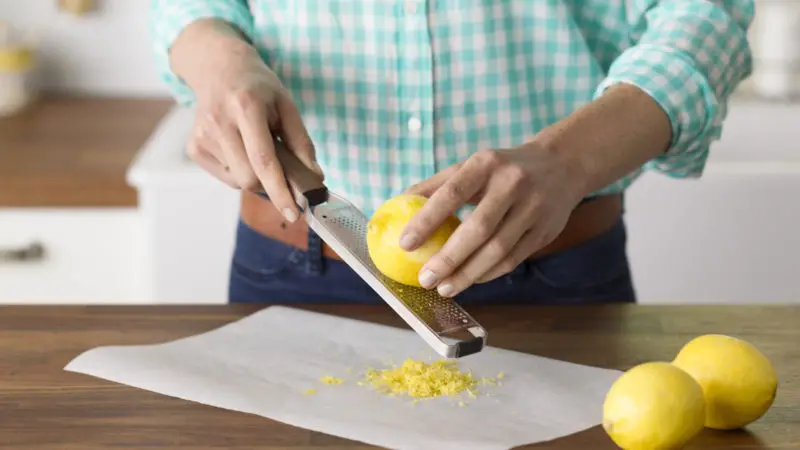 Lastly, Microplane can be used to grind large nuts such as nutmeg, tonka bean and some types of cinnamon or cassia.
It is a handy tool that will work just like a spice grinder. I will recommend this for culinary beginners as it is easy to use, clean and maintain.
You can also use a Microplane for grating ginger, garlic, chocolate, citrus rind and many other spices and herbs.
Wrapping up
When it comes to using a food processor as a spice grinder, it is always advised to get the best product of it so that it will give you that perfect grind that you want. I began to do some deep research into appliances of such.
I came across the KitchenAid 16-Cup Food Processor. It may sound familiar to you because this is a popular brand in the culinary industry that has helped many cookers with their quality products.
KitchenAid 16-Cup Food Processor for grinding spices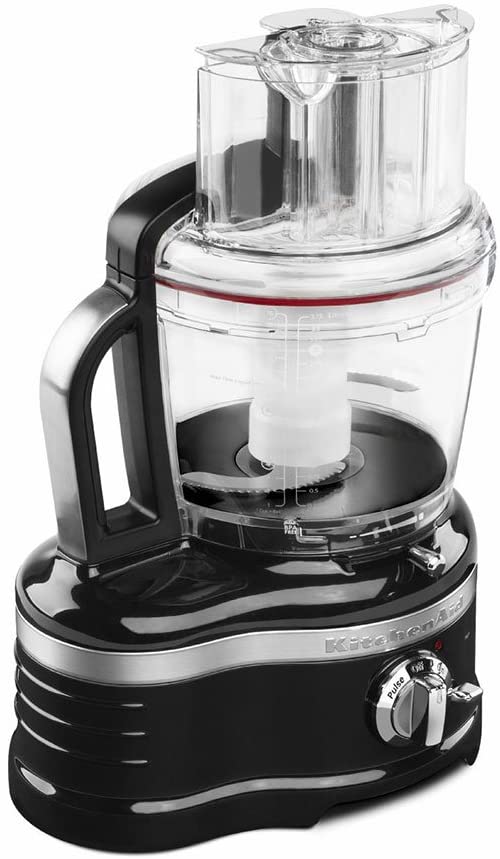 It can be used perfectly for grinding spices because it Slices and then dices soft and hard fruits and vegetables
The appliance includes a 16-cup work bowl, 10-cup work bowl, 4-cup work bowl with a multipurpose blade, dicing kit, adjustable slicing disc, reversible shredding disc, multipurpose blade, dough blade, spatula and of course, a storage case.
It beats the use of grinders because of its optimized speeds, and an externally adjustable lever.
Are you interested in buying it?
Just in case you have tried using a food processor to grind your spice before, let us know how the process went for you in the comments.