Many people have over time asked the question, can I use a food blender instead of a food processor to make pesto? If you are reading this article right now then it means you are in the category of people who are eager to find out whether they can use their food blenders to make pesto instead of doing so with their food processor.
Well, there is a reason most people will want to try out their food blender capability in making pesto, it could be that they couldn't get hold of their food processor and they want to compromise by using their blenders to do the job.
It can also be because you hate to pull out your food processor when making a homemade sauce as simple as pesto, Yeah! A lot of people are lazy cooks.
So, can you use a blender instead of a food processor to make pesto? Yes, absolutely, you can. Blenders are multi-purpose enough to ground your pesto to paste. So, you can use your blender to make pesto. You should, however, note that using a blender instead of a food processor for pesto can further smoothen your ingredients completely into a blend than necessary.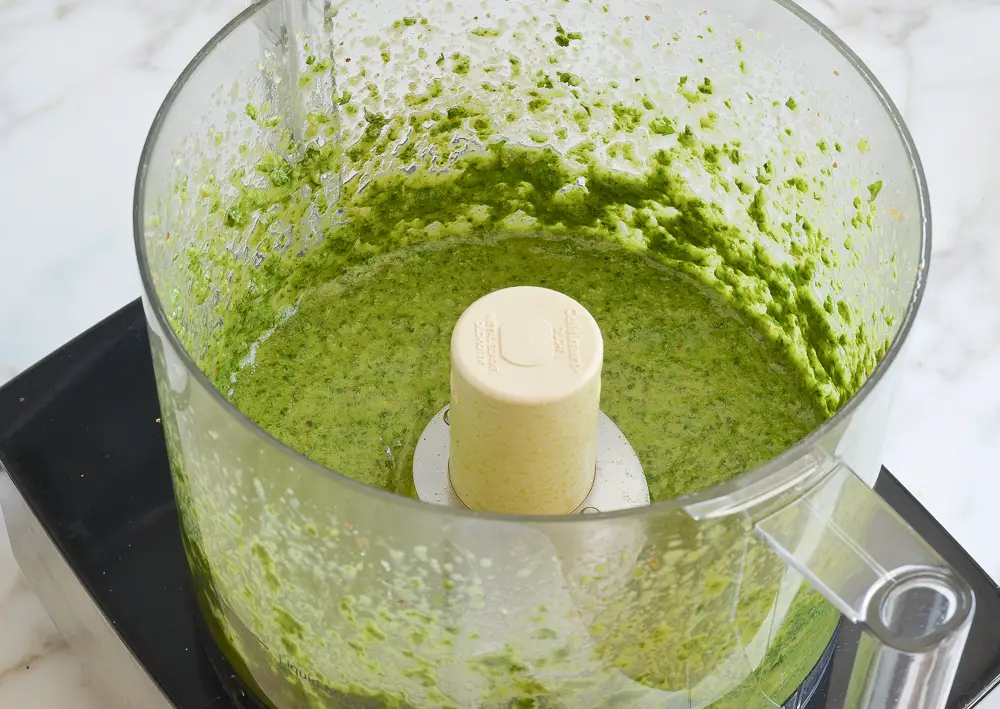 So, it is important to regulate or time your blender when you want to make it blend your pesto so that you don't have puree on your hands instead of your regular puree paste.
Before you add your pesto into the blender, be sure to add enough liquid into the blender. This will get the blades up and working enough for it to blend the pesto. If not, the leaves will just be struggling in the blender canister. The blades may necessarily not get to the leaves enough to blend them.
You should also consider the amount of pesto you will blend in relation to the size of your blender. A bigger blender will have enough surface area to blend your smaller pesto to paste. Don't you think?
You should read: Best Mortar And Pestle For Making Pesto
How to make pesto using a blender instead of a processor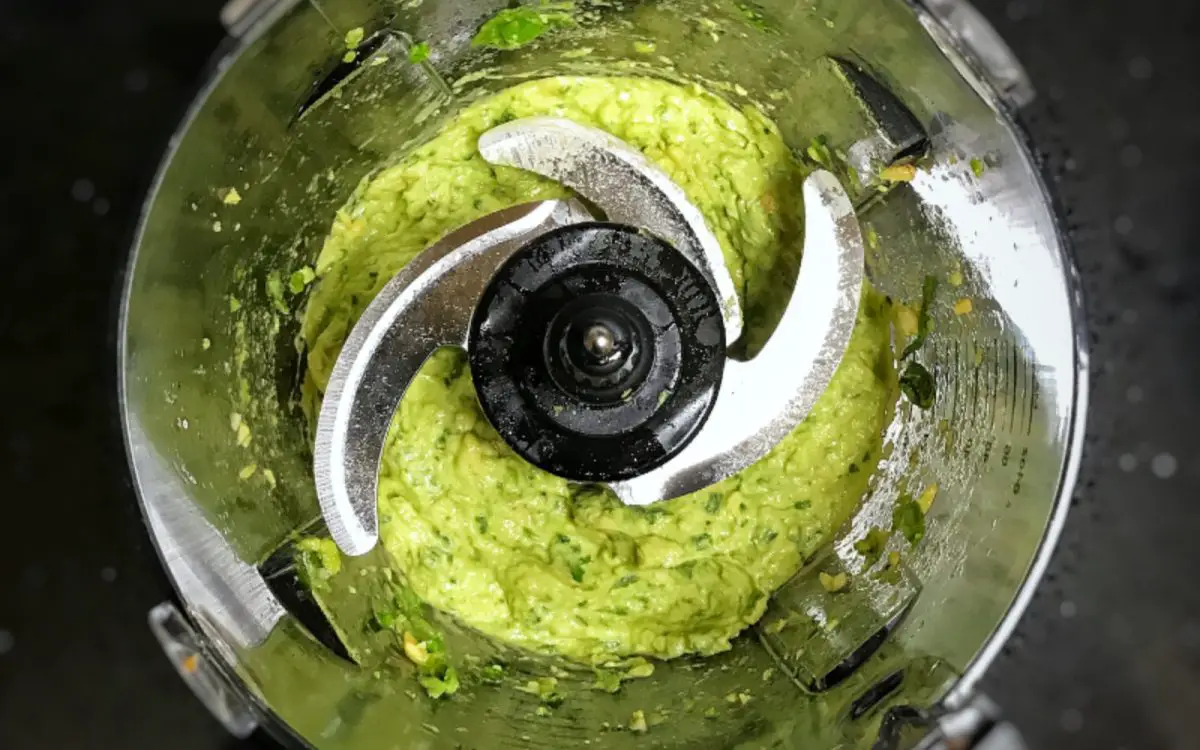 Like I mentioned earlier, you can use your blender to make pesto when you do not have access to a food processor this will save you the time you would have consumed while searching for a food processor.
When you are using your food blender to make pesto, it is important that you follow the simple guidelines I will be listing below as it will enable you to make the maximum use of the blender in making your pesto.
Guidelines for making pesto with a blender
Put your basil, palm nuts, parmesan cheese, lemon and salt into a blender
Let the blender be on the pause mode while you slowly and gently pour in your olive oil.
Put on the blender and blend the ingredients for about 30 minutes until all perfectly combine to make a paste.
There are other ingredients you can add to your homemade pesto and they include garlic, spinach, garlic and sun-dried tomatoes.
Why Use A Blender to Make Pesto?
There are so many reasons why you may want to use your food blender to make pesto. It could be that your food processor is not anywhere close at the time and you find it extremely tiring to start pulling it out.
It may also be because food blender is the only thing available and yes you want to enjoy your home-made pesto while compromising on the use of a blender instead of a food processor.
Advantages of Using A Blender Instead Of A Food Processor for Making Pesto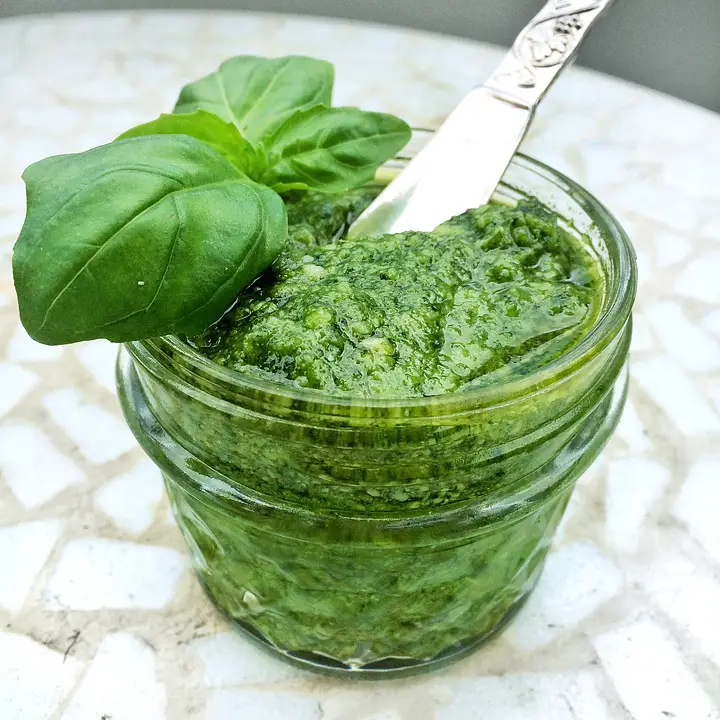 Even when they have access to their food processor most people still prefer to use the blender instead of a food processor. There is a reason why people like using their blender to make pesto even when their food processor is staring them on the face to be used.
One of the major advantages of using a blender for making pesto instead of a food processor is that even while the food processor speeds up the process of making pesto the ingredients tend to bounce around and fly onto the sides of the bowl of the food processor and this will definitely lead to an inconsistent texture after the pesto is made.
The blender, on the other hand, has an advantage over the food processor because its shape that is tapered allows the ingredients to be drawn to the blade where they get pureed more smoothly and evenly, but on that note, you will help speed up the process by using a spatula to move the ingredients around while periodically stopping the motor.
Most people who use the blender for making their pesto have made some revelations that the blender is really good at being used to make a smooth pesto all the time.
So if you have been struggling with your food processor trying to get a perfect and smooth pesto with it, is it not time you consider getting a blender instead at least it will complement the food processor you have and even enable you to enjoy a smooth pesto each time you make it.
Why Get A Blender?
If you don't have a blender already for making your pesto it is time to get yourself one or you have been struggling to make pesto using your food processor but not getting it right all the time, then you need to get a food blender instead.
A blender will give you all you need to make perfect and smooth pesto, so if you don't have one yet and you are a lover of pesto then you definitely need to get one for yourself.
One of the major difficulties people encounter when trying to get new equipment for the home is being confused about the right equipment to buy.
When you are confused on the right choices to make when it comes to home appliances, is it not better you ask people who have bought similar items before for recommendations?
YES, that is the best thing to do so if you have decided to get yourself a blender for making smooth and perfect pesto then I will be recommending some really good blenders out there in the market that can help you achieve your desire to make a smooth pesto always as well as offer you value for every penny spent on it.
If you are ready, I will be making the recommendations of the best blenders available in the market that have popular demands because of its top specifications and features.
Just keep a tab on this screen and continue scrolling while I list them out for you to make your choices of the best one you want to choose.
The Best blender I will be recommending for you if you want to make a smooth pesto is right below is the Vitamix E310 Explorian Blender, Professional-Grade.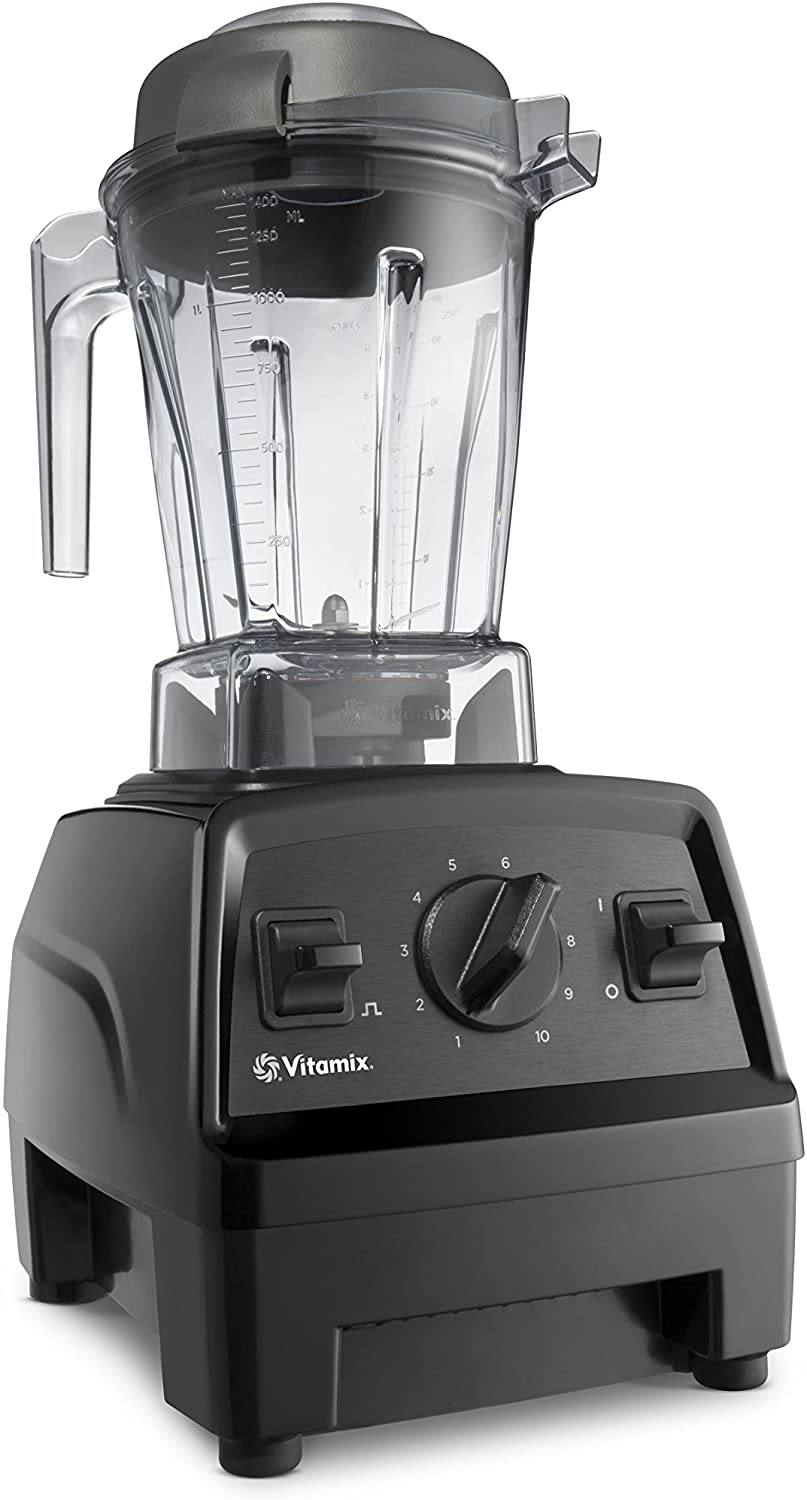 The Vitamix Explorian blender is a professional grade blender that will grace your kitchen with a high level of professionalism and give you the maximum blending experience.
The blender has variable speed control which allows you to refine every texture with a high level of culinary precision from the smoothest purees, pestos to the hottest soups. The Vitamix Explorian series also comes with intuitive controls, exhilarating power and durability that will forever change the way you prepare your meals.
The blender has a 48-ounce container which is the perfect size for creating small family meals easily under most kitchen cabinets. It also comes with a  specially designed tamper design to help process thick, stubborn blends so you wouldn't have to stop the machine to scrape the sides.
The blender has a self-clean feature which allows you to just blend warm water and a drop of dish soap at your machine's highest speed and watch it self-clean in 60 seconds- there is no disassembly required to do this.
Features
The features of the Vitamix Explorian blender that makes it stand out among equals include;
The blender blades reach speeds fast enough to create friction heat bringing cold ingredients to steaming hot in about six minutes
The blender blades stainless steel laser-cut blades that are designed to deliver same quality results from the first blend to the last and are resistant to dulling or bending
The high-performance motor helps to blend frozen fruits, heavy powder, all the greens- and the powerful motors transform tough ingredients into smooth blends year after year
Every angle of the patented container precise design is designed to fold ingredients back to the blades for faster smoother blends- while creating the Vitamix vortex.
Pros
The self-cleaning features allow the blender to clean itself properly just with a drop of dish soap and warm water in just 60 seconds
The 48-ounce container is ideal for blending medium batches for small family meals
The hardened stainless steel blades allow the blender to handle even the toughest ingredients and give you the same result from first blend to the last
The blender has a radial cooling fan and thermal protection system.
The varied speed control allows you to refine every texture with culinary precision.
Cons
The features of the blender above make it extremely efficient for making your pesto instead of struggling with your food processor all the time you can easily use your blender to just do the task more easily, efficient and faster.
Do you find the features of the blender quite enticing? And would want to have it in your kitchen? Then just,
CHECK THE PRICE  HERE and simply place your order to have this perfect blender grace your kitchen of all places.
I am pretty, you already got the answers to your question, can I use a blender instead of a food processor to make pesto? Because I have explained quite enough to get you an answer to that question.
If you still have more questions about using a blender instead of a food processor to make pesto then do not hesitate to drop your questions in the comment box and we will provide the answers.