Well, it depends on what food prep task you would be performing. Therefore, my stance would be on both sides at the same time – YES and NO (in certain cases).
A Food Processor chops, blends, purees, crushes, grates, grinds, etc, while a Mixer on the other hand as the name suggests, mixes. Looking at it generally, the two appliances (Food Processor and Mixer) seem to be completely interchangeable except for few cases.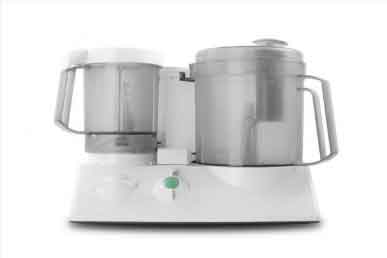 If you do not have a Mixer but a Food Processor, the Food Processor would help you do the mixing job, provided that it comes with a mixing blade; however, there is a limit to what you would mix with a Food Processor.
This is because a Food Processor exerts a whole lot of power when in operation compared to a Mixer itself, causing it to over mix which would eventually ruin your cake, quick bread, cupcakes, etc. (due to over mixing).
However, a Food Processor would easily and excellently help you mix pie dough, tart dough, shortbread dough, etc.
By and large, what you intend to make is what determines if you can use a Food Processor as Mixer. You should however note that if you are fully into baking, a Food Processor apparently won't fully replace a Mixer as you'd always require a Mixer at some point, especially when you would be baking in large quantities.
How can a food processor be used as a mixer?
Really, each of these two appliances have their particular uses; this suggests that using them interchangeably won't give you the best of results.
While some schools of thought may claim that you do not need a food processor at all once you have a heavy-duty mixer and a chef's knife except for pureeing, other schools of thought claim otherwise.
To use a food processor as a mixer, the most important step to take is to install the mixing blades. Once this is installed you can then go ahead to mix with your food processor.
Meanwhile, you should bear in mind that when mixing with a food processor, you should be quantity conscious as you cannot fill up the food processor. Ergo, if you have a large quantity to make, it will be preferable that you do the mixing in a bit. It will pay off that way.
In what situations will you then use a Food Processor as Mixer?
The first reason one will resort to using a Food processor as a mixer is that they do not have the latter (a Mixer) and thus will decide to make do with what they have.
While they could have purchased a Mixer to help do their mixings, they are perhaps restrained by their budget, thereby, causing them to replace it with a Food Processor which they already have readily available.
At this, a Food processor would be used as Mixer; this however does not make a Food processor the perfect appliance for mixing.
As earlier mentioned, you would only use a Food Processor as a Mixer when you have installed the mixing blades. If you do not have the mixing blades, do not then use your food processor to mix as this will eventually ruin the whole thing (they do very poor mixing jobs without the mixing blades).
In what situations can you use a food processor as a cake mixer?
To make cakes you either require a hand mixer or a stand mixer or even both. A hand mixer is a handheld mixer as its name suggests, and is most times used for beating eggs, frosting, etc.
However, not all hand mixers could be used in mixing dough for cakes; this is because most of them have small motor power.
On the other hand, a Stand mixer mixes dough and pastries; it also does everything a hand mixer does, making it a top choice in the market.
In what situation do you then use a food processor as a cake mixer?
You'd use a food processor as a cake mixer when you do not have a cake mixer within your reach.
Of course, you won't suddenly decide to make use of a food processor for mixing cake when you have a cake mixer.
Hence, it is the lack of a cake mixer and the inability to get one that makes you opt for what you already have – a Food Processor.
You may even own a cake mixer and decide to make use of it but discover that it has backed off (in rare cases though; it doesn't just decide to back off).
What do you do then when you have all your ingredients set and you're all geared up to commence the whole process? If you have a Food Processor it will be a quick run to.
What about when you only need to make a very small quantity of cake? Instead of making use of your cake mixer (which may be unable to mix such a small quantity of dough for your cake), you could readily make use of your food processor, although the whole process may be slower compared to when you are making use of a cake mixer.
In what situations can you use a food processor as a stand mixer?
A food processor can only do a fair bit of what a stand mixer would do.
First off, one would have to take into consideration, what food prep task they will be doing and which of the two culinary tools would best suit the task because they are interchangeable for only a few things which means you need to own each of both appliances if you're an avid chef.
Practically, you wouldn't use a food processor as a stand mixer in all situations. I mean, a Food Processor wouldn't always replace a stand mixer.
However, here are a few instances of when you could replace a stand mixer with a Food Processor;
Whisking, Kneading & Mixing: While these are the main functions of a stand mixer, you could possibly use a Food Processor to achieve them if and only if you have installed an accessory to achieve that (a mixing blade when you need to mix).
However, it is important to note that the dough will be kneaded less thoroughly than with a stand mixer. Also, you would not be able to bake large cakes because the mixing bowl is usually smaller, although slightly.
Mashing: Both appliances are suitable for occasional mashing, provided that you have installed an accessory that will help you achieve that. Hence, if you do not have a stand mixer and you intend mashing, your food processor could fill in.
Making thick and thin juices: As commonly known, a food processor isn't really suitable for liquid. Therefore, in a case where you do not have a stand mixer or a juicer attachment within your reach, you could turn to your food processor to make thick and thin juices off it, even smoothies.
Do I need a mixer if I have a food processor?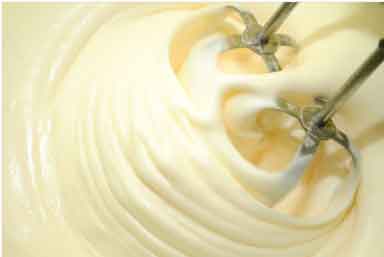 Straight to the point! If you're a full-time baker, YES! You of course need a Mixer, not minding the fact that you have a Food Processor.
Take a look at this situation; while a food processor could help you mix with the aid of a mixing blade, the result may not be as consistent or as perfect.
At this, your customers may not be comfortable with what you've sold to them, and thus, you have them complaining about the job you've done.
This only causes you to lose your credibility as a Baker, and I trust you know the implication of this on you and on your business!
On the other hand, if you would be mixing dough for home use, you could still make do with your food processor; of course, a Food Processor makes dough as food processors due to the different blades they come with that allows them that versatility.
Just ensure that you are doing it the right way. See the other parts of this article for more information on this.
PS: The fact that it is for home consumption should not restrict you from getting a mixer.
If you're buoyant, you could purchase one as there is a stark difference in the results you'd be getting from using both appliances. This is not me watering down the ability of a Food processor, but me dishing out facts.
Do I need a Food Processor if I have a Mixer?
As I mentioned early on, I'll reiterate; it solely depends on what food prep task you intend to perform. I wouldn't recommend that you purchase a Food processor if I do not know what culinary task you want to perform; what if you never need to make use of a Food Processor?
This means that if all you intend to do is mix, then you do not need a food processor since you already have a mixer. Meanwhile, modern-day mixers called mixer grinders have become so efficient that you no longer have to invest in food processors anymore.
This is because they combine both the specialties of food processors and mixer grinders. On the flip side, you may be thinking that you could use a mixer to perform certain tasks meant to be done by a food processor.
Well, it is important to note that a Food Processor helps you to chop, blend, puree, crush, grate, etc., some of which a Mixer may not do because apparently, it does not have to ability to.
What this does is that it draws our attention to the functions peculiar to both appliances. You may hence, need to keep both appliances to perform the various functions they are meant for.
Overall, it makes quite a lot more sense to replace a food processor with a mixer than the other way around. This is because as I've just established, modern-day mixers can now grind, chop, pulse, and slice vegetables as well.
They also come with different programmed speeds. But if you had a food processor, you may still need to purchase a blender and a mixer. See the magic?
In the midst of all these, you also have an assignment. Should you have to purchase a mixer grinder, your assignment is to go online; most preferably, Amazon.com, check out all of the different brands and models available, look out for their features; wattage, component parts, warranty, ratings and reviews by buyers before finally hitting the purchase button.
However, if you're hurriedly in search of a food processor you could use a mixer, here are a few recommendations from me. I've tried them out and seen they are effective.
Great food processors that can act as mixers
KitchenAid KFP1466CU
This KitchenAid Food Processor is made of Polycarbonate and is colored "Contour Silver". It chops, slices, grates, mixes, purees, kneads, whisks, whips, and blends; I do not need to get another appliance for whisking… what more could you seek? It also has an ultra-tight seal and weighs up to 8.2 Pounds.
To mix the dough in this processor, you're simply installing the mixing blades, and then, mixing begins. It has an okay motor power of 120Vto help achieve this and is thus durable, you should however be careful in its use to avoid breakage.
The fact that you're able to do all of these with this one appliance is real value for your money. In addition, it comes with a 1-year hassle-free guaranty. Are you willing to get yours now?
Breville BFP800XL
The Breville BFP800XL is made of Stainless steel and weighs up to 26 Pounds. It comes with 3 extra blades which include a mixing blade, making it good for mixing dough.
It does have a large bowl, meaning that you can prepare a large number of cakes and bread for your whole family or even dinner party guests.
Also, it is dishwasher safe and has the perfect motor power to perform all of its functions.
While comparing, you may want to pick other brands over this; this product is however also topnotch.
Ninja BN601 Professional Plus Food Processor
This processor does virtually everything you may think of, mixing inclusive. It is as well an easy-to-use appliance with its "Auto-iQ Technology"; with just one touch, you are able to program your desired result.
Its large mixing bowl and added dough tool also make it a great culinary accessory for cake bakers, helping you with mixing just in seconds.
It weighs 9.53 Pounds and wattage of 1000 peak watts. By and large, it boasts versatility, helping you to prepare a wide variety of foods.
Cuisinart DLC-2009CHBMY
Cuisinart is one of the most trusted brands in the market today, this is because they set the standards when it comes to delivering quality products; this product isn't left out either.
For your information, it is made of Stainless Steel and weighs up to 14.5 Pounds. With its powerful motor (600 watts), this product has the capacity to slice, chop and do every other thing a food processor does, and thus, has legendary performance.
With its mixing blade, it is a perfect product for mixing if you do not have a mixer readily available. It is as well dishwasher safe. To top it all, it comes with a 3-year limited warranty.
Want it? See the link below to place an order.
Final thoughts
Making use of a Food processor as a mixer and vice versa could be a bit tasking as they were not primarily made for that purpose. A Food Processor will only help you mix if you install a mixing blade; the result will however not be as consistent or as perfect as when you use a real Mixer for it.
In this article, I was able to show you how and what to do when you need to mix but do not have a mixer, I also showed you specific situations when you should and should not use a food processor and mixer interchangeably.
Simply take a cue from all that I have said as I trust that you now know when and when not to use a Food Processor as a mixer. Winks.
I hope that you found this piece really engaging, interesting, and of course very helpful.
I'd like to know: Have you ever used a Food Processor as Mixer? If you have, what exactly did you do with it?
Do you prefer a mixer grinder to a food processor? Why is that? Your answers are needed in the comments section below. If you've got any thoughts at all to share with me, simply scroll down, I'd be awaiting you in the comments section.
Do not also forget to come back here to share your experiences with me after you followed the steps I outlined, your submission could be of great help; kindly drop them in the comments section as well.
Thanks for engaging!