Yes, you can slice ham with a mandolin. Most mandolins that people own are more ideal for slicing harder foods like vegetables, cheese instead of meat since the whole process involves doing a push and cut.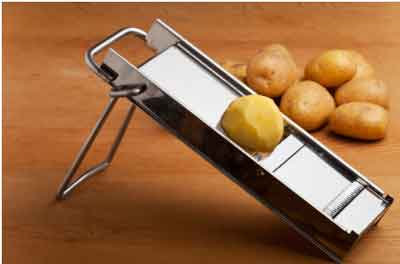 I have noticed that slicing the ham if it is not partially frozen with a mandolin will do a poor job, especially when compared to using a deli slicer.
A setback with using the mandolin to slice meat is the surface area as the mandolin is designed for veggies and not partially frozen meats.
While I have established that the mandolin can be used to cut ham as I have tried and tested it, the ham needs to be prepared accordingly and there are some tips and guidelines you need to follow to make this work. Because if not followed, it can be almost impossible to get thin meat slices the first time around.
Steps on how to slice ham with a mandolin
Step one:

Prep the mandolin
Preparing the mandolin for use depends on the type of mandolin you own, (that is French mandolin, Japanese mandolin, or v-shaped mandolin) I own one with legs and the one without.
For mandolins with legs, fold out the legs and prop the mandolin on a sturdy cutting board so it does not wobble or slip during use.
Other types of mandolins come with an attachment where the chopped food will enter while other ones are plain without legs and are very light.
The raised end of the mandolin should be closest to you to avoid uneven results.
Step 2: S

afety comes first
It is easy to cut one's self while using a mandolin. Although the majority of the mandolin comes with a handguard, I usually use a cut-resistant glove as it can be awkward with the ham and I also have more control whilst slicing the ham.
The gloves ensure that your fingers are perfectly safe even if the blades were to accidentally nick your fingers.
Step three:

Prep the ham
The ham needs to be partially frozen beforehand. This will ensure that the ham will glide smoothly over the mandolin and the slices will be even.
I noticed that if the ham was not par frozen, there would be tears and dragging and the slices will be uneven while using the mandolin.
The ham should not be completely frozen too as it will be too hard for the mandolin.
The ham should also be cleaned properly
Step four: Start

slicing
Depending on the mandolin you own, the thickness of the slice can be adjusted with a knob. The mandolin should be held steady with one hand; I use my non-dominant hand to do this.
Wearing the cut-resistant gloves, push the ham down the blades and glide it back and forth applying even pressure.
The blades will cut the slices and the size will be maintained due to the even pressure.
A mistake to avoid while slicing the ham with a mandolin is applying too much pressure. That is not necessary due to the fact that the mandolin was designed for veggies and not meat
Step five:

Clean
Once you are done slicing the ham, use it as desired and then properly clean the mandolin and store it for use next time.
Top mandolins that can slice ham
I have tested quite a handful of mandolins and while they do a good job of slicing vegetables, these are the best mandolin slicer that I have found that do amazing when used to slice ham
Pros
There are many blades included

This mandolin is sturdy
Cons
There is a lot of pieces to store
Perfection is brought to your kitchen with a Mueller mandolin slicer. It is an adjustable mandolin slicer and it has the ability to slice everything and I mean everything consistently.
Although it is a vegetable slicer, I have tested it with ham and the slices came out perfect and even. This mandolin has five ultra-sharp blades and an unlimited thickness setting which allows you to slice julienne, grate, and dice and basically make prep work easier.
The body of the Mueller mandolin has a finger hold position away from the sharp side of the blade designed to more safely remove the blades.
Make sure to also use a cut-resistant glove while slicing because the blades are very sharp and might leave you taking a trip to the hospital. 
It is made of BPA-free ABS plastic which guarantees healthy meals for you and your family. I have noticed that the non-slip base offers a firm grip while meal prepping and lets you complete all the cutting chores mess-free.
This kitchen gadget also comes with a special cleaning instrument making cleaning a breeze. This mandolin is worthwhile for every home chef.
A variety of blades are included and the adjustable knob makes it easy to get the perfect thickness. Apart from using this to sluice ham, I have used this mandolin to slice many other things
Pros
It is versatile

The blades are extremely sharp
Cons
This mandolin is one of the best I have used. It is a good product at a very decent price and the v-shaped blade is high-grade stainless steel and cuts like a charm.
This mandolin only comes with two thicknesses but that might not be a problem depending on your preference as I have noticed that while slicing, the sizes attained are okay.
If you prefer more thickness variation, you can resort to purchasing the pro version as it offers more thickness options. A cut-resistant glove is a must for this mandolin as it cannot be overemphasized as to how sharp the blades are.
Because of the extremely sharp blades, you need to be extra careful as they can cause some serious damage. This mandolin does a great job in slicing ham but it is versatile too as it is made originally to be used to slice vegetable very effectively
Some features
A safety holder which provides for safe storage

Three blades that give the alternative of slicing/ shredding food thin or thick as well as julienne cuts

The plastic is tough and ABS which makes for a long-lasting quality

Protective storage is included to house all the components when the mandolin is not in use
Pros
It is sturdy

The large grip and feet help keep it in place
Cons
The hand protector can be hard to grasp
This mandolin is awesome in creating twenty-one different cuts. The knob on the side lets you adjust the thickness of the slices by just turning it to set the position of the blades to the exact moment that you prefer.
It slices fruits and vegetables for different meals and I have used it to slice ham and it did it effectively.
The Oxo good grips mandolin also has an indicator window that lets you see every single setting from above so you can prepare like a chef without having professional knife skills or even a knife on hand.
I realized that the blade of this mandolin has an angled design instead of the usual straight one and this lets you slice soft foods even more quickly and evenly.
A spring-loaded mechanism is featured on the food holder that helps pierce the foods more easily so you do not have to put in more effort.
This mandolin in my opinion satisfies professional-grade standards and it is a worthwhile investment for anyone that loves slicing.
Some specification
Material; steel

Blade material; stainless steel

Thickness setting; 21
In conclusion
Mandolin slicers are not really versatile when it comes to slicing different types of foods and they do a better job of slicing vegetables than meat but it is still an option for slicing ham.
The mandolin offers different cuts and depending on preference the ham can cut into large, medium, or small cuts.
Generally, I have observed that using the mandolin to cut the ham into really thin slices is really effective especially if you are making a stir fry.
Another thing I will keep on emphasizing is to avoid putting your fingers near the blade whilst using the mandolin to slice your ham especially if the piece of meat you are working with is large.
When you want to purchase a mandolin slicer that would be used to cut meat, keep in mind that the size, material, and sometimes accessories do matter.
This is because the size you purchase will depend on the size of meat you usually work on while the material should be strong and the accessories like spare blades should be considered.
The mandolin is an excellent kitchen tool the can be used to slice ham but you always have to keep in mind that you would not get the same finished product as a professional meat deli slicer.