Smoothie makers have over the years argued that the best kitchen equipment for making smoothies is the blender, I guess that is where the confusion is coming from because I have had a lot of people ask, can you use a food processor as a blender for making smoothies?
Well, I have tried as much as I can to find out why a lot of people consider the blender (like this one on Amazon) the better equipment for making your smoothies.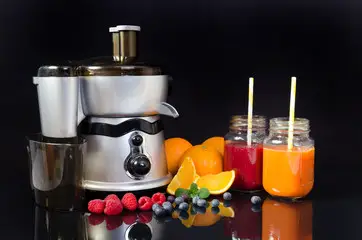 The instrument to be used at any point in time in making meals in the kitchen should be carefully selected because any mistake will result in damaging effects on the food or ingredient being prepared.
Since it has already been assumed that making smoothies is the work of the blender, we are going to critically in this article look at the possibility of making a smoothie using the food processor in place of the blender.
There are so many appliances in the kitchen that if you are not careful at first you will think that all of them could be used interchangeably to perform similar functions.
That is not the case because each appliance in the kitchen is there for a purpose and when you misuse it, you will not get the effective result you desire.
Since you are not a professional chef you may not care so much about using appliances interchangeably in the kitchen because all you need is to get the job done at least not minding how it was done.
But professional chefs are different because they need to get the job done perfectly without any errors hence they will run into loss by losing patronage.
In this article, I want to carefully look at the possibility of using a food processor to blend smoothies thereby replacing the work of smoothie blenders with a food processor.
If you are keen on finding the answer you seek then you'd like to continue reading.
Can You Use A Food Processor As A Blender For Smoothies?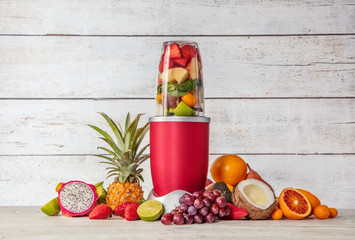 Just like I said earlier a lot of people will want to know how possible it is that they can use their food processor as a blender to blend smoothies.
The idea is not entirely wrong but we have to look at both the bright and downsides of using a food processor as a blender for smoothies.
Since you are interested in getting a very quick and short answer to your question, on whether you can use a food processor as a blender for smoothies?
Food processors are excellent for making smoothies that are not very smooth and totally blended into a slushy liquid. What is important for you to do is to ensure that your fruits are iced before putting them into the food processors. A food processor can break down your frozen fruits better and easily.
So long you take care of not loading your food processor with too many fruits, you would surely get away with using your food processor to blend your fruits into a smoothie.
Not to worry because I will take you by the hand while we explore the process of making smoothies using a food processor as compared to when you use a smoothie blender.
What Do You think A Food Processor Is?
Since the beginning of this article, I have been mentioning food processor, but it is also very important for us to note that not everybody reading this article right now knows what a food processor is or how it even looks like.
This is why I will be discussing what the food processor and what it is used for.
A food processor is a kitchen device that is mainly used for slicing, juicing, cutting and mixing of food and other ingredients.
It is an electronic device that seems to have many similarities with the blender but there is a striking difference between them which we shall discuss later in this article.
The food processor makes the process of food preservation easy and simple by saving the user lots of time and energy.
The different blades present in the food processor makes the process of chopping, dicing, grinding and grating easy and faster.
How Does the food processor Work?
The food processor (like this one on Amazon) is an electronic device which helps in the kitchen and used for cutting, grinding and shredding and it simply makes food preparation easier and faster.
The various components of the food processor like the motor, the blade, lid and bowl are the features that enable it to function properly.
The motor is the base of the food processor which electronically powers the food processor, the blade is responsible for cutting, slicing, grating or chopping as the case may be.
It is made with stainless steel, the bowl is the part of the food processor where the ingredients are poured in while the lid is used to cover the food processor itself during operation.
Some food processors are much more multi-functional when compared to other food processors because they are able to perform multiple functions.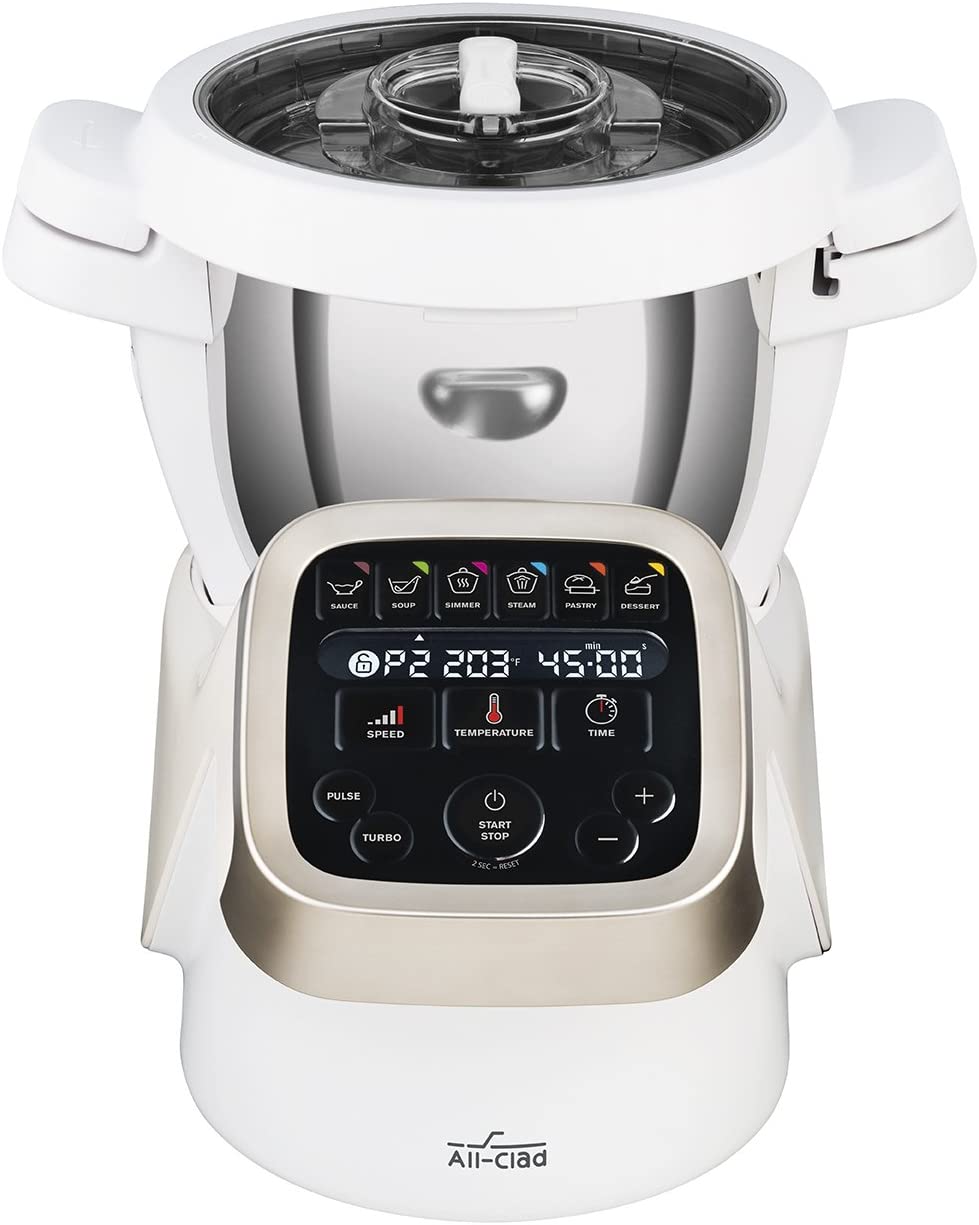 Just like a processor I bought a few years back, the machine was very multi-functional I could basically do almost everything with it.
Remember how I went to do window shopping and mistakenly came in contact with this food processor, I decided to make that purchase and it is one of my best decisions ever.
The all-clad HP503152 Food processor was everything I wanted in a food processor, it slow cooks, steams, fries, mixes, Stirs, Kneads, whips, crushes, chops nuts and more.
You can see that this processor is indeed a multi-functional food processor that you can even use to make your most loved smoothie.
The digital push-button control panel ensures intuitive to. The food processor also has large handles for securing bowl in place and easy lifting.
There are 6 automatic programs that provide foolproof results for a wide range of favourites.
The best aspect of this food processor is that the time, temperature and speed settings are adjustable.
The adjustable speed settings allow for greater control when experimenting or preparing different dishes.
The features of this food processor are what makes it great for meal preparation because it will let you do basically almost everything.
I was even able to use it to make my most favourite smoothie and it came out really nice and delicious.
You know you can own this food processor too right?
Check out our trending topics
Uses Of A Food Processor
The food processor is used for a variety of purposes in the kitchen. The most popular one will be listed below
The food processor serves excellent purposes in crushing, grinding and mixing of ingredients during the preparation of food and it performs these functions excellently.
You can equally use the food processor to make shakes, smoothies and juices but to achieve this there are various parts and fittings present in the food processor that you must make use of
The food processor can be used as an efficient slicing device when you attach the right kind of blades which helps fasten the preparation of chips and fries.
The food processor is also used when chopping and cutting meat as well as vegetables
It is also used for making the dough easier and faster
How To Make Smoothies With A Food Processor
We have learned earlier that a food processor can also be used to make smoothies but the method used in the blender for making smoothies is not the same as the method used for food processors.
If these two methods are not the same, then the question, how do you make smoothies using a food processor and ensure that they come out perfectly.
Food processors are designed for preparing semi-solid foods and not always liquids foods like the smoothies.
Hence, while trying to make smoothies with the food processor one should try as much as possible to understand properly how it is done and the best way to do that.
Before we go into details of how to make smoothies with the food processor there are few important tips you should keep in mind:
Do not put add all the ingredients at once
Do not add excess liquid to the appliance
You need to crush your solid ingredients first before blending so you can get a uniform consistency.
You can use frozen fruits instead of ice.
Making the Smoothie!
To make a perfect smoothie with your food processor simply follow the steps below:
Add greens like spinach, beet greens, kale etc firstly to your food processor while pushing them to the bottom in order to get a perfect blend
Add the fruit of your choice, adding frozen fruits instead of ice will make the smoothie slushier
Your smoothie will more nutritious if you add one or more energy booster to it
You can now add a liquid base to the food processor, instead of adding normal milk you can add almond milk, coconut water or yoghurt if you want a thicker smoothie
Now blend all the ingredients together
Remove the food processor blade and pour the smoothie into a glass
Enjoy your smoothie made with the food processor.
I am sure this article has answered your question, can you use a food processor as a blender for a smoothie?
Yes, you can use a food processor to blend your smoothies following the steps listed above but the only downside is that you may not get the same smooth consistency you get when you use a blender.
Do you have more question on how to use the processor to blend smoothies? then drop them in the comment section?