Have you thought of taking matters to your own hand by venturing to get the basic tools to ground your own meat?
I feel it is kind of a crapshoot to buy ground meat at the supermarket. One of the advantages of grinding meat yourself at home is that you have the chance to control all variables.
If you follow the proper guidelines on how to ground meat at home, you have the ability to achieve perfect grind for beef, pork, poultry, and even fish and seafood.
You may think that grinding meat is a job dedicated to only those who are professional in it. But I'm here to tell you that you can do things yourself.
Even better, this should be something we can do every day, provided we have the time, knowledge as well as proper appliances for it.
Speaking of appliances, a lot of people who want to grind meat at home might have sought for the best appliances and the best of their kind to ground meat.
In this article, I have put together a list of the best food processors for emulsifying meat as well as how you can use, clean and maintain them.
Do you know that with a durable food processor, you can thinly slice meat, which can be a tricky task without a commercial meat slicer or a super-sharp chef's knife and an extremely steady hand.
We will look into the features that a good food processor should have before it can be used for emulsifying meat.
But before then, here is a quick glance on our ultimate list for you to pick from just in case you are in a rush. These machines have been used, tested and trusted to last long and give desired results.
4 top food processors for emulsifying meat
As you can see in the table above, those food processors can be easily accessed and top-notch. But there are other important things you should know about each of them. In this guide, we shall take a look at each machine to know which is ideal for us.
Breville BFP800XL Sous Chef Food Processor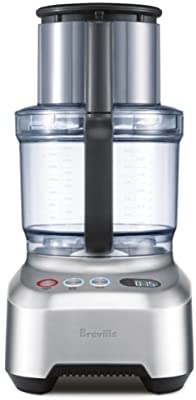 One interesting thing about the Breville BFP800XL Sous Chef Food Processor and why it is recommended for emulsifying meat is that it has a  wider feed chute that will aid in saving time.
Especially, you can chuck in enough slices of meat into the large 16 cups capacity which saves time too.
Included in this food processor is also a  2.5 cup mini processing bowl for smaller tasks. While the processing bowls are BPA free, we can see that it is very versatile.
Key benefits
One benefit to gain when you buy this machine is that you will have  5 multi-function discs and 3 blades out of the box.
Plus, you will no longer need to pre-cut meats or other spices before grinding as it has a 5.5-inch super-wide feed chute.
With the stainless steel blades, meat will be emulsified easily, quickly and sharply
Key features
Multiple Chute Options
Multidirectional Timer
Heavy-Duty Induction Motor
Easy Storage
Pros
S-Blade System
Multiple Chute Options
Variable Slicing Disc
Cons
Metallic tips on the blades can heat up
The machine is bulky and hefty
Not dishwasher safe (but can be cleaned easily with hand)
Final verdict
We've featured The Breville Sous Chef Food Processor is our number one on this list simply because it solves cooking problems with its unique design.
From the numerous disc and blade options to Its wide feed chute, this food processor is the best when it comes to making perfect meat meals.
Cuisinart FP-14DCN Elite Collection 2.0 14 Cup Food Processor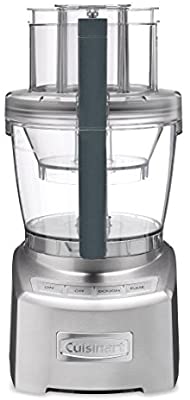 I enjoy a product when it places more than a choice for users. The Cuisinart FP-14DCN Elite Collection 2.0 14 Cup Food Processor allows you to choose between two bowls; a large 14 cup bowl or a smaller 4.5 cup bowl.
This particular machine will be efficient in not only preparing dough but for meat grinding.
It has the perfect blades and will not dull anytime soon. It is best for grinding beef and chicken at home
Key benefits
There is so much to gain from this machine. Apart from the 14 cup Large Bowl and 4½ cup Small Bowl with Pour Spouts & Measurement Markings.
All removable parts of the appliance are dishwasher safe.
It has a seal bowl and blades lock.
And it also comes with an instructional guide on how to use it.
Key features
14 cup Large Bowl and 4½ cup Small Bowl with Pour Spouts
1300 watt Peak Power motor
Exclusive Patent-Pending SealTight Advantage System Seals Bowls and Locks Blades
Easy On/Off Locking System with Push-Button Release
Stainless Steel Adjustable Slicing Disc (up to 10mm)
Large and Small Stainless Steel Chopping/Mixing Blades with BladeLock System
Pros
Dough Blade
Retractable cord
Accessory Storage Case with Lock and Spatula
 Wide-Mouth Feed Tube and Cover Assembly
Electronic Touchpad Controls – On/Off/ Dough/Pulse with Blue LED Lights
 All Removable Parts Are Dishwasher Safe
Cons
You WILL have to put meat into the freezer for 15 minutes before processing them on this machine.
The GE 12-cup food processor
I know you are looking for a very good food processor that you can use to emulsify your meat, you do not have to look too far, with this GE 12-cup food processor, you are really going to enjoy your use of this food processor.
It comes with a 550- watts power that is capable of processing even your tough meat, why won't this be a very good food processor for Emulsifying your meat? Won't it make the job easier for you? Of course, it would.
With this food processor, you do not need to worry about size, simply because it is a 12 – cup capacity, meaning that you can process large quantity of meat in a given period of time and you will still have a very good outcome.
You should also know that this food processor comes in three different speeds, it all depends on the texture you want your meat to be at the end.
Pros:
Easy to use
550 watts power
12-cup food processor
Large inner feed tube
Stainless steel build
Cons:
Does not come with a blade to knead dough
I like that this particular food processor comes with a stainless steel body which makes it easy for you to clean it up even after making use of it.
If you want to do an in-depth cleaning down to the blade, you can go as far as dismantling all the parts of this food processor and then do the in-depth cleaning that you want to.
KitchenAid KFC3516CU 3.5 Cup Food Processor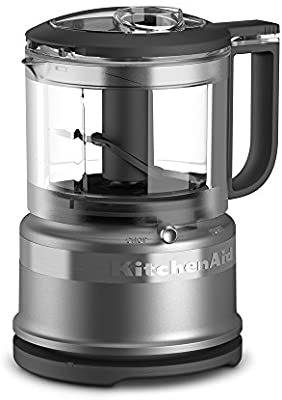 This is among the best food processors we've seen so far that is suitable for emulsifying meat.
Being compact and lightweight, this  3.5 cup Mini Food Processor is ideal for everyday use.
You can now become creative, and save time in the process while preparing healthy meals.
Key benefits
The externally adjustable system affords full control over slicing and ensures precise and accurate results for a range of foodstuffs, plus it is energy-efficient.
Key features
Convenient Work Bowl
Stainless Steel Blade
Precise Control
BPA-Free
Simplify Sauces and Dressings
Pros
Countertop Friendly Footprint
Easy to Store
Cons
It does not feature a dough blade and the top to bottom mixing is not smooth.
Features to look out for in a food processor before using to emulsifying meat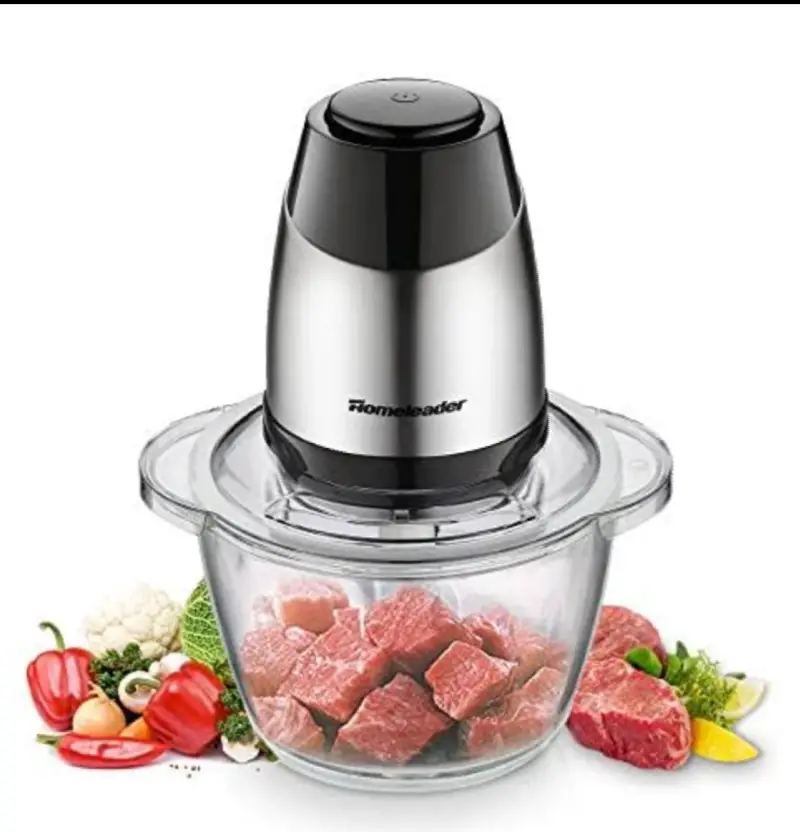 Not all food processors are made to grind meat. In other words, there are food processors with some special features that allow them to grind meat.
It is time to take a look at these features so that whenever we choose to buy a food processor, we will eventually buy one that is not only durable but versatile.
The reason why most people will opt for using a food processor to grind meat is that it consumes less power than dedicated meat grinders and stand mixers.
So if you want to use a food processor to achieve a successful grinding of fresh meat in your kitchen, there is a need to understand the basic features that are expected to be seen in a food processor and how to buy them.
Let's consider them one after the other.
Blades
Make sure you go for vigorously sharp blades! For any food processor, a stainless steel blade is ideal. Any other type of blade will not work as well as a stainless steel blade.
As you will see in all the machines I showed you, they have stainless steel blades which will definitely last longer.
Large Capacity
We can not talk about a good food processor for emulsifying meat without mentioning the large capacity that such machines have. Do you know how grinding in batches can waste one's time?
So the use of machines with large capacity will enable you to grind your fresh meat once, saving time and energy as well as cost.
Safety Interlock System
This is a very important feature that a good food processor should have. This is to ensure that nothing spills or escapes from the food bowl or container while grinding.
This, generally, ensures the safety of every individual in the kitchen.
Wide Feed Tube
Every good food processor should have a wide feed tube as part of its features. For example, all the machines I've shown you have the capability of easily taking down chunks of fresh meat.
Stability
If you want to know a food processor that is ideal for meat processing, then you should check how stable it is.
The best food processor for emulsifying meat should have great motors and high stability.
Powerful motors
A powerful motor is integral for any food processor. Not to mention one that grinds meat.
Since it is a tough process for these machines to emulsify meat, a very powerful Motor is required.
I'm sure the last thing you want is when motors often come to a halt when trying to grind fresh meat as a result of  Low power
Reasons why grinding your own meat is ideal
Learning the process of grinding meat in a food processor at home was a little challenging for me. But today, I can tell you the beauty of it.
It is not just about the money that it will save you, but you will be able to add variables to your skills. It is something you will know throughout a lifetime and even, if you want, monetize it.
Grinding your meat at home using any of these machines that I have shown you is a simple technique that transcends recipes and makes us feel like chefs in our own kitchens and even among our peers.
For others who would prefer to control the initial freshness and quality of their meat from the raw to the processed level can see this method.
What's more to grind your meat at home when there are zero risks of hazard during the whole process while using a food processor.
You also have the opportunity to choose what meat cut you want and how you want it.
People usually claim that when you grind the meat yourself, they taste fresher than when you buy one in the store.
One important precaution that I must give you whenever you want to grind meat using a food processor is that you should not over grind them.
There will definitely be a difference between meat gridded in a food processor and ones grounded in a stand mixer or dedicated meat grinder.
You may feel the urge to process meat until it looks like a paste but I will not advise that you do so.
When you grind meat in a food processor, they tend to look much coarse than usual. Applying excess pressure to grind will not help achieve a successful beef.
How to use a food processor to emulsify meat
So I've also gathered some basic hacks you need to know about if you want to successfully make a meat meal with a food processor. And they are as follows:
When you want to cook up home-ground meat, it is not about having the best machine alone. It has to do with how tender you handle the process.
Relatively, Store-ground beef is often over-processed to a pulp, so it cooks up heavy and dense no matter how much care you take.
determines the exact size of the processed meat is the type of dish or meat you are handling.
So here are the following hacks to incorporate when using a food processor to emulsify meat at home.
To get chopped and not pulverized result, it is important that you partially freeze  the meat before processing it
The second basic is what I will refer to as ground to a chunkier texture. For example, when you are preparing dishes like turkey burgers and shrimp burgers, simply grind a portion of the main ingredient to a paste and use it to bind the rest of the dish
All you need for an accurate measurement is the mix of flavour and the fat for each recipe. In other words, You can combine more than one cut of meat to process.
I usually tell people who use food processors to grind meat that they should not feel terrified to carry out some of the machine tasks. Make sure you apply some amount of pressure to push the meat into the feed tube. This will ensure a clean, even cut when slicing meat in the food processor.
To avoid dry and non-tender meat while in the cooking process, add baking soda to the home-ground meat. What the soda does is to raise the pH of the meat. The proteins will find it hard to bond as a result of the presence of the PH.
Although I have not tried it before, most people use a bread and milk mixture to add tenderness to ground meat dishes. This is called a panade. It is nice because to use when grinding your own meat as it will already be more tender than other options against DIY.
Cutting meat to grind in a food processor
In this class, you will allow me to dog a little bit deeper into the butcherers world.
Depending on the kind of dish you want to prepare, there are different ways and approaches to a fine cutting and perfect processed meat to finish.
When it comes to beef, lamb and pork, shoulder cuts is the best technique.
Do you know that shoulder cuts generally contain the perfect amount of fat in and around the muscle.
A mix of fattier cuts like brisket, shank, short ribs, or well-marbled steak cuts can be used for a richer mix that is closer to 75/25 blend.
Items like chicken and turkey should be used as dark meat or a blend with mostly dark meat cuts. This will ensure that you get enough fat from them
I personally use Ground chicken and turkey in things like pasta sauce or lettuce wraps.
They work great because other ingredients in the recipe help boost the flavour and texture of the lean meat.
When dealing with white meat, bear in mind that the cooked meat might be a bit dry and chewy.
There was a time I was making fish burgers and I discovered that fishes like salmon and tuna tend to do the best. I've seen this online once but didn't go deeper.
They will need to hold together and have some juiciness.
But generally, mixes that are lean such as ones from shrimp, scallops, or other seafood will definitely go well with dumplings and small fish balls for some Special type of soups.
Cleaning  and maintaining Food Processor used for emulsifying meat
It is important to properly clean up your food processor after using it to grind meat.
It is just like the way you will abruptly clean any other kitchen tool, appliances or surface that comes in contact with that raw meat.
To avoid residue, leftover bits and smell of the meat to remain in the containers of the food processor, make sure you clean right away after use.
What I usually do after grinding meat with my food processor is to rinse the bowl as well as underneath the blades with water to get rid of the remaining meats around those tight corners.
The simplest way to go about the cleaning process is by putting the bowl and lid in the dishwasher, then wash the blade by hand to prevent it from dulling too rapidly.
You can also wipe your food processor with a disinfecting cleaner in a spray bottle, especially when your food processor is not dishwasher safe. You can also try the latter if you don't have a dishwasher.
If you know you do not have a dedicated food processor for emulsifying meat at home, then thorough cleaning and maintenance after each use are highly important.
There you have it! 
During my research and some notable experiences I have had with users of food processors, I can say that these machines will last long and do justice to your meat without too much hassle.
It is true that finding a very good and versatile food processor is difficult, but I'm sure this guide on food processors for emulsifying meat has gone against all odds, making your search easier.
Please reach out to me via the comment section to let me know what you feel about these machines and how they work for you if you've used them.