Do you want to know how a commercial meat grinder works? Then you will find something new in this article.
A commercial meat grinder will be useful in a place where meat is prepared often. Places like a deli counter and butcher shop will be interested in using one or more meat grinders.
Buying the best meat grinders can be a simple process, but understanding how it works and how it should be properly used is another important thing.
So, while we are able to find the best meat grinder for you, it is important we look into how a commercial meat grinder works and how it should be used properly.
How does commercial meat grinder work?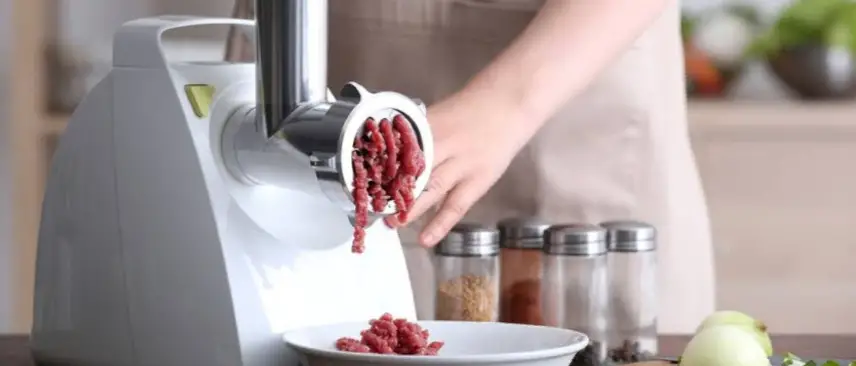 It is a process that can be explained explicitly. First of all, a meat grinder is an important appliance used in the kitchen to fine chop raw or cooked meat. It can also be used to mix raw meat, fish, vegetables and the like.
Meat grinders are substitutes for other appliances that produce minced meat such as a mincing knife. If you want to know how it works, I'm about to show you.
A funnel is placed in the top of the meat grinder and it allows the user to put minced food through. The meat goes down into a hand wheel horizontal screw conveyor. (can be controlled by an electrical motor too). 
It is the horizontal screw conveyor that squashes whatever you've put into the grinder. This process is crowned by a knife which has been fixed at the end of the screw conveyor. 
In the end, the processed meat comes out from the other opening of the machine. You can decide the fitness of the meat by regulating the hole size of the plates. 
One attribute of a meat grinder is that it can be disassembled and arranged easily. When you want to clean after use, simply remove the  fixing screw to have the grinder disassembled almost completely
Meat grinder comes in different sizes, quality and versatility. There are some of them that are large and can produce a number of tons in just one hour. It is necessary to have a basic understanding of some meat grinders.
That is why I will be showing you more about how a meat grinder works in this article.
How to use a Commercial meat Grinder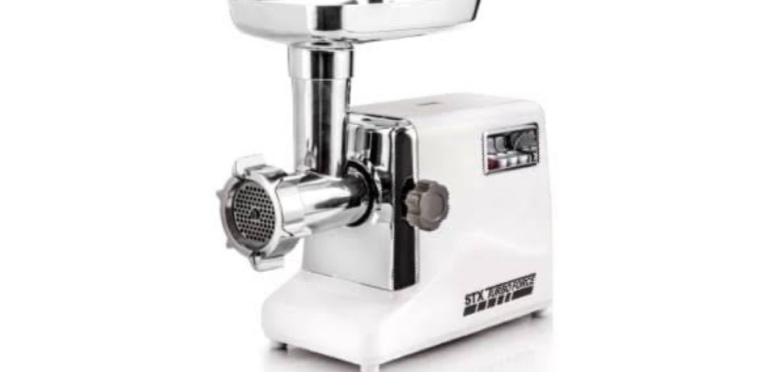 There is a way I show people how to use a meat grinder properly to get the desired result. A meat grinder is not a complex appliance in the kitchen, it just takes some basic information to settle it.
Here are the basic steps, even for beginners, on how to properly use a meat grinder.
Step 1: Cutting to ground
The very first thing to do with the meat before grinding is to cut it in such a way that it will be small enough to fit into the feeding hole of the meat grinder.
Needless to say the skin, bones and silver skin on the meat should be removed first.
Step 2: Using the meat grinder
After cutting meat into smaller chunks, you can begin to feed each bar into the grinder through the funnel ( it's also called feeding bar).
A bowl or pan should be firmly placed below the blades of the matching such that it will catch processed meat when they fall. Thereby preventing them from touching the ground.
Step 3: Unplugging  and cleaning a meat grinder
For safety reasons, do not leave the machine plugged into power when you are not using it. Ensure that the power cord is disconnected after you have finished grinding your meat.
Cleaning after use is also necessary. Disassemble the grinder to Wash, rinse, and sanitize all of the components.
Leave it open to air dry before assembling them back. Still in the process of cleaning the grinder, do not leave out the machine body. Make sure you clean them with a sanitized cloth.
Step 4: Lubricating the gearbox of a meat grinder
This is the last step and it is about maintenance. Manufacturers recommend that users lubricated the gearbox of their meat grinder.
This should be done frequently. Like, every six months.
Basic tips for meat grinder owners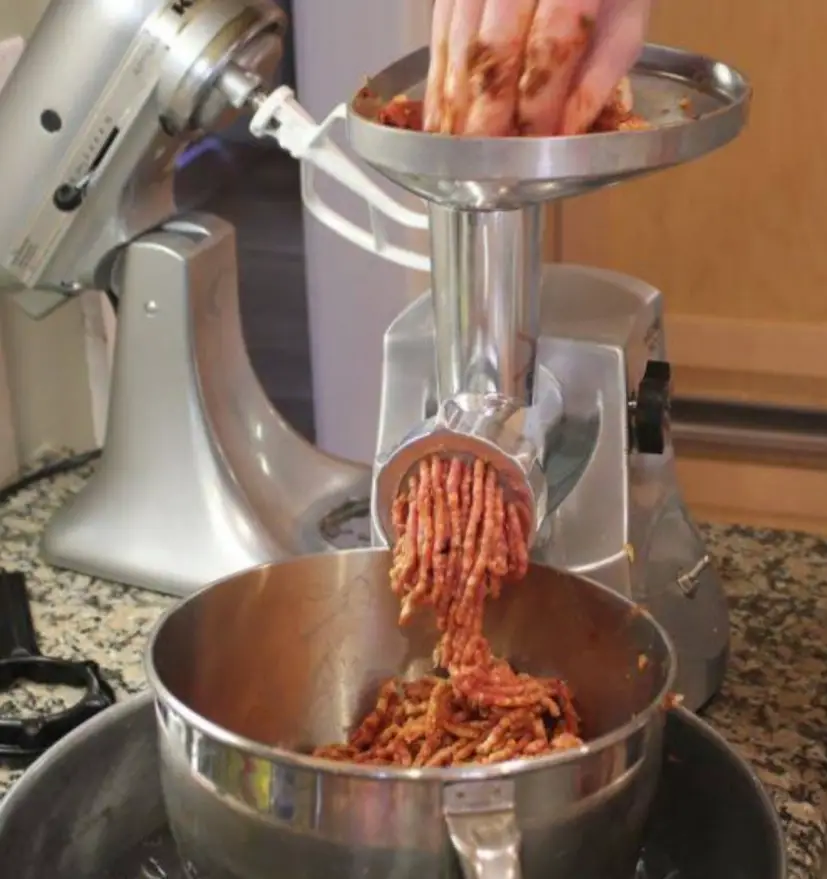 If you own a meat grinder, or you just bought one, then you will probably be looking for ways and tips to make them work for a long time without developing a fault.
Well, the first precaution I'll give is that I  will not suggest you use your meat grinder matching for animal bones as they are not designed for that.
Also, if you want to protect the mechanism flow of your grinder, ensure you Use a food-safe lubricant on all the moving parts after use.
Some other important tricks to maintain a very good meat grinder is as follows:
The only time you should take your meat out of the refrigerator is when you are ready to grind it.
If you want to grind a batch of meat, your grinding plates, knife, feed tube, and auger in a freezer needs to be chilled before that.
Only use a dishwasher for stainless steel components. All other types of components should be cleaned before and after use.
Using cornstarch to store the aluminium components of the grinder will prevent them from absorbing excess moisture.
To foster food safety, keep everything as cool as possible when grinding because the process creates friction which will, in turn, warm the food up.
Do not force large meat cuts into the plate holes. Cut them evenly but not too small. Cut them into chunks such that they will easily enter the hole.
Do not use dull cutting knives. Sharp ones aid excellent performance.
Now, when it comes to buying quality meat grinders, so many people make the wrong choice.
Not because they want to, but simply because they are oblivious to the necessary features to look out for when buying a commercial meat grinder.
I decided to dig deep into quality products online. A meat grinder can be a big-time life saver in your kitchen when cooking. Most people who prepare great meaty foods use them.
If you have an interest in buying a meat grinder, then I have something for you which I think you will love.
There are some brands that manufacture the best set of meat grinders you can ever have.
When I saw JIANSHUN 60-90lb/h Commercial Meat Grinder online, I decided to go into what people who have used the machine are saying about it. I also took my time to look into the special feature it has.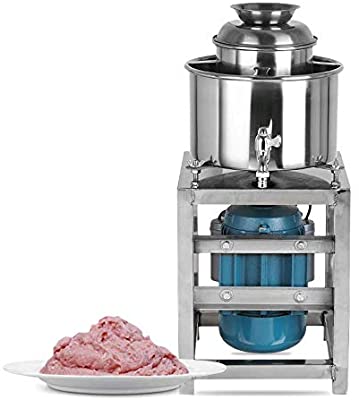 JIAWANSHUN 60-90lb/h Commercial Meat Grinder is best for making beef sauce, garlic sauce, sausage and chilli sauce, and meatballs after processing.
If you want to make meatballs in batches, you can use the meatball moulding machine with this machine, saving a lot of time.
Since processing capacity is 3-4kg at a time, it can be recommended for establishments such as buns shops, restaurants, meatball processing factories, as well as sausage processing factories.
Included in this machine is a stirring ring where meat sauce can be mixed.
Made of stainless steel, The JIANSHUN 60-90lb/h Commercial Meat Grinder has anything you are looking for in a quality meat grinder machine.
Are you Interested in buying it?
---
Frequently asked question on the use of commercial meat grinders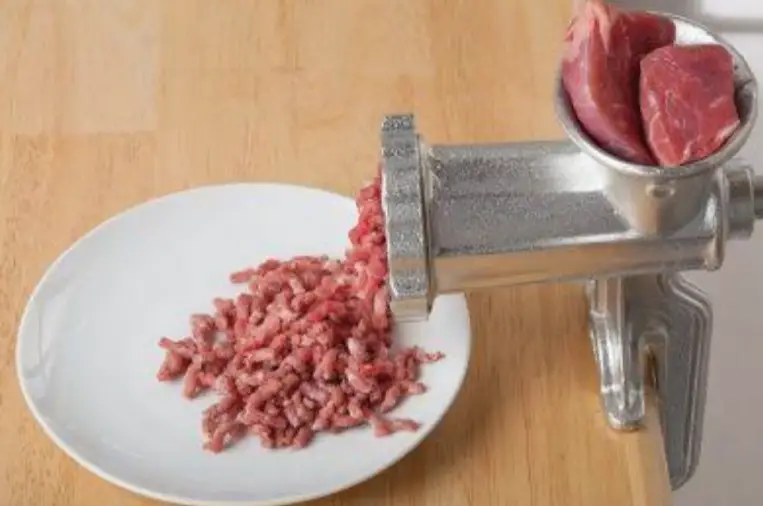 What is the size of a standard meat grinder?
The outlet opening, a grinding plate which is fixed on the outlet opening as well as the diameter of the neck makes up what size the grinder will be.
But you shouldn't be worried about this question because all grinders will be projected with the numbers of the size with the # sign whenever they are up for sale
What size of grinder is best?
Well, it has to do with personal preference. But while you chop what suits you, have it in mind that The larger the size of the meat grinder, the greater the volume it can handle.
So in other words, you should be interested in buying one if it is a large size, especially if you want to buy a manual hand crank grinder.
They also have large handles that you can comfortably put your hands in to lift. In every electric grinder, a large size is always with a powerful motor.
My large grinder at home requires more power to push the larger volumes of meat through the machine. And that's when you get effective grinding.
So one of the things to look out for before buying either an electric or a manual grinder is the size number. And it is observed that the bigger the unit, the more you'll have to pay. Worth the money though.
While a bigger grinder will require more power, it will give you the speed you want.
How are grinder plates used?
Also referred to as the cutting plate, it is a very important component in the grinder.
It can be described as a round carbon or stainless steel plate with several holes in it that sits at the end of the meat grinder.
When you put it through the holes of the grinding plate, the screw spinning blade can be controlled by hand or electricity will cut across the hole several times.
A grinding plate is always proportional to the size of your grinder. They also have different hole sizes. Depending on how you want the processed meat to be smoothly ground.
These different hole sizes are for making fine, medium, or coarse ground meat.
Don't be wondering when you see your neighbour having more than one grinding plate. In fact, most meat grinders come with at least one. Some brands include two or more.
Become creative and allow a wider variety of ground meat for various meat product and sausages by purchasing additional grinding plates of different sizes
Also, remember that these plates will definitely get dull after some time. So it is needful to replace your grinding plate as well as the cutting knife periodically
What are the uses of different grinder plate hole sizes?
Like I said, to produce different outcomes of the processed meat, there are varieties of grinding hole plate size in meat grinders. And the size is always determined by the size of the grinder.
You can use these types of large holes in making sausage. You can always purchase other plates separately since most grinders will possibly come with one or two grinder plates
Let me mention again that it is essential to change your grinding plates periodically because they tend to get dull after some time and it is expected. They will definitely be sharp when you buy them.
When changing your grinding plates, we suggest you change the cutting knife at the same time
Stainless steel or carbon steel grinder plates and knives, which is recommended?
Okay good one. Firstly, if you are on a budget, then don't go for Stainless steel plates and knives because they are more expensive than their carbon steel.
But I will always recommend using the  stainless steel plates and knives because they  are more durable
Carbon steel will not stay sharp for as long as the stainless steel will.
One important reason you should go for stainless steel is that they will not rust no matter how you expose them to liquid.
If you want to go for carbon steel, then get ready to look after them very very delicately because they can easily rust when wet, and exposed without oil coating.
So, guys, we have come to the end. And I'm sure you now know how a commercial meat grinder works, the best-recommended grinder machine as well as how to use them properly.
Kindly leave a comment if you've got anything unclear and I'll be glad to provide quality answers.