Have you ever tried using a mortar and pestle to grind coffee? How was the experience like for you? Oh, or you are about to ask if you can use a mortar and pestle to grind coffee. You are on the right page though. Let's take a look at it together.
Can You Use A Mortar And Pestle To Grind Coffee
Using mortar and pestle to grind coffee did not just start today, it has been done for centuries. In the Ethiopian community, the importance of coffee grinding cannot be over-emphasized.
Whenever the Ethiopian coffee ceremony comes to fore, rest assured that you'll see and learn how coffee is baked, ground and brewed to taste.
Everything talked about in the Ethiopian coffee ceremony is done over cups of coffee. There you will see what it means to roast, grind, brew and serve the coffee.
The coffee beans are usually roasted in a pan, husked and thereafter ground in a mortar and pestle. Now, you see it, right?
Ain't nothing wrong with grounding coffee beans in a mortar and pestle.
In the Ethiopian community, after grounding the coffee, it is put in a jhebena, where it is mixed with water and then brewed to perfection.
Unlike nowadays where different types of coffee grinders are used to grind the coffee, the Ethiopians in their ceremony use the manual way of the mortar and pestle for grinding.
Although mechanical coffee grinders bring evenness to the coffee, the manual mortar and pestle do not. With the mortar and pestle, your coffee particles would be uneven, and coarse.
For you to find even particles, you'll need to spend quality time grounding your beans to paste.
Interestingly, with the uneven particles that come with grinding the coffee on the mortar and pestle, the form and taste come out great.
The most amazing things about using the mortar and pestle to manually grind your coffee is the taste that accompanies it.
While the modern methods of grinding coffee make it easier to grind out fine particles and high-quality coffee, the Ethiopian way is poised to bring the best out of the worst coffee bean in terms of taste.
Now that we have confirmed that, yes, grinding a coffee bean by mortar and pestle has existed for centuries, using the Ethiopian coffee ceremony as an example, which would you go for?
Fine ground coffee bean or the tasty one?
How can you grind coffee with a mortar and pestle?
If you are someone who is big on flavour coffee, then spending time to grind your coffee in a mortar and pestle shouldn't be much of a big issue.
You should know that rolling and hammering very well will create a great texture of your coffee powder. So, if you plan to use a mortar and pestle for your coffee, you should start with small scoops.
Just know that you are in for a ride – grinding coffee manually is not a walk in the part, it is an exercise.
Grab your pestle with strong hands, and then use the other hand to hold the mortar tightly. First, you'll start by pressing down the coffee beans in order to allow for easy crushing, while also twisting the pestle to give you an even effect.
When the beans are getting into powder, you should start rolling your pestle round to be able to crush the bigger uneven pieces of your coffee beans.
You should repeat the process until your beans are coarse or fine enough to your preference.
This is what you should get after 5 minutes of grinding.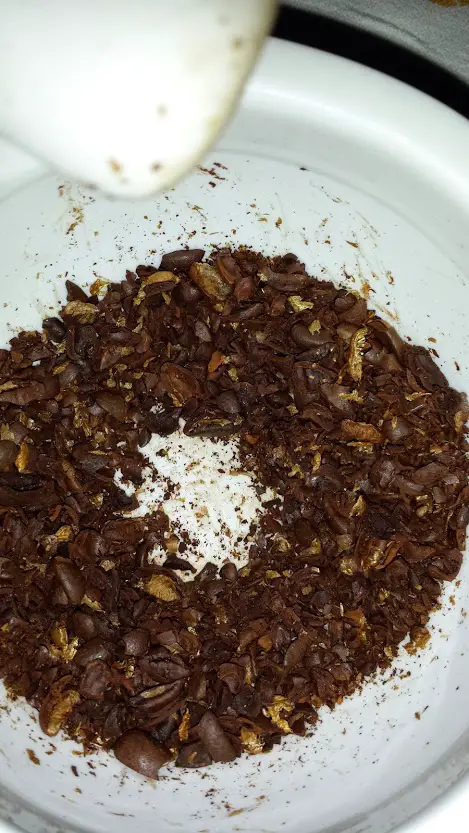 The image below is what you should get after 10-15 minutes.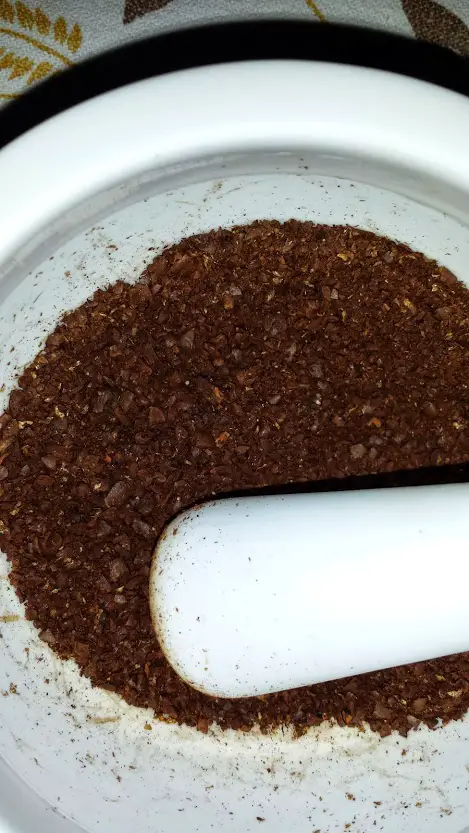 Note that you can also spend more time grinding the coffee if you want something smoother and finer.
An interesting way to also ensure you fine, smooth coffee particles is if you use a strainer to separate the larger grinds from the smaller smoother grind.
When you have separated the larger grind from the smaller ones, you can then return the larger grinds into the mortar and pestle and repeat until suitable smaller grinds.
This OXO 38991 Good Grips 8-Inch Fine Mesh Strainer is just perfect for you if you need a fine mesh that will not help you strain coffee beans, but also some other spices and sauces.
The stainless steel is pretty sturdy since it is a double rod construction. It is not too heavy and would not "strain" your hands if well used.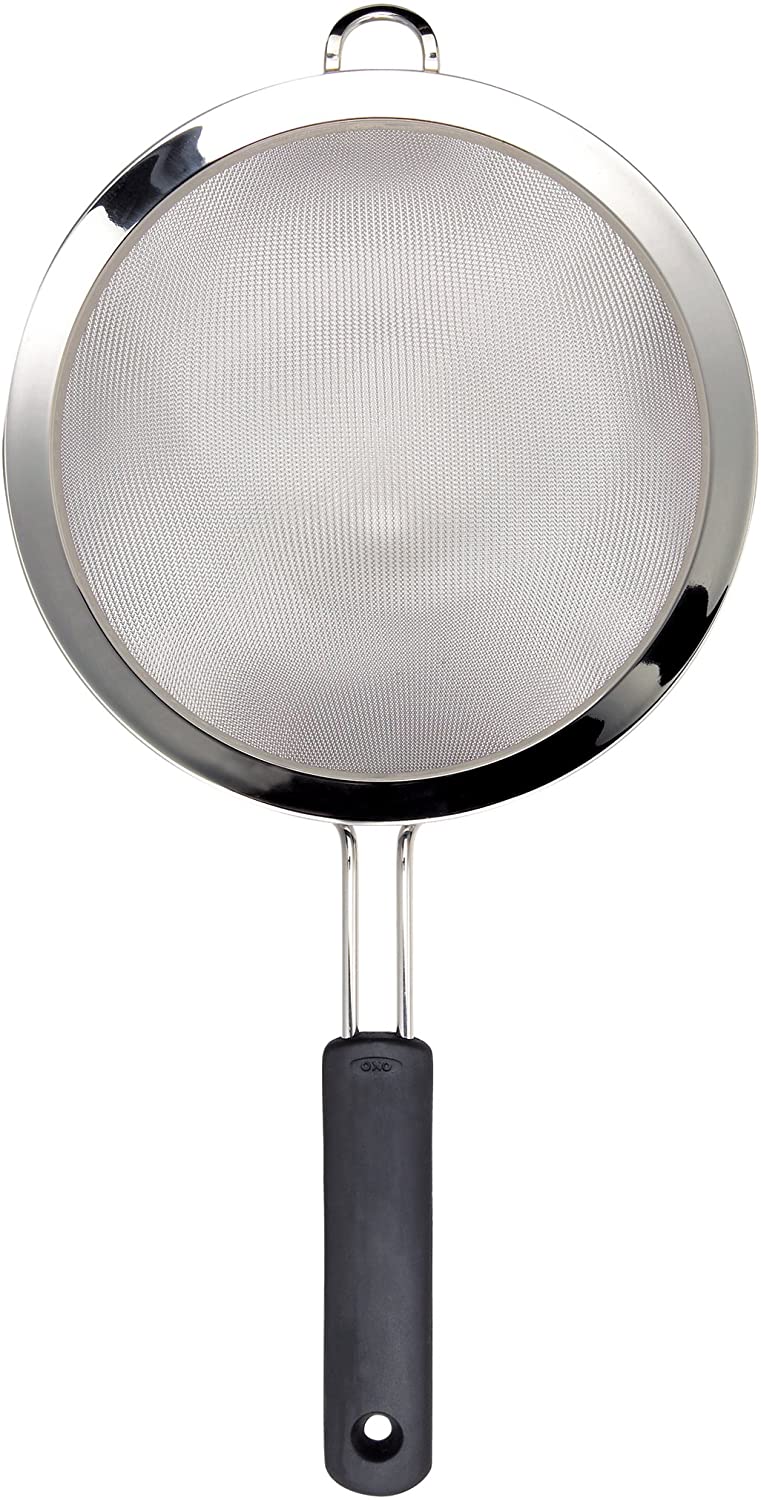 So, in-between of this post, you just got yourself a great strainer.
Thinking of what next to do? Just buy one on Amazon straight away. Don't worry, you can thank me later.
Warning: If you are going to be brewing coffee for a lot of people, I will not advise you to use the mortar and pestle, as it may be too stressful for you. Although coffee grinders are awesome (like the Baratza Virtuoso on Amazon), they can be very noisy and disturbing. They can be preferred to mortar and pestle for grinding coffee though.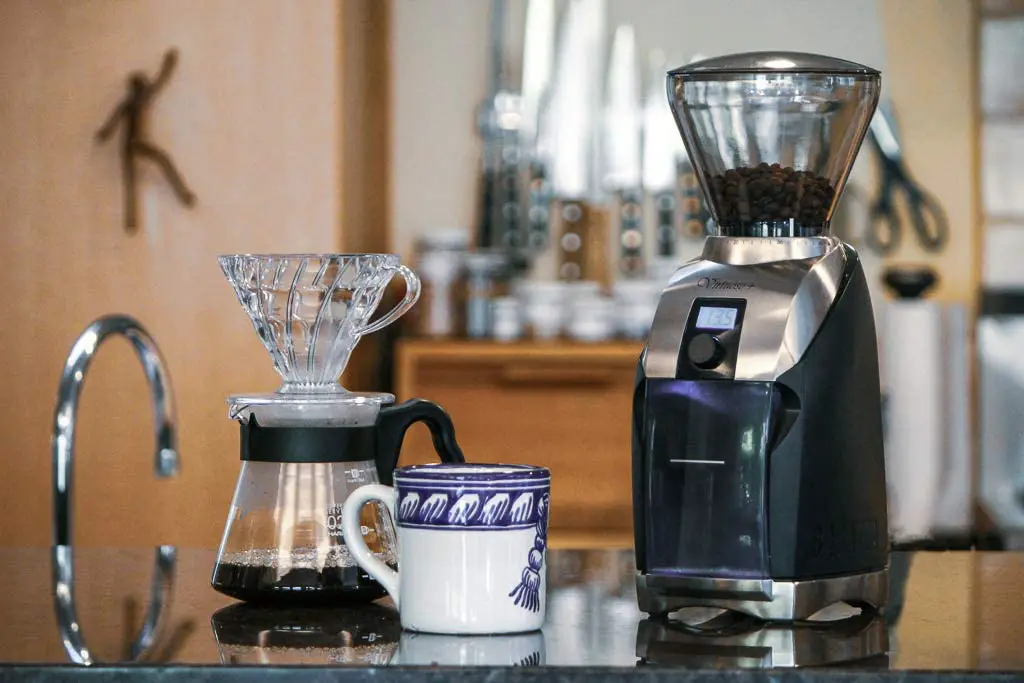 The quality of the Baratza Virtuoso+ Conical Burr Coffee Grinder with Digital Timer Display is pretty impressive. The timer of the grind can be adjusted from time to time and a new blend is tried out.
Although this coffee grinder is a bit expensive, you will never REGRET buying it as it gives you value for money. It is very solid, adjustable, easy to clean and you'll totally enjoy using.

If you are tired of using the mortar and pestle to grind your coffee, then you should take the plunge and try out this Coffee Grinder.
You can also try to check out the Mueller Burr grinder though if you are past using mortar and pestle to grind your coffee bean.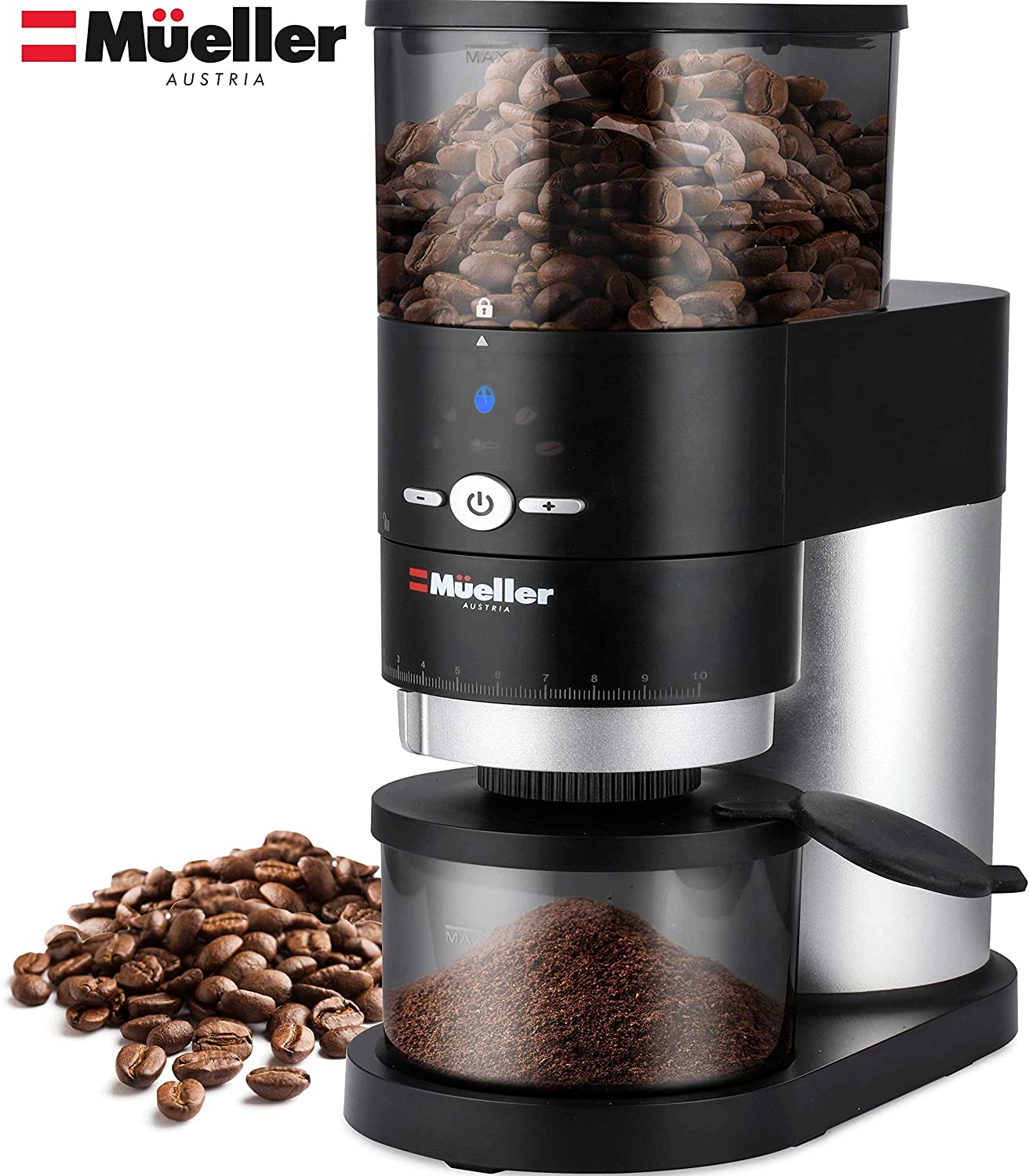 Other ways to grind a coffee without mortar and pestle
There are other ways to grind coffee without mortar and pestle and coffee or burr grinder and I'll share them with you here.
Bag and Hammer
This is very rough and tough, and it should be tried when your back is against the way, i.e. when you do not really have other options.
How it is done is that you put your coffee beans into a bag, zip-lock most preferably, and then smash with a hard hammer in order to ground them to bits that can be extracted. You really need to be patient in order to finish this grinding process, as it will take a lot of your time.
Side of Cleaver or Knife
If you've got a big, and sturdy butcher knife or cleaver, then you can carefully break down your coffee beans under the blade after the blade is turned flat-wise on a chopping block using your fist, and then you can ue a rocker motion to continue to bash and mash the beans for consistency.
Of course, I will not recommend this for you to use to grind your coffee.
Not reasonable at all.
You should also watch this video if you are interested in grinding your coffee manually
Glass Plates
You can also use plates to crush your coffee to coarse grains suitable for you to brew.
All you need to do is measure your coffee beans into a flat ceramic plate and then place another flat plate over it and then grind.
You can watch the video below to get a full understanding of how to make these happen.
Are you in the process of trying to crush your coffee with a mortar and pestle? Tried it before? Let us know how it worked out for you.