If you are reading this article then it simply means you want to get the answer to the question, can we grind rice in a food processor?
Getting the answer to that question means you have to continue reading this article because I am going to reveal the answer to your question below.
Because most of us have rice included in our daily diets in different forms that we like them, this why we are always on the lookout for the best ways to make our favourite diets more easily and faster.
Grinding you rice means that you want to get a rice flour that for your diets or the food menu.
Making your own rice flour is as simple and free as anything you can think of in this world because it doesn't take much other than simple kitchen equipment to get it started and done.
Read more: Can You Make Cauliflower Rice In A Nutribullet
Can We Grind Rice In A Food Processor?
Grinding your rice into a rice flour is always a kind of difficult task that will require that you use either a blender or food processor.
Now back to your question, can we grind rice in a food processor?, the answer is YES, you can comfortably grind your rice in a food processor and achieve the smoothest rice flour ever.
Most people use their blenders to grind the rice into flour, this works but the only downside to it is that constant grinding of rice using the blender will weaken the motor of the blender and will cause a break down of the blender.
The grind your rice in a food processor just follow the simple steps below to achieve a smooth rice floor in just a matter of minutes;
Pour the rice into the food processor
Use the lid to cover the food processor to ensure that the rice doesn't spill out during grinding
Grind until the rice has reached a powdery consistency
Make sure you grind just enough as you will need for the recipe
Clean your food processor thoroughly in preparation for next use.
Like I said earlier you can use the blender to grind your rice but the only difference is that constantly using the blender to grind rice will wear down the motor of the blender and lead to damage, so if you plan to consistently grind rice then it is important that you think about investing in a high-quality food processor.
Why Grind Rice into Flour?
A lot of people will always want to grind their rice into flour most especially those who follow a gluten-free diet as this will enable them to plan and bake their daily diets from the rice flour.
Rice flour can also be used for making rice noodles and some special form of pancakes like the South Indian Appams.
It can also be used to thicken soups and stews as well as provide suitable alternatives for wheat flours when making cakes and biscuits.
So you now understand why rice flour is very important for a lot of people and why they always include it in their diets.
Now if you want to include rice flour in making soups, stews, pancakes, as a replacement for wheat flour in making cakes and biscuits then there will need to grind rice in order to get the flour for this purpose.
This is where the confusion comes in because you may have a blender or food processor at home and you keep wondering if the flour will come out nice if you use your food processor to grind the rice.
Well, I have the answer to clear your doubts and confusion, just keep reading I am sure you will get to it soon.
Read more: Can You Grind Idli Batter In A Food Processor?
Best Food Processors For Grinding Rice
Food processors are best for grinding your rice into flour but to achieve the best powdery consistency it is important that you invest in acquiring high-quality food processors that will help you to achieve that consistency within minutes.
It took me a great time and effort to compile a list of the best food processors out there in the market that you can use to conveniently grind your rice.
If you are interested in investing in a higher quality processor then it wouldn't be a bad idea to read the features of each food processor and make your choice.
Robot Coupe R101B CLR Combination Food Processor, 2.5 Liter Bowl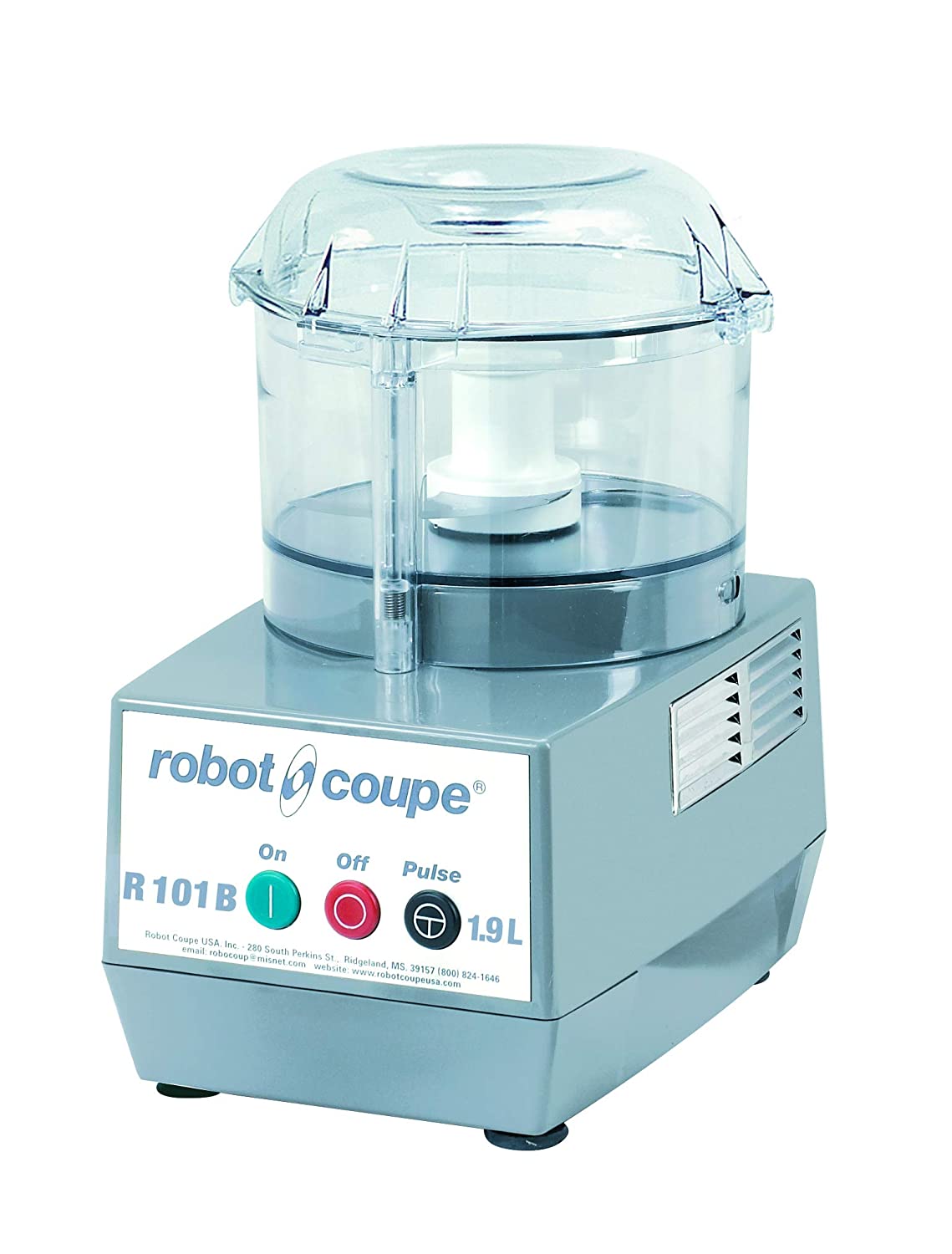 This food processor is one of the high-quality processors in the market that is committed to giving you the best when it comes to properly grinding your cooking ingredients.
It is designed with an ultra-powerful motor that enables it to function efficiently without breaking down at the most critical times.
It has the ON/OFF button which positions you in control of the whole grinding process. The blade is made with stainless steel which ensures more efficient and faster grinding.
It has a 2.5-litre clear polycarbonate cutter bowl which is perfect for grinding ingredients in a larger quantity
Features
Induction motor
Magnetic safety system and motor brake
5-litre clear polycarbonate bowl with handle
S stainless steel blade with smooth edges
ON/OFF switch
Pros
The induction motor is very powerful which ensures efficiency and durability of the food processor.
The magnetic safety system ensures safety during grinding
The stainless steel blade with smooth edges ensures smooth grinding of ingredients
The ON/OFF switch allows you to be in control of the grinding process
Con
It is quite expensive but worth every penny
Breville BFP660SIL Sous Chef 12 Cup Food Processor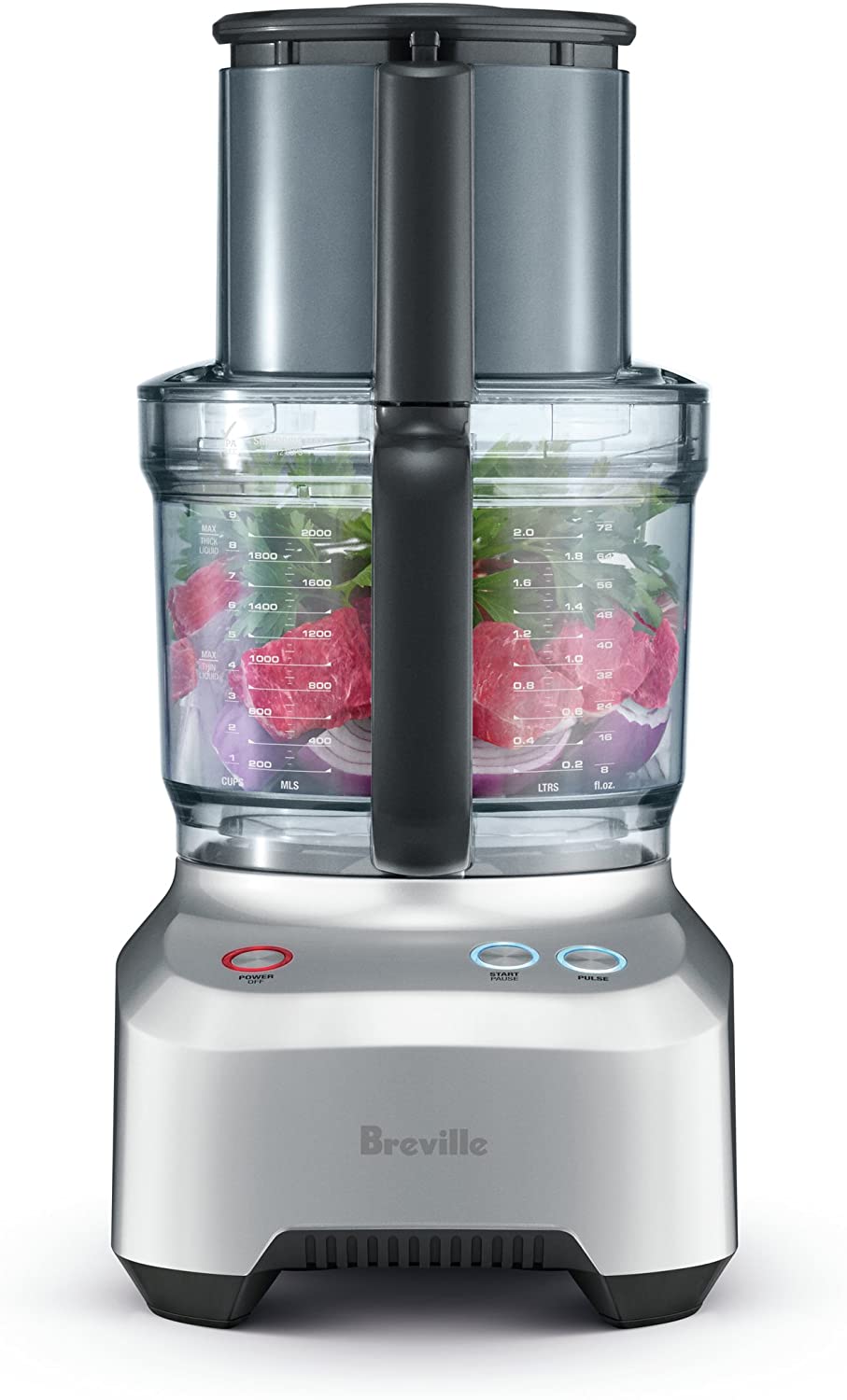 The Breville food processor is designed for grating herbs, chopping herbs or nuts, mixing batters, pureeing soups as well as grinding rice into flour.
It is a 12 cups food processor which allows it to grind in larger quantities when compared to other blenders.
It is made with BPA free plastic work bowl and a safety braking system which ensures your safety during grinding.
It also has the momentary pulse button for maximum control and even processing. It is made with 1000 watts induction motor which offers great versatility and power in a compact size.
Features
Induction motor
Multiple chute options
Adjustable slicing disc
Micro serrated S- Blade
Pros
The heavy-duty induction motor with a direct drive control and overload protection will not fail nor falter during grinding.
The three chute options, 5 large chute feed, 2 ¾ mid feed chute and 1 ½  mini-feed chute prevents your ingredients especially carrots from tipping over.
The adjustable slicing disc has 24 settings from paper-thin 0.3mm to thick-cut 8.0mm
The micro-serrated S-blade delivers swift action for consistent chopping, mixing and processing of a variety of ingredients.
Con
Do you see that your question, can we grind rice in a food processor, has been answered?
I have also taken great care in recommending the best food processors out there in the market to you just in case you are convinced to invest in getting the best of the best.
Just read the features and then make your decision.
Do you have more questions om food processors or how to use them? Then do not hesitate to drop your questions in the comment section below.