Looking for alternatives to mortar and pestle? Yes, I know you do not like the stress of using a mortar and pestle and as such, finding alternatives that will save time and stress is ideal.
The use of mortar and pestle in the kitchen or places where food is prepared can be traced back to the age-old piece.
It is a set of cooking equipment that reduces food spice, herbs or ingredients from strong, solid form into powder or smooth form.
While the spice or ingredient is held in the mortar, the pestle crushes it with the downward pressure you apply, followed by grinding.
Mortars are made of different materials from wood to granite, iron, ceramic, stone and beyond.
In this article today, we will not only look into what mortar and pestles, but I will also be discussing some mortar and pestle alternatives that you can use to grind spices in the kitchen.
While mortar and pestle are traditionally used for grinding spices and making sauces and pestos, some people may find it hard to maintain or clean it after use.
And even worse, you may not choose to buy a mortar as part of your kitchen cooking tools.
If that is the case, you will certainly be interested in other smart alternatives to grinding your spices smoothly, easily and conveniently.
There are suitable tools you can still have in your kitchen apart from a mortar and pestle that can help in grinding spices.
To get the incomparable intensity of freshly ground herbs and spices, you need tools that will speak the massive difference in a dish as opposed to packaged or pre-ground spices.
Although it is true that mortar and pestle are the easiest to implement to get freshly ground ingredients if you can not get such a traditional tool. I have gathered a list of 10 alternatives that you can add to your kitchen appliances.
These alternatives can be used to grind medicinal herbs to prepare medicines or to make spice mixtures for cooking.
It is time to discover some set of suitable substitutes for mortar and pestle.
7 Mortar and Pestle Alternatives and where to buy them
I know that some chefs and people who cook at home are fans of mortar and pestle when it comes to grinding ingredients freshly, but there are alternatives that can be able to grind dry spices, or make pastes, it is the ideal instrument.
If you don't have mortar and pestle, and you want to do some things with your herbs, there are other alternatives that will definitely work. Let's examine each of them as well as where you can get them.
A mixer grinder
A lot of people are not aware that a mixer grinder could actually perform the work of mortar and this time, more conveniently.
A mixer grinder is an appliance that every cook would want to have. Not just to grind spice or replace the motor but a for other cooking activities that it has been fashioned for.
If you don't have a mortar and pestle, then this is an appliance that you will appreciate. A mixer grinder can be used to grind different things like grind dry spices and make pastes too.
Some mixer grinder has been fashioned to grind wet spices while the other dry.
But I will advise that you do not use the ones to grind dry spices like ginger, garlic, chilies, and coriander leaves to grind wet spices such as pepper, cumin, and coriander.
This is because the machine blades can be damaged by the hard seeds.
Choosing the right mixer grinder to buy can be a very tough situation because there are fake ones too.
A good mixer grinder should have some important and improved grinding system structure and functions that will aid in easy grinding.
Even more convenient than the mortar and pestle.
For those who use The HAUSWIRT 3 IN 1 mixer to grind spice will confess that it is one of the best machines when it comes to this class.
Not only does it come With 10 speeds, but can easily make your favorite recipes.
Now, you don't have to struggle to make some of your culinary efforts even more brilliant.
This is a countertop appliance that mixes kneads and whips ingredients together with ease.
It is not only used to grind food but for making a paste and many more.
You can get the KitchenAid KSM155GBCA 5-Qt mixer grinder HERE
A spice grinder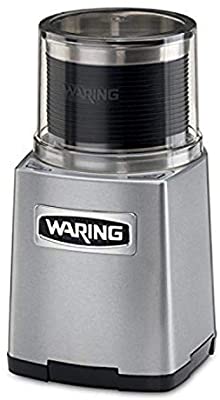 There is a difference between the functions of a mixer grinder and a spice grinder. But the similarity is that they grind spices too just as a mortar would.
Just like the picture you see above, it looks like a small grinder, yeah?
This machine is made for grinding spice ideally. Spices chilli, cumin, coriander, pepper, cinnamon, clove, nutmeg, dried lemon, and dried herbs and leaves are suitable items to be used with this machine.
It is used to blend spices into a fine powder.
Please note that a spice grinder cannot and should not be used to grind wet spices like garlic and ginger. And maybe this is where a motor will brag of an edge over this machine.
Getting a spice grinder can be easy. In fact, it is easy. But if you are looking for the very best that will continue to work as though it is new, then you will hardly take your eyes off products like Waring, Steel Commercial WSG60 Electric Spice Grinder.
I've heard a lot about this Waring Commercial Grinder. I can tell you that it is great for fresh spices or can be used to make pastes, dressings, sauces, butter, and more.
It has a transparent lid for you to see ingredients as they transform to powder. The  3‐Cup capacity stainless steel container also makes it a top pick.
If you don't have a mortar and pestle and you want to grind spices like peppercorns, cinnamon, nuts, garlic, herbs, and other dry and wet blends, buying the Waring, Steel Commercial WSG60 Electric Spice Grinder here is the perfect alternative.
3. A rolling pin

A rolling pin can be of great help in grinding stuff when there is no mortar and pestle in sight. It may sound like the least option to go for but it works in some situations.
When it comes to doing justice to soft items like garlic, ginger, turmeric, and chilli, a rolling pin can be used.
To get the best result from the use of a rolling pin, assemble the spices on a layer of plastic wrap or put it in a Ziploc bag.
If you want to reduce the difficulty in grinding, chop the spices into smaller pieces before grinding.
I see this as a rather difficult method that will require you to do excessive clean up after making a mess. But if you really don't mind all that, then you've got this as an alternative.
The fact that you are using a rolling pin, then it sounds easy to go about it. If you bake stuff in the kitchen, then you have no worry about getting a rolling pin.
There is no special rolling pin for grinding. It is just improvisation. But I've come across products like GYJ Professional dough roller and it works great.
Not only because it is stainless steel, but easy to hold and roll on your spices.
A meat hammer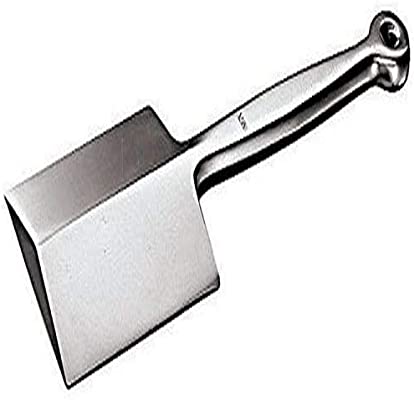 Used for grinding missions from the unset, a meat hammer can be of great help in grinding spice when there is no mortar and pestle and any of the alternatives above.
It is not limited to tenderizing filets of meat. A meat hammer can be applied as a grinding tool for grinding spices like ginger and garlic.
Similar to the process of using a rolling pin, this will involve the use of Ziploc.
The tool will easily pound and grind ginger and garlic as a result of the ends of the hammer which is not flat but textured.
It is very important to look out for some unique features of a meat hammer before it can be said to be a replacement for mortar and pestle.
For example, it should have a Durable stainless steel construction as well as a comfortable handle.
I see no better meat hammer than the Paderno World Cuisine 13-Inch Meat Pounder.
This product will be able to Flatten meat and spice to a uniform thickness for uniform cooking.
It is dishwasher safe, and ideal to tenderize tough meat cuts and spices.
If I was to go for this alternative, I'll buy the Paderno World Cuisine 13-Inch Meat Pounder.
An empty wine bottle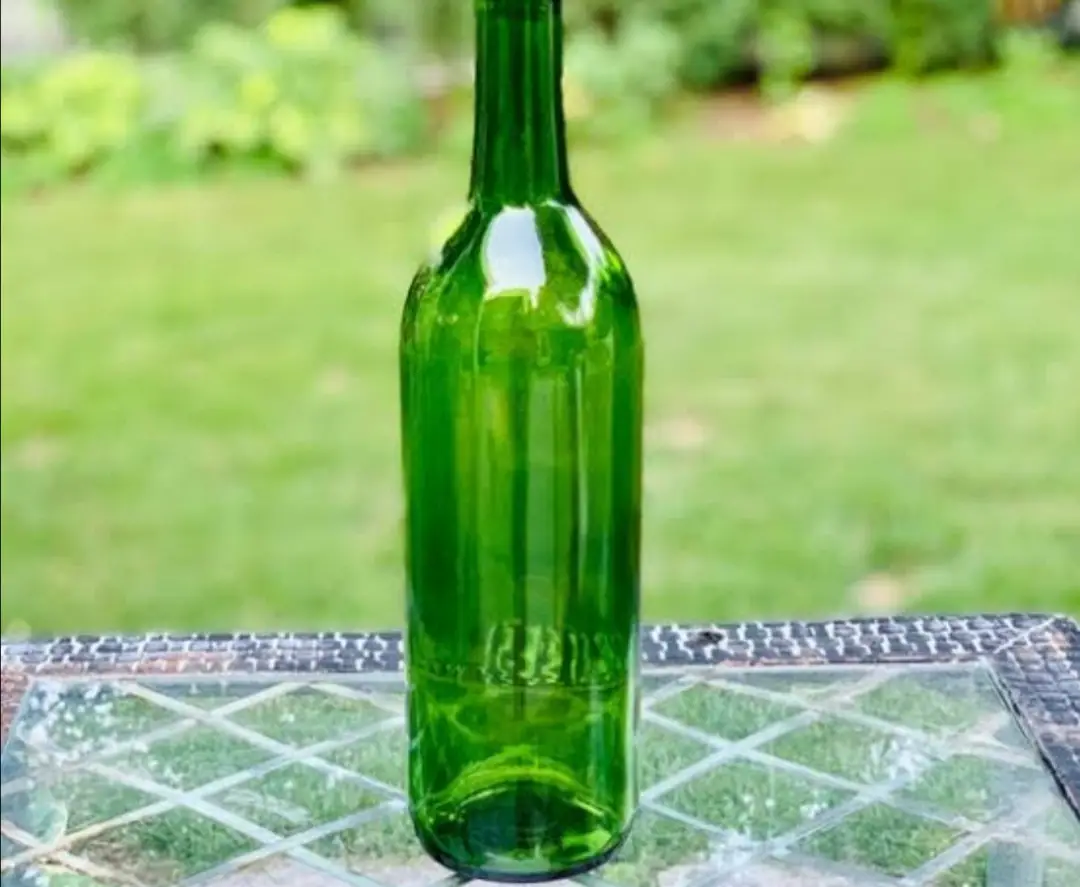 Just like the rolling pin, not everyone will see this as a cool alternative but it is! The bottom of an empty wine bottle can be used to pound some types of spice that are soft.
This is because the bottom of the bottle is thick and heavy just like the pestle. And the metal bowl in which you pound these items in will serve as the food bowl, or as the case may be, the mortar.
But you have to be careful when using this method. Applying too much pressure when pounding or grinding can eventually make the bottle break.
This will cause a huge mess. This is a very good method that you should use only when you are quite sure that you can handle the exact amount of pressure when grinding.
An empty wine bottle is not something you will go the extra mile looking for, just get a bottle of drink in your fridge, empty it and rinse.
You don't recommend drinks for me, I'm a drink freak too, though.
But since we are looking into grinding spices with other methods, just any durable empty bottle will do.
A coffee grinder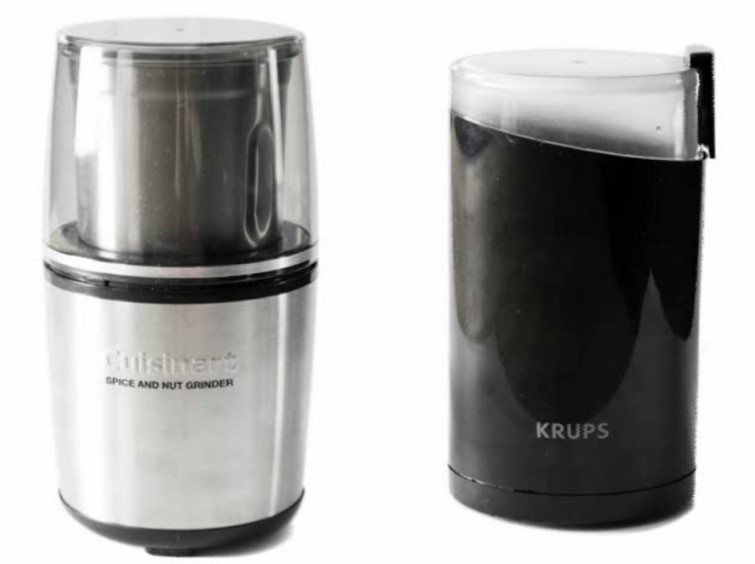 A coffee grinder is a very interesting appliance that can do the job of a mortar and pestle.
People often ask if they can use their coffee grinders to grind spice and herbs. If only they knew that it is actually an alternative. But let me spell it out here that you can only use it to grind dry spices such as pepper, cumin and coriander seeds.
If this will be your first time using a coffee grinder for grinding dry spices, then all you have to do is to, first and foremost, Set the coffee grinder to the level of fineness that the recipe requires.
Afterwards, add the spices and grind to a coarse grind. And grind to personal taste.
It is important to clean the coffee grinder properly before using it for any other thing to prevent the residue and smell of the previously grounded item to affect the one you are about to grind.
And do you know that Roasting spices before grinding will release all their aromatic oils thereby intensifying their flavour greatly?
Well, this means that you may need to have a roaster when you have a coffee grinder.
You can roast spice with a roaster too.
A heavy pan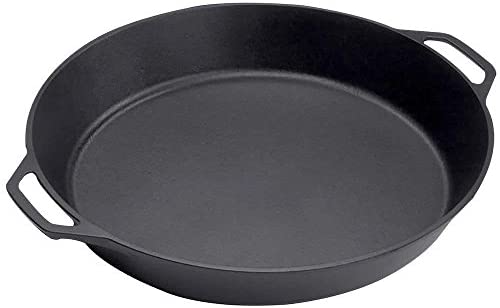 Lastly on the list is the use of a heavy pan. I want to believe this is self-explanatory. What does the work here is the heavy-bottomed pan.
It can be used to pound soft spices in a last-minute emergency, especially when there is the unavailability of a mortar and pestle. You can use the back of a skillet to coarsely grind spices like peppercorns.
All you need to do is to place the spice on a chopping board and softly place the pan on the spices. Then apply pressure evenly to break down the peppercorns.
The heavy pan will be easily used when you grind items like garlic.
A heavy pan is something everyone should have in their kitchen. As a matter of fact, this may be the easiest item you can use.
But when you want to buy a heavy pan, you should see that it is the right tool to  Sear, Saute, Bake, Broil, Braise, Fry Or Grill At Home.
I love heavy pan like Oversized Cast Iron Skillet that I came across some weeks ago. It is my favourite and it may be something you'd love to.
The back or bottom of this heavy pan will do just all that I've explained about grinding spice and herbs using a skillet or heavy pan.
Check out the Oversized Cast Iron Skillet HERE.
Now you have seen it all on the list of alternatives you can use when you don't have a mortar and pestle. And in the end, these tools may become replacement or substitute. Not just alternatives.
Now that you've seen the alternatives, let's now run through some concepts about using a mortar and pestle before we bring this post to an end.
Different types of mortar and pestle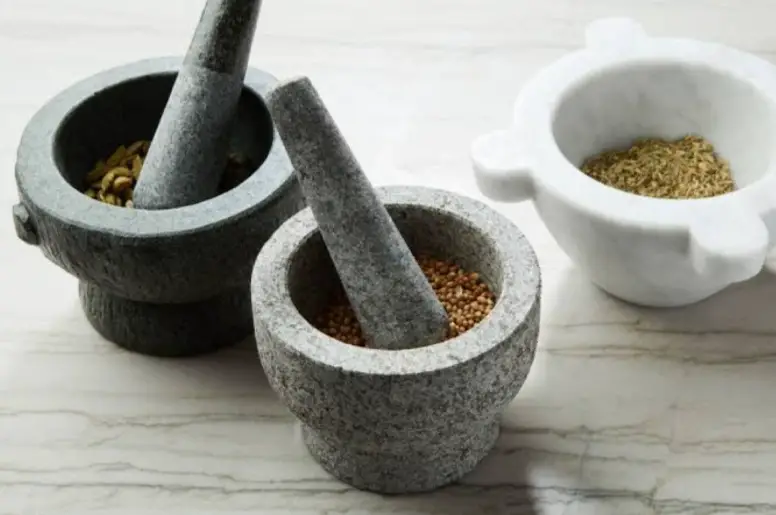 If you have ever researched the internet when you want to buy a mortar and pestle, you will nod your head when I say mortar and pestle come in different sizes, shapes, materials and the like.
This is a huge reason why some mortar and pestle will last longer than others that will need replacement or alternatives.
So if you still use mortar and pestle, let's run through the types we have and for yourself, you will see the fate of your mortar in the next few years or months.
Granite Mortar and Pestle
The mortar and pestle made of granite are said to be the best among others. The Thai cookery uses this traditionally when. Making spice pastes.
But it is generally used to grind spice and herbs all over the world today.
While they are heavy to carry around, they are made of rough stones that will grind almost any spice however tough they are.
They do crushing to dried chilli peppers and spices and grinding herbs and even fibrous ingredients such as kaffir lime leaves and lemongrass.
Marble Mortar and Pestle
Marble Mortar and pestle can be best used for crushing spices, pounding garlic and ginger, etc., but not herbs.
This is because it has a super-smooth surface that will not work quite well for grinding herbs seeds and nuts.
These ingredients will definitely dance around the food bowl because they are not rigid and rough, unlike the granite.
Olive wood
Usually referred to as wooden mortar and pestle, the mortar made of olive wood is also ideal for crushing spices and making a sauce of garlic.
It was originally used at Mediterranean cooks. Wooden mortar and pestle tend to absorb moisture more than any other material hence, they will retain residue and smell of previously grounded spices.
But if you maintain them properly, you won't tackle such problems with struggle.
I will recommend the use of a wooden mortar only when you want to dedicate it for a particular spice and nothing else.
Cast iron
Cast iron can be used to make mortar and pestle and such structure is ideal for processing hard, tough ingredients
But I'm sure your guess is as good as mine. You will need to take care of it more because it can rust.
I will not encourage you to buy mortars with heavy coating on the inside as they create a surface too slippery to work with effectively. The only advantage is that they discourage rust.
Ceramic
Lastly on this list is the mortar and pestle made of ceramic materials.
The use of ceramic mortar and pestle to process food can be said to be dominant in Europe.
The structure is ideal for processing to get meals like pestos and cicadas.
You can also use a ceramic mortar and pestle effectively to grind spices like garlic, nuts, herbs and bread.
I heard that it is the recommended tool to use when preparing the green papaya salad prepared in Thailand.
So which type of mortar and pestle is ideal?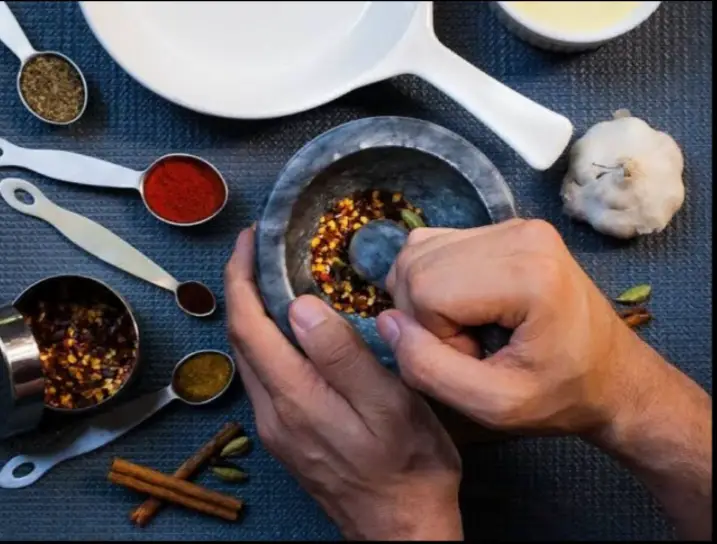 In as much as I can not give a clear answer to this, I want to believe that having shared the types of mortar and pestle we have, you will be able to pick the right type.
But in a broader sense, what type of mortar and pestle do you think is the best to use among others?
Like I've mentioned, there are many variations of materials that mortar and pestle are made of.
There are some I can personally tell you not to buy and there are others that I'll recommend to you to purchase.
Well, when you want to buy a mortar and pestle, some of the materials you should avoid completely includes steel and other metals like brass, copper, and alloys.
While they may be effective to some extent, they have a reaction with what is being ground in them.
Worse off, they get rid of the taste of your spice.
In conclusion, I will recommend that you go for a granite mortar and pestle. Not only is it the type that Gordon Ramsay uses but it holds all the best quality of a good mortar.
Although, they may appear expensive but will be worth it.
I hope you've discovered the best alternative to mortar and pestle that suits you.
If you've used any other alternatives and you want to share with me, I'll be in the comment section.
Having a mortar and pestle in your home is one of the most amazing things to do.
Not only will you enjoy the purest undiluted flavour to your spices and food ingredients, but you'll also own the most ancient grinding machine and the best grinder for all that you grind.
Using a mortar and pestle may be stressful, we agree with that, and this is why we have shared further alternatives with you. I believe you'll find value in this post.
Do you have other alternatives to mortar and pestle that you may want to share? You should do so in the comments, we want to learn from you.