If you are looking for the best mixer grinder that is above 750 wattage power, then you are at the right place. Read on to explore a list of the best mixer grinders to buy.
It is not so easy for a common home cook to decide on the best mixer grinder. You need to be aware of some important features to consider before making any choice so that you don't have regrets after some time of usage.
For this reason, I will share not only the best mixer grinders above 750Watts but also every other facts and figures about buying/using a mixer grinder at home or for commercial use.
It has been proven beyond all reasonable doubts that owning a mixer grinder is very helpful in the kitchen. The kitchen appliance can serve as an all-in-one solution for various cooking tasks which includes grinding, pureeing, grating, and chopping.
With a mixer grinder, you can avoid those tedious cooking operations that put you off and drain time. There are currently myriads of mixer grinders available in the market today.
Your choice of mixer grinder depends on your intention of owning the appliance.
In order not to fall into the trap of various online offers that promises effectiveness but disappoints in the end, I have developed this friendly guide to help you make the right choice.
Speaking about making the right choice, the wattage of a mixer grinder is a very important feature to consider before purchase.
Bearing this in mind, I have reviewed in this article the best mixer grinder with powerful wattage above 750 available in the market. I have also highlighted their advantages and disadvantages to help you make the right choice for you.
Before we continue, here is our quick recommendation on the best mixer grinders above 750watts to buy. If you are in a hurry, this table tells you much about what this article is about.
Overview of the best mixer grinders above 750watts
Best mixer grinders above 750 watts review
Hamilton Beach Professional Mixer Grinder
SHOP FOR HAMILTON BEACH PROFESSIONAL MIXER GRINDER ONLINE
We have ranked this Hamilton Beach Professional Juicer Mixer Grinder as our number #1 choice when it comes to best mixer grinders above 750watts not just because it features a 1400watts motor but it also delivers superior mixing and grinding performance for cooking.
With the high wattage of this mixer grinder, you can easily make chutney and idli batter.
Reasons to choose Hamilton Beach Professional Mixer Grinder
One reason you can not resist choosing this mixer grinder is that it has been uniquely designed in a way that you can quickly mix and grind the toughest ingredients.
This is actually the main purpose of an ideal mixer grinder. So you don't have to worry about consistency when it comes to making silky idli batter or coconut and turmeric.
Again, I love the fact that the product comes with a well-developed recipe book by Kunal Kapur for new users.
This is a mixer grinder you can rely on at all times to get the best juicing mixing and grinding performance. It will not overheat like some other basic mixer grinder and it had been designed to last long.
This bad boy is also equipped with infinite speed control and an intelligent speed sensor. So this means that irrespective of the type of ingredient you are grinding, it is sure to deliver precise RPMs.
You will not have to bother about changing the blades are they are durable and sharp. It is also equipped with titan lead and stainless led jars.
These 2 bigger jars are square sides that keep food circulating to get a maximum result.
Several culinary experts and manufacturers have come together to create this 1400-watt juicer mixer grinder. It has a very powerful motor that is useful when it comes to commercial use.
With this particular mixer grinder, you can easily make juice out of coconut, beetroot, carrot, smoothies, or greens. It is an ideal mixer grinder to make healthy recipes.
Pros
Superior mixing and grinding performance
Powerful commercial-grade 22 peak hp motor (1400wattage)
Advance electronics provides processing versatility
5 years of protection on the entire product
120 volts comparability for households
Power to juice anything with ease
NutriBullet High-Speed Blender/Mixer System
SHOP FOR NITRIBULLET 1000WATT PRIME EDITION ONLINE
The two features that really caught my eye on this unique blender/mixer powerhouse are:
Stainless Steel Insulated Cup
Recipe Book
The recipe book will expose you to so many recipes you can use the appliance for. Along with that is the stainless steel insulated cup. By now, you should know that a mixer grinder that is made with stainless steel components are durable
The NutriBullet PRIME Edition is an exclusive mixer grinder that is designed with 1000 watts of power and a pre-programmed autocycle. This mechanism will shut off automatically when you get the best nutrient Extraction.
You may want to consider this mixer grinder because it has a 1000-watt high torque power base that works pretty well for heavy-duty tasks as well as the automatic shut off the technology like I have mentioned.
This exclusive mixer grinder contains the following
28oz insulated stainless steel cup with vessel grip
32oz colossal cup with handle
32oz colossal cup with vessel grip
Extractor blade
Two comfort lip rings
Two flip-top lids
And a user manual plus a recipe book.
I particularly love the product because it can keep your smoothie or shake cold for up to 8 hours. In addition, you just need to get this product so that basic food prep like chopping, pulverizing, demolishing, and liquifying fruits will be made easy.
It is a perfect replacement or substitute for your regular blender or juicer.
Similar to the Hamilton we just looked at, this product helps you to make a nutrient-extracted beverage that will nourish your system.
An added advantage is that it saves space and is very easy to use. You. An even clean the blades, and accessories with running tap water or in a dishwasher.
Reasons to buy this product
Equipped with a Powerful high-torque 1000-watt motor
Designed with an auto shut off feature after optimum nutrient extraction
Oster Blender Pro 1200 Food Processor Attachment
SHOP FOR THIS OSTER BLENDER  ONLINE
Oster products on kitchen appliances are always giving sharp performance and this Oster Pro 1200 Plus' is not an exception.
I love this product for versatility and sharp performance. The 1200Watts motor is really good enough to carry out both basic food prep operation and heavy-duty tasks.
Speaking about versatility, the Oster Blender pro-1200 with Glass Jar can be used to get a consistent crush of ice as well as pulverized fruits. You can even turn frozen fruit into a smooth sorbet.
All these processes are listed in the well comprehensive User manual that it comes with.
The product has Seven speeds including 3 pre-programmed Smart Settings. This product is really unique among other Oster creations which makes me believe that much work has been put into it.
The sharp blades of this Oster Model tell much about its peculiarity as the blades feature a 50 percent larger blade system. It is made with BPA free food processing bowl, stainless steel slicing disk, and a very durable chopping blade.
Reasons to buy this Oster model
The product starts with 1200 powerful watts
Gives user options of blender and food processor features.
Comes with a 7-speed setting which includes 3 pre-programmed settings
The above will work well for salsas, milkshakes, and smoothies.
Features a pulse button that gives you control to get precise blend and processing.
Pros
Ingredients are blend in both forward and reverse motion which means they can move down to the blades for smooth grinding, blending, or food processing.
When compared to other Oster models, the powerful blade system of this product is 50 Percent larger
10 years duralast warranty ensures protection and longevity.
900 watts is dedicated for ice crushing
Elegant look and compact in size.
BOSS Excel Mixer Grinder, 750W
SHOP FOR BOSS EXCEL MIXER GRINDER, 750W ONLINE
BOSS Excel Mixer Grinder is designed with specialized Stainless Steel Blades that help to cut even the toughest ingredients and gives the finest paste.
The coupler is made of strong plastic material and is very durable to ensure firm engagement between the jars and the body.
It is equipped with 750 watts of power that allows the machine to effortlessly blend and grind dry and wet ingredients, and present smooth mixtures without wasting time.
The mixer grinder comes with 3 hardened Stainless Steel Blades and features three variable speeds available for you to utilize and make sure the ingredients are mixed and ground in desired texture.
It also features cool attachments like 3 hygienic Stainless Steel Jars. There is also the auto cut-off technology that BOSS has utilized in this Mixer Grinder. Such that the grinder shuts off automatically in cases like overloading and excess heating.
It has a convenient design that makes it easy to use and easy to clean.
To crown it all, the BOSS Excel Mixer Grinder, 750W features a water Drain System that is kept dry at all times and avoids accidents and shocks while using the mixer grinder.
Pros
Features a Water Drain System
Easy to Clean
Powerful Motor
Specialized Stainless Steel Blades
Cons
Nurxiovo 3 in 1 Home Mixer
SHOP FOR NURXIOVO 3 IN 1 HOME MIXER ONLINE
It may be your best option because it purely defines what a versatile mixer grinder should be made of. Entirely!
With this 3 in 1 stand mixer with a meat grinder and juice extractor, you can make cakes, bread, cookies, pastry, muffins waffle, and other dough kinds of stuff. It is also useful for squeezing the juice and mincing meat at the same time. In as much as it does all these, it does not make a mess during usage.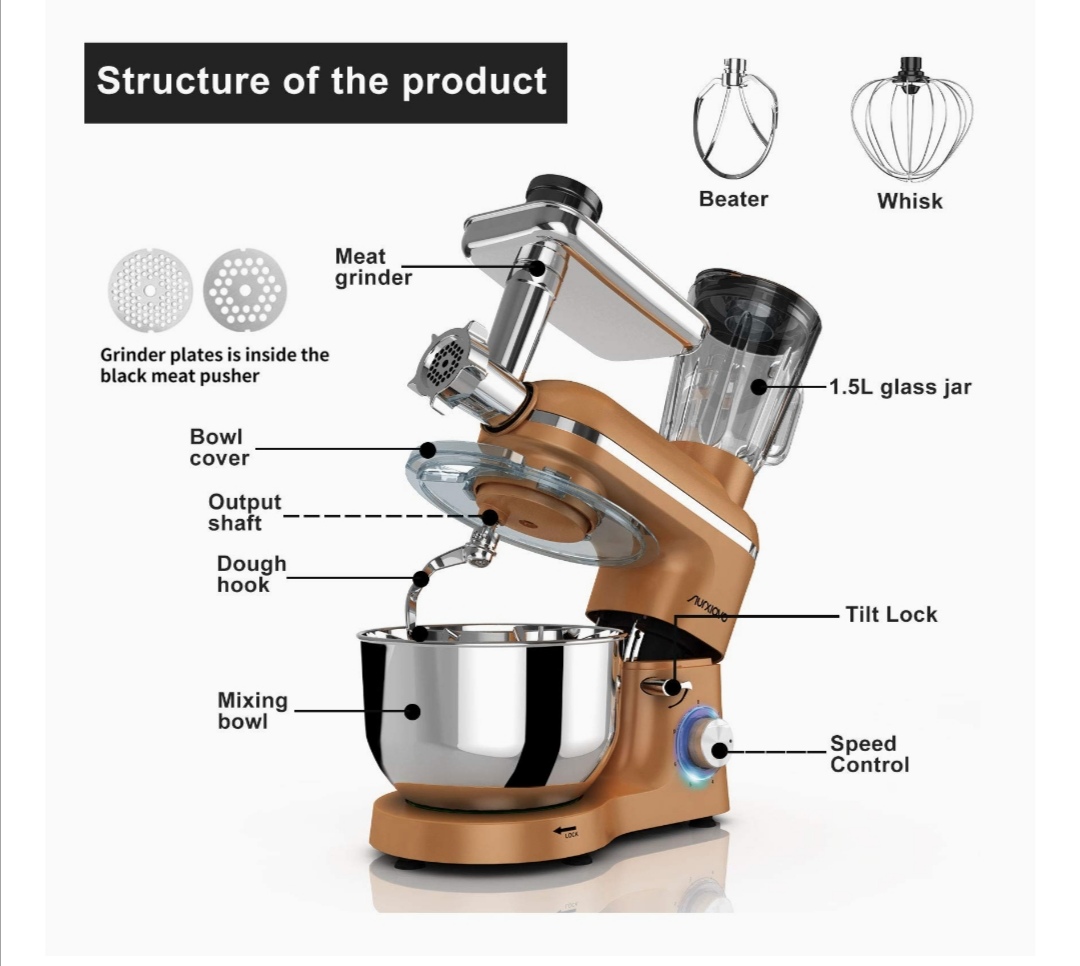 The product is equipped with a 6 pulse speed and blue LED light. The pulse speed gives you total control over what is being ground, mixed, processed, or blend.
The part that disappoints me a little is the wattage of the motor power which is 850W. While this is ideal to carry out all of its functions effectively, it is not as high as all of the products we have been reviewing.
Maybe that is why it has been saved for the last… Don't blame me…
Nevertheless, with an 850W motor power, you can process quickly and thoroughly without any flaws.
Pros
Built-in chip sensor temperature that automatically shut down when overheating
Safe and easy to use
Highly versatile
Durable motor
6.5QT Large capacity stainless steel bowl
Tilt head and anti-slip design.
Strong suction feet to reduce noise.
Other important things to consider when choosing a mixer grinder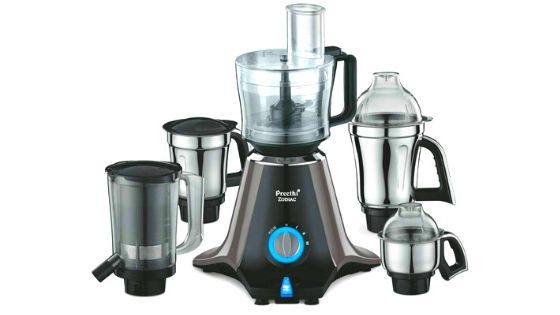 Now that you know how important it is to consider the wattage of a mixer grinder before buying, and you have seen the best available mixer grinders above 750watts, it is time to know the other important features to look out for in a perfect mixer grinder.
These features I am about to share with you are what veteran chefs check in a mixer grinder before recommending to their followers. Even as a novice, it is important to bear these things in mind so that you don't make the wrong choice.
So without further ado, let's dive into the other important things to consider when choosing a mixer grinder apart from the wattage.
The speed of the appliance
Yes. The speed of the mixer grinder tells so much about how best the blade can rotate per minute to mix food items or work on them.
To this effect, I recommend that you choose mixer grinders that are made with high-quality materials and also features a speed control knob/switch to change the settings as per your preferences.
You also want to get 18000 to 23000 RPM for a household mixer grinder.
Number of jars available
Considering the number of jars that come with the mixer grinder is another important thing that most people tend to forget.
Normally, you should go for ones with about 2 to 3 jars which have different capacities to suit your choice.
Basically, the higher the number of jars, the more useful the mixer grinder will be. This is because you can use a jar for grinding spices, another for making chutneys while another can solve the juicing problem.
An ideal mixer grinder should also be ergonomically designed to make handling easy and safe. In addition, the body part must be equipped with break-resistant to avoid the usual wear and tear story.
Sharp, durable blades
Any important thing that comes after the two factors mentioned above should be the blades of the appliance as it is a part of the mixer grinder that does the main job.
Do not buy a mixer grinder without checking the quality and durability of the blades. Do you know how to verify if a blade is durable? It simple.
You want to make sure blades are made with stainless steel material. I personally prefer the ones of 304 grade as it is corrosion resistant and anti-oxidation.
Mixer grinders with High-quality steel blades will definitely maintain sharpness for a long time.
Easy to use
What is the point of choosing a mixer grinder that you can not use or handle easily? So it is important to consider how easy it is to use.
The most mixer grinder comes with a manual guide that helps the user to use the product rightly. This is a very important consideration for first-time users.
Warranty
It is better to choose a product that offers a warranty on the product parts. This will give you a guarantee that the product is made of high quality.
Ideal mixer grinders are given a warranty that ranges from 2 to 5 years. This is very suitable and acceptable. I've also seen interesting models that come with a special warranty on the motor.
This gives you a sense that the product has protection and is backed by a guarantee to satisfy customers.
The price of a mixer grinder
You should understand that quality things don't come cheap often. So you should be ready to invest in a mixer grinder that will take your cooking experience to the next level.
While there are mixer grinders with less expensive options, they are deemed to offer lesser features.
Why a higher watt mixer grinder is important?
Multipurpose, Durability, and heavy-duty tasks
For you to really know why a higher watt mixer grinder is important, you will have to know what the function of wattage is in a mixer grinder.
Watts in the mixer grinder simply indicates the power of the motor in watts. This also means the rate at which the function of the mixer grinder is done.
Without doing much of the sciences, a 750 watts mixer grinder is equivalent to 1 HP mixer grinder. In other words, it is a very powerful motor. But this time, we are looking at something above 750watts.
When it comes to the electric mixer grinder, the appliance is designed with motor power ratings. Some mixer grinders are made with power ratings between 350 to 700 watts.
If you want to know how much food item your mixer grinder can process in an hour, it relies on the motor.
What am I saying, in essence?
The stronger motor, that is, the higher the wattage, the stronger the mixer grinder. And, the stronger the mixer grinder, the more effective it will work for a heavy-duty task and multi-purpose task, too.
Most importantly, you should go for a mixer grinder with higher wattage when your intentions are for commercial use.
A mixer grinder that operates between 500-800Wattage is suitable for home use and basic functions.
Above all, the power of the motor and the speed setting of a mixer grinder are two critical factors you must not ignore when choosing a mixer grinder.
The basic tip you should not forget out of all these that I have explained is that: mixer grinders with 500 watts to 750 watts are great for kitchen use.
However, selecting the one with higher wattage will give you the best result. It is for this reason that I have gathered the best mixer grinders above 750watts.
Important tips to note before using best mixer grinders above 750Watt
Once you have gotten any of these mixer grinders that are above 750watts, you also have a role to play which is cleaning, storing, and maintaining the appliance properly.
This will assure that the mixer grinder will last longer and work effectively for a long time. In order to help you out on this, here are some little tips that go a long way in keeping your mixer grinder to work at optimum conditions.
The first, and probably the most important tip when it comes to maintaining your mixer grinder is to clean it after each use. This is so important that a dirty mixer grinder will harbor various odors from previously processed food items…this is not really good. So always wash the jars of the appliance with warm water and make sure they are thoroughly dried before storing them. In addition, the blades of the mixer grinder should be removed before washing.
The second tip I want to show you on maintaining your mixer grinder is to always remember to lock the jar appropriately just before you hit the start button. If you don't do this, you can end up destroying the blades with your own hands. (not literally, though)
Another paramount thing I have learned about using mixer grinders is that, when operating the appliance, you should set the speed from low to medium to high. It is not wise to start straight away from the highest setting because it can put a lot of serious pressure on the motor. And you know what can happen when this occurs… The motor will begin to work less effectively.
If you are not new to the use of mixer grinders, you should know by now that grinding extremely hot food is not safe for the appliance. You want to make sure the food items are at room temperature before you toss them into the mixer grinder.
Before and during the grinding process the lid should be tightly secured so that there will be no spillage or mess.
I've also found out that not all mixer grinder owners pay attention to all the cleanable parts of the appliance. For example, the cord can be cleaned with a damp cloth.
One thing you ought to be cautious of is running the mixer grinder in a place that is exposed to water
Mixer grinders should be kept in places that the kids will not reach as it can cause serious damage when it falls.