Molcajete Vs Mortar & Pestle: You may have done your survey and you wanted to pick a mortar and pestle, then you came across a molcajete and you did not know what is the actual difference between these two.
They look almost alike, just that they have a few visible differences that clearly differentiate one from the other. In this article, we will take you through the molcajete and mortar and pestle, for you to know the differences and while one is preferable between the molcajete and mortar and pestle.
You will have a better understanding after going through this article.
What is Molcajete?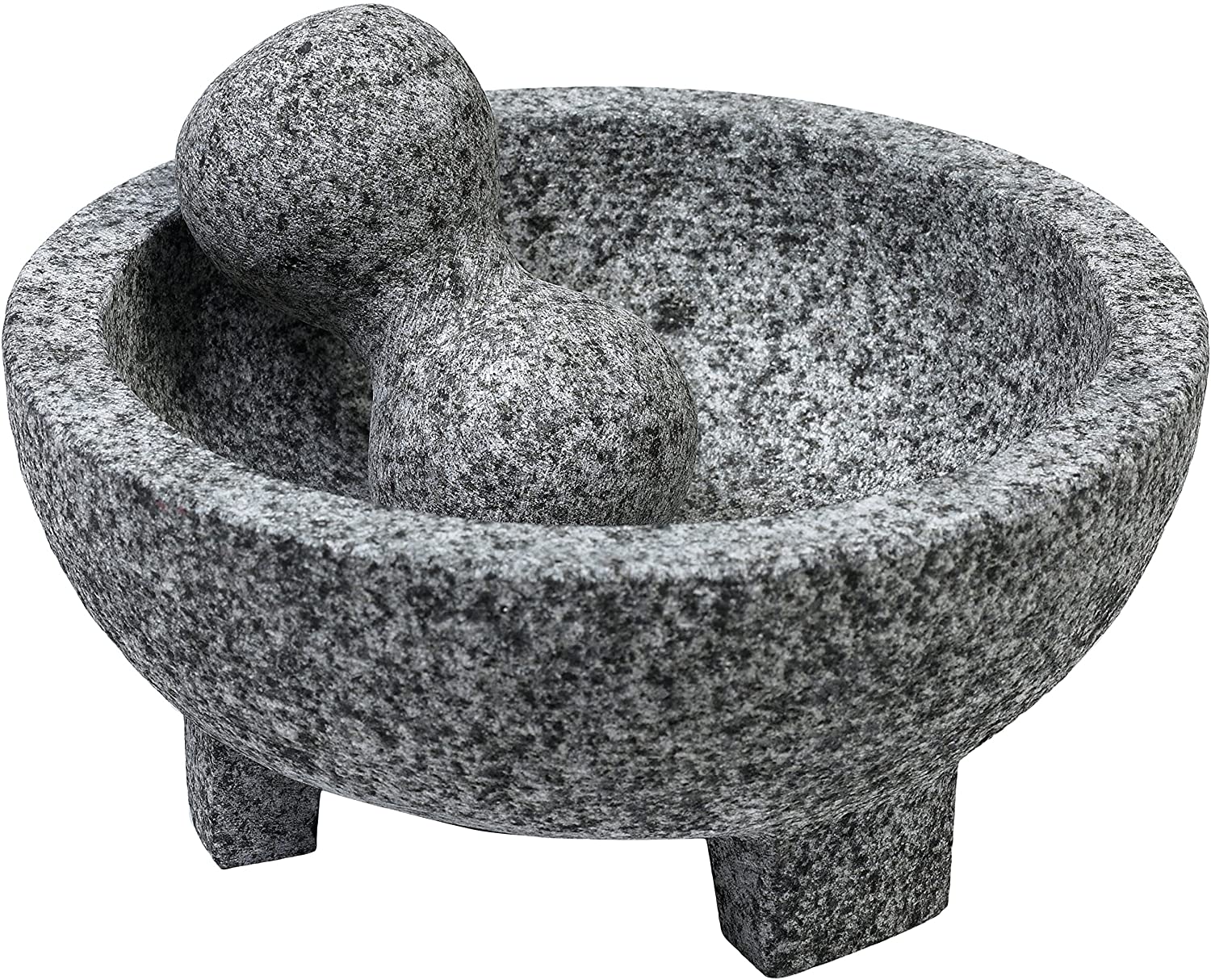 A Molcajete is simply a Mexican stone tool, it is equivalent in function to a mortar and pestle, which is to pound and grind spices and other ingredients. It is a Mexican version of a mortar and pestle that is made from volcanic rock.
Molcajete has two known parts and they are called in the native Mexican language; the mortar which is known and the molcajete itself and the pestle known as "mano" or hand. (As dictated in the Spanish parlance)
What is a Molcajete made of?
A true molcajete is made of basalt. Some others are usually made of a mixture of pressed concrete and volcanic rock particles.
What are mortar and pestle?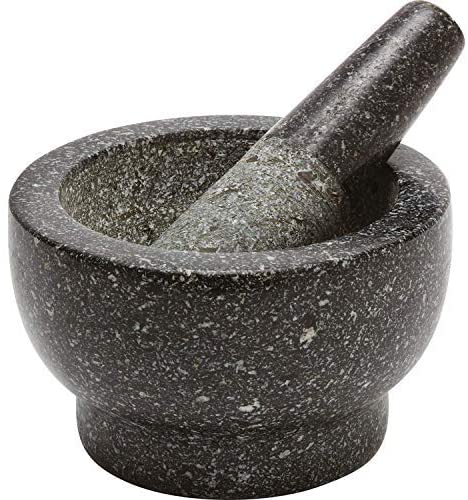 A mortar and pestle are two different looking tools entirely, used together for pounding substances. The pestle is a very strong stick used for pounding, while the mortar is a bowl-like shape which is used to hold the substance that is being ground. Mortars usually have a wide mouth and smooth and round bottoms.
What are mortar and pestle made of?
The mortar and pestle are an ancient tool for pounding. The mortar is usually made of wood, stone or ceramic, the pestle is made of the same material as the mortar.
Difference between a Molcajete and a mortar & pestle
The Molcajete and the mortar and pestle have similar functions and almost similar structure as well, one thing that can differ both of them is that the molcajete is just a larger mortar and pestle, specially made with volcanic stones.
What to look for in a mortar and pestle
While you go out there checking for a great mortar and pestle to buy for your personal use, there are several things you need to check out before you get your personal mortar and pestle for your use.
Unpolished interior
The mortar has some abrasive quality which enables food to be ground, the abrasive quality is what is responsible for the friction, so you need to avoid mortars that have a very smooth or glossy bowl, as this will not give you the exact result you want.
A round bowl shape
If your mortar does not have a round bowl shape it will be sort of difficult for you to handle. The round bowl shape makes it possible for you to twist the pestle and grind every bit of it.
If your mortar is cylindrical in shape and has sharp corners, you will find it hard pounding your food in the mortar.
Large pestle
When you want to pound food, you will need a required amount of force, you should not expect such force to come from a very small pestle, just like saying you want to use a tiny hammer to drive a nail in wood. It definitely cannot happen.
That is why you need a large pestle that will do the work of pounding whatever food you have in your mortar. The force exerted from the large pestle will make it possible for the food to be ground smoothly inside the mortar.
Mortar made from stone
To avoid your mortar cracking and breaking because of too much pounding, you need to get a stone solid mortar that will do your job well. W
hen you are grinding substances like spices, you know quite alright that you are supposed to make use of a harder material for crushing it.
Why you should own your mortar and pestle
You may be wondering if it is a good idea to have your own mortar and pestle, well it could be. You may be missing a very important kitchen tool and you may not have known.
When you get a new mortar and pestle you will not be missing out n so many things. Mortar and pestle have been around for so long, it has been used to crush and breakdown ingredients, from the ancient times till this modern day.
A lot of people think the mortar and pestle seem to have not gone extinct, but it has only been developed and made better by using different materials to make it.
One good reason why I think you should own your mortar and pestle is the ability for it to crush plants and ingredients. Using the mortar and pestle you will be able to extract all the essential oils or full-bodied flavours.
When you use a blender, you may not be able to get this done, the mortar and pestle are best for this job because it crushes, while a blade cuts them.
You will also notice that the mortar and pestle will not bruise herbs if that is what you are grinding, it will not also generate heat like a blender or food processor. The mortar and pestle is a good option if you want to get oil or flavour out of what you are blending.
Even though it may seem old-fashioned, it still does the job perfectly without complaints. Some of these reasons we have highlighted are why we believe it is best you get one for yourself.
Best mortar and pestle to buy
The ChefSofi Mortar and Pestle Set – 2 Cup Capacity
This mortar and pestle are one of the best set of mortar and pestle you can have in your kitchen, it is the best way you can crush your powdered herbs, spices, etc. unlike the modern electric grinders, the mortar and pestle is a traditional way, and still remains the best way to get oil and flavour our of the plants you are crushing.
The blades of the electric grinder, one of the reasons being the heat which is usually generated. This traditional mortar and pestle do not generate any heat while grinding.
With this mortar and pestle, you have the versatility of use, this means that it can be used for different food materials, like nuts, it is used in the health sector like pharmacies to grind pills into powder form for best ingestion.
This mortar and pestle are also very easy to handle, it has an effortless design that was made from an unpolished granite.
There is a natural like friction when you are grinding with it, this friction makes it easy and produces a great result. After grinding, it is very easy to clean this durable and heavy tool.
When you invest your money in this article you will never regret it.
Pros:
Easy to hold
Sturdiness
Durability
Easy to use
Easy to clean
Cons:
Heavy kitchen tool
Pestle may break easily
Final Verdict
This mortar and pestle have more advantages than disadvantages, it is a good buy and value for money as well. You find it very easy to use when you buy it.
Even after doing your grinding, you will find it easy to clean. This kitchen tool cannot be replaced with the modern electric grinder because the mortar and pestle have a special feature which is being able to get oil and flavour when you grind your plants and herbs.
The HIC Mortar and Pestle Spice Herb Grinder Pill Crusher
This mortar and pestle are very small and portable, it was made from quality porcelain. It very easy to use when you buy them, it is also dishwasher safe and good for easy cleanup.
This means you can clean it up by putting it in a dishwasher, and the dishwasher does the cleaning job. It is also best for grinding substances into a very fine and powdered form.
With this tool, you are able to speed up food preparation with minimum efforts. With this tool, you can grind your pestos, nut butter, peppercorns. Etc.
The grip of his pestle is quite great and easy to hold. With great durability and sturdiness.
Pros:
Easy to hold
Durability
Dishwasher safe
Quality material build
Giftable
Cons:
Very small
Not good for pills
Final verdict
This mortar and pestle are a very small one, it is not great for pills because it holds a great chunk of powder when you grind them. If you want to gift someone, this is a great item you can gift your loved one, even though it is small in size.
You will also be able to grind into a paste with this portable mortar and pestle.
Health Smart Granite Mortar and Pestle
This mortar and pestle are made of granite, it is able to grind a great chunk of food recipe and herbs, as we said earlier, you will be able to get oils and great flavours which add great taste to the food you are cooking.
Note that this tool is a heavy one, it was made from a solid granite material which weighs about five pounds, this granite mortar and pestle is a heavy one, you should expect it to last a long while due to its durability.
This mortar and pestle have a very catchy beauty, when you mount this mortar in your kitchen counter, it adds beauty to your kitchen and makes it look better than when you add some other electrical kitchen appliances.
Even though this mortar and pestle are quite heavy, it does not occupy so much space in the kitchen. It is a great idea for newlyweds and also for a great housewarming idea.
It comes with sturdiness; durability and it is also very easy to use. If you want to gift someone, this is also a good gift item you can consider.
Families will definitely love this when you gift it to them to bless their kitchen to make it look better and attractive.
Pros:
Very beautiful
It decorates the kitchen
Durable
Giftable
Easy to use
Sturdiness
Cons:
Final verdict
This mortar and pestle is a great value for money and you will not regret getting it. When you use this mortar and pestle, you will get fresh flavours and oils and make good use of it in the food you are cooking.
This adds taste and makes your food delicious. The heavyweight solid granite build comes with a rough texture which makes ground food come out with great texture.
When your mortar and pestle arrive, it is advisable you season it properly, if you want to season, you should place a one-quarter cup of white rice in the mortar bowl and grind it to powder form by making use of the pestle.
The advantage of seasoning your mortar is to remove all the manufacturing impurities. After seasoning, you should rinse the mortar and pestle with hot water and make sure you clean it with a brush with a good bristle.
Do not make use of soap to clean, the granite material will absorb the soapy residue, then when you add your food to it, it can be transferred to your food which is dangerous. It is a very good idea for newlyweds and for those that are looking for gift items for their friends and loved ones.
---
Molcajete Vs Mortar & Pestle – Final Words

The modern electric grinder cannot fully displace the traditional mortar and pestle because of reasons like overheating and the blades will not be able to crush and bring out the oils and flavour for whatever you are grinding.
If you want to get the traditional feel, you should get yourself one of those mortar and pestles for yourself.