What Material Is Best for Mortar and Pestle
A material simply means a matter from which something is made, another meaning to aid your understanding of this article is that a material can be said to be "significant importance".
This means, without such material, nothing made from it can exist. Pestle, on the other hand, means – a heavy tool with a rounded head, used for grinding and crushing substances such as spices or drugs typically in a mortar while the mortar is a material in which substance is ground.
With these few explanations, I am sure you understand where I am driving to exactly now.
Different types of materials for mortar and pestle?
There are various types of material used in making mortar and pestle, which have both been used since ancient times.  For the purpose of the kind of work mortar and pestle are being used for, it is necessary for the comprising material to be of high quality.
For instance, one of the heavy duties mortar and pestle are used for are: prepare ingredients or substances by grinding and crushing them into a fine paste or powder; It could be in the laboratory, kitchen, or in the pharmacy.
The materials mortar and pestle are made of
Hardwood
Metal
Ceramic
Hardstone such as granite
Hardwood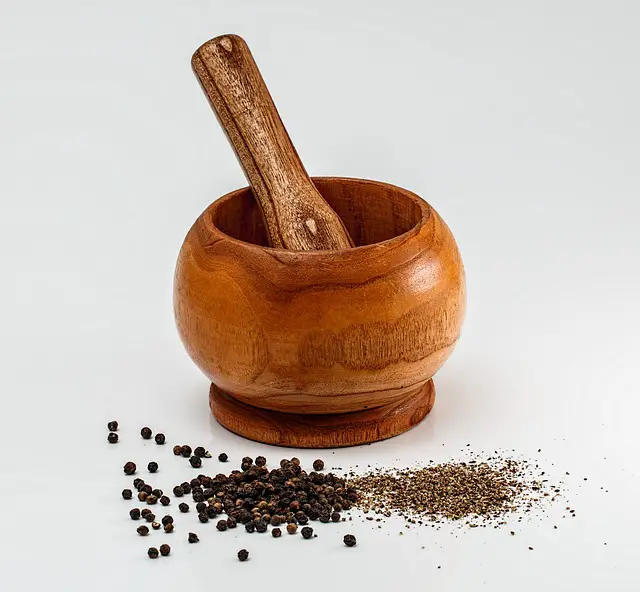 This is a block of wood from dicot trees i.e. trees that live for the period of two years—the trees are normally found in broad-leaved temperate and tropical forest. They are said to be deciduous in temperate and boreal latitudes.
Metal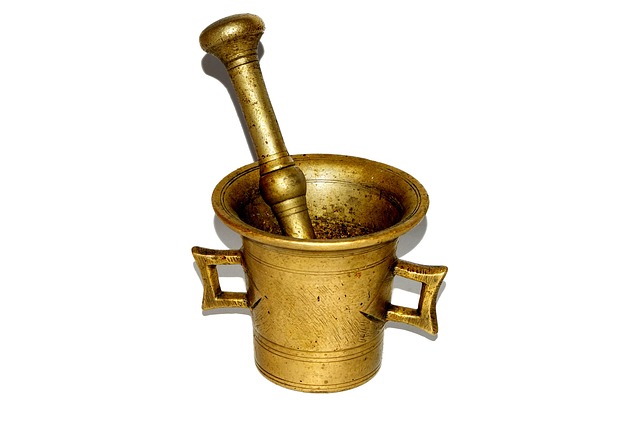 Metal is that material which when earlier prepared, polished, or fractured, displays a lustrous appearance, and conducts electricity and heat relatively considerate. Metals can be beaten into different shapes, therefore, they are good material for mortar and pestle.
Ceramic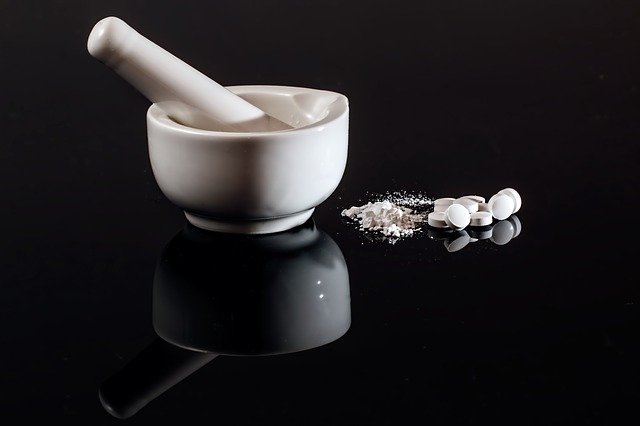 Ceramics are made of the mixtures of earthen elements, powders, clay, water, and then shaped into any desired form.
Granite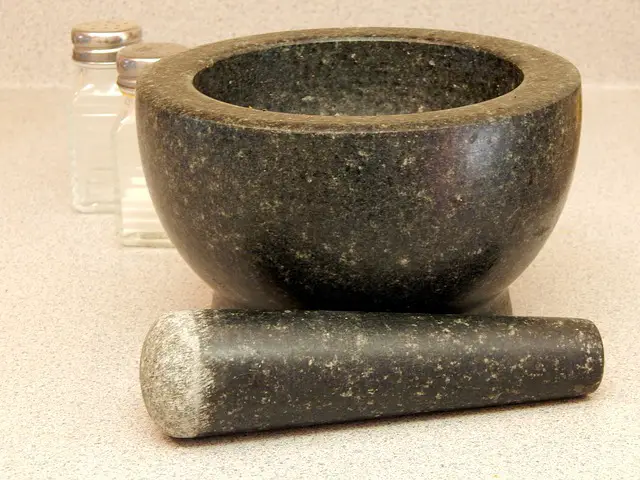 Granite is a light-coloured igneous rock containing grains large enough to be visible with the naked eye. It is formed from the sluggish crystallization of magma below the sea level. Granite is composed of main quartz, and feldspar, with a small amount of mica, amphiboles, and other minerals.
Granite is used to make mortar and pestle for grinding substances into powder or paste.
What Material Is Best for Mortar and Pestle: A piece of advice as an African
From time immemorial, Africans are used to the wooden mortar and pestle due to the flexibility and easy grinding configuration. I will advise that your first choice for mortar and pestle should be the one made of hardwood.
However, our focus is to get a tool that can get the job done for us.
Wood Mortar and Pestle Set Premium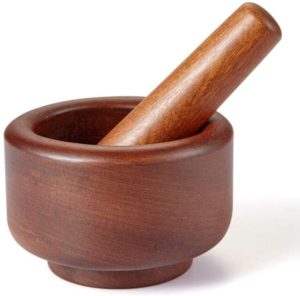 This mortar is worth buying because it is ergonomic and comfortable to hold and then has a smooth surface that makes it impossible to hurt your hands despite a long time use. The bottom design is serrated.
If you are a cooking enthusiast, this mortar and pestle set is perfect for you because it allows you to precisely control the taste of the seasoning of your food when added.
It contains manual operation which helps you to easily grind substances like garlic into pieces or powder, depending on your choice, and it is very simple and convenient.
It is made of high-quality wood, which means the wooden material is hard, and the surface is made to be smooth, the texture is clear, sturdy and durable, and the service lasts for a long time.
It is a handmade material with a large diameter design, and easy to put into the food item you desire to grind. There is no doubt that the item is made for your convenience, natural style, simple and normal.
Food Processor and Food Grinder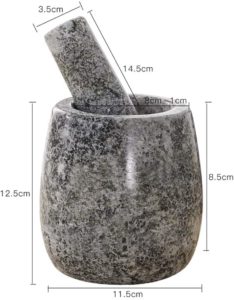 This item is faster than manual cutting, if you want to chop an onion, it will not take you more than a few seconds. It is used for chopping preparation, mixing, and making puree that satisfied your taste.
The food processor is small in size, light in weight and convenient to travel with, it can be used in both small and large kitchens, and camps.
The material through which it is made is marble stone and the texture is so easy for you to grind substances with it. In order to prevent food from falling out and for perfect crushing, the bottom of the item is made to be smooth and well-polished.
It is made of sleek design which makes it easy and labour-saving items to buy. The lower part is groove-shaped so that it will be easy to operate. Apart from all these features, the material is exceptionally beautiful.
Don't forget, it is a stone grinder that is durable and environmentally convenient, the stone is original and healthy.
Mortar And Pestle Set Natural Stone Grinding Bowl Home Kitchen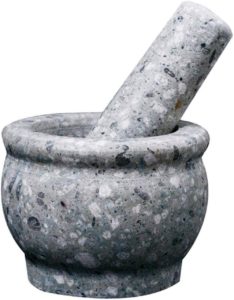 The grinder is made of high quality but a heavy natural stone that is perfect in making spice mills, pastes, seasonings, marinades, dips, and drinks.
The mortar is made of natural stone which is the solid type, durable, and sturdy, and will serve you for a long period of time. It has a simple and elegant appearance, which adds a touch of natural colour to your kitchen.
The cleaning of this mortar is simple; all you need is rinse both the mortar and the pestle thoroughly with hot water using a sponge or dishwasher and it will be cleaned without a single odour.
The mortar has interior ranges, which include wet mixtures and dry spice coatings. You can do virtually everything in it with stress less operation.
It is heavy and that's why it is stable while using it and it is also left rough on the inside in order for it to provide an ideal surface from grinding ingredients from a coarse finish to a fine powder.
The agate mortar and pestle OD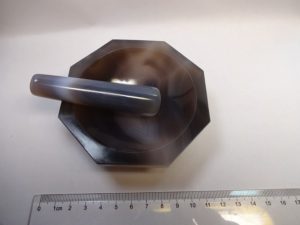 It is a brand new 4 OD with measures of 10mm, ID is 80mm. the agate mortar and pestle OD vary in measures from 1-2mm however, the ID is accurate and constant.
It is of an affordable prince and will serve you to your satisfaction because there is no doubt about this. You can buy directly from the manufacturers or on amazon.
The material is a natural Brazilian agate for both the mortar and its pestles. The hardness is between 7.0 and 7.2.3 dimensions. The inner diameter is 80mm, the outside diameter is 103mm and sometimes varies between 1-2mm.
The mortar and pestle are made of agate stone from Brazil and it is the best agate stone in the world due to the highest hardness it possesses.
The cost and polish time are high which makes the item exceptional. The bottom of the mortar is not well polished so that it can improve the grip of friction.
Paderno World Cuisine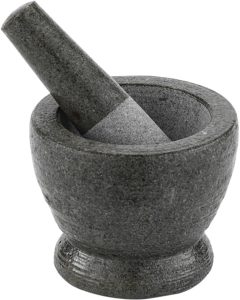 It is a mortar and pestle set that is used to crush, grind, and do the mixture of solid substances. The pestle is designed in a bat-shaped object with heavy density and the grinding and crushing are done through the wide end of the pestle.
The mortar is also a bowl that is made of hardwood, ceramic, or stone—it comes in different varieties. For this mortar, it is used in cooking to prepare ingredients varying from guacamole, gazpacho, and pesto as well as grinding spices into powder.
Mortar and Pestle Set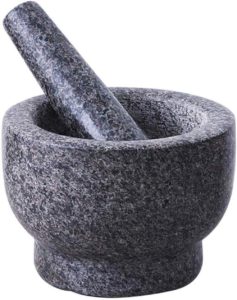 It has this amazing stability that it does not have to be pushed down while in action. For this feature reason, it allows the simultaneous addition of ingredients to speed up your preparation time.
If you desire to prepare everything from garlic to pesto, this product can do them for you.  The mortar and pestle are ideal kitchen materials.
Talking about porosity, this mortar is out of it, for this reason, it is easy to clean. You can also wash it after use directly under running water, or kindly make use of the dishwasher and then allow drying on its own.
The mortar is a hand-polished item from solid granite stone which makes it sturdy and durable and will serve your purpose for a very long time.
Getting it as soon as possible is never a mistake. Don't forget, it can withstand frequent hits.
The pestle and mortar are made in a stylish, polished appearance with a thick bottom, stable and non-sliding when used and will give you a complete fine grip.
It is of high-quality granite made product that will last for your satisfaction, the surface contact between the elements is maximized in order to improve the grinding and pounding performance of spices.
Alpha Nanotech Agate Mortar and Pestle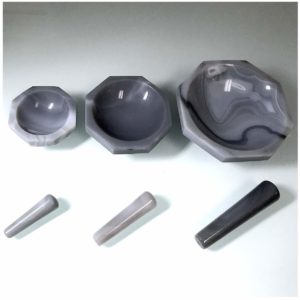 This is called alpha Nanotech Agate Mortar and Pestle based on this article. It is a Brazilian agate made product. If your need is an advanced grinding in the laboratories, the product is up to the task.
Pharmaceutical factories are not left out of the benefits of this awesome product including chemistry laboratories.
This material is made of high compressive strength and acid and alkali can do nothing to it. Wow, what a thickness.
The product assures you that after the grinding of any material, no agate residue will be mixed with the ground substance.  The item has no cracks, no impurities but rather a strong abrasion resistance.
They also have a high gloss and strong corrosion resistance and can be used in the preparation of abrasive materials.
Chef Sofi EXTRA Large 8 Inch 5 Cup-Capacity Mortar and Pestle Set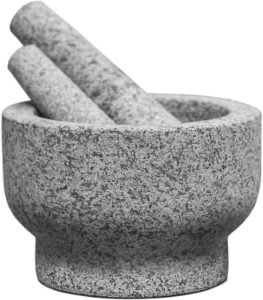 This is a set of granite pieces that are extraordinarily large and for sure, you will not feel limited by the mortar capacity or the height of the walls for any reason again.
This product is of good advantage to pestle longevity because it comes with two pestles, one larger and the other is large.
You can use the larger 8.5 inches pestle to crush tougher ingredients as the case may be, while the standard 6.5 inches should be used for the grinding and muddling purposes.
It is a versatile tool, a brand new stone mortar, and a pedestal set with various applications in your kitchen. This is designed for your comfort as it has the capacity to ease your daily activities.
It comes with a motor feature that can be used to pulverize nuts, seeds, ginger root, and garlic, you can also benefit from its ability to help your preparation of homemade salad dressing, sauces, and condiments such as fresh mustard, guacamole, pesto, salsa, chutneys and many more.
This product is conveniently and widely used in pharmacies and apothecaries and can also powder your pills if you need optimal ingestion.
It is designed for effortless use, made from unpolished granite, and gives you quick grinding and crushing and at the same time helps you to avoid fumbling and stabilizing pestle masher.
It is made in such a way that it provides natural friction for swift ingredient crushing, grinding and powdering.
This product is exceptional because it has a 1200ml capacity and also reduces the need for ingredient refilling to shorten the time to serve your delicious food.
When it comes to satisfaction, there is no doubt you are guaranteed. So, be rest assured that you are already getting one of the best products on amazon.
If for any reason there is a problem after your purchase of this product, there is a money-back policy attached to it.
Size 8 inches Wood Kruk Mortar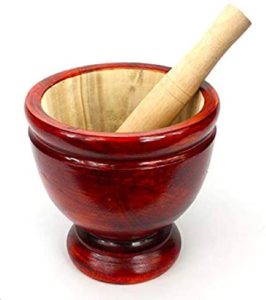 This is a perfect mortar and pestle set for your convenience grinding and crushing in cooking technology. It has worked well in times of Thai food menu, papaya salad, all curry paste, tom-yum spicy, Nam pork, chili sauce, spice mixture, chili paste, mixing sauces, and many more.
It is made of great size, easy to control with speed by your bare hand and you can always use it to cook delicious salad at your own convenience time.
Talking about durability, it is 100% durable, comes with high quality and it is the most popular and useful size. It is a natural homemade product of Thailand.
The dimensions of the wood mortar 8 by 8 by 7 inches while those of the pestle 1.5 by 11 inches.
Conclusion: there are various types of materials used in making mortar and pestle of which I have reviewed some of the above.
I equally featured some products that are made of these mentioned materials so that you can get them in the amazon store.