One of the most important things to look out for when acquiring your meat grinder is to check out whether there are other multipurpose uses rather than just grinding meat. A lot of questions will arise on the mind of the buyers, especially those that love chicken. One of these questions would be, "Can a meat grinder grind chicken bones?".
When you spend your cash to buy a meat grinder, you have saved time and money that would have been spent on frequently visiting markets to get your meat or bone ground.
Apart from saving time and cost, you also get to protect what you eat from being contaminated with diseases and you also have maximum control over how you want your meat or bone to be ground.
Isn't that amazing?
So, let's get to the question, really.
Can a meat grinder grind chicken bones? Nowadays, recently manufactured meat grinders possess the power to not only grind meat but to grind soft bones like that of the chicken and turkey easily and smoothly.
Meat grinders that have the capacity and capability of grinding chicken bones abound in the market, and you'll be spoilt for choice in picking a great one out of the available meat grinders.
These meat grinders are not only available, a lot of them like the LEM Products W780A Stainless Steel Big Bite Electric #12-Meat Grinder and STX International"Gen 2 -Platinum Edition" Magnum 1800W Heavy-Duty Electric Meat Grinder is affordable for you to buy for your home kitchen or restaurant.
When you make that decision to invest in buying a meat grinder, rest assured that your bone will ground smoothly into your preferred texture.
Note that, the meat grinder in your home will not only be available to grind meat and bones for your consumption alone but will also be used to grind bones for your pets like dogs e.t.c.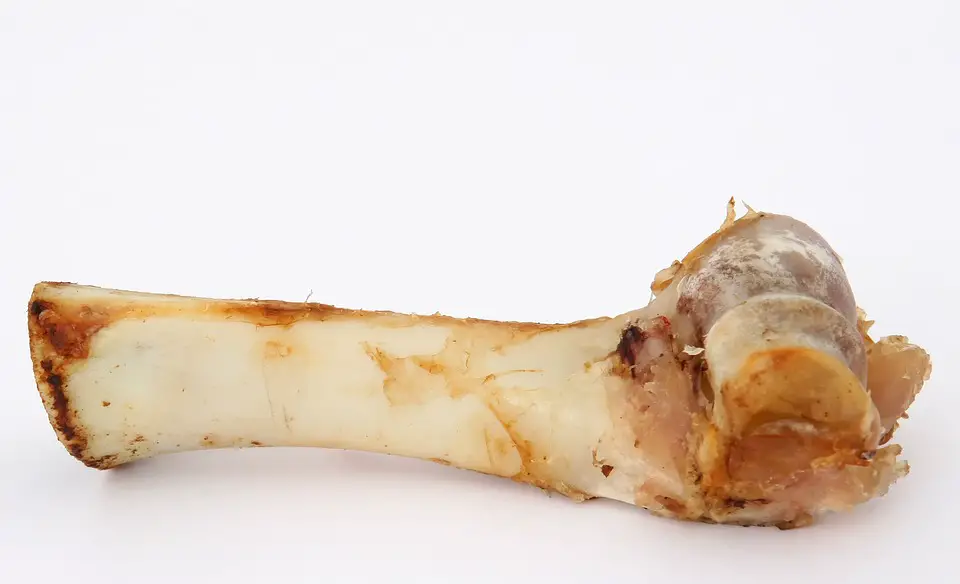 Are there general meat grinders for chicken bones

The answer to this question is that there are specific meat grinders that can grind chicken bones. Not all the meat grinders out there are capable of grinding chicken bones, chicken bones like the thigh and other very hard bones are not advisable to be thrown into the meat grinder to be ground.
It will be difficult for the blades of the meat grinder to crush and grind it. This can damage the blades. Heavy-duty meat grinders are more preferable because they come with more power and they are capable of enduring the strength of chicken bones.
Other types of meat grinder that are suitable for grinding chicken bones?
Kitchener Meat Grinder Sausage Stuffer Elite 1/2 HP
The Kitchener Meat Grinder Sausage Stuffer Elite 1/2 HP is a heavy-duty efficient machine built with a 1/2 hp, 370 W motor. This machine is quite unique in the sense that it comes with three motor speed: Forward grind, Sausage stuff and Reverse mode.
This build was for the purpose of meeting your expectation and not to disappoint. It includes a stainless-steel large-capacity meat pan and a strong meat stomper. This grinder was built with a durable metal gear & stainless-steel cutting blade. Stainless-steel blades are usually the bests this will prevent rust and it makes it also easy to disassemble and clean.
This meat grinder comes with a powerful & smooth quiet operation, this feature adds as an advantage to other meat grinders out there. The blades are rust and anti-corrosion resistant, this feature can increase the life span of the blade. This machine comes with an in-built circuit breaker for safety while in use and protection of the motor.
Take note that this machine is capable of grinding small chicken or fish bones excluding chicken thigh bones or red meat bones to prevent the blades from damaging. This machine grinds up to 240lbs per hour, also, 4-lbs per minute.
Positives
Easy to use
Value for money
Easy to clean
Easy to assemble
Stainless-steel blades
Rust resistant
Anti-corrosion
Grinds meat perfect
Grinds with speed
Negatives
Cannot grind chicken thigh bones
Cannot grind red meat bones
STX International"Gen 2 -Platinum Edition" Magnum 1800W Heavy-Duty Electric Meat Grinder
The STX International"Gen 2 -Platinum Edition" Magnum 1800W Heavy-Duty Electric Meat Grinder is a heavy-duty 100Watt power that is capable of grinding over 3Lbs. of meat.
It comes with a polished aluminium grinding head with a very high capacity meat tray. The STX products come with a one-month unconditional warranty and this also comes with a three-year warranty, this means the costs of parts and labour are included.
The high-volume feeder tray allows this grinder to grind up to 220 to 260 lbs of meat per hour.
However, this depends on the size of the grinding plate that was used and the kind of meat being ground.
This grinder is easy to assemble, so, when you buy it you do not need to worry about assembling the whole parts, you will find it easy to assemble.
The controls are not as complicated as you may think, the manufacturers made this grinder very easy to use, if you are using a meat grinder for the first time you will not have problems in figuring how to operate and use it. After grinding, you will find it easy to disassemble and clean this grinder.
This grinder features an air induction cooling system which does its work of doubling or extending the life span of your meat grinder. This feature will attract lots of buyers because of its ability to extend the lifespan of the grinder by cooling it, most meat grinders get spoilt because of overheating and it could cause it to burn out.
You will rest assured after buying this product because of the one-month unconditional warranty, the regular one-month warranty, and the cooling system.
This product is value for money spent. Having gone through this description, if this grinder suits you or if you think it will meet your expectations then you should get it, also take note of your budget before you buy it. If it is within your budget then go for it.
Pros:
Easy to use
Easy to clean
Easy to assemble
Comes with an air conditioning system
One-month unconditional warranty
Three-year cost and parts warranty
Cons:
Sunmile SM-G50 ETL Electric Meat Grinder
The Sunmile SM-G50 ETL Electric Meat Grinder is a heavy-duty machine with 1000W. It can grind up to 200 pounds per minute. It has a durable blade which is capable of grinding large-sized meat and can also grind chicken bones.
Thanks to the metal gearbox and powerful motor, the electric meat grinder can also grind chicken breast frames and soft bones to help you prepare a delicious and nutritious meal for your pet.
The multipurpose meat grinder is excellent for fine grinding of meat and even sausage making.
Pros:
ETL certified
Can grind bones
Easy buttons to operate on and off
Stainless-steel
Good design
Easy to assemble
Easy to use
Cons:
May occupy space in the kitchen
How to grind chicken bones?
Before putting the chicken bones inside your meat grinder, it is very important that you separate the bones from the flesh. You need to ensure that the bones are raw, and not cooked, because cooked bones are always harder to grind than a raw bone.
However, you should grind soft bones that animals usually eat in the wild if you are grinding the bones for your pet as pet food. The rib-cage bones are the best to be ground in the meat grinder, also the poultry wings and neckpiece.
The best bones to grind in a meat grinder are fish, rodent and small poultry bones. Please avoid putting huge or very large bones in the meat grinder, this might be too hard for the blades of the meat grinder to crush.
Take note that you should measure the bones you want to grind with your thumb, it is advisable that if the bone is larger than your thumb you should not bother grinding it in the meat grinder.
Take note that small animals like puppies, cats etc. do not like to eat hard bones as this will be too coarse even when it has been ground.
You may notice some things like blood, bone marrow etc. when the bones are ground. This happens and it is normal. Ensure that your collector bowl is clean before grinding commences.
Can you eat ground chicken bones?
You cannot eat raw ground chicken bones, but you can eat a cooked chicken bone. It is not advisable for humans to eat raw ground chicken bones because chicken bones have the ability to splinter when chewed.
For this reason, humans should not eat chicken bones. If humans chew craw chicken bones it may likely create a harmful splinter that may lodge in places in your digestive system.
Will Kitchenaid meat grinder grind chicken bones?
The answer to this question is yes! However, if you want to grind chicken bones with the KitchenAid meat grinder, you should specifically make use of the pro 6000 Kitchenaid.
It is powerful and is able to grind a good capacity of chicken bones in a short period of time.
What are ground chicken bones used for?
Ground chicken bones are used a lot in the Animal food processing industry. These days there are many creative uses of ground chicken bones, of which we will list some of them right here.
Bone paste: One of the uses of a ground chicken bone is that it is used as a bone paste. It is ground to a very fine texture. This bone paste is produced by extremely fine bone grinding machine. The bone paste tastes great and it is enriched with nutrients like calcium, protein, fat, vitamin, etc. This bone paste can also be used as the raw material for making bone paste cookies, meatballs, sausage etc.
Bone powder: Bone is rich in protein, calcium, amino acid, phosphorus etc. The bone powder is a good product for calcium supplement. The raw bone powder can be used as an additive animal feed to help them grow well and can be used as an organic fertilizer to improve acid soil to promote growth.
Dog food: The ground chicken bones can be used as dog food. It is rich in nutrients which will help the dogs grow healthy and stronger.
Cat food: Cats are also beneficiaries of the ground chicken bones; it needs to be ground to a very fine texture so that the cat will be able to eat it. It is rich in nutrient which will help the cats grow healthy and strong.
Used as fertilizer: Ground bones were used as fertilizers in the old days, in places like Texas bones were collected and ground.
Livestock feed: Extremely ground chicken bones may also be used as livestock feed, it enriches livestock and nourishes it with nutrients to help it grow well and healthy.
A lot of people use meat grinders for preparing their food or even for their pets' meals because of how well these meat grinders and crush and grind the hard bones.
---
Final Words – Can A Meat Grinder Grind Chicken Bones

You must have gone through the whole article and you have seen that meat grinders can also grind chicken bones, but not all meat grinders can do that. There are specific meat grinders with qualities that will help you achieve the goal of grinding your chicken bones.
It is not advisable to grind the chicken thigh in the meat grinder, as the blades may not be able to crush the hard bones. If you want to grind your chicken bones in the meat grinder it is best you put in certain softer parts like the wings, neck, the ribs etc.
Do not also forget that caring for your grinder is also an important factor in keeping your meat grinder and making it last. The fact that it is a machine does not mean it should not be cared for.
Just like the human body, if you do not take care of it, do not expect it to function well. Take good care of your meat grinder after grinding bones by washing it, sharpen the blades occasionally, soaking it in hot soapy water to remove all the bones that may have been stuck in one side or the other of the grinder.
Remember to also disassemble the parts of the grinder for proper cleaning, soak the blade and allow the bones or meat that has stuck in it to be removed then you can now wash the blade and re-sharpen it for proper care and functionality.
Do not grind frozen bones in the meat grinder, make sure it has been unfrozen for some minutes before throwing it in the grinder. Ensure you store your grinder well after use.