The very Best Heavy Duty Mixer Grinder for Home is what we have for you on this post. Check them out and see that you get the best that fits into your home.
In a family, there is a need to cook enough food in the house, whether the family is small or large. There is also a need to make the food as quick and delicious as possible, so using the traditional means of cooking may not go a long way to help us achieve it.
You need more sophisticated machines to carry out the duty as quickly as possible; this is the reason why I have decided to make some reviews OK heavy duty mixer grinder
In most of our previous mixer grinders reviews, we made mention of things you need to look at before purchasing them. Let us look at some other aspects of these machines.
You can read Best Commercial Heavy Duty Mixer Grinder, Best Heavy Duty Mixer Grinder For Hotels.
Quick Recommendations
Parts of a Mixer Machine You Should Know
During my research over the months I started my reviews, I observed that most of the customers don't know their own machines, and this setback alone, triggered a reason why they damage their devices thinking that the company that manufactured it should be blamed.
The mixer grinder is a portable mill which is designed with the ability to mix and grind ingredients. If you want to increase the digestibility, acceptability, mixing properties and palatability of your food, grind the food materials with a grinder and then mix, a job a mixer-grinder can do alone.
The grinder operates in such a way that it holds food materials in its grinding chamber until they are reduced to the size of the openings in the screen.
What Do We Use Mixers For
Mixer grinders can be used for preparing and making a variety of food products and purposes. You can whip a variety of liquid using mixer grinders to create shakes, milkshakes, and ice creams.
They can be used to grind and chop harder food items such as vegetables, meats, and nuts.
How to Repair Your Mixer Grinder
Even human cannot continue to withstand the pressure accumulated through constant work, he will break down if he doesn't have enough rest.
Same goes to our machines, they can also break down too after several duties on a daily basis. If this happens, what do you do?
For instance, if your mixer grinder trips due to excessive heat, the first step to take is to unplug the appliance, remove the jar and check underneath the appliance.
There is a red switch beneath the device, depending on the model, press the switch to reset your mixer grinder to normal again. Plug it back in, switch it on and the issue is expected to be fixed.
What Is the Ideal Wattage for a Mixer Grinder
750 watts is ideal, but in some cases, 500 watt is okay, and you can also go for voltages higher than 750 watts especially if you are using it in a large restaurant or hotel for large food production.
The wattage and speed of a mixer grinder are two important factors that you must get right in order to enjoy your appliance.
Best Mixer Grinder of the Year
Cuisinart 12-Speed 5.5-Quart Precision Stand Mixer
According to Google news, Cuisinart 12-Speed 5.5-Quart Precision Stand Mixer is the best to buy. Adding a high-quality mixer to your kitchen aid is one of the best decisions you may ever take this year.
A good grade mixer grinder is an appliance that can handle tedious work that cannot be done easily and timely by a human, getting a robot that can get that done for you can never be underestimated.
Cuisinart product has won the reputation for this quality described above and therefore, you can now focus your attention elsewhere while it does the job for you.
It will assist also in home baking. There are other good options out there but this very model should be at the top of your list.
It is engineered to handle any recipe of your choice, the model has a 4.8 average star rating and more than 1, 3000 5 star reviews from the customers.
It can as well be purchased at 64% off right now.
Things That Are Included
Here are the other parts of the mixer grinder you should know:
Pouring Shield
Stainless Steel Bowl
Wire Whip
Dough Hook
Flat Beater
Whisk
Features
It is a California proposition 65 warning required.
The Mixer Details you should know
It is recommended for your regular Bread Making
The Number of Speeds is 12
The wattage is 500 Watt which is an ideal factor
This Stand Mixer Features Tilt and locking Head
It is made of dishwasher Safe Components and comes in various colours which include: Black Color, Blue Color, Turquoise Color,
The Bowl is Beaters
The Dishwasher Safe Components come in the following colours too: Red Color, White Color, Silver Color Bowl, and the Dough Hooks are Whisks.
Hamilton Beach Mixer Grinder
Hamilton Beach mixer grinder is elegant bold and powerful. It is designed to chop, slice, grind and mix your ingredients.
No matter how hard the ingredients are, this mixer grinder is ready to grind and mix them appropriately with complete ease.
Hamilton Beach is a great grinder with the ability to grind enough food items to your satisfaction.
About This Item
It is known for its superior mixing and grinding performance. It is designed to aid you in quickly mixing and grinding the toughest of your ingredients as the case may be. Especially in Indian cooking, ranging from silky idli batter to coconut and turmeric, the mixer grinder is ideal for the job.
The machine features include a chef developed recipe book by Kunal Kapur.
It is a powerful commercial-grade 22 speaks HP motor with 1400 watt that is built to last long and ensure reliable juicing, mixing, and grinding great performance and to also withstand overheating for continuous usage.
This appliance is for sure an advanced electronic that provides processing versatility that is equipped with endless speed control and an intelligent speed sensor that will give you an accurate RPMs no matter the amount or the type of your ingredients.
It is made of 13 custom settings that give consistent results.
The mixer grinder is ideal and comes with 3 JARS stainless steel 051 and 15-liter square sides that keep your food circulating in the 2 larger jars for a delicious meal.
The blades are durable and you will not necessarily need to change them. The Tritan lid and stainless of the appliance are leak-proof.
This is engineered in India and the USA. The mixer is has a powerful motor developed in collaboration with Indian technology and culinary experts by Hamilton Beach a US leading brand in kitchen appliances for consumer and commercial use.
It has the power to juice anything with complete ease and can retain nutrients and boost immunity by juicing the entire food into healthy drinks.
You can use this powerful mixer to juice the following food items: it coconut, beetroot, carrot, smoothies or the greens. You can also use it to blend almost everything blendable.
The guarantee is five years with over 100 years of commercial mixing, grinding, and blending expertise; you have chosen the right device for sure.
It has 120-volt compatibility for households in the USA
Pros
It easily turns your grains into liquid without adding much water
It can grind, mix, and juice with speed and ease.
Cons
No cons from customers yet
KitchenAid KSM155GBCA 5-Qt. Artisan Design Series with Glass Bowl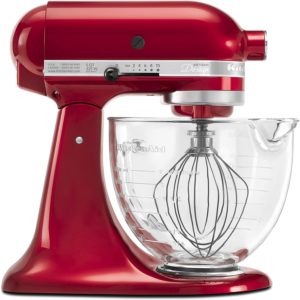 This is a powerful mixer, it has 882 stars customer reviews and this should make you understand that you are already going for a perfect mixer grinder.
Your money will be invested in a good product.
Here are the features:
It is a multipurpose attachment hub with over 15 optional attachments.
It is a 5Qt. model with a glass bowl that has measurement markings.
It is made of 10-speed settings and can yield bread loaves for you.
The head is tilted designed.
It includes a coated metal flat beater, coated metal dough hook, and wire whip.
The warranty is for one year.
It is a 60Hz powered mixer grinder
The glass bowl is transparent; the 5-quart glass bowl displays your recipe before your eyes for ultimate control.
See-through glass mixing bowl; the 5-quart glass bowl lets you see your recipe as it mixes for the ultimate in control
The tilted head allows you easily access the bowl, beaters, and ingredients with a simple tilt of the mixer head.
For efficient thorough mixing, you can spiral the beater within the bowl. There is also a beater to bowl coverage for this product.
The construction is metallic, rugged, durable metal construction of the machine ensures many years of reliable usage. It also has the capacity to help reduce mixer walk on your counter
It is constructed to the power of 12 optional accessories; this means you can use it as a culinary centre as you may decide.
Pros
It is easy to use and clean
The speed is accurate for quick mixing, grinding and juicing.
Cons
Dried ingredients fly everywhere unless you pre-wet them
Same happens when adding wet ingredients
Note: pros and cons are derived from previous customers' review
Final Verdict

This is a very good mixer grinder, and for sure will do you a great job if bought. It has a lot of five-star reviews, which makes it one of the best ever products in the store.
KitchenAid KSM150GBQCU Artisan
This is another powerful and well-designed mixer grinder machine. It will give you the satisfaction you deserve all the time.
It is engineered to grind your ingredients in the twinkle of an eye with great speed attached to its functionality.
It is also a 5-quart stainless steel bowl mixer grinder but can mix up to 9 dozen cookies or 4 loaves of bread in one batch.
It is made of a tilted head that is designed for clear access to the bowl so you can easily add your ingredients conveniently.
It is so powerful that it can take on nearly any duty or recipe with 10 speeds operations.
You can use this KitchenAid stand mixer to grind by attaching it to the power hub and then use the power of the motor to help you tackle a variety of duties.
It is made of a fantastic coarse grinding plate which helps in grinding raw meat for burgers, or meatloaf and then combines ingredient for homemade salsa
It also has a fine grinding plate which quickly grates hard cheeses and helps to make bread crumbs.
You can also use it as a culinary centre in your kitchen with over 10 different attachments that are sold differently.
It has 359 4 ½ star reviews and still counting into 5 stars.
Pros
It helps to grind your ingredients into fine and rough textures
It is easy to clean is made with stainless steel body
Cons
A customer claims it has mechanical flaws
Final Verdict
Since this product has more good reviews than the bad reviews, it is better to purchase it than ignoring.
Ultra DuraMix-Red 750W 110V Mixer Grinder
I have this special grinder as an evening gift for you but it will be in the form of review, so I caught your red hand this time.
This is a remarkable and fantastic mixer grinder that is for sure a powerful machine to mix, grind, and juice your ingredients.
It seems like a new product but still, the stars are growing and for that, I want you to be one of the first people to enjoy the power of this product. You can try it and see the performance.
It comes with some interesting features which I will like you to know about:
It is designed with a digital timer, jar lid lock, Turbo speeds, and unique slow-grind speed
The body is Metal and the machine is sturdy, reliable and long-lasting for your convenient use
The machine is made of a metal coupler in the jars and motor to put a smile on your face as you work with it.
The jar comes in different sizes which include small, medium, and large values 0.5L, 0.8L and 1.5L respectively.
You can control the mixer grinder to reduce the size of the small jar to 0.2L for the grinding of small quantity ingredients.
Pros
Easy to clean: 3 stars
Durability: 2.7 stars
Easy to use: 2.3 stars
Value for money: 1.8 stars
Final Verdict
MURENKING Stand Mixer MK36 500W 6-Speed 5-Quart Stainless Steel Bowl
You should have purchased this product for a long time. It is a product with outstanding features and for assurance sake; you can quickly check the following features of the product.
It is made of 500w motor and 6 speeds which qualified it to be a powerful motor; it can knead the dough and also keeps as low as 80 decibels.
It has 6-speed controls for your various needs as the case may be.
The machine for sure is FDA and ETL certified product and the food-grade stainless steel removable 5 QT bowl comes with it which makes it enough to mix the dough or other food from 0.44 pounds to 3.3 pounds.
Mureking's mixer grinder machine is a planetary trajectory designed appliance with 360 degrees round cut that points up to 398 as a result of its unique design.
It is also made of a tilted head and 5 suckers at the bottom which ensure that no moving and rocking during the mixing process.
It is made of 4 practical attachments which include: with a wire whip, C-shape dough hook, Y-shape flat beater, and pouring shield offers.
The stand mixer also comes with versatility to blend, beat, whip knead, and mix egg and cream.
The warranty is one year so, this will help you save your money as you desire.
Pros
Giftable
Easy to clean
Value for money
Suction power
Cons
Brokedown when trying to grind
Final Verdict
Going by the customers' reviews and the growing 5 stars, it is reliable to buy this appliance, and for sure, it will go a long way to help make your kitchen job easier, neater and ideal. You can always get it in the amazon store.
BODUM 11381-294US Bistro Electric Stand Mixer, 4.7-Liter, Red
This is another product fast rising with 67 stars rating so far, you may want to be among the earliest users of this wonderful kitchen device.
The five stars ratings are higher in percentage compared to other rating levels, this shows that people are in love with the powerful, durable, and reliable mixer grinder.
Here are the various features that come with it:
It has a 5-quart bowl and attachments, and also it is a dishwasher safe device you should already have in your kitchen.
It is made of dough hook, beater, whisk, splash guard, and bowl.
It is made of On-board attachment storage which keeps its accessories easily accessible.
It comes with a solution cup base that keeps the mixer stable and secure on the counter as you perform the mixing.
Space-saving low profit fits on more countertops; it stores easily under the counter with its well-designed compact size 9.25" x 15" and 75" x 13.6"
It is made of a powerful 700-watt multi-speed motor, a reason for the noisy feature.
Pros
Easy to use
Durable
Easy to clean
Cons
Noise level is a bit high
Final Verdict
There is no doubt this product is climbing the ladder of greatness; people that like it are far more than the few that made negative reviews about it.
You can purchase the product and enjoy it as the majority has.
Prestige Manttra Powerful Mixer Grinder
This product is one of the rising ones with 43-star ratings.  Well, depending on how you maintain a product—it will last for you. Most of the negative reviews by customers on this product have to some extent do with emotion. The product is nice, powerful, and reliable. Here are some of the features:
The power-packed 600 watt motor of this appliance is superb, and uniquely made, crafted blades that make grinding of traditional masala easy.
It is made of 3 stainless steel jars with sturdy handles, flow breaker design, and unbreakable jar base and unique fail-safe coupler for your safety.
It has cord winder storage with an improved jar base that fits the system and stainless steel multi-purpose blades.
It can do both wet and dry grinding, whipping, and churning grating, mincing and chopping as well.
This machine is 110 Volts for use in the USA.
Pros and Cons
It is easy to use: 3 stars
It is easy to clean: 2.7 stars
The quality of material: 2.2 stars
Durability: 2 stars
Final Verdict
I was able to find about three customers that are excited about using the device. This means it can be good for everyone to use this mixer grinder.
All you need is to master the instruction and also learn to maintain the item to last long.
---
Final words on Best Heavy Duty Mixer Grinder for Home
Mixer grinders, both stand mixer grinder and the blender-like ones are fantastic and should be found in your home.
You can use this to make fast food for your visitors or even kids that maybe hungry and need a meal faster.
Disclaimer
Our editors have carefully selected, used, and researched products reviewed on this post.
We will earn a token from Amazon on any purchase from you. This will be at no extra cost to you.