Of course, you can grind cooked meat in a meat grinder. But the result may not be loved by everyone as the texture of the meat may become mushy. It is much preferable to mince cooked meat than grinding it as the latter can lead to loss of vital nutrients in the meat.
It is advised to grind cooked meat in a meat grinder when the texture is tough and hard. Soft-textured cooked meat should be shredded or minced.
If you choose to grind cooked meat in a meat grinder, allow the cooked meat to be frozen partially before grinding in a meat grinder for convenience"
While it is possible to grind cooked meat in a meat grinder or food processor, it is advised to season the ground cooked meat for tasty recipes.
If you are not ready to go through the stress and difficulty of grinding soft-textured cooked meat in a meat grinder, it is better to mince or shred the cooked meat.
When preparing delicacies that require ground meat, you will surely come across the phase of meat grinding. Also, there are some special dishes that require grinding cooked meat as well.
Grinding cooked meat is not as easy as cooking ground meat. It seems more like a tougher task compared to grinding raw meat.
You can use any food processing appliance to grind cooked meat such as a meat grinder machine, but these tools are prone to face some constraint since they have been originally designed to grind raw meat.
There are ways to go about this which I will show you as we progress in this article. One thing you should not forget, however, is to always season cooked meat after grinding them.
So, yes, if you have a substantial amount of leftover cooked meat, you can go ahead and grind it in a meat grinder. Make sure it is partially frozen before grinding, and then you season it after grinding.
What are the best ways to grind cooked meat?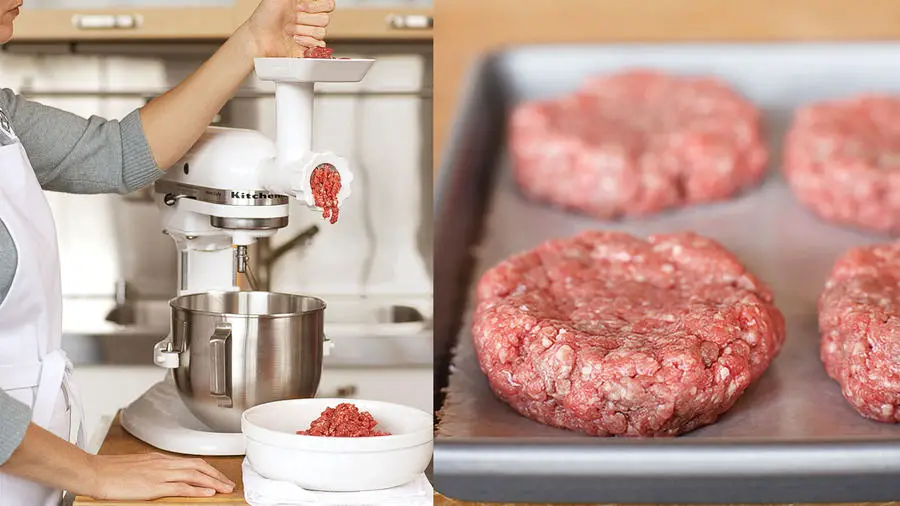 When we talk of the best ways to grind cooked meat, one of our consideration should be the kitchen tool that is ideal for grinding cooked meat.
Just like raw meat, there is no specific food processing appliance that is used for ground cooked meat. In other words, you can use powerful Blenders, food processors, electric and manual meat grinders for grinding the cooked meat.
Some chefs also make use of hand-cranked meat grinders or mortar and pestle.
But have it in mind that using some of these appliances may not be a really smooth process because these tools are originally designed for grinding raw meats.
In this connection, let's run through the proper steps involved in grinding cooked meat.
How to grind cooked meat – The steps
The common kitchen tool most people use for grinding cooked meat is a meat grinder. Let me show you how it is done.
Since the meat is cooked already, the first step is to cut them into 1 to 2-inch slices then set them onto a large baking sheet. You want to make sure they are able to fit into the grinder feed tube.
To reduce the possibility of meat getting mushy at the end or gumming up at the grinder's head, cover the cooked meat in plastic and set them into a freezer for about 30-40 minutes. They will become cold and firm, but make sure they are not too frozen. Blocked cooked meat may not be able to pass through the grinder and be ground.

To make the process much easier, you may want to freeze the grinder as well. To me, when everything is cold, the process of grinding cooked meat seems easier.
Next thing is to assemble the grinder and make it ready for grinding. If you are using a KitchenAid meat grinding attachment, the job will be quicker when the speed setting is set on a high level.
Use the stomper to pressure down the cooked meat into the feed tube and hit the button to make the grinder start working.
By now, a chilled bowl should be placed under the spout already so that the ground cooked meat will fall into it.
While your group cooked meat is ready, you can further use it to prepare whatever recipe required a ground cooked meat such as Boudin or what have you.
Do not forget to keep your working area clean and maintain the meat grinder.
Grinding cooked meat or raw meat – Which is better?
There is actually no problem with grinding cooked meat. You may need ground meat-based on personal preference or the particular recipe being prepared.
For example, there are some sausage recipes that require ground cooked meat to taste better. (I have also heard of a potato sausage recipe that requires you to include ground cooked meat to the recipe).
In addition, grinding cooked meat is healthier for babies and old people as it can be digested easily.
However, there is a tendency that you may end up having really mushy pieces of meat since they are already cooked.
This is determined by the type of meat grinder you use, because, as I mentioned, most of the meat grinders are designed to grind raw meat which is certainly not of soft texture as cooked meat.
Also, when it comes to the process of preparing ground meat, most people will go for grinding raw meat because it is easier to achieve a perfect result grinding raw meat.
So, we can conclude that it is almost entirely based on individual choice and taste.
But hey, there is no better option than to use ground cooked meat when it comes to soup recipes, sandwiches, and burger recipes. As a matter of fact, most modern restaurant finds it tasty to use ground cooked fish for their fish finger recipes.
In the same view, ground/pounded cooked meat works well for preparing some surprising recipes such as sandwiches and hash.
While most people complain about the end result of grinding cooked meat and how mushy the meat will turn out, it may depend on the type of meat you grind.
Don't get me wrong, I do not say that there is particular meat that should be ground after being cooked. For example, red meat tends to turn out harder and dry once ground after cooking, especially when there will be a further cooking process for the recipe.
On the other hand, white meat may not be the same way.
Recommended meat grinder for grinding both raw and cooked meat
If you have been following every bit of information I've been pouring in this article, you must have realized that the need for a powerful and suitable meat grinder or food processing appliance is essential when it comes to grinding cooked meat or raw meat.
It may not be a pleasurable experience when grinding cooked meat, especially when it is your first time. A very good move you can make to avoid a mess or bad result is to have an ideally suitable meat grinder for the job.
Just before we bring this article to an end, I want to recommend a very good meat grinder that will attend to all your meat grinding needs.
There are, of course, a plethora of meat grinders out there that provides a range of options. You can go further by reading our detailed guide on the best meat grinders to buy and how to choose the best for your kitchen or restaurant.
Any powerful meat grinder can be used to grind cooked meat. But what are the recommended meat grinders for grinding both raw and cooked meat?
Goplus Electric Meat Grinder 2000 Watt
SHOP FOR GOPLUS ELECTRIC MEAT GRINDER ON AMAZON
This is a powerful, multipurpose, and electric meat grinder that features 3 Different Cutting Accessories for coarse, medium, fine grinds of meat. This attributes to its usefulness in grinding cooked meat.
It is powered by a durable 2000W peak output (2.6HP) rated motor. It is compact, space-saving, and easy to manoeuvre.
Getting this electric meat grinder will surely increase your flair for making more home-cooked meals that are healthier and tastier. You can achieve a quick, quiet, and effective grind of raw and cooked meat to make burgers, meatloaf, or sausage.
This Goplus Electric Meat Grinder features a cutlery-grade blade designed with stainless steel coupled with three grinding plates that allows you to get both coarse, medium and fine grinds of raw and cooked meat.
Special features of Goplus electric meat grinder
Powerful 2000W peak output (2.6HP) rated motor
Kubbe attachment for making stuffed meat dishes
Portable designed for easy storage compact design for convenient storage
The speed of output is 3 to 4 pounds per minute
Safety Circuit Breaker To Prevent Motor Burn Out
Easy Cleaning
Detachable tube, screw Stainless steel cutting blade
Versatile Multi-Function Unit
All-metal head and tray
Features versatile Grater With 3 Different Cutting Accessories
You can achieve coarse, medium and fine grinds of meat
I hope this post has been able to answer your question on whether you can grind cooked meat in a meat grinder, and has also uncovered all you need to know about grinding raw and cooked meat in a meat grinder.
Have a nice time making sumptuous delicacies from well-ground meat!