Not everyone that uses a meat grinder understands that it can be used to stuff sausage amongst other things. The amazing thing is that you can use either a manual meat grinder or electric meat grinder to stuff your sausage.
To stuff sausage with a meat grinder, you will need a special attachment that is designed to appear like a thin funnel.
Then you will get casings that can be pushed directly to the attachment so they can slip easily. This process requires a lot of casings you have to push to the attachment until they are all exhausted.
Making sausage with a meat grinder can be interesting and eye-opening. Aside from the joy of controlling the sausage stuffing, you can also determine how tasty your sausage will turn out.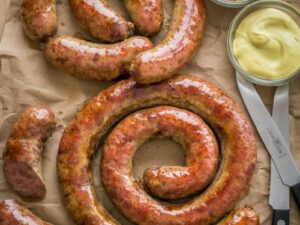 How to use a Meat Grinder to Stuff Sausage
I am going to take you through the whole process you will need to stuff your sausage in minutes.
Purchase the Required amount of Meat Needed
You own the sausage about to be made, so get your desire amount from a butcher or if you can slaughter the animal at home depending on your country's law.
This is the meat you are going to grind using a meat grinder.  If you have a sharp object or knife, you can use it to separate meat from the bone and then remove the unwanted fat from the meat too.
Slice or chop the selected meat that will be ground using the meat grinder provided.
The Grinding Process Begins
Now, it is time you grind every piece of the meat selected batch by batch.  But to get it right, you will need to use the appropriate plate for every type of sausage you are making.
Is it coarse or fine sausage you are making?  For fine sausage, I recommend you to use plates with smaller holes and for coarse sausage, use plates with larger holes.
Soak the available casing in cold Water
You already have a bowl filled with cold water—remember? Keep everything cool! Soak the casing in cold water in the provided bowl and allow it to case for up to 30 minutes. Change the water after 30 minutes and then soak the casing for another 30 minutes.
Get your Seasoning Measured
The seasoning to be measured depends on your desire and this is mostly determined by the kind of recipe you are using for the sausage.
Mixing the Measured Seasoning
It is time to mix the seasoning with the ground meat using a mixer in a big bowl. Ensure you mix the ingredients together in a professional way—it will add up to the taste of your sausage in the end.
What I mean here is that; don't add excess seasonings to the ground meat.
Cook Little Seasoned Sausage
I know you can't wait to start stuffing your sausage, but calm down and take some cool fruit juice, relax okay?
Before you stuff the sausage into a casing, ensure you cook a little amount of the seasoned sausage in a small frying pan to test if you are satisfied with the flavour. 
This is how you can accurately select the best taste for your sausage.
Stuff your Sausage into casing
Since you have adjusted the taste to your desire, it is time for you to begin stuffing the sausage into the casing using the provided stuffer.
Don't forget to use a soaked paper towel in a vegetable oil during the stuffing process and then coat a stuffer tube using oil.
Your Sausage is ready
After the entire processes above, your sausage is now ready and fine for smoking.  You can decide to smoke it if you so wish but it is not necessary.
What are the Tips for Making Sausage at Home
Since meat grinder has been confirmed that it can be used to stuff sausage, let us quickly look at how to do it. I have gathered some tips here:
Get the Ingredients Ready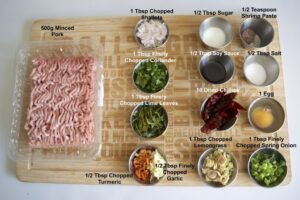 The first step to making sausage at home is to get your ingredient ready. Are you getting the meat for the sausage at the store or butchered at home?
Whichever way you get your meat, ensure that it is fresh and healthy for consumption.
Get your Meat Grinder Available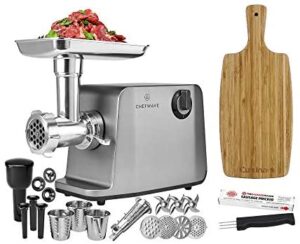 The next step to take is to get your meat grinder ready. Since you are making your sausage from scratch, it is worth having a meat grinder on the ground.
The meat grinder will help level up the meat properly and allows you to grind the meat to your desired specification.
Where is your Sausage Stuffer
If you don't have sausage stuffer already, you should either buy or hire from anyone that is willing to give it out in the agreement.
The reason why you need this is that it is important to stuff sausage in pork casings so that the taste of your sausage will be improved.
If you don't want to use sausage stuffer, you can do the stuffing by hand but the result may not be as accurate.
Select your Sausage Casing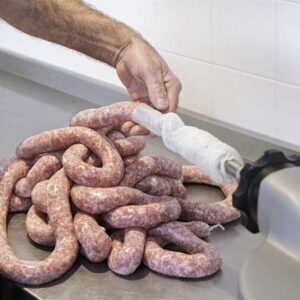 It is important to select a good casing for your sausage.  More acceptable casings are the ones made from salted pork bowels.
You can always purchase them at the butcher store.
Refrigerate the Meat and Sausage Tools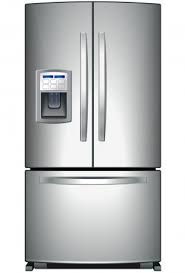 It is important that you cool the fat, meat, and the equipment that will be used to make the sausage.
Keeping everything cool from the meat, fat, down to the bowl is important when making your sausage.
Another thing you should take note is that you are going to be cooking the meat and the fat separately while using a meat grinder.
Failure to practice this method means your sausage will come out badly. It is a fact that when the fat gets smoother, will not emulsify with the meat, a reason for cooking them separately.
Chop and slice the meat with a meat grinder and get ready to make your sausage.
These tips are very important while making your sausage using a meat grinder. So, let us look into the process of making sausage using a meat grinder.
Things to consider before buying a meat grinder for making sausage
After the entire tips and how to use a meat grinder to stuff sausage, you should also know which one is the best meat grinder to go for if at all you will purchase one later.
I have compiled some information about the best meat grinders you may want to consider and they will perform your task to your satisfaction.
There are some things you need to look at when purchasing these grinders such as the following:
Size of the grinder
The attachments
The mechanism
The power
Let us look at these four essential components of every powerful meat grinder machine one after the other to serve as a guide for you to choose the right appliance while you are about to make a purchase.
Size of the Grinder
Depending on the size of your kitchen, you may want to consider the size of your meat grinder.
If you have a smaller size kitchen, you should buy a meat grinder with a small size and if your kitchen is large enough to accommodate a large-sized machine, there is no issue buying a bigger meat grinder.
Another reason why you may want to consider the size of a meat grinder before a purchase is that it could depend on the purpose of using it.
If you are using the meat grinder for a commercial purpose, you may want to consider a big sized meat grinder so that it can help grind meat in large quantities.
A small-sized meat grinder is okay for personal use or for a small family.
The attachments
It is interesting to know that there are all kinds of shapes and sizes the sausage stuffer machine can give you.
If you want to be more creative with your machine, ensure you attach a stuffer that offers numerous options.
You can as well buy separate attachment there is nothing wrong with such a decision.
The Mechanism
The mechanism of the machine is numerous. I don't know your choice as this can only be determined by your human psychology and how you can handle things.
We have several versions of meat grinder sausage stuffer: electricity, manual, and stand mixer attachments. Which one goes well with you? Determine that from your end.
The Power
The power is the ability of a machine to do its ideally even if not as expected. A meat grinder should have the capacity to carry out the job without stressing you.
One thing about the power of a machine is that it adds up to its speed if it large enough e.g.  500 Hp and above grinders are perfect.
The Best Meat Grinder you can use to Stuff Sausage
It is for sure you will need a meat grinder to stuff your sausage. I have selected some best meat grinder for you to observe them and then decide which one to go for:
The Powerful STX Turboforce Electric Meat Grinder
This is indeed a very powerful meat grinder that has every qualification to be called the best, the reason is that it has lock motor wattage of 3000 watts but usually uses 800 to 1200 watts "under load" during the grinding process.
This is a grinder that can grind between 180 and 240 lbs of meat per hour, you don't want to miss out this time.
Sunmile SM-G50 ETL Electric Meat Grinder
Sunmile is another product that got your back. Its duty is to help you grind meat and make perfect sausages. With Sunmile, just keep smiling.
This is not just a machine, it has a higher power of 350W rated power and 1000 watt maximum locked power.
if you are considering large size meat grinder for a commercial purpose or large family, Sunmile remains your best choice.
The Manual Meat Grinders you should buy for stuffing sauSage

I have also selected some best manual meat grinders for you in case they are your choice.
Manual meat grinders are also great to work with, in fact, the meat will receive less heat which makes them more delicious after sausage compared to electric grinders.
The disadvantage here is that manual grinders are not as speedy as the electric meat grinders.
Kitchen Basics 3 N 1 Manual Meat and Vegetable Grinder
Perhaps you are a bachelor or spinster in one corner of your county, this manual meat grinder will make you a good companionship.
You can as well use it to console your heart in loneliness until your partner joins you for a bigger family.
As it is, this manual grinder is quick and easy to use when grinding meat, vegetable, and so on. The manual grinder is made of two stainless steel screens which are the fine and coarse mince.
You can attach your sausage funnel to the machine and then start the magic of magic delicious sausage.
This device will surely help you impress your family.
Apart from making sausage with this powerful manual machine, you can also make other interesting meals such as pasta (spaghetti and rigatoni). It is easy to clean and dishwasher enabled.
Gideon Hand Crank Manual Meat Grinder
The simplicity of Gideon Hand Crank Manual Meat Grinder will make you want to purchase it without hesitation.
It almost looks like a blender rather than giant designs that normally come with meat grinders. You can grind meat, vegetables, and many other ingredients using this manual meat grinder.
To begin your grinding, kindly turn the hand crank of your meat grinder and the blade will do the rest for you.
Now, I am sure you are already planning to get the super handy kitchen appliance as it can help grind your meat into a paste—amazing? Yes, that's what it does.
---
Conclusion
I conclude that a meat grinder can be used to stuff sausage provided the right attachments are available.
There are various mechanisms of meat grinders which are electric, manual, and stand mixer. Any of these mechanisms can go well making sausage if the right attachment is available for them.
From the multiple choices of meat grinder featured in this article, I am sure you will get the best that will suit your desire. So, explore and smile later.