Can you actually grind Salmon in a meat grinder? Salmon is a type of fish that has a firm and meaty texture with a good amount of fat that ensures flavor and moistness. A meat grinder can be used to grind salmon into tiny bits effectively and easy when used correctly
Although meat grinders are quick and easy to grind Salmon, you should still be careful as it can detexturize the salmon. A meat grinder is especially effective when you are grinding large batches of salmon and want the task to be as simple, easy, effortless, and less labor-consuming.
A food processor and blender can do the task but in their case, you will want to pulse it a few times.
How do you grind Salmon perfectly in meat grinder?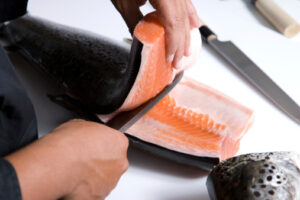 Step one – Cutting Down the Salmon into chunks to grind easily

Cut the salmon into one-inch chunks for an easier grind. You will first want to place the salmon on a baking sheet and placed it in the freezer to chill for fifteen minutes. By the time it is removed, the salmon should feel firm but it should still be able to yield when you press your finger on it
Step two – You must chill your grinder
The blades, grinder bowl, and attachment should equally be chilled .all this chilling of the salmon and grinder accessories is done in order to get a clean grind from the salmon rather than it tearing or getting all mushy
Step three – Batch your Salmon as you grind

Assemble the parts and accessories and start grinding. This should be done in batches. Press the salmon through gently and keep the speed of the grinder to a medium That is in the case of an electric grinder.
Gently work in small batches till you are done. To ensure that you get your salmon finely minced and not puréed, pulse the Grinder only ten to fifteen times
In what situations do you grind salmon?
Salmon is ground for a lot of reasons, from making salmon patties, salmon mouse, salmon meatballs to making fish cakes. there are endless dishes to be prepared with ground salmon.
Which is better, mincing, or grinding Salmon?
This depends on what you want to use the salmon to prepare. Grinding and mincing both attain two different textures and consistency. In the case of mincing, the salmon would just be cut or chopped into very small pieces before grinding, the salmon will then be reduced to a particular degree of fineness.
What type of meat grinder will be perfect for grinding salmon?
Although using a knife to achieve the ground texture for the salmon can be done, there is nothing better than using a meat grinder for the same purpose While saving time, reducing labor, and equally getting a fine consistent grind.
I compiled four meat grinders that will be perfect for the job of grinding salmon. There is an added advantage in having one of these meat grinders as you can use them for their main purpose which is grinding meats and also for grinding other things like vegetables and cheese.
Home easy meat grinder

This mini grinder/chopper is small but very powerful. It is very versatile and equipped with four stainless steel blades and also two modes to choose from. Apart from the fact that it can chop/grind meat and salmon, it also chips and grinds other ingredients such as onions, garlic, ham, small herbs, etc. with a power of 350W. The home easy meat grinder is more efficient and fast.
The 4D design of the blades makes it a great tool for grinding. The upper and lower blades have been powered to be able to chop food from all angles evenly. The stainless steel bowl with a 2L capacity, when compared to other glass, bowls healthier, stronger, shockproof and all these ensure it's durability.
The blade does not break off easily like some other models as the connection between the main body and blade is made of stainless steel.
When you look at the meat grinder, practicality comes to mind as the unit is easy to disassemble and the accessories are equally easy to clean, a non-slip mat is added with the chopper and the bowl can be placed on it. This meat grinder/ food grinder is equipped with two modes to select that is I button and ii buttons for meat, vegetables, fruits, nuts, etc
The I button has a slow speed and is ideal for grinding/chopping ham, salmon, onions, ham, garlic, small herbs as most fruits and vegetable
The ii buttons have fast speed and can chop various vegetables and fruits, meat, salmon, nuts, snark herbs, ham, etc
Note: for maintenance of this grinder, keep the following in mind
The chopper should not be used to chop a large piece of ice or bone, make sure to take care and maintain the chopper
Sticky foods such as flour is also an exception and it should not be put in the meat grinder for stirring
Larger vegetables should not be put a whole in the food grinder rather they should be cut down into smaller sizes before being put in
Vegetables can be filled in the bowl but meats should not exceed the maximum line on the bowl
To protect the machine and make it last longer, give a two minutes break after a 30-second nonstop operation
How to operate the food grinder for grinding salmon
Step one: Put the salmon in the bowl
Step two: Attach the mixing plate cover followed by installing the mixing head
Step three: Select the ii button as this speed is best for salmon and meats
Step four: Salmon is perfectly ground. Cook as desired
Some key specifications
Dimension: 12.8*7.7*5.9 inches
Item weight: 3.29 pounds
The material of parts: Stainless steel
Included attachments: Motor unit, cover lit, blade, bowl, rubber mat
BBday electric meat grinder
Depending on the size and quantity of salmon you will be grinding in one go, big is better. This is a professional electric meat grinder that is fast and efficient with a powerful engine with power up to 350W(2000W maximin).
This meat grinder can produce three pounds of minced meat per minute. This meat grinder is very convenient and ideal for grinding meat and also salmon. It contains multiple accessories for different meat and food grinding.
The cutting plates have three different mesh diameters that can be used for fine, medium, or coarse grinding. Apart from grinding meat, this machine also grinds garlic, chili, ginger and so much more
A kubbe attachment and sausage funnel are also included. With these, you can make amazing delicious burgers, meatloaf, meatball, sausages, and other foods. You can experiment with this and create your own meat blends
The spiral rod attachment has three spiral circles, the meat is squeezed out through there without destroying the fibers. This is quite good for salmon as it will finely grind it and the working principle and structure of this meat grinder imitate the process of hand made meat.
The material is made with food-grade material and the parts that come in contact with food prevent the pollution of the foods .it is made of stainless steel, aluminum alloy, and high-end PP7 which is a hundred percent BPA free.
The meat grinder as a whole has a strong durable quality and it can be ideal for small scale commercial use .it has a reverse button that is used to unclog the unit and although not all parts are dishwasher safe, the meat grinder is easy to disassemble, assemble and clean
What to keep in mind
Make sure the accessories are cleaned carefully before you use them and also the instruction manual should be read thoroughly and carefully before use.
Bones, nuts, frozen foods should not be ground in the meat blender
Avoid running the meat grinder on for ten minutes continuously as this can damage the motor. Allow the motor to cool down
Some key specifications
Dimension: 17.9*13.3*8.5 inches
Item weight: 9.18 pounds
Material: Stainless steel, copper, aluminum alloy, ABS
Included Attachments: Electric meat grinder with accessories, user instruction manual
Sunmile SM G31 electric meat grinder
This meat grinder is powerful but yet simple and ideal for home use. With a rated power of 350W and maximum locked power of 800W, this meat grinder grinds up to 150 pounds of meat per minute.
You're certain of using it time after time as it is very durable and powerful. The meat grinder has an on and off switch which makes it easy to operate.
A screw-type locking knob makes for easy dissembling, assembling, and cleaning if the best grinder .the cutting blade which is made of stainless steel are three for five, medium, and coarse grinding of meat/salmon.
All the cutting blades and plates can be washed in a dishwasher and before using the meat grinder, the knob should be locked and tightened clockwise before you begin.
Details and features
A generous amount of meat can be held and ground with a big capacity tray. It also features a safety switch and circuit breaker which prevents motor burnout. It is ETL certifies and safe to use at home
The grinder head is made with die-cast aluminum and it was built to last. the interior of the meat tube and screw has a special design in that there is little space between them and this helps to make sure that the meat comes out smoothly
Other parts of the head beside the stainless steel cutting blades and plates are made of aluminum with food-grade lubricating oil
This meat grinder allows you to grind ingredients however note that it can not be used to grind something like a chicken bone
How to clean the sunmile meat grinder
After using the meat grinder, put the parts under running water to clean it .this is enough to wash away all the remaining food
Dry the meat grinder with clothes and reassemble it for next time
Note: the head parts are made of aluminum and should not be put in the dishwasher as this may cause the discoloration of the aluminum coating due to aluminum oxidation. The stainless steel blade and plates can be put in the dishwasher.
Some key specifications
Dimension: 19.29*10.43*8.39 inches
Item weight: 7.9 pounds
Material: Stainless steel for blade and plates and aluminum for head
Included attachments: Stainless steel cutting blade,

 

three stainless steel cutting plates, plastic food pusher, sausage attachment
ALTRA electric food/ meat grinder
This professional meat grinder has a powerful engine that is fast and efficient. With a power of 350W(2000W), two pounds of meat/ salmon can be produced per minute. It is not only fast but also convenient and ideal for grinding mast and also for making stuffing.
Although the engine is powerful, allow it to cool down after ten minutes of continuous work. This meat/food grinder has various accessories
The three cutting plates that also have three different mesh diameter and are used for the fine, medium, and coarse grinding of the meat/ salmon. Garlic, chili, ginger and so much more can be ground using the meat grinder
Also contains a sausage funnel and kibbe attachment that gives you the opportunity to make various tasty dishes. The style of the meat grinder is outstanding, stylish safe, and equally durable. It is made with food-grade material and the whole meat grinder has an anti Corrosive and durable quality.
The use of a private meat grinder instead of a public meat grinder is safer. The meat grinder can also be used for small scale commercial use. Not only is it easy to use with the three on, off, reverse buttons, it is also convenient to clean.
The reverse button is used for when the unit is clogged, it helps unclog it. It would not be easy to lose the parts of the meat grinder as it has a concealed built-in storage box for the storage of the accessories thereby not occupying space.
When washing, a neutral detergent should be used and not all the parts of this meat grinder are dishwasher safe.
Some key specifications
Dimension:17.1*9.7*8.5 inches

Item weight:8.93 pounds

Material: stainless steel, aluminum alloy, high-end ABS
Included attachments: three cutting plates, sausage funnels, kibbe attachments two stainless steel blades