You can use your pepper grinder for as many times as you want, but only if you can learn how to reuse it. We will be teaching you in here, so keep reading.
Do you know that freshly ground pepper and spices have more fragrance and nicer flavour than pre-ground?
Using a good pepper mill/grinder gives you control of specifying the size and coarseness of what you are grinding.
One of the advantages of using a pepper grinder is the ability to choose and change the coarseness according to taste or requirement.
It is needless to say that it is so much healthier to use pepper grinder than purchasing already ground spices from the store.
While the use of mortar and pestle is still prevalent, modern chefs now use salt and pepper mills to grind their herbs and cooking spices today.
As a restaurant owner, using a pepper grinder will help in grinding and crushing spice such that they will hardly be noticed when using them.
You should buy a pepper mill because it helps in bringing out the amazing blend and original formation of peppercorns.
If you have already purchased a pepper grinder, you may be bothered about how you can reuse it properly. Well, it is a very simple process and that is what this article is all about.
Step-by-step guide on how to reuse your pepper grinder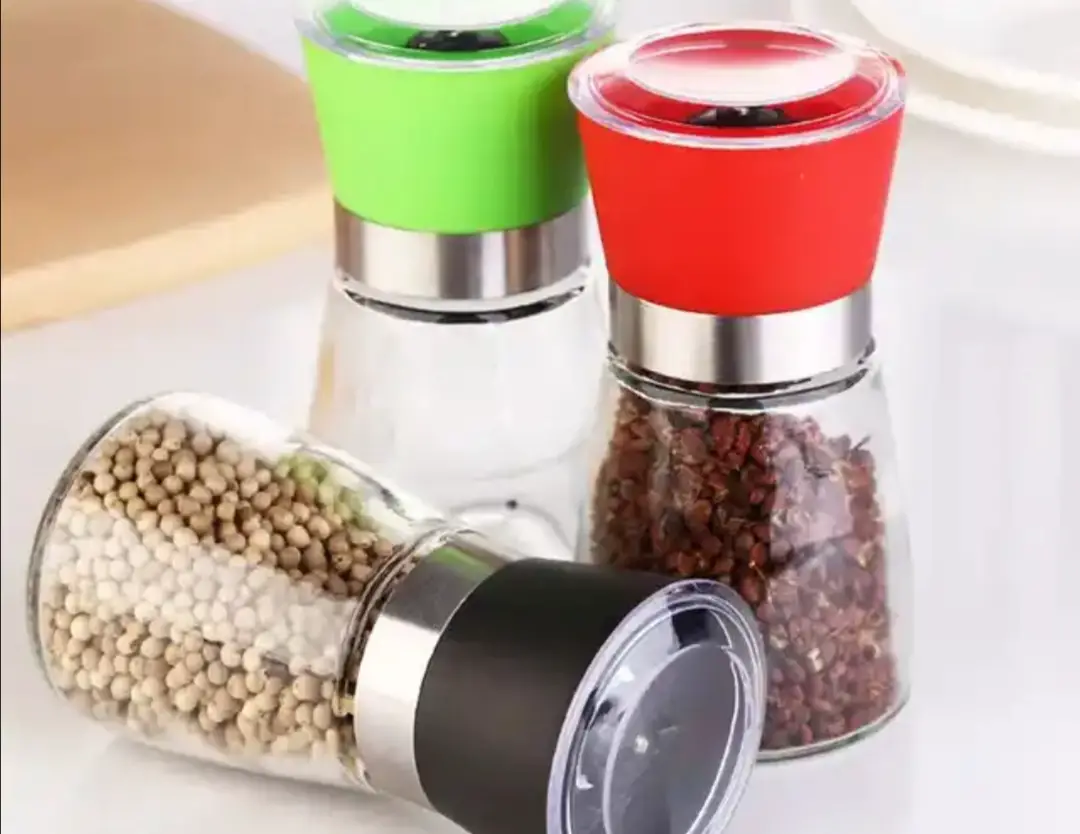 Most resultant even throw ways their pepper grinders when it is empty and go for a new one. But do you know you can actually reuse them?
It may seem impossible because of the grinding mechanism at the top of the grinder that is seemingly unthinkable to open.
The process actually involves simply popping the tops, adding new spice/peppercorns, and replacing the tops.
Things needed to reuse pepper grinder includes:
Container of Peppercorns
Funnel
Paper Towel
Pot Holder
Access to running Water Source
About 4 0z water in a container
One or more used Pepper/Spice Grinders
Step 1
Boil the water that is in a measuring cup and place the top of an empty pepper grinder into the hot water for about twenty seconds.
Step 2
Remove the grinder and use the potholder to hold the plastic top. The plastic top will not look hot, but it is! Use your other hand to hold the glass of the grinder.
With this position, you can easily pull the plastic top away from the glass part of the grinder.
Step 3
Like the way you'd do if you want to break the two parts in two, use a bending motion to remove the top.
Step 4
Wash the grinder glass and the plastic top, and dry them totally.
Step 5
Refill your pepper grinder with peppercorns or any other dry spice you want to grind but make sure you use a funnel.
Step 6
The plastic top grinder (the clean and dry one, this time) should be placed on top of the glass
Step 7
You may want to clench your hand to press down the plastic top into the grinder top until it pops into place.
With that, you have a new pepper grinder to work with. After grinding peppercorns, you can repeat the same process.
---
What is a pepper grinder?
The best kitchen tool that is used to create freshly ground pepper for use in the seasoning of food is a pepper grinder.
It is a grinding mechanism that works by the friction or movement of two metal wheels. When peppercorns are put inside the grinder, it goes down and passes through the two metal wheels.
The movement of these two metal wheels by an external controller that requires manpower or electric makes the peppercorns to grind perfectly.
Nowadays, most people like the taste of a freshly ground pepper rather than buying pre-ground spices. That is why most restaurant owners and chefs prefer to make use of pepper grinders in their kitchen.
Components of a pepper grinder
The grinding mechanism of a pepper grinder is made possible by the compilation of these components.
It is important to understand the composition of a pepper grinder so that when fixing minor problems, you won't make mistakes.
A pepper grinder is constructed with the following parts:
A plastic container in jar form (the container can be in glass as well)
The fixed burr which is referred to as the wide set of teeth that stands firmly
There is equally another set of teeth that pivots against the firmly built teeth. It is called the rotating burr
A pepper grinder also features a lid at the top that prevents dust from entering into the jar especially when you are not using it.
How does a pepper grinder work?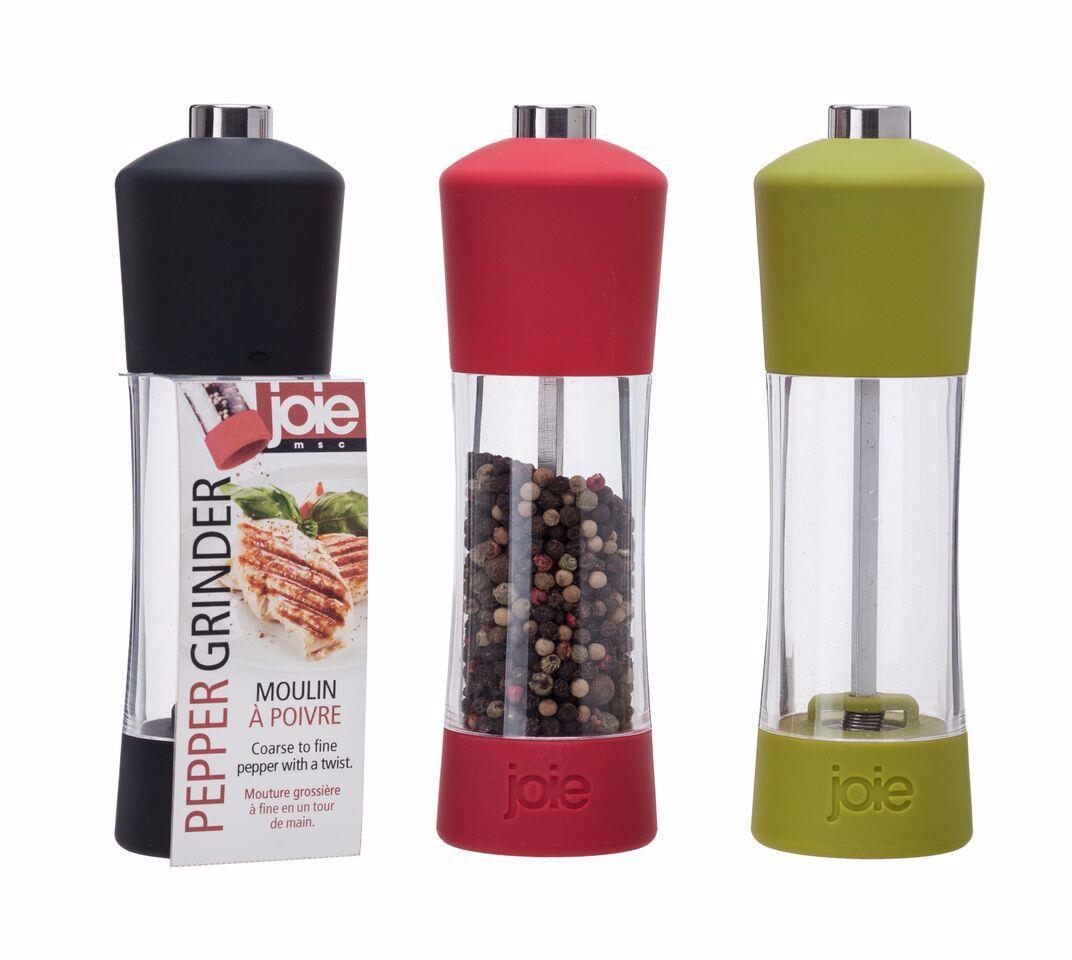 The reason why you still don't know how to reuse a pepper grinder is probably that you are not familiar with the way it really works.
When you use a pepper grinder, of course, you feel the tool with fresh peppercorns.
The peppercorns will not go down into the bottle directly because a typical pepper grinder is made with this grinding mechanism at the top that makes the peppercorns sit at the bottom.
To make the peppercorns poured into the pepper grinder, simply look for the part that is able to unscrew. Unscrewing this will permit the peppercorn container to be opened.
Now that it can be opened, fill the container to the top with peppercorns and firmly replace the lid or the part that is unscrewable.
Place the food that you wish to season with freshly ground pepper on the table, and then hold the pepper grinder in one hand above the food.
By twisting the pepper grinder with one hand and holding the body of the pepper grinder with another hand, the ground pepper will drop from the bottom of the pepper grinder onto the food you've placed below.
When you have the right amount of grounded pepper on the food, you can stop twisting. To get rid of excess pepper at the bottom of the grinder, shake the pepper grinder a little bit vigorously.
Why do people reuse pepper grinders
Disposable pepper grinders have now gained popularity in the modern cooking era. This is because of the expensive cost of permanent spice grinders.
For this reason, most manufacturers are now venturing into making more disposable pepper grinders that can be reused. Manufacturers now try to create spice sold in disposable plastic jars that will work as spice grinders.
Since the major objective of the pepper grinder is to grind fresh pepper without any physical labour on the wrists. This so-called one-way packaging seems to be favourable.
When these pepper grinders are used, they can be reused to save money. Unlike the permanent and expensive spice grinder. It a cost-effective method that also ensures users get the taste of freshly ground pepper.
The major reason why people go for pepper grinders that are disposable and can be reused is a result of the refilling problems that come with permanent grinders.
While these new disposable pepper grinders have been designed in such a way that customers will not be able to refill them, there are ways in which someone who is on a low salary, like me, can reuse their pepper grinder without wasting money to buy new disposable ones.
Let me show you how you can reuse your pepper grinder
Features to look out for in a good pepper grinder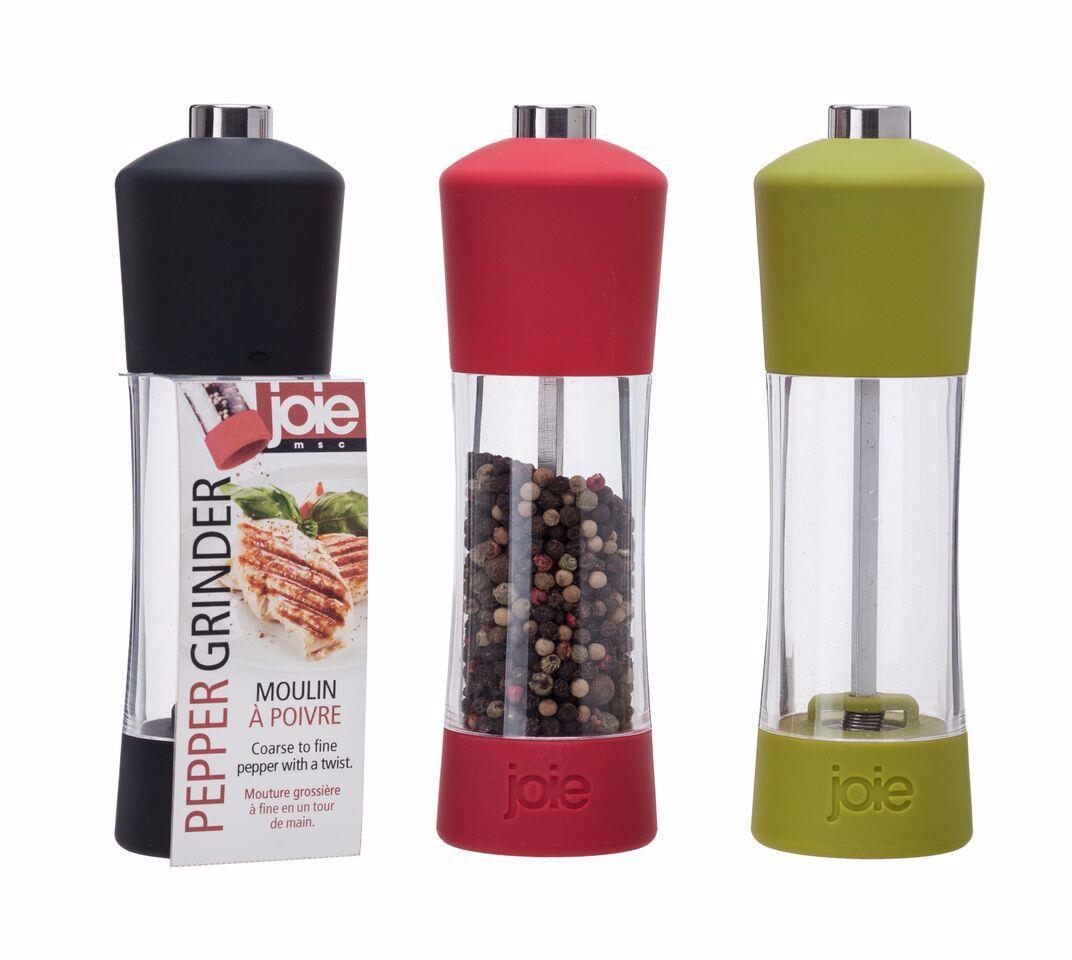 When choosing a pepper grinder, or even salt and pice grinder, here are the three important features to consider before buying.
Easy to use
An ideal pepper grinder should be easy to use and refill. Additionally, you don't want to face serious difficulty when adjusting or refilling the pepper grinder.
Since you are going to be placing the grinder few inches above the food that you want to add freshly ground pepper into, check out for the material used to make the body of the pepper grinder.
Appearance and design
There is no crime using a pepper grinder as additional table decor. You should go to one's beautiful design or appearance.
Either traditional modern, electric, or manual pepper grinder comes in beautiful designs made with high-quality material that you should go for.
Some pepper grinders are made with glass, bottle or plastic.
Grinding mechanism
You agree with me that each spice has different physical characteristics such as size and shape. A pepper grinder with the perfect grinding mechanism has sturdy teeth that grind pepper smoothly.
You can either choose to buy electric pepper grinder or the one that works manually. The manual ones have an extended handle that requires manpower.
Nevertheless, both electric and manual pepper grinders will give optimum results.
An ideal pepper grinder will produce even grind and will work well with different spice physical features.
Recommended Best pepper grinder to buy
Another great alternative instead of reusing your pepper grinder is to buy a new one. Well, most people will not care to spend another cash buying a new pepper grinder because it is actually disposable.
So if you do not wish to resume your pepper grinder, you can choose to buy a new one. However, there are certain factors to look out for when buying a new pepper grinder.
Pepper grinders come in different designs, sizes, colours, and so on. But above all, you have to make sure that you go for ones made with high quality
There are many platforms online where you can get cool pepper grinders and I've helped you do the research.
Buying these classic pepper grinders to your kitchen will add some class. The following pepper grinders have been designed with modern elegance in mind as well as great functionality.
Fletchers' Mill Federal Pepper Mill
SHOP FOR THE FLETCHERS' MLL PEPPER GRINDER ONLINE
About this product
Use this Fletchers' Mill Federal Pepper Mill to gain control over the seasoning process of your food. It is easy to use and refill, making it an ideal pepper grinder for both professional and novice.
It is designed with an adequate lock and grind grinding system that makes the product deliver perfect consistency.
Using this Fletchers' Mill Federal Pepper Mill involves two processes which such that the peppercorns are crushed to release their natural oils and flavours, afterwards, gives a perfect result by grinding these peppercorns to the preferred consistency.
The pop-out components of the mill make it a very easy to clean device. It is made in the USA and handcrafted for optimal results. Made with hardwoods.
If offers fine grinds for fish, medium grinds for gravies or coarse grinds for meats.
Benefits of Fletchers' Mill Federal Pepper Mill
Easy to use and refill
Made in the U.S.A
Easy to clean
Adjustable fineness
Lock and grind system
Pepper Mill Imports Atlas Pepper Mill
SHOP ONLINE FOR THE PEPPER MILL IMPORTS GRINDER
About this product
This product maybe your best option as it features metal bodies and a tool steel grinding mechanism built to last.
The Atlas 9 inch copper pepper mill has been using the same manufacturing method for over 300 years which means it is the origin of the phrase "pepper grinder"
Unlike Common pepper mills, this pepper grinder does not only smash the peppercorn. It is a unique kitchen tool that is said to be the best in functionality in the world.
Benefits of Pepper Mill Imports Atlas Pepper Mill
Perfect grinding mechanism
Maximizes flavour and aroma of spices
Hand made to exacting standards
It has a perfect Tool steel grinding mechanism that allows adjustment
Durable all-metal body
flanged base for stability
Willow & Everett Stainless Steel Pepper Grinder
SHOP FOR THE WILLOW & EVERETT PEPPER GRINDER ONLINE
About this product
I personally compliment the modern design used in making this Willow & Everett Stainless Steel Salt and Pepper Grinder Set. It is, in fact, a very gorgeous pepper grinder that can work perfectly for your peppercorns.
This salt and peppermill pair is very unique among other pepper grinder set that you have probably come across before. The grinding mechanism of this tool takes place on the top of the grinder, ensuring salt and pepper ends up only on your food, thereby avoiding a mess.
You can also be sure to have a preserved flavour and aroma as the ceramic grinder is non-corrosive.
You can easily adjust the provided plastic knob on top of each salt and pepper mill to get either a fine or coarse grind.
With this Willow & Everett Stainless Steel Salt and Pepper Grinder Set, you don't have to worry anymore about constantly refilling your pepper grinder. It is really the perfect size to cut down on constant refills without being bulky.
If there should be any reason to refill, it has been designed to make the process really easy. Made with a stainless steel top that can be easily screwed off in order to open for refills without a mess.
This tool is used by both professionals and amateurs. The stainless steel encasing, glass body, and ceramic grinder make it a beautiful set.
The benefit of Willow & Everett Stainless Steel Salt and Pepper Grinder Set
High-quality glass and stainless steel set
Built for convenience and function
Easy to clean and refill
Made with high-quality materials
Elegant design
Final words on how to reuse pepper grinders
When it comes to using pepper grinders, the essence of proper maintenance should not be overlooked. It is important to keep your pepper grinder in the best condition in order to keep them working at their best.
And I forget to mention this, when disassembling the grinder, do not forget to clean the parts of the grinder. If you investigate simple problems with your pepper mills, make sure you fix them before refilling.
Reusing pepper grinders is cool instead of buying new ones. They can be used to evenly ground, fresh cracked pepper without giving any problems.