The use of hand blenders in grinding beans like coffee into a fine powder is possible, but of course, there are limitations to the grinding process. Ideally, there are associated coffee grinders for grinding coffee, however, in the event of lack of choice, the thoughts of using a hand blender to grind coffee beans come into focus.
Many people often find themselves confused about the use of hand blenders and their limits. There are so many questions people ask about using a hand blender which includes "can you grind coffee beans in a hand blender?" As well as other similar challenging and, as the case may be, confusing questions.
In this article, we are going to learn whether you can use your hand blenders to grind coffee bean and if yes, we will also provide ways to go about it properly without making a mess.
Hand blenders are among the important appliance that has great usefulness in the kitchen to quicken and ease-up the cooking process.
I'm pretty sure that most people already have a hand blender in their kitchen, but if you don't have a hand blender, you are simply missing out!
Well, before we progress into the solution to the question before us, it is important to know what a hand blender really is, how it works, the items that it is able to grind, its capacity and capabilities as well as other significant specifications of a hand blender before we can conclude whether we can use the appliance to grind our coffee beans.
A typical hand blender is called different names but refers to the same thing and function. Some people call it stick blender, wand blender, or Bermixer, while others prefer to hand blenders as an immersion blender.
These names should not confuse you as they all refer to the same appliance – a hand blender. So for us to be able to establish a solid answer to whether a hand blender can be used to grind coffee beans, we need to understand what a hand blender is as well as its components.
So, Can you grind coffee beans in a hand blender?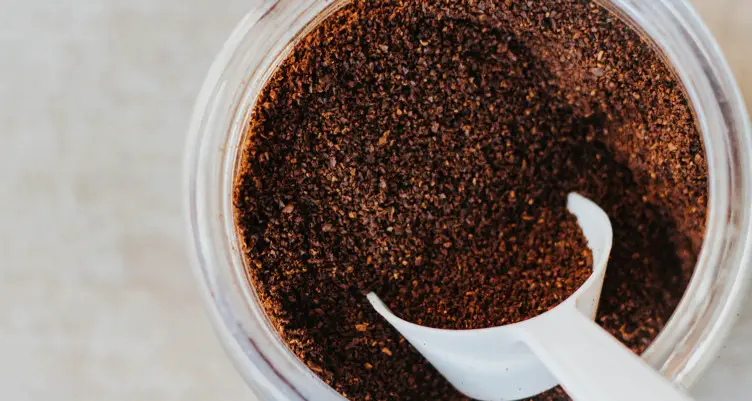 Hand blenders can be used to grind coffee beans to obtain a fine powder. However, hand blenders do not have a basin or container as part of the appliance, which means you'll have to include a bowl that is deep enough to prevent the beans from spilling out.
The blades attached to the lower part of a hand blender is suitable for blending coffee beans. They work just like food processors and benders which means they can manually grind coffee beans, but when you have a blender or food processor, using a hand blender is almost immaterial.
Notwithstanding, using a hand blender to grind coffee bean does the job in no time and it is seemingly easy to use.
Advanced Hand blenders come with separate attachments dedicated to grinding ingredients like coffee beans into a fine powder or preferred texture.
If you want to use your hand blender to grind coffee beans, here is a step-by-step guide I have provided for you.
How to grind coffee bean using a hand blender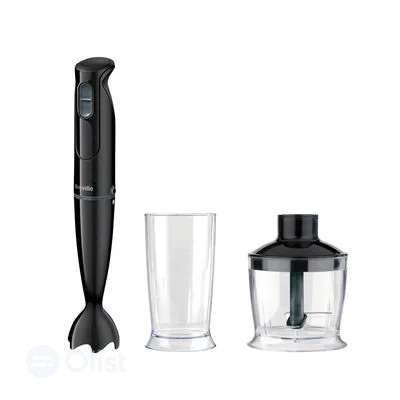 Now that you know that a hand blender can be used to grind coffee beans, you may as well be interested in how the process is done.
An ideal hand blender can puree, make shakes, and grind coffee beans!
To grind coffee beans with your hand blender, you need the following to be available.
Hand blender/ immersion blender
Chopper attachment
Large Chopper bowl
Let's now get down to the process!
First step: Assembling the hand blender
When you are about to use a hand blender for coffee beans, you need to assemble the hand blender's wand with the chopper attachment as well as the bowl.
If you are using a hand blender that features a locking mechanism that requires the wand to snap before use, all you need to do is to immerse the wand into the chopper attachment and turn it clockwise for it to key in.
The purpose of this assembling is to make sure there is no avenue for the beans to fly out while grinding with a hand blender.
Second step: Adding the coffee beans
The items we are about to blend is the coffee bean. To add it to the bowl, simply open the chopping bowl to add your desired amount of coffee beans.
But as a rule, you need to analyze the number of coffee beans you are putting into the bowl. 2 tbsp. of coffee beans per cup of coffee is ideal.
After adding the coffee beans into the bowl, fasten the lid of the chopper bowl into the correct position.
Third step: Grinding the coffee beans
This is the main process where these beans will be transformed into powder in the bowl. To get the appliance working, turn it on, and control it with your hand.
Make sure the blender is placed on an even surface and to have a perfect blend, make sure you shake the bowl couple of times while blending so that no bean will be left out.
We are still going to examine the ideal time or duration you should grind coffee bean in a hand blender as we progress in this article.
But it depends on the strength of your blender coupled with your preference on the type of blend you want.
Grinding coffee bean in hand blenders usually takes a few seconds. For example, if you want fringe grinds to make drip coffee, this will take about 20 seconds.
Last step: Tidy up the appliance and area
If you follow the above procedures, you won't make any mess when grinding coffee bean with hand blenders.
Proper cleaning and maintenance should not be ignored too so that residue of the coffee powder will not contaminate other foodstuffs you put into the bowl later on.
Open the chopping bowl and empty the contents into your coffee maker. Dip the hand blender blade into the water together with the chopping bowl to have them properly cleaned.
Clean the wand with a wet towel as well as other parts that may be stained such as the handle. Before you store your blender, make sure they are all dry and in good condition.
You can see that grinding coffee bean with your hand blender is not as difficult as you thought. It only takes a little trial and some initial error to learn how to make a superb cup of coffee every morning before going to work.
Speaking of making a superb cup of coffee, you really need to have a high-quality hand blender for this task. Take a look at our recommendation on the best hand blenders for grinding coffee beans to buy at home.
Let's get to know the Hand Blender?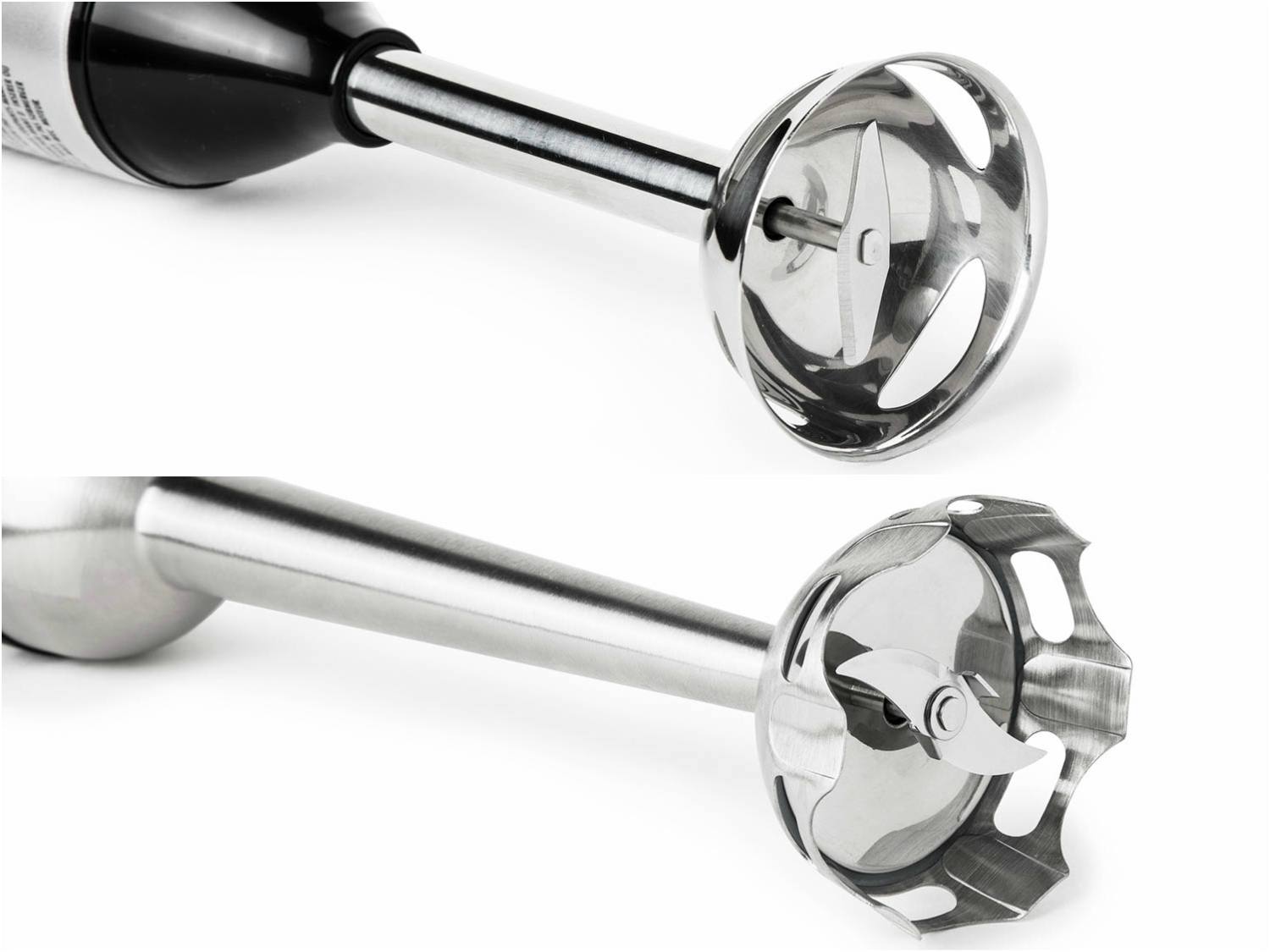 With a little bit of history, it is learned that a swiss inventor named Roger Perrinjaquest was the inventor of the first-hand blender in the year 1950.
It was originally called Bamis before it gained popularity and claimed the name hand blenders and immersion blenders.
Simply put that Hand blender are kitchen gadgets that are used for making single drinks, blending milkshakes, pureeing soups, and blending food items into small quantities of liquid.
They are easy to use alternatives for heavy-duty electric blenders, especially when you want to carry out little operations usually for singular use.
Modern hand blender now includes various attachments that allow the appliance to perform an additional cooking operation.
A hand blender is made up of several, yet simple components that make it work effectively.
Components of a Hand Blender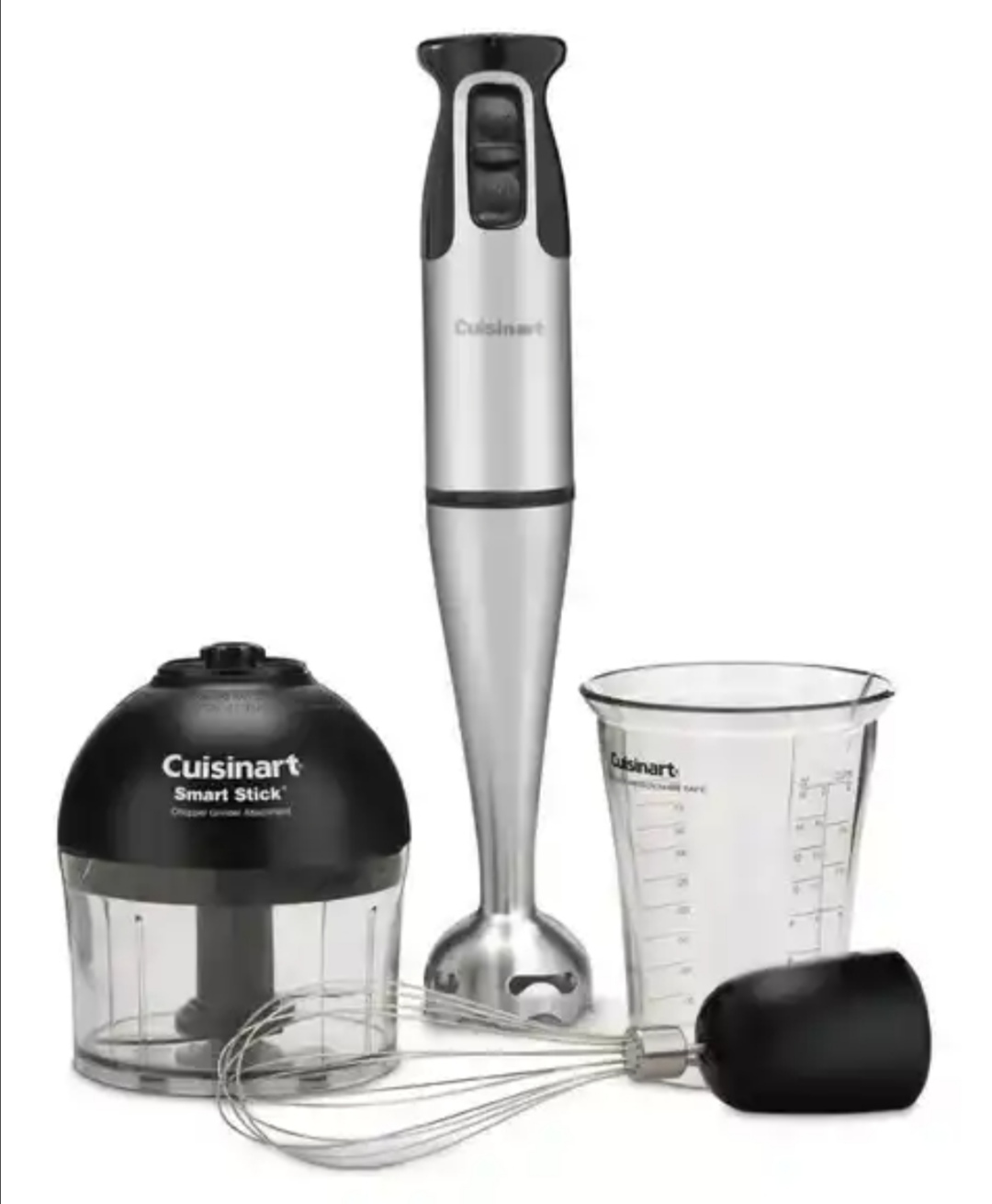 The image above showcases a typical hand blender. As you can see in the image, the appliance is made up of two major parts.
The lower parts take the shape of an attachment that includes sharp blades for cutting. The other part is the handle, structurally designed for easy handling.
When food items such as spices are placed in a deep bowl, the blades firmly attached to the lower part of the hand blender is what is immersed into the bowl to initiate food blend.
A hand blender is powered by an electric motor that activates the fast-rotating cutting blades.
The recommended hand blenders for simple home use should feature powerful motors of about 120W while ones for commercial use should range between 600w and above.
You can also choose to buy a corded or cordless hand blender. The one's without cord are usually powered by a battery. Both types are available in the market.
Since we are dealing with hand blenders for home use here, the standard length for the shaft is usually around 6.3 inches long. 21 inches or more applies to the heavy-duty ones.
Modern hand blender now comes with a user guide that contains the manufacturer instructions on how to use, maintain, and couple the hand blender.
Hand blenders may come as separate parts which means you'll have to spend some time coupling them and fixing attachment together after buying.
Best hand blenders and attachments that can grind coffee beans into powder
Braun MQ60 MultiQuick Hand Blender Attachment
SHOP ONLINE FOR THE BRAUN MQ60 HAND BLENDER
About this item
Although, this product is actually an attachment of a hand blender it can be used separately for grinding coffee bean into powder or your preferred texture.
Additionally, it can help in transforming spices, seeds, or Coffee beans into powder. The Braun MQ60 spice grinder attachment for Multi Quick hand blenders is stain and taste resistant which makes cleaning after use very easy.
With this hand blender, you can grind two different beans in a day without any taste or smell contamination.
The parts are dishwasher safe and available for the Braun 5 and 7 series Hand blenders. With fast-rotating blades that are sharp and powers by powerful motors, this hand blender attachment offers fast and even results with all kinds of dry ingredients
You'll also love to use it as it is easy to clean and helps in making a quick coffee
Waring (WSB50) 12" Heavy-Duty Big Stix Immersion Blender
SHOP ONLINE FOR THE WARING WSB50 HAND BLENDER
About this item
This Waring (WSB50) 12" is a heavy-duty hand blender that is ready to meet your spice grinding needs as it can drive through even the thickest ingredients to produce sauces, batters, and soups in a pinch.
It is designed with high-quality stainless steel and plastics. The two handles for a safe grip and controlled operation makes it easy to use. You can rely on the performance of Waring (WSB50) 12" Heavy-Duty Big Stix Immersion Blender when it comes to grinding coffee beans at home, especially for lots of people.
Thanks to the heavy-duty 1-Horsepower, 750W variable speed motor that allows for up to an 18,000 RPM processing speed.
All parts are washable including the removable, 12-inch stainless steel shaft. It guarantees a silent operation throughout except when the shaft isn't on the unit correctly. This can also be easily noticed.
Good thing is that this product comes with a Limited 1-year warranty as well as a 10-Gallon capacity.
The Waring (WSB50) 12" Heavy-Duty Big Stix Immersion Blender is all you need to make an excellent cup of coffee for yourself and your family.
How long should I grind coffee beans?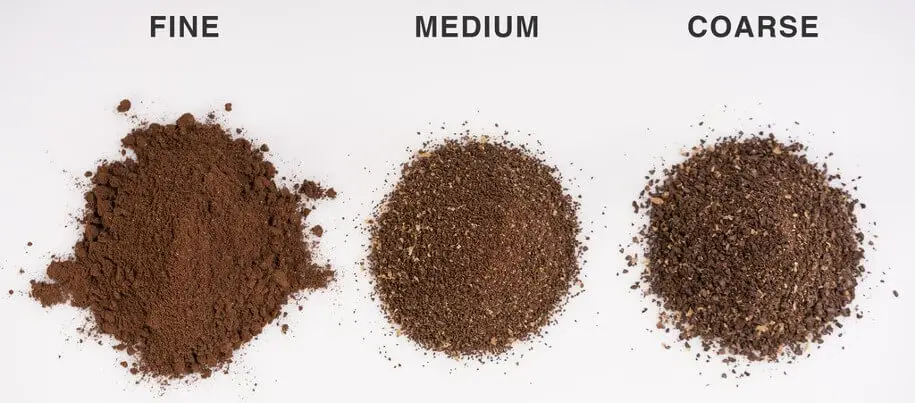 What makes grinding of coffee bean seem like a very big deal is that the coffee bean must be ground to suit your choice of coffee.
In other words, you need to be specific when grinding coffee beans to get the desired result for the type of coffee you want.
The specification falls under the duration of grinding coffee. A lot of coffee lovers do not know how long coffee beans should be a grind.
The answer is that it depends on your desired brewing method. This means that you need to be aware of the specific grinding duration for each type of coffee.
For example, Coarse, Medium, and Fine "grinds" are used for different brewing methods to achieve the best flavour.
This may be a little difficult to explain but I have created a table to give you a clear picture of the duration needed for a coffee bean to be ground in order to achieve specific types of coffee at the end.
The information in this table is practicably applicable for coffee grinders.
Types of coffee grind
Duration for grind
End results
Coarse Grind
5-10 seconds
French Press
Toddy Makers
Vacuum Coffee Maker
Medium Grind
10-15 seconds
Pour-over method
Auto drip makers
Drip makers
Fine Grind
30 seconds
Drip makers
Can you grind coffee without a grinder?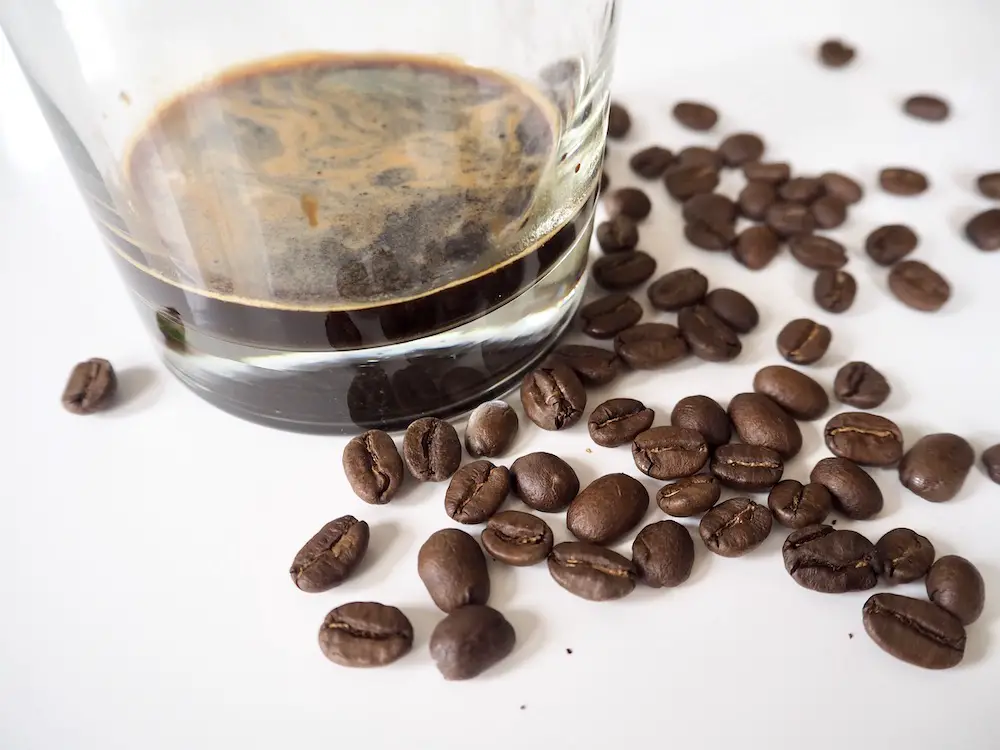 When a coffee grinder is out of your reach and you want to grind coffee beans, you don't need to panic, as there are several ways to grind coffee without a grinder. You can use a mortar and pestle, frying pan, or a rolling pin.

So you can still enjoy that cup of coffee even without the genuine appliance. Let's briefly go through the ways to grind coffee without a grinder before we bring the article to an end.
The three kitchen tools below can be a perfect alternative for a coffee grinder to make an excellent cup of coffee.
Mortar and Pestle
The use of mortar and pestle to grind ingredients can be traced back to the ancient days. The truth is that it still is a very effective way to grind coffee beans.
While it requires more effort than the other methods or appliances, it is a good solution as well. I recommend you use a mortar made with strong material such as granite.
A Frying Pan
The process of crunching coffee beans into powder can be achieved with the use of a frying pan.
If you want to make coffee for you and your friends, and there is no grinder, the large surface of a frying pan is enough to make coffee powder for you all.
The process involves using the large surface of the pan to press down the beans until they break and eventually become powered after consistent pressure.
While applying pressure, Place your hands on opposite sides of the pan and push down. Don't use the handle of the frying pan.
Maintain uniform pressure to avoid any form of an accident during the process.
A Rolling Pin
Chances are you have a rolling pin somewhere in your kitchen and you only use it when it's time to make pastries for the family.
If you can't get a grinder, that rolling pin can be a good solution to grinding coffee bean.
When using a rolling bean to grind coffee beans, make sure the beans are in a Ziploc bag to prevent further mess.
Apply force on the rolling pin using a hammer motion to break up the beans inside the bag. Stop once The desired texture is achieved.