Have you always been making a mess in your cooking area while using a hand blender? Are you almost frustrated about finding a one-stop solution, then you have just arrived at the right place.
Hand blenders play a perfect role in making some specific recipes such as smoothies, homemade mayonnaise, and creamy soups.
There are a lot of benefits attached to having a good hand blender in your kitchen. With a hand blender, you can blend soups perfectly, mix any food item without stress, and make smooth sauces.
Almost everyone who cooks knows how to use a hand blender but not everyone knows how to prevent the mess one can make while using these types of blenders.
Some even believe that it is inevitable to avoid splashing when using hand blenders.
If you have been facing a series of frustration such as splatter, over mixing, and erratic blending while using hand blenders, then you will find a perfect solution in this article.
From my experience and deep research on hand blenders, I have been able to curate a process and guide that will help you avoid splatter and mess in the kitchen area while using a hand blender.
I will also recommend to you the best hand blender I have come across that can contribute to making a smooth food blend without splashing or any kind of a mess.
The major reason why one will make a mess when using a hand blender is that such a person does not know how perfectly a hand blender should be used.
In this connection, I'll show you a detailed process on how to use a hand blender in order to avoid making mess such as splashing, over-mixing, and all.
How can I use a hand blender without splashing?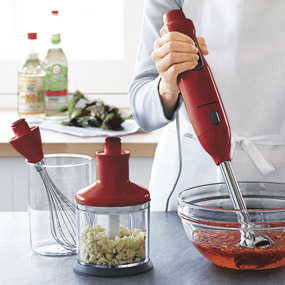 It is no news that hand blenders have gained popularity among modern cooks because this device serves as a versatile blending tool in the kitchen.
But there has been a prominent complaint that the use of hand blender can cause a serious mess in the kitchen. If you are in this situation, you don't need to worry any longer.
The tips I have provided below will guide you on how to use a hand blender in the kitchen without making a single mess.
These steps should be read and followed properly.
To use a hand blender without making a mess, follow these steps:
Make sure that the liquid fills the bowl halfway up the sides. In other words, your bowl should be deep enough. If this is not done right, the motion of the blending could cast your soup out and splash on your kitchen table.
Ensure that you immerse the head of the blender in the soup before you turn on the motor.
I encourage you to buy a hand blender with a variable speed setting. This will help you to start running the motors on a slower setting.
Now that you have started to bend, gradually tilt the head of the blender until you can notice a slow-moving whirlpool in the centre of the bowl.
Maintain a firm position holding your blender while blending until the desired result is achieved.
If you don't want to spend time scrubbing stains off your kitchen wall, make sure you switch off the motor before removing the blender from the soup.
Also, you can make a lid to cover the bowl while using the blender. Using a paper plate will do. Create a hole in the centre of the paper plate where the hand blender will go through. This paper plate will serve as a lid, blocking any liquid that tried to go out of the bowl while blending.
In addition to these tips, I have shown you, the quality of the hand blender you use can influence avoidance of mess. So when buying a hand blender, there are some significant features to look out for.
How to choose the best hand blender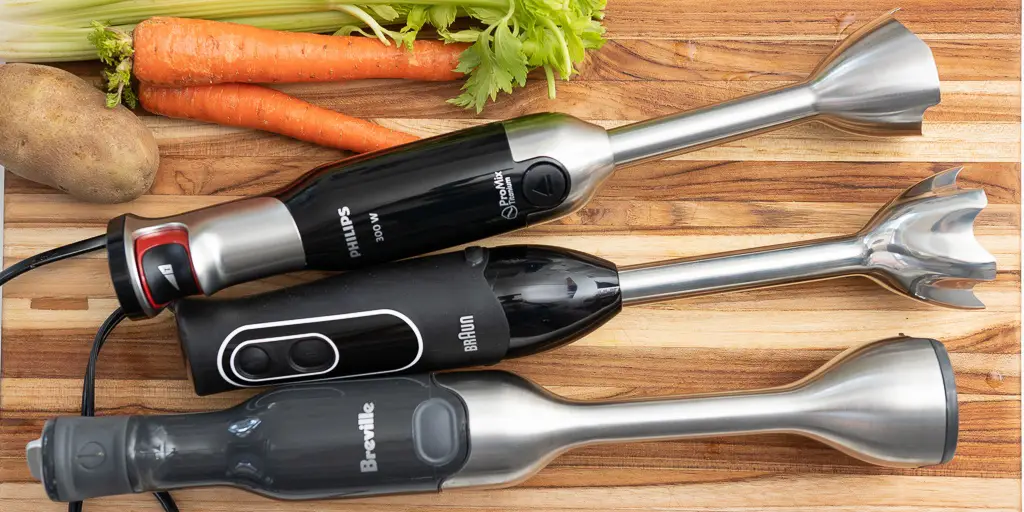 Do not rush to make a decision when it comes to buying blenders, most especially hand blenders.
There a, of course, a plethora of top-quality hand blenders available in the market but they may seem difficult to find. How do you even identify a top-grade hand blender?
Take a look at these features that should be present in every perfect hand blender.
Blender must come with a powerful motor
Good hand blenders are known to be multi-purpose. You need to check out for how powerful the motor of the blender is. It is the motor that allows the device to carry out numerous tasks.
If you are buying a hand blender for the purpose of heavy duty such as ice crushing, go for a product with over 400 watts motor!
But for operations like frozen foods, using a blender with 200-300 watt motor is ideal
All in all, the very least powerful motor you can buy and get Excellent results must be 100-200 watts.
The Style and design
A very good hand blender should be easy to hold and handle. An ideal product should have a rotatable size and quite lightweight.
Do not go for a blender that has their power button placed at an inaccessible part of the device. Again, make sure it is lightweight for you to carry around.
Easy cleaning process
Whatever the case may be, it is always ideal to choose hand blender with body parts that are dishwasher safe.
In addition, the blades of the hand blender should be dishwasher safe as well.
A good hand blender has a detachable shaft to make the cleaning process easier for the user. The purpose of this is to prevent you from damaging the motor while washing.
The quality of the material
No matter the hand blender you decide to buy, make sure the blades are made of stainless steel. A blender blade made with practice can break anytime.
Make sure the blade is thick and big, not flimsy and thin.
There are some hand blenders made with plastic material body parts. If you choose these kinds of blenders, make sure the plastic is BPA free food-grade.
I recommend you buy ones with stainless steel body material. It will not only help in the cleaning process but also prevent rust.
Warranty
The hand blender you choose to buy should have a good warranty. For this reason, patronize brands with great repute.
While checking the warranty coverage, make sure the after-sale services are reasonable.
Those extra attachments matters
Your hand blender will be able to carry out more functions when they come with extra attachments.
For example, a good hand blender comes with the different blades to perform a miscellaneous task such as chopping and whisking. Other attachments include jars and a host of others.
Price
The last thing you would want to consider when buying a hand blender is the price of the product.
Even if you are on a budget, don't just go for a hand blender with a very cheap price.
While you consider the affordability of a hand blender, also bear in mind that a top quality one will not come so cheap.
Our recommended Best hand blender to buy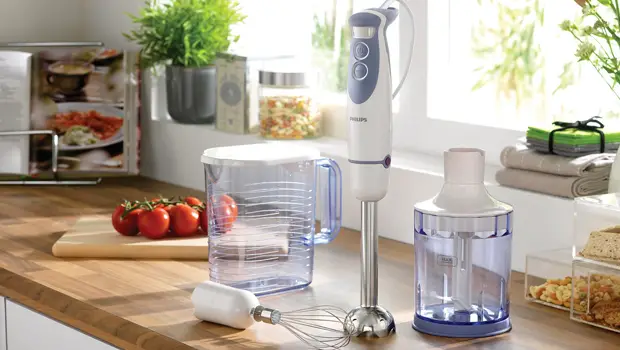 Having shown you the significant features to look out for when choosing a hand blender to buy, I have also made the job easier to buy showing you a very cool hand blender to buy among many.
Most customers on the internet talk about KitchenAid blenders and how it performs wonders in the kitchen.
Well, that is about to be an understatement when you choose their KHB2561ACS Architect Series 5-Speed Hand Blender – Cocoa Silver.
This KitchenAid KHB2561ACS Architect Series 5-Speed Hand Blender is an indispensable appliance with unlimited options and versatility.
In my opinion, This is the best hand blender that will reach perfectly into deeper pots with its 8-Inch blending.
You will love the bell Blade Assemblies which can be easily changed with no tools required. All you need to do to change the blade is to twist off and on to switch from one bell blade assembly to another.
If you are looking for a hand blender that will reduce the risk of splashing and blend food items perfectly, then look no further than this 5-Speed Hand Blender.
It has a perfect S-blade for blending and crushing ice. The device is also designed with a very powerful motor to perfect a miscellaneous task.
I mentioned earlier that a perfect hand blender will make provisions for extra attachments. Well, this KitchenAid hand blender comes with a whisk and chopper attachment that offers better versatility.
You may want to check it out on Amazon right HERE
Another impressive hand blender that I must not fail to recommend is the Braun MQ7077X 4-in-1 Immersion Hand, Powerful 500W Stainless Steel Stick Blender.
Yes, you read that right — 500-watt motor! It is an advanced device that is perfect for crushing ice, blending food items, and herbs.
This is an appliance that requires single hand operation to get perfect results. It gives you the blend you want without unwanted pieces or splashing all over the places. How?
This hand blender is designed with an Advanced SPLASHcontrol technology that will control and prevent splashing and give the best blending results, keeping you and your kitchen neat.
The blades are accurate, made with stainless steel, and forever sharp. Thanks to the EasyClick Plus system in this hand blender that allows you to quickly change attachments.
This blender offers great, effortless versatility! Check it out on Amazon HERE.
I hope this handy guide has been able to show you how you can use a hand blender without making a serious mess in the kitchen area.
If you are facing any other challenges using a blender, kindly reach out to us in the comment section.
We can as well profer a perfect solution to your needs.