You want to grind your coffee beans, but you don't have a coffee grinder. You own a Ninja blender, and I am sure you will be asking yourself this question "Can I grind coffee beans in a Ninja blender?".
Not to worry, we will answer your question here.
You have just bought your fresh coffee beans. Definitely you need it ground to your taste either coarse or fine, the most important thing is that it should satisfy your need.
If you are the type who doesn't like processed food, which I support too, it is very important that you should find a way to get your fresh coffee beans ground.
How do you do that? It is for you to use a burr coffee grinder to get the ground.
Can I Grind Coffee Beans in My Ninja Blender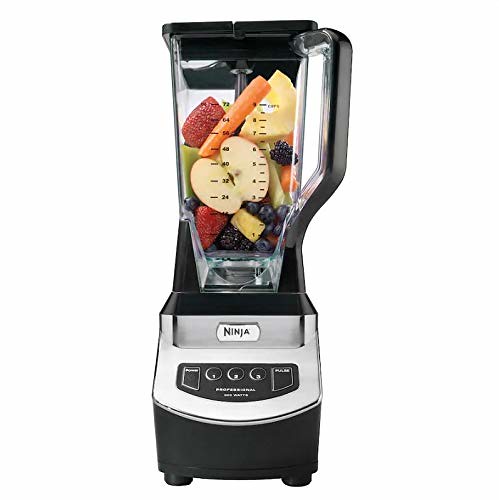 A creative way of grinding your coffee beans if you do not have a coffee grinder is to get a Ninja blender and that will get the job done smoothly for you. The Ninja blender's blades will help break down the coffee beans into small particles.
You should be careful when using a Ninja blender to grind coffee beans though. Having to grind large batches of coffee beans in a Ninja can lead to a buildup of heat. This heat may affect the flavour and aroma of the coffee.
So I'll advise that for you not to lose the distinct taste and aroma of the coffee, keep your grinding temperature as low as possible when grinding using a Ninja blender.
Also, note that unlike the abrasive surface that a coffee grinder possesses, which helps to get a more consistent coffee grind, the blades of the Ninja blender may give something as less consistent than that of the coffee grinder.
Which Ninja Blender Can Grind Coffee Beans Consistently
There is no selection here. Any Ninja blender can grind your coffee grinder. All you need is get a well-functioning Ninja grinder when grinding your coffee beans with a Ninja blender.
Our Recommendation for Ninja Blenders to buy
| Image | Name | Where to Get it |
| --- | --- | --- |
| | Nutri Ninja Personal and Countertop Blender | Check on Amazon |
| | Ninja BL480 Nutri Ninja with 1000 Watt Auto-IQ Base | Check on Amazon |
Use a Single-Serve Cup for the Grinding
If you want your coffee beans ground fine and smooth for your favourite coffee, it is ideal to use a single-serve cup of the Ninja blender.
The trick here is that, if you pour too much coffee grinder in your Ninja blender, your grind will not be consistent and in the end, the result will not be pleasing to you.
If You Are Using a Stand Pitcher
If you are using a stand pitcher, you can add one full cup of coffee beans or more and then use the steady-state blade of your Ninja blender to grind for about 30 seconds.
Don't apply the pulse technique here.
The choice of your coffee is on your mind, so as you run the grinding, it should give you a result you desire through your control.
The Procedures You Go Through Grinding With A Ninja Blender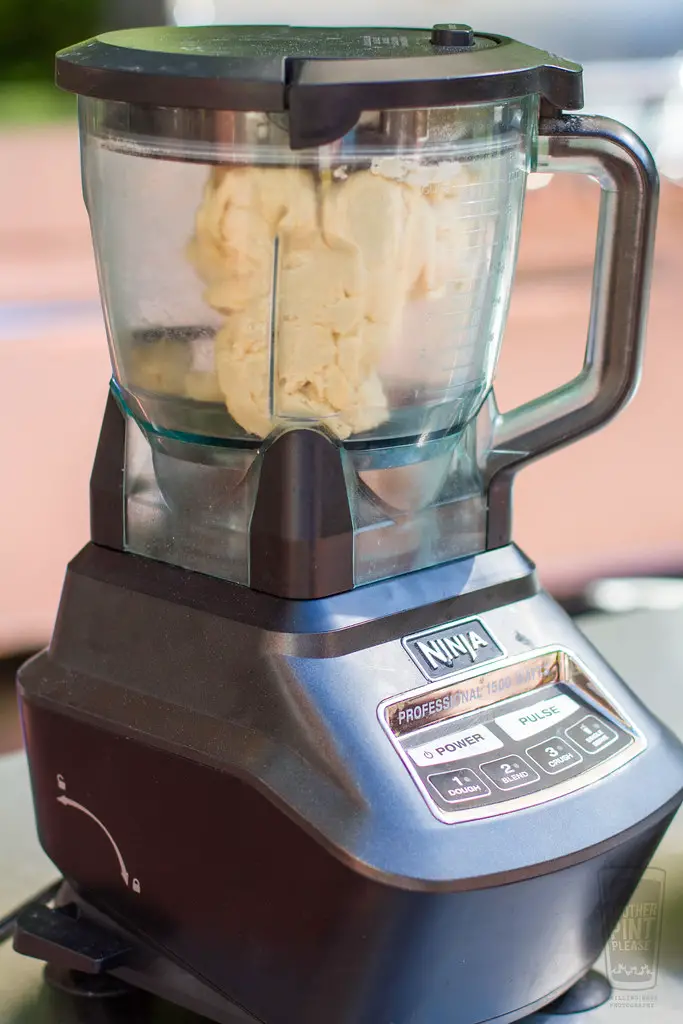 Let us look at the procedures involved in grinding your coffee beans using a Ninja blender of any type. You have to follow these procedures carefully so that you can get it right.
Quick tips before the procedures
First of all, you will get your Ninja blade on and check if it is working well. The next thing you should do is get a cup graduated ¾ full and then on your Ninja blender.
The next trick is to pulse the coffee beans for 12 minutes maximum so that such an act will ease your grinding work and then enables your beans to ground well and best for brewing easily.
First Step
Select the coffee of your type
There are lots of coffee types out there, you need to get the type of coffee beans that's your favourite. After that, the next step you take is to get your Ninja blender prepared for the grinding.
Don't forget to simple tricks I mentioned above, they are going to be useful any moment from now.
Second Step
Pour your coffee inside the blender. Here comes one of the hacks in the earlier stage of this article. Can you remember? You are to pour a little number of coffee beans in the blender by using a single-serve cup.
The reason why do this is to make the coffee beans grounds come out fine or coarse as you desire.
Third Step
For a single-serve cup. If you are using a single-serve cup as advised above, then apply the pulse technique 12 times for a better result using a Ninja blender.
Grind the coffee beans to your satisfaction and stop when the desired consistency is reached.
Fourth Step
It is now time to brew your coffee beans and enjoy the fantastic taste.
You can see that it is very easy and interesting to grind your coffee beans in a Ninja blender? So, if you don't have a coffee grinder, don't worry, Ninja will do the job for you.
---
Can You Grind Coffee Beans Without a Grinder
Without a coffee beans grinder, life still goes on since there are numerous alternative ways through which we can grind your coffee without an available coffee grinder.
I will explain the different methods we can adopt to grind our coffee beans in the absence of a coffee grinder.
You Can Grind Your Coffee Beans Using Mortar and Pestle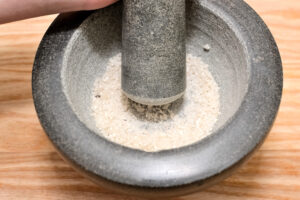 Mortar and pestle are the first means through which any ingredient is ground. It was later in these modern days that electric and manual coffee grinders are invented.
So, if you have the power and energy, you can always go back to the traditional ways to grind your coffee beans.
How Do You Grind the Coffee Beans in Mortar and Pestle
These are the simple steps you can use to get your coffee beans of your choice ground using mortar and pestle.
First Step
Get your mortar and pestle prepare. I assumed you already have your coffee beans ready, so the next thing to do is to find a way to prepare your mortar and pestle. You can prepare them by making sure they are clean, dried, and in good condition.
Second Step
Pour your coffee beans in medium quantities or small depending on the size of the mortar and pestle. You need to pour the beans in small quantities so that the grinding process will be easy for you.
Third Step
Start pounding and twisting your pestle on the coffee beans until you get to your desired consistency. Now you are done grinding your coffee beans.
Fourth Step
Brew your coffee beans and enjoy yourself
You Can Grind Your Coffee Beans Using a food processor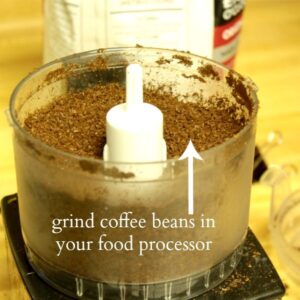 A food processor is another versatile machine that claims to do almost every job in the kitchen. I don't know how urgent you need your coffee beans, but in case you don't have a coffee grinder and a food processor is readily available, you can use it for grinding.
How to grind your coffee beans using a food processor
There are just 3 simple steps you can take to grind your coffee beans in a food processor
First Step
You need a food processor prepared for the job, so get your food processor ready.
Second Step
Get your coffee beans ready and pour batch by batch into your food processor bowl after which you should cover it with the lid for safety.
The pulse technique will be the ideal hack here. Remember, your food processor has this setting so apply it to grind in short bursts. as you grind, if you need the best result slant your food processor from the two sides.
This act will help move the large portions of your coffee beans to get to the blades.
Third Step
When you are done, kindly pour out the ground coffee beans from the food processor and add another batch, grind repeating the same steps above until you reach your consistency over and over.
Using Hammer to Grind your Coffee beans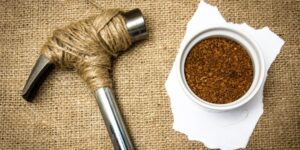 In the absence of grinder, blender, food processor, the next option I can recommend is the use of hammer to crush and grind your coffee beans.  It is all about creativity and quick hacks.
How to grind coffee beans with a hammer
The first thing I always remind my readers concerning the use of a hammer to crush and grind coffee beans is that they should hit a hammer on it. It is funny, right?
You are only going to press the hammer against the beans gently so that it crushes and then moves it forward and backwards still pushing your energy on it to grind your coffee beans.
Ensure you do this on a clean foil to avoid the beans scattering around you can grind your coffee using a glass bottle
So many times I have seen some people where I live grinding things like corn with a strong bottle. At the end of the grinding comes out with impressive results. The same method can be applied to grinding a coffee grinder.
How It is done
You will get a clean bowl either plastic or metal or stainless steel and prepare it for the grinding
Get the coffee beans of your choice and measure the amount that will be enough for you at a time.
The next thing is to use the bottle to press the coffee beans against the bowl to crush it well.
After the crushing, grind the crushed pieces with the bottle by rolling it over them in a pulse technique. Don't hit the bottle on the coffee beans.
This method is also an ideal approach to grind your coffee beans without a grinder.
---
Why you should go for a Ninja blender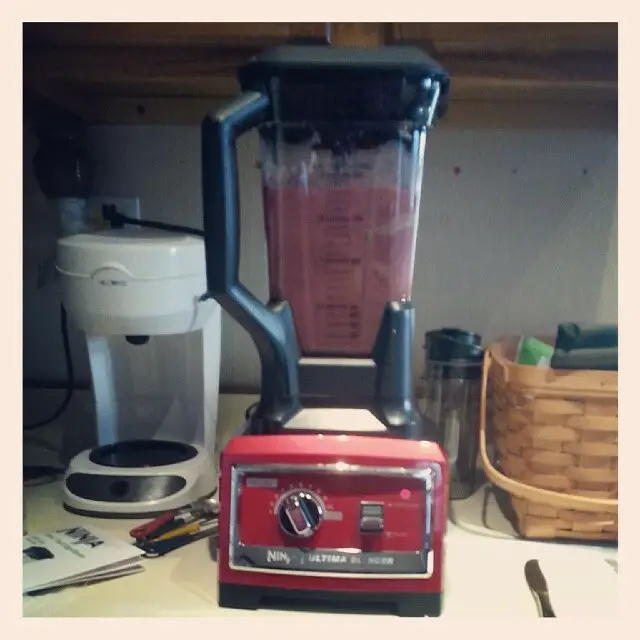 The versatile feature of a Ninja blender is one of the foremost reasons why it should be considered your choice.
Imagine you are stranded and don't have a coffee grinder to grind your coffee. Your companion is here; make use of your Ninja blender for quick grinding. It will do your job perfectly well for you.
The speed of an electric blender is one special feature, and being a Ninja blender, you can. Count on the speed. It grinds like a breeze.
So, you need a Ninja blender for quick and speedy grinding.
The durability of a Ninja is another factor you must consider when planning to by a blender that will do your kitchen job for you.
You know, when a machine is durable, it can work for hours without any breakdown. Well, it doesn't mean you should overuse your machine.
The body of ninja is well built for a comfortable grip and movement. So, consider how you will have to move your blender with ease. It is very necessary.
If at all you need a blender that is friendlier when working with, it is the choice for you.
The blades of a Ninja blender are other factors that make it a perfect kitchen companion. The blades of a blender should be strong enough to crush tougher ingredients when switched for such functionality.
In the case of Ninja blender, I assure you the best blades in the market.
Look at the motor of a blender. The motor power of an average powerful Ninja grinder is not below 500 watts. There is one of the Ninja I will list among the best ones you can always lay your hand as far as it is available.
This very grinder had the power of 1500 watts. Imagine the speed and power of such a machine. Have you now seen the reason why an average customer will like to go for a Ninja blender?.
The horsepower of a Ninja power cannot be ruled out of a reason you should consider it. Yes, horsepower is around 746 watts, but this monster blender is combining two horsepower.
Don't worry I will list it among the blender as I promised.
Note: this blender I am talking about is temporarily out of stock, but I still want you to know about it in case it is back in stock, you won't lose its track.
Here it is separately listed as a specially recommended machine:  Ninja Mega Kitchen System.
---
Final Words on Using a Ninja Blender to Grind Your Coffee Beans
Ninja or Nutri Ninja blenders are sophisticated devices that have strong power when it comes to blending fruits, vegetables, and other ingredients consistently.
Yet, they are versatile, which means they can be used to grind other food items such as coffee beans, cinnamons, and other ingredients alike.
What is your take on this article? Your opinion is highly welcome and will be appreciated if you can drop it in the comment box for review.