Hold up a minute. Just before you use that your Cuisinart food processor to crush ice, it is important that you continue to read this post. It would help you put things into perspective.
Yes, a powerful Cuisinart food processor can crush ice decently. You should, however, be wary of the fact that crushing ice in a Cuisinart food processor may affect your processor by scratching the work bowl or making the metal blades dull. It is advised that you use the medium shredding disc to shave the ice. You'll have to deal with the noise that emanates from doing that though, but isn't that better than having dull the metal blade dulled up or disfiguring the work bowl?
When you buy a food processor with blades that are not designed for crushing ice, it may not end up well. What ice does to the food processor blades depends on the machine power.
So, what is important is that you are sure of the possibility of the Cuisinart food processor's ability to crush ice effectively.
Since one of the downsides of crushing ice in a food processor may include scratch on the work bowl or turning the metal blade to a dull one, it is sometimes advised that you chop your ice using Cuisinart countertop blenders.
So that's the direct answer to whether you can crush ice in a Cuisinart food processor or not. But it doesn't end there. As I said, you should be sure if the machine is designed to crush ice.
With this, we shall take a look at the necessary features that should be found in a food processor before you toss your ice into the work bowl.
Features of food processors that are good for crushing ice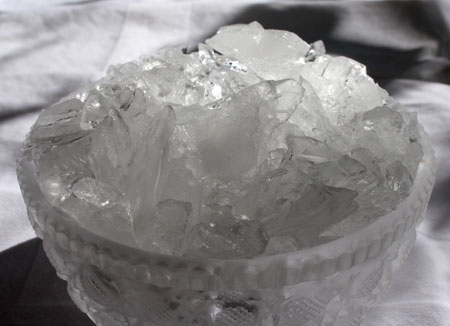 It is a very delightful thing to serve cocktails over crush ice. Unlike ice cubes, it is quick and easy to make cocktails look a little sophisticated.
Food processors can be used for crushing ice. But you need to be aware of the following features of an ideal food processor for chopping ice.
This will decide if you'll eventually achieve fine consistency that is perfect for both smoothies and cocktails or not. So these three essential qualities of a food processor required to crush ice are worth considering.
Strong and durable blades of the processor
For these machines to crush ice perfectly, they need to be equipped with the best suitable blades. I recommend that you choose this Cuisinart DFP-14BCNY 14-Cup Food Processor. It features 4mm stainless steel medium slicing disc, stainless steel shredding disc, and chopping/mixing blade that is perfect for this purpose.
Quiet and smooth operation
If you have ever used a food processor to crush ice, you'll agree with me that it can be a very loud activity. The vibration of the machine can even make your hand tremble.
I have included in this article, some really cool Cuisinart food processor that is known for silent operation.
Easy to use and clean
When crushing ice in a food processor or blender, you need to be in the most convenient situation. Such that, the machine is easy to use and easy to clean as well.
Crushing ice with a lewis bag or any other DIY operation is a really vigorous process. So when putting it in a processor or work bowl, expect something not less.
In addition, they should be made of quality materials because these ice won't wait at all. Trust me! Only a strong food processor will crush ice without having side effects of its work bowl such as scratch.
Lastly, choose a food processor with a pulse bottom control as it will be useful during the process to achieve a standard result.
A pulse button in a food processor also helps to get precise processing for other food items such as kneading dough.
How do I crush ice in a Cuisinart food processor?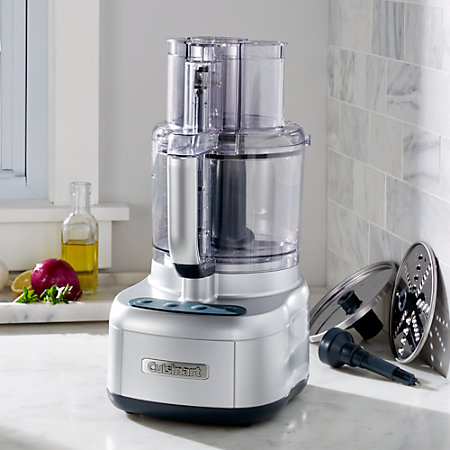 So here is the practical process on how exactly you should put ice in a food processor and crush it without making a mess.
The first thing is to carefully put the ice into the work bowl and place the lid securely on the food processor. This is just as how you would do when you are about to process other food items or spices.
Most food processors come with a pulse button that you can be used to achieve precise processing to preferred taste. While some food processors may not have this feature, you can simply the highest speed setting for short bursts.
By hitting the pulse button or setting the speed at the highest level, it causes the metallic blades to rotate speedily, thereby crushing the ice into smaller particles. It is sometimes advised to use the medium shredding disc that comes with the food processor so that your blades don't dull. Shredding disc, likewise, will shave the ice into strong, smaller sizes.
So after several pushes of the button, you will notice that the ice is now shattered and chopped into small pieces such that they are no longer large pieces.
The next step is to transfer the ice into a strainer to get rid of any liquid…( I mean the melted ice). Of course, the heat of the motor will melt some ice. So putting the ice in a strainer will allow you to get only the real ice now.
Now that you've successfully made your crushed ice using a food processor, you may want to use it right away so that you don't have watered-down drinks.
Crushed ice melts faster than ice cubes. So you have to use your crushed ice immediately or store in a freezer
But if you want to keep it till, perhaps, when your visitors or customers come by, then you need to store it in a sealable freezer bag and into a freezer.
The best time to stop crushing the ice in the work bowl is when you see that the ice piece is smaller than 1⁄4–1⁄2 in (0.64–1.27 cm) in diameter.
Best Cuisinart food processor ideal for crushing ice
We have been able to establish the fact that you can crush ice in a Cuisinart food processor. But as I have mentioned, you need to be sure that this detail is indicated somewhere in the product description or instruction book.
Having shown you the features of an ideal food processor for crushing ice, I have helped you in the search for the best Cuisinart products to buy.
These food processors are not only ideally suited for chopping ice but also the best for carrying out basic cooking operations like chopping, slicing, pureeing and mixing of food items in the kitchen.
Cuisinart DFP-14BCNY 14-Cup Food Processor, Brushed Stainless
SHOP FOR CUISINART DFP-14BCNY 14-CUP FOOD PROCESSOR ONLINE
Most users appreciate this Cuisinart DFP-14BCNY custom food Processor has it is equipped with extra-large feed tube to accommodate enough vegetables and food items.
What makes it ideal for crushing ice is the strong and durable blades as well as the 4mm stainless steel medium slicing disc, stainless steel shredding disc, and chopping/mixing blade.
This interesting food processor comes with a recipe and user manual. It is a 14-Cup work bowl that provides you a range of food processing options.
Pros
14-Cup Work Bowl
Powerful 720 Watt Motor
Extra-Large Feed Tube
Stainless Steel Blades
7 Food Prep Functions
Single Touch Operation
Cuisinart DLC-2A Mini-Prep Plus Food Processor
CUISINART DLC-2A MINI PREP PLUS FOOD PROCESSOR ONLINE
This is another rugged food processor made by the Cuisinart brand. Users of this machine testify on the review platform that it is really helpful. for small food operation.
It is really versatile as it can chop herbs, grind hard cheese, and spices. Thanks to the special Auto Reversing Smart Blade that makes this food processor ideal for ice crushing.
Needless to say, it is also very good at processing both soft and hard foods in the 24-ounce work bowl.
The parts of this food processor are easily removable and easy to clean as they are dishwasher safe.
Since the blades are made of stainless steel with really sharp edges, coupled with the quality materials used in making the body parts, it will work pretty well for ice crushing.
Pros
Dishwasher-safe parts
Stainless steel blade with sharp and blunt edges
Spatula
Chop or grind at the touch of a button
24-ounce work bowl with handle
Instruction/Recipe book
Limited 18-month warranty
BPA Free
Features a special auto-reversing SmartPower blade
Touchpad controls are easy to use and easy to clean
Cuisinart BFP-650 1 HP Blender/Food Processor
SHOP FOR CUISINART BFP-650 1 HP FOOD PROCESSOR ONLINE
This is yet another amazing three-in-one product from the Cuisinart brand that meets your cooking prep needs. It has been designed to deliver nothing but convenience and sharp performance.
It is really styled chrome accents, elegant contours and modern countertop appliances as a finishing touch.
It is equipped with a very strong magnetic lid holder and powerful blades that are connected to the removable lever. The components can be removed and cleaned.
It is an ideal food processor for ice as it features a High-performance 1 horsepower motor and effective Low High Pulse controls.
The 3-cup food processor attachment comes with a feed tube and pusher slicer with shredder disc and chopper blades made with a high-quality stainless steel chopper blade.
Cuisinart BFP-650 1 HP food processor is designed with Pre-programmed Smoothie and Ice Crush functions
Pros
2-In-1 blender/food processor unit
56-Oz
BPA-free Tritan plastic jar
Pre-Programmed smoothie and ice crush functions
Tight-Seal lid with 2-oz
Patented ultra-sharp stainless steel blade
Limited 3-Year Warranty
Measuring cap
Features a 3-Cup food processor attachment with feed tube and pusher
Tight-seal lid with 2oz measuring cap
What are the disadvantages of using a food processor for crushing ice?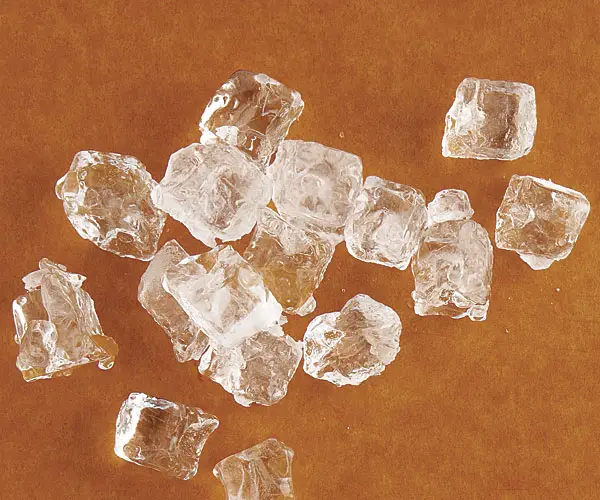 The technical truth still remains that a food processor can be used to crush ice. But it pays to be aware of the downside of crushing ice in a food processor.
To be realistic, food processors are ideally and originally made to chop food items. Not crushing ice.
But in a world where technology is rapidly increasing and it is extending towards the kitchen appliances we use daily, most bartenders and cocktail experts now look out for appliances that can replace almost anything in the store.
Some of the disadvantages of using food processors for crushing ice actually make most people believe that blenders like Vitamix are the best option. Nevertheless, it is time-saving to use a food processor.
Let's briefly point out the downsides and potential risks associated with crushing ice in a food processor so that you'd be able to apply a better approach in preventing them from happening.
Sometimes, when I crush ice in a food processor, I notice that the crushed ice will not be as thick and strong as I really want them to be. In other words, they could melt quickly than I imagine. But a very effective way to go about this is to buy a special ice crusher. Not all food processor supports this, though.
So in the real sense, it's like achieving something at the expense of not getting a preferred taste.
Another serious thing you should be careful about is having your work bowl scratched. This will definitely happen when you use a food processor that is not ideal for crushing ice.
At this point, I strongly recommend this Cuisinart BFP-650 1 HP Blender/Food Processor, again, as one of the best food processors that has been designed for this purpose.
It's a horrible experience to see how this ice will scratch the work bowl badly.
A very popular complaint that most people tender towards manufactures of food processors is that their appliance makes a really loud noise when crushing ice. It is not really a downside of the product, that's how it works.
It is best to use food processors with quiet operation. This will help reduce the intensity of noise.
With all these disadvantages highlighted above, one may choose to use a blender for crushing ice. You should know that there is a vast difference between food processors and blenders in terms of functionality and materials.
While most experts suggest that the majority of the blender available are made with stronger materials for crushing ice, choosing a very powerful food processor like the Cuisinart food processors we've recommended can make things a lot easier.