Most people would agree that a very good way to enjoy kale is when it is chopped and not only that but the texture of the kale when chopped in a food processor is unlike anything else. A food processor can be used to chop kale.

Belonging to the cabbage family, kales are edible leaves but some of them are also used as ornamentals. You can find kale plants with green or purple leaves. With more iron than beef and also more calcium than milk, kale is that one vegetable that you should be having. There are a few things to consider when chopping kale in a food processor and they are.
Sure, kale can definitely be chopped in a food processor. You should note though that, before chopping the kale in the food processor, the stem should be removed as they are really thick but if you still want to use them when cooking then note that the kale stem would not soften.
When chopping the kale with a food processor, it is best and really important that the kale is dry as this would avoid any mixture of a mess that you may consider gross.
Depending on the type of food processor you are using, chopping the kale in batches is good. The batch sizes you would be chopping the kale also depends on the size of your food processor that is, a larger food processor would warrant for lesser kale to be done in batches.
Care needs to be taken when using the food processor to chop kale as over chopping the kale will make it mushy. When chopping it, place the kale little by little in the food processor.
There are many alternatives apart from the food processor when it comes to chopping kale. The food processor might not be the best way for some people but for some other people, it is. But in the end, this all depends on the person, the type of dish you are preparing with the kale, and the way you like your kale to be cut. 
Most people will argue that when using a food processor to chop kale that it makes no difference if it was done with a knife but I have come to realize that it is actually false in my opinion. As stated above earlier, a food processor chops kale really well while giving it a very fine texture.
I also realized that when using a food processor, my prep time becomes faster and I finish everything with a lot of time to spare. Apart from the food processor's efficiency, time saving and labor saving task when cutting kale, the food processor also massages the kale in the process thereby removing any bitter taste it might have ( as some people complain that kale can be quite biter). 
A food processor is a suitable equipment when it comes to chopping kale.
How to chop kale in a food processor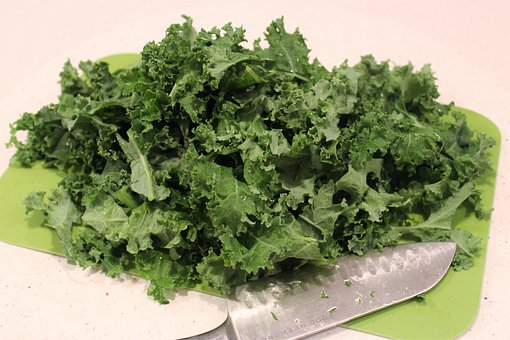 Below are detailed steps on how to chop kale with a food processor:
Step one: Assemble your food processor

First and foremost, the food processor should be assembled. When this is done, attach your desired blade. The type of blade you choose will depend on whether you want the kale to be chopped sliced and so on.
The slicing blade chops the kale while the shredding blade gives the kale a fine chop. Make sure that when doing all this that the food processor is turned off.
Step two: Cut off the Kale stem

Before putting the kale in the food processor, cut out the stem and discard it. Put a batch of the kale in the food processor and secure the lid. Use the pulse button of the food processor to chop the kale.
Keep pressing the pulse button in intervals until you have reached the desired consistency. Continue processing the kale in batches until you are done.
Step three: Removed chopped Kale and then disassemble food processor

Pour out the chopped kale in a bowl. Once you are done chopping all your kale, disassemble the food processor.
Step four: Clean up food processor after use

Clean up your food processor. if your food processor is dishwasher safe, take those parts and put them in the dishwasher keeping in mind not to put the motor unit anywhere in the water.
A damp cloth will do the trick off just wiping the motor down. If you Do not have a dishwasher or a dishwasher safe food processor then all you have to do is submerge the parts apart from the blades and motor in the water and wash. The blades should be washed immediately
B
etter alternatives to chopping kale
Although the food processor is awesome, there are also other alternatives that are as great, and does an excellent job as a food processor does.

Presto salad shooter
The great thing about this electric slicer/ chopper is that it shoots food directly into your desired bowl. There is no need for cleaning in between ingredients, just add one ingredient after one another.
This feature makes for an easy cleaning. This salad shooter also comes with interchangeable slicing and shredding cones which attach easily too. With a power output of 125 watts, it is convenient and a fast way to slice or shred vegetables, cheese, fruits to make delicious salads, and so much more dishes.
Along with its ability to slice and shred vegetables, this shooter also has hundreds of uses from grating chocolate, chopping nuts, making bread, and cracker crumbs to shredding and chopping kale, lettuce, fruits, potatoes, etc. another added thing about this shooter is that all the parts apart from the motor is dishwasher safe.
The compact design makes it really easy to store almost anywhere, it can fit even in a drawer. The parts are not at all complicated to assemble
Details and features
Features a design that literally shoots the ingredient into your desired bowl and saves time on cleaning the bowl for another ingredient. This shooter also makes an excellent gift

Includes a cutting blade that is made of stainless steel, two interchangeable cones whereby one of the cones is for slicing whole the other cone is for shredding. To assembly, slip either one of them in the main chute and secure in place with a twist lock ring. It is that easy to assemble.

A chart is included in the user guide specifications and this specifies which cones should be used for each food .when putting the food in the food chamber, the foods should be cut into a length that will fit into the food chamber.

When operating, use one hand to grip the handle of the shooter and flip on the power switch while using the other hand to press down on the food guide. This will produce a steady output of either the shredded or sliced food.

This shooter is a salad shooter and not suitable to be used for grinding things like coffee, processing cranberries, tomatoes or even meats
Some key specifications
Dimension: 11*8.9*4.2 inches
Item weight: 2.2 pounds
Included attachments: Stainless steel cutting blades, two interchangeable cones
Geedal hand food chopper
Do not be fooled by the manual way of operating this as this food chopper chops food quickly in seconds. it is equipped with 420 surgical blades made of stainless steel and this blades chops the ingredients easily with little and less effort.
The only thing needed on your part is to just rotate the handle. This hand food chopper is made with food grade plastic, which is BPA free and equally safe for your health. You can pick this up and chop your food anytime as this hand chopper requires zero electricity making the process noiseless.
The bowl has a three cup capacity and it is really easy to clean. The parts are all easy to disassemble too and a quick rinse under water for fifteen seconds will do the job of keeping it clean.
It is that easy. Not only is this chopper ideal for chopping and mixing kale, onion, garlic, boneless meat, it is also perfect for chopping and also mixing smoothies, pesto, nuts, egg liquid and so much more. What is more interesting than a month free trial of this hand food chopper
Details and features
Feature a round handle that makes for a comfortable but tight grip on the chopper. It also rotates smoothly

The yolk separator is an added feature which helps separate the yolk from the egg white

The chopper has a three cup capacity bowl which makes chopping more easier. But note that

To make for a better chop, too many ingredients should not be put at a time. The container is also transparent and makes it easier to see what you are chopping

This hand chopper has a scale mark and this is efficient when it comes to measuring your ingredients better before chopping
Some key specifications
Dimension: 7.5*7.5*7.5 inches
Item weight: 12.8 ounces
OXO good grip salad chopper and bow
If you do not have the time and strength for knives, you just do not want to worry too much about slicing the kale or you do not fancy using the food processor then this salad chopper and bowl is exactly what you need.
It transforms your vegetable quickly and easily into chopped salad. The blades of the chopper are made with stainless steel and it is highly efficient when it comes to slicing kale, lettuce, other vegetables, fruits, cheese and so much more.
The handle of the chopper is soft and it is also non slip which makes for a firm grip. The bowl has continuous curves which constantly co facts the blades and makes for efficient cutting. The bowl has a 5.5-quart capacity and it also has a rim which serves as a grip to rotate while chopping is going on.
Features
A good grip collection

The blades are made of stainless steel and can be used to slice diverse t vegetables, cheese, fruits, and much more
Some key specifications
Dimension: 12.5*5.5*12.5 inches
Item weight: 1 pound
The material of the bowl: Plastic
Items included: Handheld chopper, bowl
Flyers toy professional salad maker slicer/shredder
This salad slicer slices perfectly while also saving effort. The one button operation makes it way easy to use and it has a very powerful motor with a power output of 150 W. This makes your food preparation to be fast and efficient.
It does not stop at just slicing, this food cutter is also multi-functional and comes equipped with four interchangeable stainless cones that are highly multi-functional. You can chop, slice, shred, grate your ingredients quickly and it can also be used to make thick slices, ripple cuts, and shreds.
It is stain resistant making it very easy to clean up. The base should be wiped clean while the other parts are dishwasher safe. This food chopper saves space as it is not bulky but light weight and really compact.
This food cutter can fit on my table top, counter top or kitchen top quite easily .you are certain of a sure and high quality types of equipment as this food chopper is also BPA free.
Details and features
Perfect equipment when it comes to chopping kale, other vegetables, fruits, cheese, nuts, grating carrots and even making bread and cracker crumbs

Very convenient for you when preparing you to want to prepare your ingredient for salads and other things quickly

This food chopper is easy and simple to clean and it is also stain resistant. All you have to do is just wipe down the motor and put the other parts in the dishwasher

It is very compact and lightweight which makes for easy storage as the food chopper does not take up much space
Some key specifications
Dimension: 12.1*10.1*8 inch
Item weight: 4.19 pounds
The material of item: Plastic, stainless steel
Color: Silver black
Package content: One salad slicer, four cone blades, one manual
Final words on chopping Kale with a food processor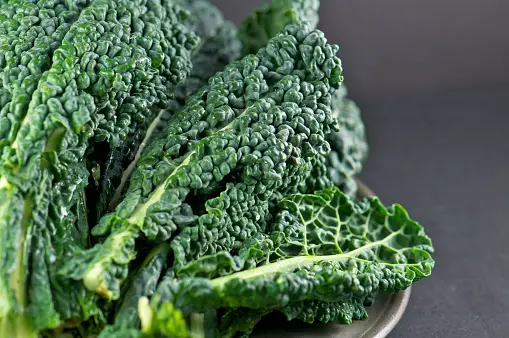 There are a lot of other equipment that can be used to chop Kale and these are just a few of them. So next time you see kale, do not get intimated about it. Just grab that vegetable and get ready to start prepping it Because it is really easy to do with the right equipment or none at all.