Corona Grain Mill Review: Manufactured in Colombia, this corona grain mill is considered a strong and reliable hand-powered grinder that is equipped with the finest quality cast-iron and capable of lasting longer. Corona Grain Mill is being used for years in South American kitchens.
To own a hand mill, you have to be prepared for the process, and the process is rewarding. If you are into self-reliance and interested in making your healthy bread from scratch, then you would want to consider getting a durable hand-powered grain mill. While there is quite a range of prices of various hand mills, it is not all that easy to choose the one that is best for you and will give you the result you want.
I am the type of person that mill frequently, and if you are like me, you should know how important it is to choose quality construction of hand grain mill that will hold up to the test of time as well as constant usage.
Having combed the internet and come across cheaper hand grain mills that have negative reviews and do not last long, I have realized that hand mills that are worth your attention will not come all that cheap. Because the reality is that you are going to get what you pay for. Aside from this,
In this post, I am going to share with you a special and grain mill that I found, bought, used, and reviewed here. When I look for hand grain mill to buy, I always make sure that they are ideal for small batch baking and also 'survivalist' and preparedness situations.
We want to look into a grain mill that is hand-powered and will also grind a variety of dry, hard grains including barley, wheat, rice without electric power.
I have singled out this special hand grain mill and discovered that it is the solution for anyone looking for a mill that can grind soft white wheat berries or hard red winter wheat berries.
In line with sharing ideas that can help you create nutritious flour for pancakes, pizza dough, whole wheat bread loaves, and cakes, and any other low- or high-rising baked good, I have reviewed the recommended hand-powered mill for this operation and I am sure you can't wait to read more about it.
Get familiar with the Corona grain mill – your solution to freshly grind flour without electricity!
Details on Corona grain mill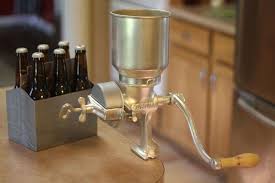 Bulk grains direct from the farm or feed and seed store are cost-effective Hand mills can help you transform them into fresh flour in your kitchen for various baking and pastries recipes. But you need a durable hand mill such as this Corona grain mill. Why?
The Corona grain mill features a very simple and straightforward design. I can even draw the diagram of the mill while my eyes are closed. Well, I've spent a lot of time with the machine to do that, you know.
There are many ways this machine can help you in your home to actualize that healthy flour solution you have been thinking about. I tell you this from experience.
Okay, let's do something… what I have discovered and can assure you that you will gain when you have the corona grain mill in your kitchen is as follows:
In a matter of minutes, you can now make the freshest and healthiest grain products using the corona grain mill
It is simple and easy to assemble/use
Quick clamp-on installation
all you need to do is dust off after use, easy to clean.
If you purchase the grain mill from an authorized seller, the product comes with aa full five-Year U.S. Warranty
I always tell people who want to purchase and mill that they need to be sure that the grain mill will grind wheat berries into fine flour especially when they will be milling wheat with the appliance.
Apart from this, you have to do some proper digging into any hand mill your intend to buy and I am pretty sure that is why you are here, to find out more about the corona grain mill that you have chosen to buy.
There is no doubt that much cheaper hand flour mills are inadequate when it comes to grinding to a fine consistency, while this corona grain mill is very different and changing the narratives. I have provided a complete product review and have revealed the real experiences and results of the grain mill here in this post, so I encourage you to read on.
The Corona Mill is a cheap alternative to the more expensive and-powered mills and can be used to crush grains for brewing. I have come across some roller mills that are as high as $100 and quickly go up in price. But with just about the cost of an iPad, you can buy A Corona Mill as it can cost as little a $20.
The corona hand mill is designed with three modifications – two minor, one a little more intense. It is an effective grain mill for crushing grains for home brewing. You will also save more money to get another appliance in your kitchen.
The corona mill is made of Polished cast iron with a hand crank. I would say that picking this mill is a perfect choice for the malt extract brewer who prefers a hand-powered mill.
Using the Corona grain mill for the first time

The corona grain mill is a unique hand mill that is loved by many hand mill devotees. If you are new to the family of such loyal fans, you don't want to give a sad story about your mill at the end of the day, so it is important to know some things you should do with your corona grain mill as a first time user.
The first thing I did, which is the recommended thing to do is to clean the mill thoroughly once you get it and to Fasten the grinder firmly to your work surface. This process is very easy because the grain mill features an easy clamp-on.
Since it is your first time using it, it is okay not to get everything right, as you continue to play with it and familiarize your self with the mill's operation and adjustments, you will become a professional in handling such a hand mill effortlessly.
Setting the adjustment properly is another thing you should focus on once you get your corona mill. This can be examined when you check the texture of the first flour produced by the mill. You can adjust from coarse to a fine flour texture. You have to be careful here because If the adjustment is too tight, you may mill the grinder itself.
Again, I will have to repeat this. You don't have to necessarily expect absolute success. It took me some time of experimentation to perfectly learn how to use the mill properly and break down the features to you here. The corona grain mill works, but you've got to be patient to learn the process. You can blend various grains with it.
Specifications of the Corona grain mill 
Durable handle and hopper
Capacity: 8 Cups (High Hopper); 3½ Cups (Low Hopper)
Rugged and high-quality
Cast-iron construction for durability
No internal plastic parts to break or wear out
Dimensions: 6" W × 12" D × 14" H (17" with High Hopper)
Tin-plated steel—no aluminum parts!
Weight: 10 pounds
Components and replacement parts of the Corona grain mill 
While the putting together process of this grain mill is seemingly simple for even a beginner, Knowing the parts and components of your corona grain mill will help you when assembling or disassembling for proper cleaning.
If there is also a need to get replacement parts for your corona mill, this list will show you the components and replacement parts of the corona mill as well as how much they cost if you intend to buy them separately from the corona grain mill store.
Grinder Disc Cover $15.00
Adjusting Screw $8.00
Crank Handle $15.00
Bearing Support $16.00
Adjusting Collar $8.00
Auger Pin $5.00
Feed Auger $22.00
Crank Screw $6.00
Stationary Grinder $14.00
Revolving Grinder $14.00
Wing Nut (single) $5.00
Grinder Screw (single) $5.00
Clamp Screw Washer $6.00   
Clamp Screw $10.00
Lock Nut $8.00
Bearing Bolt (single) $6.00
Ball $5.00
Ball Spring $5.00  
Items ideal for grinding in the Corona grain mill 
Although, the corona grain mill is originally designed to grind corn and beans You can effortlessly adjust the corona grain mill such that it will be able to grind virtually any dry grain, bean, or corn. No matter the size of the grain, this corona grain mill will grind it, as in, grinding
Items such as grain, rice, pea, pasta, seed, or nut can be ground using the corona grain mill. Going through some details on verified users' experience, I came across one that used the mill for wet masa, others successfully used the corona mill for nixtamalized corn, coconut, and even sprouted items.
But if you intend to use the corona mill for oily or wet ingredients, make sure the machine is cleaned thoroughly after each use. The good thing about this hand-powered grain mill again is that you can change the setting as this will determine the texture and coarseness of the flour produced.
I was able to make wonderful fresh grits and cornmeal for baking using the corona grain mill. What stops you then? Only if you have not gotten yours yet. All the machine needs are one minute of your little hand-cranking effort and it will coarsely grind 4½ Cups (1½ pounds) of corn.
Where to buy the Corona grain mill – product description 
Corona Corn & Grain Mill with High Hopper
About product
A lot has been said about this unique corona grain mill and this is the section where you get to try it out for yourself and it is assured that you will not regret such a line of action as you will then be able to make the freshest and healthiest grain products in minutes using the grain mill.
It is made in such a way that the clamp on installation is quick and easy even for someone new to using a hand-powered grain mill. All you have to do is dust off after use. It features self-cleaning that allows maintenance to be easy. From an authorized seller, the product offers a Full Five-Year Warranty.
While The Corona Hand Mill is generally used for Corn, Grains, and Beans, it is recommended for everyone who spends time in the kitchen making flour. From Chefs to bakers, and brewers will fall in love with the high performance of the Corona Mill.
As mentioned when I started this post, it is manufactured in Columbia and has been used for years in South American kitchens. You should not be worried about rusting, thanks to The tin plating
that prevents rust.
It is a rugged hand-powered grain mill that does not require typical washing. Made with Tin-plated steel, no aluminum parts, and no plastic parts that will eventually break in this grain mill.
How to properly use the Corona grain mill to get the desired result
In the actual sense, no special kind of maintenance routine is needed to keep the corona hand mill running the way it is designed to run. But there are some proper ways to use the grain mill so that you will always get the result you want anytime and any day
The first thing I want you to be aware of when using the corona grain mill is that it should be installed on a sturdy and heavy table, I have one in my kitchen and that is where I fix the machine.
If you choose to leave it mounted permanently as I did, I advise you to cover the hopper to prevent foreign objects from dropping into it, which may cause damage. I also place a piece of rubber that is about 1/8″ thick beneath the foot of the mill.
For convenience and safety avoid mounting your corona mill on a surface like polished granite, marble, or ceramic tile. These surfaces are delicate and not ideal.
The machine is made all steel, in other words, using water to wash it will cause the mill to rust, so all you need to do is dust off with a dry brush after grinding. Again, never wash your corona mill with water and soap.
Getting the result you want when using the corona grain mill simply as to do with the adjustable grinding settings. For example, when it comes to Textures like cracked corn, bulgur wheat, all I need to do is loosen the lock Nut and loosen the Adjusting Screw to the coarsest setting (widest plate position).
To achieve finer grain texture, all you need to do is tighten the Adjusting Screw a little (moving the plates closer together) to make grits or meal.
Frequently Asked question on Corona Grain mill
Can the corona grain mill be used for home brewing? 
With the Corona mill, you can grind anything. The plate s on the mill can be easily adjusted to grind any grain. From the coarsest setting to the finest texture, it does the whole job. So, yes.
Does this product clamp to the table? 
Yes, the Corona grain mill clamps to the table easily and if you are going to mount it permanently, make sure it is covered when not in use. Also, make sure that the table or workbench is sturdy and heavy.
Can I make cracked corn size pieces? 
I advise that you feed small amounts at a time more than once when using the Corona grain mill. But you can make cracked crin size pieces.
Are the plates adjustable from coarse to fine grind?
Of course. One of the pros of using a Corona grain mill is that it is good for making flours because you can adjust the grinding setting from Coarse to fine textures and grind.
Can this be used to grind meat? 
Unfortunately, the Corona grain mill will not grind meat. It has been designed for grains and wet corn. There is nothing in the grinding mechanism that will grind meat or bones. Please take note. It grinds, it doesn't cut. So do not use it for meat
 Are the high and low Hopper the same?
Three inches make the difference. 
The Corona mill with high Hopper, just as the one I have at home holds twice the volume of the low Hopper. The low Hopper Corona grain mill measures  12″ x 6″ x 14″. This size will comfortably rest in a small space. The high Hopper I have measured 12″ x 6″ X 17″. So there is no much difference
Will this grind flax seed?
This is determined by your preference for the texture. The Corona grain mill is a corn and grain grinder and will surely grind flax seed.
Pros of using corona grain mills
The first advantage you would want to consider when looking at the pros of using the corona grain mill is the Cost.  The corona grain mill is lea ss expensive alternative to electric mills.
Again, for a person like me, I take the hand-crank thingy as work out while I work, so you turn the wooden crank and exercise the arm. Another huge plus is that the machine allows you to grind oily nuts, seeds, and grains. This, you may not get when using electric grain mills.
Again, since it is a hand-operated mill, it is easy to store and will not take up much space even in a small spaced kitchen. It is low profile and can be moved from one table to another without much effort. Lastly, if you love vintage and antique items, this is just the perfect choice!
Cons of using corona grain mills
Just as with other hand-powered grain mills, a general problem is that it is slow compared to the use of Electric mills. What you will produce with the corona grain mill, an electric grain mill can produce the same quality of flour about 10 times faster. So I will not recommend the corona mill to an avid baker.
In the same connection, the machine typically has much smaller capacities than electric mills. The machine is perfect for home use, but not recommended for commercial purpose.
Some people also consider the need to mount the corona mill before use as stress. Yes, I understand But for a mill like a corona grain mill, the mounting process is easy and should not be a problem.
Care and Maintenance of the Corona grain mill
Lastly and importantly is the proper care and maintenance of your corona grain mill. While the machine is made of durable materials and does not require any special maintenance. You have to understand the importance of clean up after each use.
The clean up is even simple, so you should not be worried. Just make sure you properly dust the mill off with a cloth or dry brush after each grinding. And like I have mentioned earlier, do not wash the corona grain mill using water and detergent.
More and more cleaning will be needed when you grind oily or moisture grains. And in this case, you will need to disassemble the unit and dry each part thoroughly