Perhaps you are more conversant with using the electric meat grinder but now you are considering using the hand crank meat grinder. How do you go about using it if this is your first time?
This article illustrates steps to use your hand crank meat grinder. I will have to make some basic information available to you before mentioning anything relating to how to use a manual meat grinder.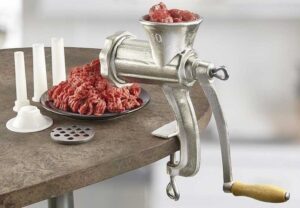 Steps on how to use the Hand Crank Meat Grinder
If you are already considering how to use the manual meat grinder, good, these are the simple steps you should follow to get it right:
Get your hand crank meat grinder available, prepared and clean
Purchase the meat to be ground and then cool it in the refrigerator
Ensure every other appliance including plates are cool before the grinding process
Secure your meat grinder into the stable surface in your kitchen and ensure that the crank is well fixed to stop it from moving unsteadily from side to side
Prepare the meat by cutting away unnecessary tendons, fats, and cartilages before cutting the meat into pieces so that they are small enough to pass through the meat grinder opening
Pick the chilled large bowl from the freezer and place it below the exit opening of your manual machine to collect the ground meat.
Don't be too quick turning the hand crank, take it slow and steady as you lower the first piece of meat into the mouth of your grinder
Don't push the meat with your hand, allow the blade of the grinder to do so since it is possible and safer.
Wait until the last piece of meat has reached through the meat grinder, then run the slice of the moist bread through the machine to clean up the mess
Dissemble the meat grinder after the grinding process for proper cleaning.
These steps are simple to follow. It is important you master the process for future purposes.
What is a hand crank meat grinder
Hand crank meat grinder is no other thing than a manual meat grinder. Our primary aim most of the time is to use meat grinders to make sausage.
With so many electric options available in the stores today it is easy for you to quickly grind meat and make sausage in the breeze; still, we can't override the old fashion when the necessity is not available.
Sometimes, you may want to focus on the work at hand, using manual meat grinder will not be a mess but at least you can say "I made that grinding by hand".
Especially when you want to have full control over every step of your sausage making, using manual meat grinder is just the best option for you.
Things you need to know about hand crank meat grinders
Fine, you have resolved to buy a hand crank meat grinder; the reason for this decision is best known to you. The path through which you can get the best manual grinder cannot be overruled.
You must know this path so that it can be traced to a good end. What is the trail all about? It is about some basic features a good manual meat grinder should possess. Here they are:
A meat grinder should have good portioning and speed control
There should be enough hopper capacity for the users to hold and grind as much meat as he or she desires for the best sausage tastes
The body should be made of good material such as cast iron and stainless steel for long-lasting and durable.
It should be of the highest quality in its version
It should be easy to use and clean, and faster
It should be perfect for tabletop and then portable to move around
Here are the basic features a good manual meat grinder should have and shouldn't be confused with the buying guide.
I have to reveal this information as a brief intro to what you should expect of a good hand crank meat grinder in case you encounter opposite events.
Are hand meat grinders any good
Ordinarily, a person will prefer to use an electric meat grinder rather than the manual version, but if you have to use the manual version, is it actually worth it? The answer is yes; hand meat grinders are good for use.
Apart from manual meat grinders being good to use, put the cheap price into consideration but the meat you grind will be in small batches.
Best Manual Meat Grinders you should consider
Now, you should begin to consider which meat grinder is the best to purchase. I have personally selected some meat grinders that will serve you well being manual versions. Let us look at them one after the other.
Tuntrol Commercial manual meat grinder sausage
SHOP ONLINE FOR THE TUNTROL MANUAL MEAT GRINDER
It is a manual meat grinder and yet can be used for commercial purposes. If you considered this machine, you are already considering one of the best grinders that will perform its task as expected. Let's look at the smart hacks about it:
The Machine Smart Hacks
The entire body is made of stainless steel which makes it a durable product you should go for
It doesn't rust, no cracking
It has a thickness of 304 stainless steel body
Polished surface, firm and beautiful
What about the 420 stainless reinforced inserts that come with it?
Food grade stainless steel, durable surface, and long-lasting.
LEM Products #10 Stainless Steel Clamp-on Hand Grinder
SHOP ONLINE FOR THE LEM MANUAL HAND GRINDER
LEM Product has got 70-30 percent good and bad reviews, this shows more people love it and as you can see it is a simple design, portable and can be easily fixed to your bench or table. The machine smart hacks are also fantastic here they are:
The Machine Smart Hacks
It is a heavy-duty machine
The entire machine is made of stainless steel
It doesn't rust and is easy to clean
It has a wide opening on a clamp that allows easy mounting on any table or countertop
It comes with two stainless steel plates—one 3/8" coarse and the other 3/16"
It possesses a stainless steel knife
It has three stuffing tubes: 1/2″, 3/4″, 7/8″
LEM meat grinder is reliable. I recommend it to you to buy as many customers that have been using it are happy with it.
Victoria Mi Manual Stuffer, Cast Iron Sausage Maker
SHOP ONLINE FOR THE VICTORIA GRINDER
If you want various meat stuffing, Victoria Mi Manual Stuffer is just the right machine for you.
It gives you a lot of sausage stuffing due to its possession of 3 sausage stuffing fillers sizes which includes: 12.7mm, 18mm, and 22mm. here are the smart hacks for the awesome device:
The Machine Smart Hacks
It can be adjusted to your desired consistency i.e. you can adjust the manual grinder according to the thickness of the milling you want and this is possible because it has 2 carbon plates, one fine and the other is coarse.
It is constructed for a heavy-duty purpose. It is made of cast iron with sanitary double tin plating so it can resist stains and corrosion.
It gives an easy grinding experience which makes it one of the best you should be considering any moment from now.
I recommend this fantastic product to you so you can give it a try and see the best experience ever.
---
Questions and Answers for Manual Meat Grinder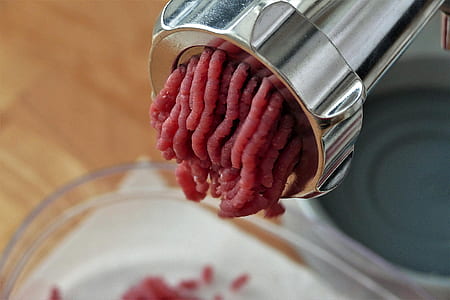 There are lots of questions around manual meat grinders, let us see what I can give as an answer to some selected questions.
What should you look for in a manual grinder
There are lots of things you should look for in a manual grinder apart from the basic features above which I indicated are not the real buying guides.
For instance, you want to ensure that your manual meat grinder performs to your satisfaction, durable enough to handle your tasks as the case may be.
Is Manual meat Grinder worth Buying
If you look at the rate at which electric grinder performs and how quickly it has replaced manual grinder in terms of speed and accuracy, you may want to say there is no reason buying it.
I can tell you that there are three reasons why a manual meat grinder is worth buying.
If you need one without electricity
You may need a meat grinder without electricity for a reason, buying an electric meat grinder will not be necessary for this aspect.
You are on a trip during winter
It is not necessary that you must be in winter before a manual meat grinder will be useful during a trip. It is a must you carry along a manual meat grinder if you are serious about making sausage for yourself, family and friends as you enjoy the trip with them.
To be used occasionally
You may buy a manual meat grinder to be used once in a while, or as a quick alternative whenever your electric meat grinder is not responding to service.
Sometimes, you may like to exercise your hand or want to practice the funny things humans practice i.e. you can say, today let me use the manual meat grinder instead – it is all about human psychology.
What Makes a Good Manual Meat Grinder
I have talked about the basic features that make a manual meat grinder good, however, there are other important aspects of it that you must consider in general before purchasing anyone.
The two major features are material and performance.
The material the machine is made of will determine how low or high the price of a machine will cost.
A plastic meat grinder that I can't recommend to you can cost around $30, while a steel meat grinder can cost around $100 and above.
The price in some cases may be lesser depending on the time and the language of the current economy.
One good thing about steel grinders is that they last longer than the one made of plastic. It is expected that the plastic neat grinder is cheaper than the steel grinders.
Remember, it is less durable compared to the steel type. It is up to you to select your choice. It could either be the cheaper one or the costlier one.
Performance of machine
The performance of the machine has to do with the number of attachments that come with it and the ability to grind as expected.
This means more attachments more versatility and creativity. If you have a grinder with plenty of attachments you can get different sizes ground meat, texture for easy cooking options. Attachment of a meat grinder gives it the ability to stuff sausage for a delicious meal for the day.
The crank of a meat grinder is part of its performance. If the crank is okay and in good condition, grinding meat will not be an issue.
If the crank is well placed will lead to more turning power. The inner part of the machine needed to be sturdily built to add up to the performance and in return stand up to the pressure.
From the look of things, the entire performance of the manual grinder may be a bit difficult to judge but the Stainless Steel type is the best in terms of performance.
---
Conclusion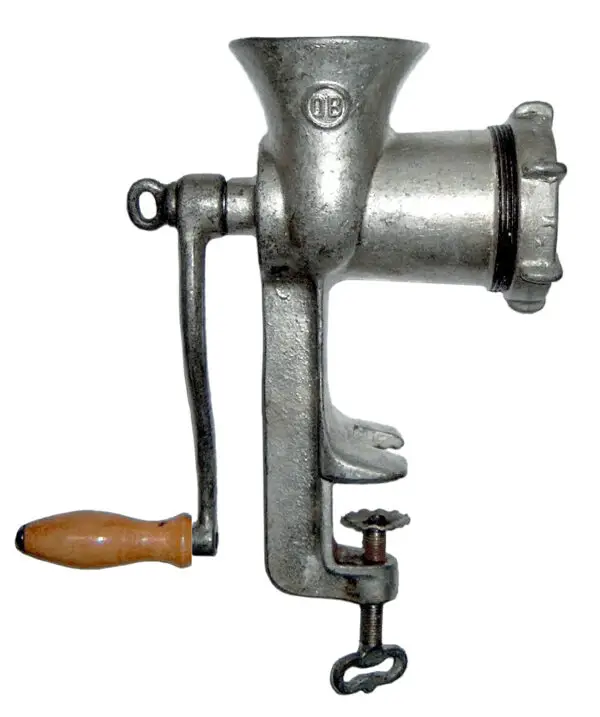 Manual meat grinders are the traditional means through which you can grind your meat for sausage and other creative food works.
There are different types of manual meat grinders built by different brands of which I recommended some of the best above.
This modern-day, the manual meat grinders have been dramatically replaced by the electric counterpart which makes them less useful but still, you will need one occasionally.
Perhaps while travelling or you just don't want to use the electric version for a reason best known to you.
I advise that you check features of a manual meat grinder before purchasing it. You should be able to identify when a hand crank meat grinder is good and why it is worth it.