You can use a food processor to grind spices like onions, ginger, and garlic. While a food processor will render perfect results for coarse pastes of onions, garlic, and ginger, using a blender will give your finer paste.
If you make more spicy foods twice in a week a more, only a powerful food processor will give you the desired result. Most users claim that the best way to grind both wet and dry ingredients is to use a powerful blender.
Now that you have been enlightened on whether you can grind spice in a food processor, let's now get into details.
There is no doubt that the use of food processors in the kitchen can not be overrated. They are ideal kitchen appliance for carrying out basic food operation in the kitchen.
Among the usefulness of a food processor, you may ask "is it ideal to grind spices in a food processor". Read on to know the right answer and how you should do about it in a proper way without damaging the food processor.
In our homes, we embrace the convenience that technology brings to us nowadays. The presence of advanced technology in our kitchen has not only made the cooking process quick and easy but has also made life easier.
If you have not read my article on the best commercial food processor to buy 2021, then you may not be able to know how important a food processor is in the kitchen. With a food processor, you can easily perform multiple cooking tasks that will require much manpower.
Among the enormous benefits of a food processor, you may be bothered as to if you can actually grind spice in the appliance, what kind of spice will grind well in a food processor as well as the process of grinding such spices.
I've got you covered to clarify all of your doubt in this article. But before we proceed, it is important to have a clear understanding of what a food processor is and how it works in carrying out basic food operation.
This will better help us to elucidate if truly they will work for grinding spices and what kind of spice exactly.
What is a food processor and how does it work?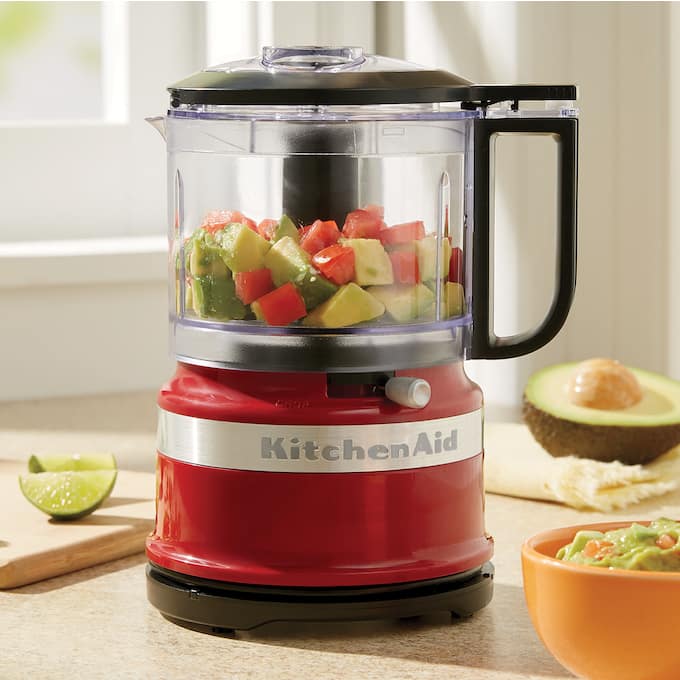 The main purpose of a food processor is to make the cooking process easy by chopping, shredding, slicing, and grinding almost all kinds of food in no time, making cooking convenient, easy and fast.
A food processor is designed with interchangeable special blades that allow you to process foods according to your preference by changing the blades that are used.
Modern food processors now come with extra attachments that allow you to make juice, knead bread dough, beat cake dough, minced meats, and many more. Food processors are usually easy to operate.
When buying a food processor, go for one with a large bowl capacity that can accommodate large batches of food so that you don't go through the daunting process of emptying again and again.
There is a mini size bowl with a capacity of 2 to 5 cups and the full-size bowl with 9 to 13 cups. An ideal food processor is made with lid and bowl made of transparent material
In this article, we are not talking about the nitty-gritty of the food processor and its component. We want to establish the fact if spice can be ground in a food processor.
So, can you grind spice in a food processor?
A food processor can grind spices like onions, ginger, and garlic paste. If you already have a blender, then you can simply use both.
When grinding any spice, you want to be in control of how smooth the texture will be. Also, an ideal spice grinder will require little effort to deliver the desired result.
My honest recommendation is that you should use a blender when you grind spice more than once in a week. If it's a peppercorn-based spice mixture, a mini food processor is the best way to go.
A food processor grinds the peppercorns and coarse salt with other spices but mixes the blend perfectly. As a plus, you can control how you want the texture and final result to be using a food processor.
Using a food processor to grind spice may require some effort as it will not give you the result of a blender, but the results make the investment worth it.
Some people use mortar and pestle to grind their spice. This works well too. But when you consider the hassle involved, you'd want to choose using a mini food processor.
So here is what I usually do and I think it's the best way to approach spice grinding :
When it comes to making paste and moisture cooking tasks such as Smashing lemongrass, fresh herbs, and so on, you can use a mortar and pestle! The result usually come out beautifully smooth and even.
But for dry spices like ginger, onions, and garlic, a food processor is the sure way to go. You can use a coffee grinder as an alternative.
A good benefit of using a food processor to grind spice is that they are quite affordable. Especially the mini ones. In this way, you can purchase two or more products. One for each kind of spice. Even if you do not have more than one food processor, the appliance can be cleaned easily after use.
The Best food processor for grinding spices
There is nothing as efficient as using the best set of food processors to carry out basic food prep in the kitchen such as grinding food spice.
Let me also mention that the quality of your food processor matters and will determine how effective it will work.
I have come across some food processors that are ideal for grinding spices and are easy to use.
Have you heard of the Guodasitansen Food Processor? If you have thoughts on using a food processor to grind your spice, then this is an ideal product to buy today.
It is majorly used for preparing fresh, healthy, and tasty flavourings that will help protect the body. I think you should choose this product instead of purchasing expensive and unhealthy and pre-packaged condiments at the price of cans.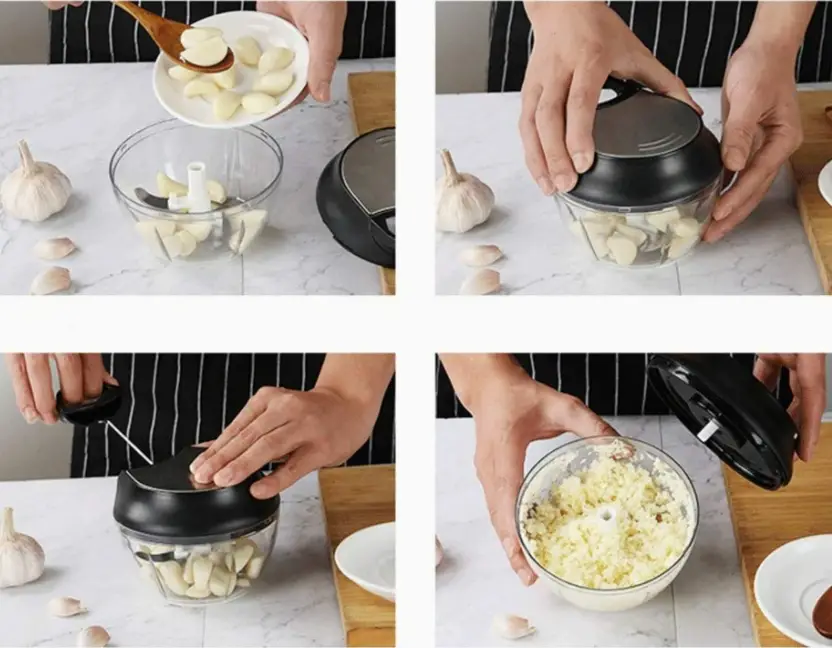 It is a compact but very versatile appliance that can perform multiple purposes. The appliance makes the cooking process much easier, plus, it is travel friendly.
The food processor includes Removable Blades for Chopping & Blending. In this way, it serves as a multifunction food chopper.
This Guodasitansen Food Processor is designed with Ergonomic Handle that allows you to Control the Spinning Blades to achieve your desired result.
With this kitchen device, you can now Dice Vegetables or Puree Food Into Liquid without breaking a sweat.
It is advised not to wear gloves when using this food processor because the gloves may end up being shredded.
Above all, it is a Heavy Duty Hand Chopper that us fully equipped with Durable, Easy Clean BPA Free Plastic & Sharp, Sturdy Blades. It is also dishwasher safe. Shop for the food processor HERE.
Best kitchen gadgets for basic cooking operation
Have it in mind that some of these food processors ( not the ones mentioned here) have their blades placed too high such that it won't be able to hit the stuff at the base of the food bowl.
For this reason, it is important that you are aware of the ideal kitchen appliances to use for some specific food prep. I have created the table below to better explain this.
| Recipe | Blender | Food Processor |
| --- | --- | --- |
| For Making Dough | NO | YES |
| For Making Nut Butter | USABLE | YES |
| Soup | YES | NO |
| Dressing | YES | USEABLE |
| Shredded Cheese | NO | YES |
| Smoothies | YES | NO |
| Chopped vegetables | NO | YES |
The main difference between a blender and a food processor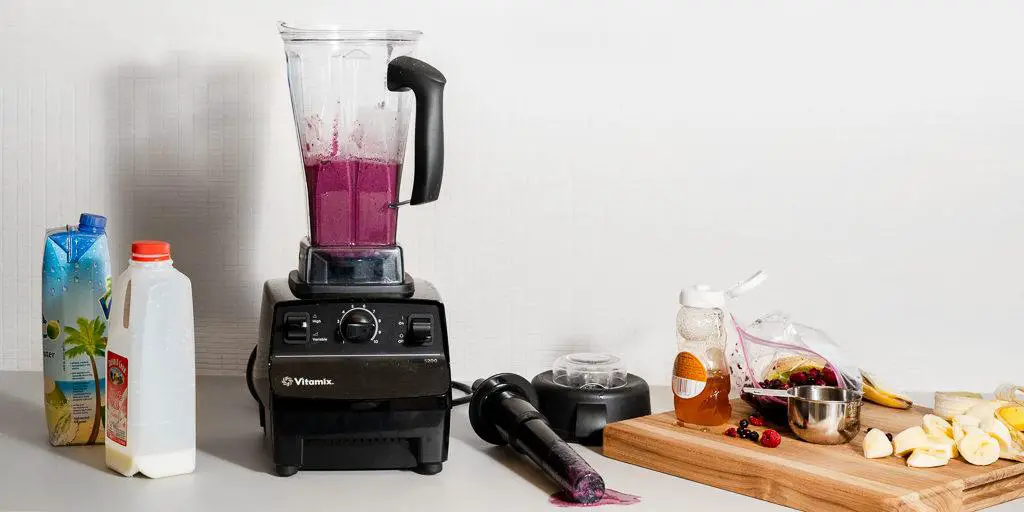 It is forgivable to equalize the usefulness of a food processor with that of a blender. But ideally, these two kitchen appliances are two different things and they work for different purposes.
While they function similarly, there are some food preps that required the use of one rather than the other. It is important to know about the difference between a blender and food processor so that you know which device should be used for a particular cooking task to get better results.
Here is the main difference:
While a blender is used to pulverize and combine wet and dry ingredient, a food processor is ideal for performing a wide variety of food preparation tasks like chopping, slicing.
In other words, a food processor will work well when you use it for replacing some basic food operation in the kitchen that requires manpower. These basic tasks include chopping, slicing, shredding, and so on. To attend to all your smoothie and soup-making needs, a good blender will do you well.
But one underlying advice I keep saying is that you should equip your kitchen with both devices so that you have the best appliance at your disposal.
It is also important to read the pros, cons, and specifications of a food processor before buying so that you know if it is a heavy-duty or not. The table shown above will help you understand which of the two appliances will work perfectly to perform some cooking tasks.
Terrible mistakes users make when using food processors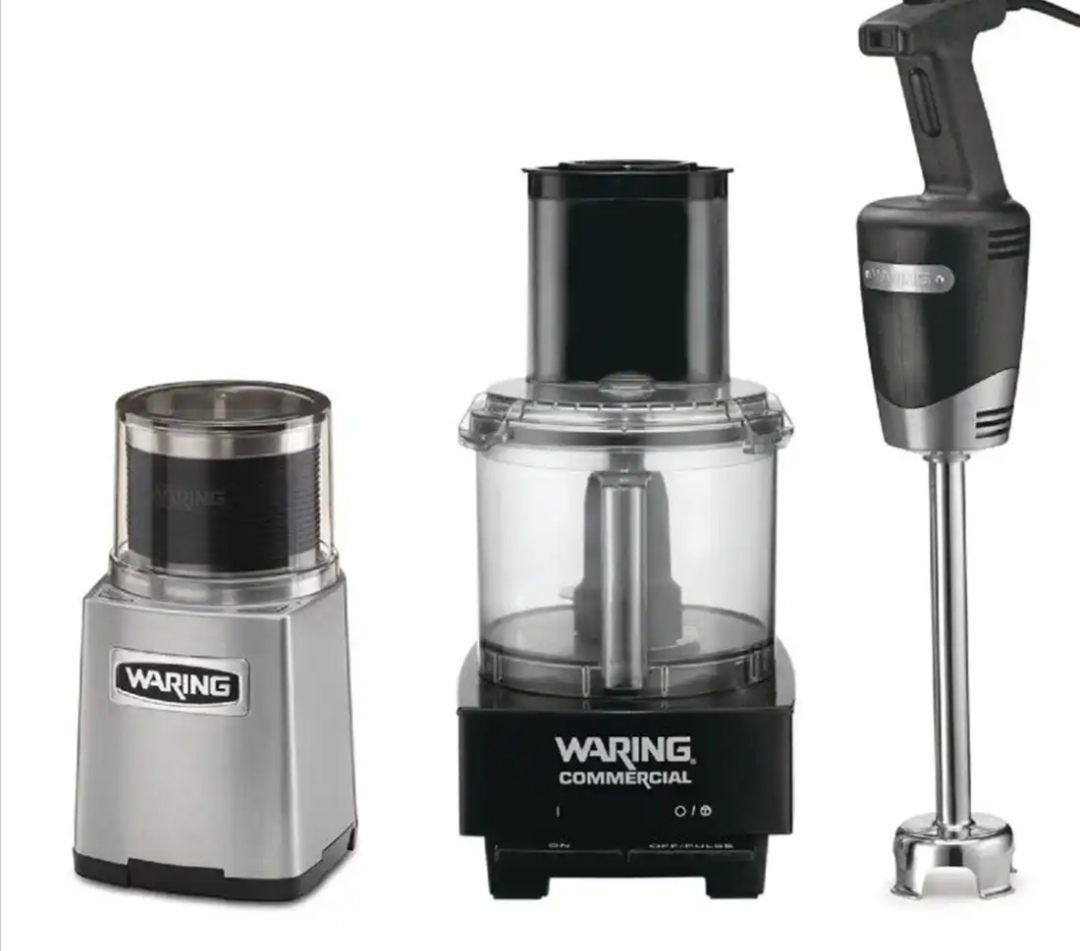 I don't want you to be among those people who make terrible mistakes when using a food processor. Most of the major problems that come with using the appliance in the kitchen are often birthed from wrong usage and poor maintenance.
To get the most out of your food processor, you need to know how to use it well. I mean, properly. To live happily ever after with your life-saver-in-the-kitchen food processor, avoid these costly mistakes made by many.
Putting ingredients larger than the bowl
It is advised to cut your ingredients into small size before putting them into the bowl. Food processors have specific bowl capacity. Work with the volume of your bowl. For example, When you are making breadcrumbs, Tear the bread up into pieces before throwing it in.
Not using the pulse button
If you are not going to make use of the pulse button in a food processor or acknowledged its significance, then better not use a food processor.
The usefulness of a pulse button is to make sure ingredients are settled and moving evenly before processing for a steady amount of time. It helps in getting a smooth result.
Problems with putting food processors in dishwasher
People lay emphasis on the importance of buying a food processor that is dishwasher safe. But not everyone talks about the mistake of putting the food processor in a dishwasher in the wrong way.
Body parts of your food processor such as the blade, bowl, and lid may be dishwasher-safe. But you should avoid the bottom rack of the dishwasher as it can be too hot for the food processor parts.
Not giving the food processor a break
Even when you are using a heavy-duty food processor, it could develop a problem when you run it for too long. You may be preparing a recipe that will take a longer time for the food to process but be sure to allow the machine to take a break in order to cool down.
The important thing is not to allow the motor to overheat and burn.
Having explained the difference between a food processor and a blender, you should not make the mistake of using a food processor when you should use a blender.
If you are dealing with a task that involved real liquid, leave it to the blender. Don't overestimate the power of your food processor. Manufacturers did not put the fill line in a food processor for no reason.
In order to prevent spillage and other messy things, make sure your ingredients or liquid do not exceed that line.