Can I Use Nutribullet to make peanut butter
Nutribullet blenders are one of the most widely accepted blenders globally, due to their efficiency, power, and multipurpose ability. They are known for the capability to blend and grind ingredients like peanut into butter, shakes, soup, sauces and so on.
The ability of the Nutribullet blender to blend efficiently is dependent on the types blades it comes with; extractor blade and milling blade respectively.
You can make peanut butter in a Nutribullet. People make peanut butter using Nutribullet as a blender to crush and grind it. For instance, if you want to make peanut butter in Nutribullet, add the peanut and ¼ teaspoon salt to the Nutribullet short cup, i.e. 8 ounces cup attached.
Pour the oil and honey into the blender and then come up with the extractor blade attached. Blend the peanut until smooth; ensure you scrape the downside as desired. Once that's done, you can now collect your peanut butter in a container and store in a refrigerator.

What is the best Nutribullet model for making peanut butter
Nutribullet blenders are good at blending ingredients to give you the right result. Here are some of the best models you can always lay your hand on.
| Type of NutriBullet | Image | Where to Buy |
| --- | --- | --- |
| NutriBullet 1000 Watt PRIME Edition | | BUY IT HERE |
| NutriBullet Pro - 13-Piece High-Speed Blender | | BUY IT HERE |
These are the selected Nutribullet blender that can make your ingredients into great smoothies, milkshakes, soups, sauces and so on. don't hesitate to get them for yourself.
---
Other questions on blending using Nutribullet
What can you not put in a NutriBullet
Nutribullet has always been accommodative with lots of ingredients for making juices and soups, however, a strong warning has been issued by the Nutribullet that the users should not put hot liquids in the blender.
This is the warning quotes I found "Never put hot liquids or ingredients in any of the Nutribullet 600, 900 or Rx blending cups.
Can you blend nuts in a NutriBullet
The Pro version of Nutribullet can blend hard vegetables such as ginger, celery and kale, including whole nuts like almonds, cashew, and walnuts.
As such, I see Nutribullet as most of the users see it—one of the most powerful blenders with 900 watts of power.
I recommend NutriBullet NB9-1301K Pro 13 Pcs to people who use tough ingredients, busy people, and people who drink daily smoothies.
Can a NutriBullet make juice
Nutribullet can turn a whole fruit and vegetable into smoothie due to its power, and the smoothies will be thicker in texture than the extracted forms.
The reason is that they contain the pulp broken down along with the juice. So, you can make juice in Nutribullet either for personal use or for family.
Can you put raw carrots in a NutriBullet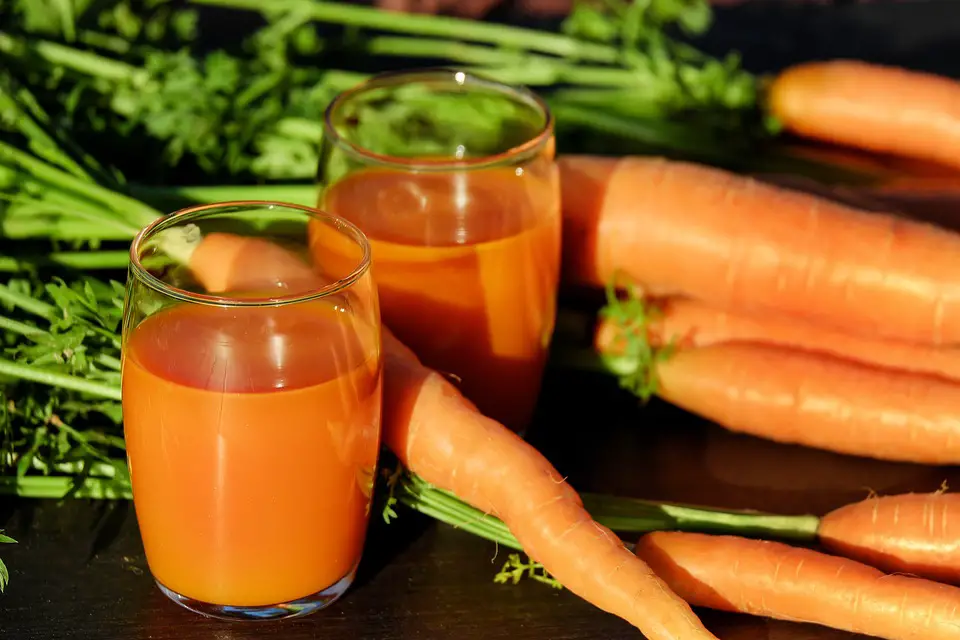 Carrot is a hard vegetable but still, Nutribullet is powerful enough to blend it with great ease. You can put carrot into Nutribullet blender along with some nice ingredients such as ginger or any fruit of your desire for a nice flavour. You can use either water or any other liquid as you may desire.
Can Nutribullet act as a food processor
Food processors are known for chopping, slicing and grating any ingredient put in them according to the settings. Blenders, on the other hand, are only known to liquefy a given ingredient.
Blenders can only grind things into smoothies, protein cocktails, soups or sauces. In the case of Nutribullet, it is a blender, and as such cannot be properly used as a food processor.
How many blades does the NutriBullet have
Nutribullet has only two types of blades. As for those of you who don't know that Nutribullet comes with two types of blades, here are the blades: four prongs normally called extractor blade used to extract oil or juices from ingredients and the other one is called the Milling blade that is used to grind fruits and vegetables.
Can you blend dry ingredients in a NutriBullet
Just as we already know, the Nutribullet blender comes with two blades, the extractor and milling blades.  The extractor blade is usually for blending fruits and vegetables to make drinks, while the mill blade is used to grind dry ingredients into powders.
Change the blade according to the nature of the ingredient in hand. That will go a long way to help you with the grinding.
Can you put raw veg in NutriBullet
If you want to make a healthy smoothie just add raw veggies into your diet or toast together with a colourful salad.
You can put raw veggies in Nutribullet and it will not take long to get it done.
Can you make dough in Nutribullet
This is originally the work of a processor as it can chop vegetables, grate cheese, make pizza dough and many other similar food items.
As for blenders, they are known to blend smoothies, protein cocktails, they can act as food processors but don't have the full capacity.
Can you put ice in a Nutribullet
Do not crush ice in your Nutribullet blender, even though it has been designed to be powerful enough to grind some small amount of ice cubes between 3 and 4 only.
You don't grind or blend large size or more amount of ice in Nutribullet.
Can you use Nutribullet without liquid
I wish it is possible but the cyclonic action of a Nutribullet blender requires that you must use liquid to make your delicious smoothies and other nutritious beverages.
Don't put ice in a Nutribullet with the aim of getting a chilled drink, the machine is not designed for the purpose of crushing.
If you must crush harder items such as carrot or nuts, ensure you apply water or some other forms of liquid.  Failure to abide by this guide above may result in the damage of your blender.
Will a NutriBullet grind coffee
Nutribullet blender can grind many ingredients including coffee and other similar grains. It is possible because the Nutribullet blender comes with two blades that are interchangeable.
The extractor blade and the milling blade is used for grinding dry ingredients.
How long should a NutriBullet last
A Nutribullet blender is a multipurpose machine and for that reason, can last for a period of six months before you think of changing the blades.
In order to place your Nutribullet in good working condition, ensure you change the blade every 6 months.
Can you blend oats in a Nutribullet
A blender is in fact needed to make fine oat flour. A blender like a Nutribullet is a perfect one for the job.  Blend your oats until it is fine, powdery and there is no more whole oat.
So, Nutribullet is an ideal blender to make blend your oat.
What's the difference between a Nutribullet and a juicer
The Nutribullet system is known for the production of drinks with pulp or drinks normally called smoothies. Juicer in the other hand is known for the removal of 90 percent of the fibre from fruits and vegetables.
That's the difference between the two.
What's the difference between a magic bullet and a Nutribullet
The motor speed is the most pronounced difference between magic and Nutribullet. Nutribullet blender has a larger and more powerful 600-watt motor but a magic bullet has 250 watts lower motor.
In the other aspect of the difference, Nutribullet comes with lesser accessories compared to a magic bullet.
Is NutriBullet 600 or 900 better
The power of the two blenders is the ultimate difference between them. Nutribullet 600 has 600 watts power, and up to 0.8 HP while the Nutribullet 900 is using 900 watts motor for the job to be done.
From the look of things, there is no doubt that Nutribullet 900 is more powerful than 600. It has more power and ability to crush vegetables and fruits compared to Nutribullet 600.
Do you peel fruit before putting in NutriBullet
You don't need to peel the skin of your fruits and vegetables with Nutribullet. Remove inside pits no matter how tiny it could look because mostly it is not healthy.
Any of the ingredients with thick or tough skin; the skin should be removed first but the result may not be as smooth as expected because it has been processed.
---
Final words on Using Nutribullet to Make Peanut Butter
Nutribullet blenders are great tools for blending fruits and vegetables into smoothies, and other delicious meals mot mentioned.
We have recommended many of these blenders for you to check out. One other thing you must not forget, Nutribullet blenders require that you add water before blending.