Are you finding it hard buying a blender between the Nutribullet Pro and Nutribullet this year? You are about tor each a useful conclusion as we pit these powerhouses together in our Nutribullet Pro Vs Nutribllet challenge. Continue reading.
There are always similarities between twin brothers or sisters, if at all not completely similar but at least a bit. One other thing about being a twin is that one of you will be smarter and wiser than the other, but in the long run, you are still useful to your parents in your own ways.
This is exactly the case between Nutribullet 600 and Nutribullet 900. They are both promising blenders and you will actually enjoy their usage based on why you finally decided to go for any of them.
| Nutribullet Pro | Nutribullet |
| --- | --- |
| | |
Nutribullet 600 and Nutribullet pro 900 (The pro model) are similar in their functions but one of them is stronger and more reliable. Isn't it amazing? It is. They are not completely the same at all. Nutribullet original is the oldest of the entire versions that include:
NutriBullet NBR-1201
NutriBullet Rx
NutriBullet Pro
The NutriBullet Balance
The most outstanding among the five versions the company produces is the pro version but if we are to compare it with other higher versions, Nutribullet Rx is the most powerful of the entire version due to its motor capacity of 1700 watts but Nutribullet pro is a personal blender, therefore active people will love to go for it.
Take a good look at the similarity you can spot between the both of them
Now let us do the comparisons to see which is more powerful. By the name, most people will quickly say, the pro is the strongest yes, you may be right, but you need to know the components of each machine that makes them similar and unique and then we take our poll for the best one between the two.
Comparison Table: Nutribullet Pro and Nutribullet
| Nutribullet Pro | Nutribullet |
| --- | --- |
| Nutribullet pro is highly rated by customers compared to the normal Nutribullet | Nutribullet is less rated by customers |
| It has a stronger performance due to 900 motor power | It has an average power due to 600 motor power |
| It is 32 Ounces cup machine | It is 24 Ounces cup machine |
| It is 900 watts powered motor blender | It is 600 watts powered motor blender |
| It comes with 2 cups | It comes with 2 cups |
| It has 1 blade | It has 2 blades |
| It is 15 inches in height | It is 14 inches high |
| The weight is lighter with 5.5 pounds | The weight is heavier with 7 pounds |
| It is dishwasher safe | It is dishwasher safe |
| It has one year warranty | It has one year warranty |
| It is more expensive | It is relatively cheaper |
| It has a recipe book to guide you | It has a recipe book to guide you |
| The review here is higher about 14k above | The review is lesser about 10k and above |
| | |
Nutribullet Pro VS Nutribullet: Similarities
Both blenders are powerful in their performances; in fact, they have some similar features which make them outstanding. Check the table above to see the similarities.
There are also some differences in the features such as the motor watts and weight, equally included in the same table above.
Nutribullet pro offers 900 watts of motor power to blend and crush more intense ingredients such as fruits, vegetables, apple cores, and fruit seeds compared to the original version.
The two blenders will define a new but better purpose for your meals as you finally decide which one to go for—that's your choice to make.
Despite these outstanding similarities between these two blenders, it is always possible for us to identify the best between the two.
There must be a feature or two which makes one superior to the other. Before I proceed, we can still look for ways to determine why both products are worth buying. For instance, they both come with some of these features:
Nutribullet Pro Features in Brief
The Nutribullet Pro is the most popular and champion of the entire versions for now. It is also a personal blender that gives it the upper hand against many of the other versions.
Nutribullet original is the competing counterpart due to some similarities they both share but still lost to Pro with many reasons that will be discussed shortly. These are some of the features that come with Nutribullet Pro:
It is a powerhouse for power users if you are interested:
If you are into an active lifestyle, this is your ultimate blender
900 watts motor machine for fast blending
It is about 32 oz.
It is made of an easy extractor blade.
Flip-top lid is available
No auto shut off
No Bluetooth connectivity
No pulse function
Nutribullet Features in Brief
This original model, on the other hand, is also powerful. People have loved it years over years before the arrival of the Nutribullet pro.
It has similar properties to Nutribullet pro, so if a customer cannot afford to purchase the pro version, they can quickly buy this since it is also reliable and functional and powerful with 600 watts of motor power. Here are the included features too:
It is the original nutrient extractor and also the oldest version of the Nutribullet versions
If you want to eat better, believe me, this is the right blender to make it a reality.
It is a 600 watts blending machine
It is easy to use
It is easy to clean
It doesn't have a flip-top lid
No auto shut off
No Bluetooth connectivity
No pulse function
Nutribullet Pro VS Nutribullet: Comparison
Ounces
The pro version having 32 ounces of Jar or cup measurement is already another advantage against the original version with 24 ounces.
People will rather go for something that has larger measurement especially if they have some family members or friends who come to visit them once in a while despite the two blenders are mainly for personal use.
Performance
In terms of performance, there is no doubt that the pro version of the Nutribullet gains the upper hand. It blends heavier and tougher ingredients compared to the original version.
The reason? The Nutribullet Pro performs better compared to the original version because it is made of 900 watts motors.
Popularity
There are two reasons why you may be popular, it is either you are good or bad. Nutribullet pro and Nutribullet original are both good but one is more popular than the other, and the reason is attached to its diligent performances—that version is no more than the pro version.
It is, in fact, the most popular of the entire versions mentioned in this article. This signifies that it is more accepted and relied upon than the original version.
Rate and reviews
This is a great discovery when it comes to production values. The more people review a product, the more popular it becomes. Nutribullet pro is more rated by customers than the oldest version. It is currently rated 3,615 stars.
Blades
They both are made of premium extractor blade designs but the blade of Nutribullet Pro is strong enough to do both milling dry ingredients and blending juices, unlike the original Nutribullet blade that is not strong enough to do milling until you buy a milling blade set to carry out this operation.
Speed and Pulse
It is quite understood that Nutribullet pro and Nutribullet have one pulse setting which begins operation anytime you twist and lock the machine's cup to the blender base.
It is still clear that the Nutribullet pro is greater efficiency as it is faster and more powerful compared to the original Nutribullet 600.
The Cups
Nutribullet normally comes with four cups of which the larger size 24 oz. On the other hand, Nutribullet comes with 32 oz.
The jar is more fit even on the old version conveniently. This also indicates that Nutribullet 600 is more valuable than Nutribullet.
Nutribullet Pro VS Nutribullet: Pros & Cons
Have you ever seen yourself dressed well, and everyone around is so excited until you meet a lady who made you look like the dirtiest man on earth? Ah, I know you are laughing already.
You see, no matter how perfect you think you are, there will be some lapses about and it is normally formed by human perspectives.
These two blenders are very powerful, but there are some pros and cons about them which were derived by the customers' experience. Let us look at those pros and cons together.
The Pros for Nutribullet Pro
It is easy to use
It is easy to clean
It has good blending power of 900
It is a universal blending machine
The Cons for Nutribullet Pro 900
A customer complained the unit (blender) is way too fast, in fact, the blades rip apart within a couple of weeks; however, this is normal with all machines. This customer may need an experienced person to fix the blender to work normally.
Another customer complained that the blender leaked out his entire drinks after preparation. Such customers should try and return the blender to the company to see if there was a problem during shipping.
Pros of Nutribullet
It is easy to clean
It is easy to use
The blending power is good for a blender at 600 watts
It has good quality material
It is a universal product
---
Which is Better: Nutribullet Pro Or Nutribullet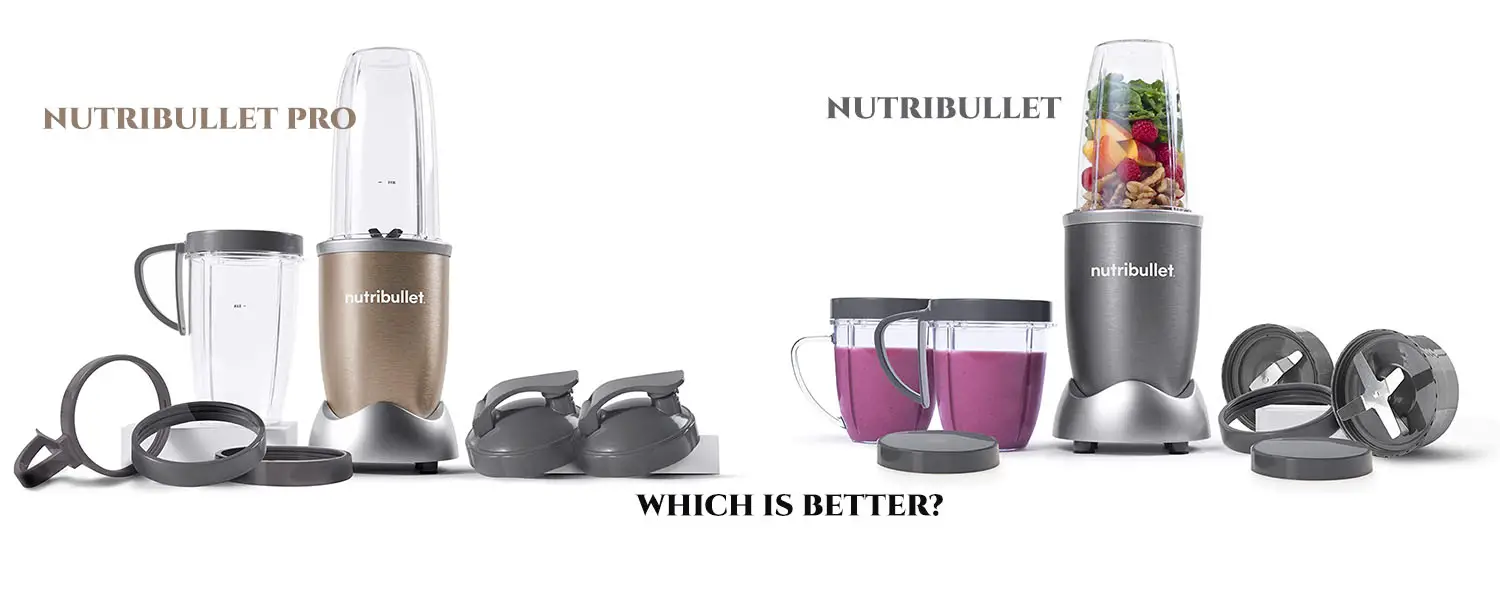 Nutribullet pro is better than Nutribullet. If you judge by the factors that a powerful blender should have, you will realize that Nutribullet pro has 900 watts power motor, faster blending capacity, and higher oz. compared to Nutribullet.
900 watts motor blends tougher ingredients such as fruits and vegetables. This is an ideal machine for making juices, smoothies, soups, and many other food items you can think of as long as they are not rocky in nature.
The reason why Nutribullet pro is faster for blending compared to Nutribullet original also has to do with the motor power. In terms of weight also, it beats the original blender hands down because no one likes stress so, why should they go for a heavier machine?
Frequently Asked Questions about Nutribullet Pro and Nutribullet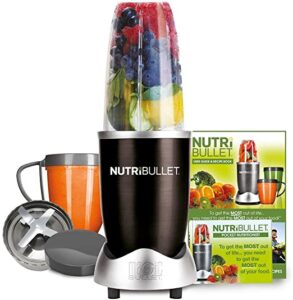 Let us answer some popular questions and answers about Nutribullet to further strengthen the reason why you should buy any of the available versions as you may later decide.
It is wiser to listen to what the experts and experienced people say about products before the purchase. Can we now answer those questions?
Is Nutribullet 900W better than Nutribullet 600W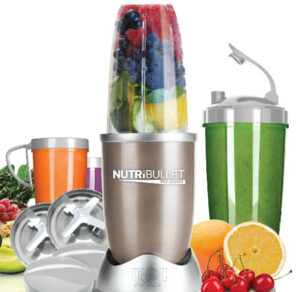 When a person needs more time and energy to do other things in life apart from spending the whole time cooking, it is better for him or her to get a Nutribullet 900 blender which is faster and more powerful compared to the original Nutribullet.
The original Nutribullet is also fast and powerful, but if you are an active person, you need the pro version because the speed is greater and faster. In this wisdom, Nutribullet 900 is better than Nutribullet 600.
How to use a Nutribullet conveniently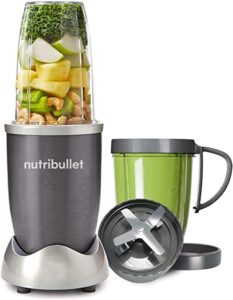 The simplicity of operations of Nutribullet models is the reason for the popularity. As you can also see for yourself, most of the Nutribullet products have a lot of customer reviews and people have been purchasing them. For instance, the Nutribullet 600 the oldest version is made without buttons or programs.
All you need is just pop the cup for blending on the base and then lock down the blender to blend. The same thing is applicable to the Nutribullet 900W.
For you to get it right when it comes to using Nutribullet, fill the jug as instructed in the user manual. You should start your blending with the driest ingredients and then finish with liquid.
Another thing you must take note of is never to blend without liquid unless you have the milling blade and don't go beyond the maximum fill line.
Using the Nutribullet pulse technique properly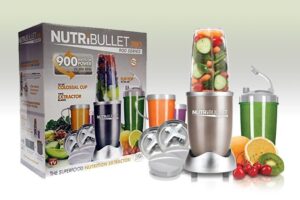 Having a machine is not the problem, the issue is the inability to take the patient and learn how to operate it to the best result.
Those delicious Salsas or well-chopped onions are possible because the chef that prepared them took his or her time to learn how to properly operate the most important parts of the machine.
For instance, if you want to prepare bumpy salsas or chop carrot you can pulse your blender rather than continuous blending. That simple action alone will give a good turning point to your ingredients – this also means the entire ingredients will not be completely liquidized.
Push down and twist your blender cup the way you did when starting it but without locking it into position. This will allow you to blend your ingredients for a few seconds at a time until you are satisfied with the result.
Which Nutribullet is best for me
There are a total of five Nutribullet blenders to select when you need a blender for a purpose and predetermine reasons.
Nutribullet Original
The Nutribullet 600 which is the first version, the original and cheapest model of the rest.  As you can see, it has the lowest motor power and it is the blender with the smallest capacity of 600ml among the entire series.
It is a personal blender and can take about two smoothie portions. In terms of price, it is one of the cheapest at around $59.99 depending on the other intentions that took you to the market place.
Nutribullet Pro 900
It has a more powered motor compared to Nut.600 but the capacities are almost the same with the difference of 100ml i.e. Nut.900 has a capacity of 700ml.
This model usually comes with one cup for ground and the price is currently $89.00.
Nutribullet Rx
Talking about the most powerful blenders in the Nutribullet series, Nut. Rx is one of them. It is more powerful than Nut.900 and has the biggest capacity among the entire series.
If you attach the Jug, it becomes 1.3 litres but it happens to be the heaviest at 3.8kg with the most efficient motor of 1700 watts.
It is a model that can heat up your soup from the beginning if you continuously blend for seven minutes precisely. This feature enables you to whiz and warm up your food in one blender.
Nutribullet 1000 Series
This is a bit higher than the Nutribullet 900 with 100 watts. This means it offers slightly more power than Nutribullet 900. It is also made of an insulated cup that keeps your drinks cool on the go including smart blending technology that helps to blend your ingredients automatically.
Nutribullet 1200 Series
This one is almost like the 1000 series model. There is only a slight difference in power which is 200 watts apart.
It also has more power and blending accessories compared to the 1000 series. It includes an extra cup with a built-in handle and every other accessory the 1000 series possessed.
How to clean a Nutribullet perfectly
It is a healthy practice to clean our food appliances after using them. Some appliances don't give you that privilege to easily clean them. As for the cleaning of a Nutribullet blender, it is simple.
You can clean the cup by completely detaching it from the base. You can wash it in a dishwasher or wash it yourself. The lid is also necessary to be washed by hand because it houses the blades. Dry the cup in the kitchen air.
If it happens that your Nutribullet cup is covered in a food that is hard to lift or shift;  put warm soapy water in it and allow it to soak. You can repeat the washing from this point again if you like.
The blender base shouldn't be put near the motor into the dishwasher. Anytime it is dirty, just wipe it off with a cloth and warm water to clean it.
Is the Nutribullet a juicer so I can make Juice
It is not a juicer. A juicer is a machine that extracts the liquid from your ingredients such as fruits and vegetables by leaving the pulp behind. The mechanism through which a blender operates is quite different.
Its job is to liquidize the fruits or vegetables placed in it including the inner and outer layers of the skin.
If you are planning to consume the nutrients from the entire part of edible fruit or vegetable, you will need a blender rather than a Juicer. In fact, you will benefit from the pulp and fibre of the fruits or vegetables too.
Before you shift your head aside, see one more shocking fact about blenders. Did you know? You can blitz foods such as seeds, yoghurt nut, and also make soup in a blender? As for a Juicer, it only makes drinks.
---
Nutribullet Pro VS Nutribullet: Final Words
The two products so far have proven how great they are, ranging from the simplicity, power, capacity, reliability, and many other features that make the customers love them. It means they will also work well for you too.
So, it is now your choice to decide whether to purchase or not or start a saving project to purchase as you may have planned it.
I want you to relax your mind about these products when it comes to good performance, they will definitely respond positively, except in some few cases where there could be some technical issues which are normal with every other machine.
If you are not satisfied with any of them, there is already one year warranty for both, so, you can easily seek for your refund.
The best blender among these two reviewed above is the Nutribullet pro. It is faster, more powerful, and will also give you a quick response to your need while you are hungry. However, if you want it a bit slow and also need a healthy eating habit, the Nutribullet original is the best answer to your call.
I have been able to use one stone to kill two birds to the best of my capacity. It is now left to you to do the selections based on your needs.
What is your take on the two products? Do you think they are worth it? Do not forget to leave your opinion in the comment below.