The hugest benefit of using the best food processor for kneading dough is that it saves a great amount of time. If you are about to get started by choosing a perfect and suitable food processor, welcome to the best place to find one.
Have you been spending 15 minutes or more kneading dough with a stand mixer?, then it is high time you tried the Cuisinart DFP-14BCNY 14-Cup Food Processor.
Not only does it save time but also adds to the volume of the dough after kneading. We recommend this food processor as the best appliance for kneading dough other than a stand mixer.
This food processor features a large size work bowl as well as a powerful motor. These two features alone make it outstanding for kneading dough.
In less than 5 minutes you can make dough from the start to the finish with Cuisinart DFP-14BCNY 14-Cup Food Processor.
In this article, we shall expose you to the best food processors for kneading the dough of which you can make the best choice.
Before we proceed, here is an overview of the products we highly recommend. We'll look into the features of each product to identify what makes them ideally suited for kneading though as we progress in this article.
Top 3 Food Processor For Kneading Dough Recommendations
Why use food processors for kneading dough?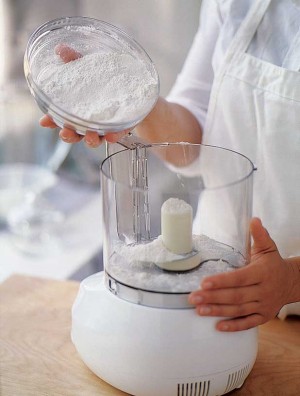 The food processor is really helpful in the kitchen. The appliance has the capability and necessary qualities to replace some of the cooking tasks that require manpower such as kneading dough.
By using a food processor, you give your hand a break and also save a huge amount of time. This is because, unlike your hand or stand mixer, the food processor ideally suited for kneading dough works swifter.
But the most important thing is to be aware of the necessary qualities of a food processor that is ideally suited for kneading dough. At this point, it is needless to stress that not all food processors can be used for dough.
We are still going to zero into the features to look out for in a food processor for kneading though as we progress in this article. But the few important things you must not fail to consider includes:
The food processor should be big enough. By big enough, I mean ones with generously-sized work bowl.
The best food processors for kneading though should have an onboard "pulse" control. Blades of a food processor moves really quickly and this can cause over kneading and shredding the gluten strands that have already formed.
So it is this pulse control that allows you to knead dough in short bursts.
Thirdly, and lastly, for now, is that you should not fall to check the motor power. This is among the most important things to look out for in any food processor that claims to knead dough perfectly.
A good food processor with about 700 watts of power output and above is sufficient to mix the ingredients thoroughly, without over-kneading or overheating the dough.
Now that you know what magic a food processor can do when it comes to kneading dough, let's take a look at the best-recommended products available.
Top 7 food processors for kneading dough
Cuisinart DFP 14-Cup Food Processor
SHOP FOR CUISINART DFP-14B 14-CUP FOOD PROCESSOR ONLINE
Being out top recommended food processor for kneading dough, this powerful appliance may be your best option. This incredible food processor features an extra-large feed tube that holds whole fruits and vegetables.
It is indeed a multipurpose food processor as it is equipped with a 14-Cup work bowl, 4mm stainless steel medium slicing disc, and chopping/mixing blade.
It also operates with a powerful motor that makes the blade rotate swiftly.
This amazing processor also comes with a recipe book. It features a stainless steel chopping/mixing blade as well as a pulse button for control, making it ideal for kneading dough.
Pros
Features a stainless steel Standard slicing disc (4mm), medium shredding disc
36 Inches cord length allows you to move around easily.
720-Watt large-capacity food processor
Intuitive "on" And "off/pulse" Buttons
14-Cup Lexan work bowl
Extra-large feed tube
Small and large pushers
All parts of the food processor are dishwasher-safe
The disc stem is entirely Detachable
If you are having a problem assembling the food processor, there is a comprehensive user manual provided to help you out.
Cons
Breville BFP800XL Sous Chef Food Processor
SHOP FOR BREVILLE BFP800XL SOUS CHEF FOOD PROCESSOR ONLINE
An excellent food processor for kneading the dough should feature a wider feed chute such as this Breville BFP800XL Sous Chef Food Processor.
In this way, you don't have to go through the stress of kneading dough in bits or pre-cutting some vegetables.
In addition to this, the Breville BFP800XL Sous Chef Food Processor features 2 BPA free processing bowls and an LCD display that indicates about up and count down auto timer.
Thanks to the Silicone Seal of this food processor, too. It helps greatly in preventing our food items from leaking out from the food processor.
While the processing bowl locks into the motor base with a snap system, the appliance is equipped with 16 cup bowl for dry ingredients as well as 12 cups for wet ingredients.
You can store this processor wither vertically or horizontally to suit your kitchen space availability. It is also designed with a wide Food Pusher for pushing food down the feed chute.
The food processor will start properly only when you place the large pusher rightly. The blades are made of high-quality stainless steel and dishwasher safe body parts inclusive.
A word for the Breville BFP800XL Sous Chef Food Processor? One of a kind!
Pros
Small Food Pusher
Feed Chute Safety System
LCD Display with Count-Up & Count-Down Timer
Great Processing Bowl
KitchenAid 11-Cup Food Processor
SHOP FOR KITCHENAID KFP1133ER 11-CUP FOOD PROCESSOR ONLINE
This KitchenAid food processor is particularly the best of its kind for kneading dough. Adding to the fact that it features 11-Cup Work Bowl, 3-Cup Work Bowl, and Adjustable Slicing Disc, the KitchenAid KFP1133ER 11-Cup Food Processor is equipped with special dough blades, Reversible Shredding Disc, and a storage case.
These features, among others, makes it among the best food processors for kneading dough. The food processor includes an exclusive ExactSlice system and multiple optimized speeds.
The UltraTight Seal is designed with a special locking system that is absolutely leak-resistant. So you can be sure to fill the bowl and make no mess.
The blades are expertly designed with stainless steel in prepping food items including dough flawlessly. With this appliance, you can easily slice, shred, knead, puree, and chop food under seconds.
With its 3-in-1 Wide Mouth Feed Tube, you can chunk in large amounts of dough and still get the best result. This feature also allows you to include food items like tomatoes, cucumbers, and potatoes with less precut ahead.
Most importantly, you should choose this product to get the best pulse speed options in the food processor for dough kneading.
It helps to handle soft and hard food items like dough very precisely.
Added to all these, is the very powerful and durable motors to carry out heavy-duty tasks.
Pros
Optimized speeds
High, low and pulse speed option to prevent over kneading dough
Ultratight seal to prevent leakage
3-in-1 wide feed chute accommodates large chunks of dough
Powerful and reliable
Cuisinart FP-12DCN 12-Cup Food Processor
SHOP FOR CUISINART FP-12DCN ELITE COLLECTION 2.0 FOOD PROCESSOR ONLINE
One thing we love about this Cuisinart Elite Collection 2.0 12-cup Food Processor is that the appliance includes a 12-cup large bowl and a 4-cup small bowl with pour spouts as well as measurement Markings.
Not only that, this food processor and equipped with a 4-cup work bowl housed inside the big bowl.
The components of this food processor make it an all in one food processor for home chefs. The electronic touchpad controls with led lights help in the controlling of the appliance when kneading.
It is an ideal food processor for a modern kitchen. The simplified but large bowl capacity is all you need to accommodate a large chunk of dough to process dough under seconds and still get excellent processing and pouring.
It is indeed a groundbreaking innovation in the world of food processors. It possesses a great adjustable slicing disc with amazing reversible shredding disc.
The adjustable slicing disc measures 1-6mm, the product comes with an adjustable shredding disc as well as large and small chopping/mixing blades. A separate blade for the dough is also included.
This 1000 watt peak power motor-operated food processor comes with a 3-year limited warranty coupled with a 10-year motor warranty.
Pros
All parts are dishwasher safe and easily removable.
Comes with both large and small stainless steel blades for mixing and chopping
Features a Reversible Shredding Disc (fine/medium)
Feed tube with a wide mouth
Features an electronic touchpad control with a pulse button.
Special dough blade included for kneading dough
Adjustable slicing disc made with stainless steel
Comes with a recipe book and user manual
Decen Food Processor 12-Cup Multi-Function with LED light
SHOP FOR DECEN FOOD PROCESSOR ONLINE
This food processor is a beast when it comes to kneading dough! Putting water and dough into the robust bowl is all you need to do.
Control with the provided pulse button and watch how this food processor performs a great job. With this food processor, you can now make flawless cakes, bread, baguettes, cookies, and anything you want to do with a perfectly knead dough!
In addition to that, the feed chute is as large and a hippo! This means that you no longer have to waste extra time on food prep and pre slicing larger food items.
It has an appealing appearance that will serve as a good birthday gift as well as an adornment on your kitchen table.
This food processor is absolutely multi-functional as it can take care of your Chopping, mincing, pureeing, slicing, shredding, and kneading tasks.
This is one of the best food processors for making pie dough that we must not fail to show you. While it comes with 3 slicing/shredding discs, it saves time and effort in the kitchen.
Pros
Master food processor for kneading
Extremely large feed chute that aids less prep work
Multi-purpose food processor for chopping, slicing, shredding, and other basic cooking operation
Ninja Mega Blender/Food Processor with 1500W
SHOP FOR NINJA MEGA KITCHEN SYSTEM (BL770) FOOD PROCESSOR ONLINE
Enjoy a powerful food processor with 1500 watts to handle all your back cooking operations by getting this Ninja Mega Kitchen System (BL770) Blender/Food Processor.
Apart from being one of the best food processors for dough, it is designed with the XL 72 oz. blender pitcher for crushing ice in seconds to make tasty frozen fruits.
Two 16 oz. Nutri Ninja Cups with to-go lids included in this product are all you need to create your nutrient-rich drinks to take while travelling.
The food processor also comes with a dough blade that has the ability to mix up to 2 lbs. Of dough in 30 seconds.
Lastly is the 8 Cup food Processor bowl coupled with a stainless steel chopping blade.
Pros
You can now make 2 pounds of dough in 30 seconds with this food processor!
72 ounce total crushing pitcher to pulverizes ice to snow in seconds
Comes with 8-cup food processor bowl to offer even chopping
Perfect and even result with the Reversible slicing/shredding disc
All parts are BPA free and dishwasher safe
Features one 1500 watt base and 72 ounces total crushing pitcher
The product comes with a 30 recipe inspiration guide
Cons
This is a really great food processor for kneading dough but just as you might have guessed, it is not really the best for heavy-duty dough kneading. However, it is powerful and reliable.
Hamilton Beach 70820 Stack & Snap 8-Cup
SHOP FOR HAMILTON BEACH FOOD PROCESSOR ONLINE
The Hamilton Beach 70820 Stack & Snap 8-Cup is a class of its own. It is fast and efficient, comes with multiple accessories which help with a plethora of activities like kneading, slicing, pureeing, shredding, and more.
With the accessories set for the Hamilton Beach 70820 Stack & Snap 8-Cup, you can shred in different textures from fine to coarse with its a reversible disc, you get to choose from six ways to slice with varying thickness thanks to its adjustable slicing blade plus its knead attachment for doughs.
The Hamilton Beach 70820 Stack & Snap 8-Cup comes with a 450 watts motor which promotes standard processing at an environmentally friendly sound. It produces less noise but effectively carries out procedures with ease.
The Hamilton Beach 70820 Stack & Snap 8-Cup comes with a convenient design that makes processing even soups less messy, plus its large feed chute, which saves the stress of manually chopping or cutting your veggies or fruits.
The Hamilton Beach 70820 Stack & Snap 8-Cup takes all the work from you.
From the name, stack, and snap, this processor does not necessarily require excessive locking or twisting.
The build of the Hamilton Beach 70820 Stack & Snap 8-Cup makes the bowl fit right in place just on the base when appropriately stacked, plus the lid clasps tightly enough, so you don't need to worry about it moving out of place either while in use or not.
The Hamilton processor is simple to operate since the handy paddle controls can be easily reversed up and down, even if your hands are messy. From switching blades to button shuffling, the function guide allows you to discover all of the processor's capabilities and usage.
Pros
Easy to Use
Less noisy
Stack and snap design
Storage case
Attachments are dishwasher compatible
Cuisinart DLC-10SYP1 088 Food Processor 7 cup
SHOP FOR CUISINART FOOD PROCESSOR ONLINE
Speaking of kneading dough, the Cuisinart DLC-10SYP1 088 Food Processor is built for kneading doughs in the shortest time possible.
This food processor whips up the dough in minutes, irrespective of the thickness. This 7-cup capacity processor comes with a 600-watts motor which is just perfect for kneading doughs.
The Cuisinart DLC-10SYP1 088 Food Processor 7 cup comes with a variety of blades and chopping discs that are perfect for performing other processing tasks like mixing, slicing, pureeing, and particularly, kneading dough.
Sometimes, this processor is overlooked because of its size, but do not let its mini build fool you; the Cuisinart DLC-10SYP1 088d Processor 7 cup is a machine of excellent efficiency.
The Cuisinart DLC-10SYP1 088 Food Processor 7 cup can adequately manage all kneading, mixing, chopping, slicing, and pureeing tasks without putting much pressure on you.
Its large feed chute makes cutting fruits and veggies less needed as you can easily feed them into the processor wholly.
This processor has an inbuilt safety feature that prevents the machine from working if the parts aren't properly assembled.
Although it's a 7-cup capacity engine, experts suggest that you start with 3 or less and gradually work your way up to the maximum capacity.
Pros
3 and 5 years warranty motor
Powerful motor
Easy to wash
BPA free
Compact design
Suitable for mincing nuts and kneading dough
Comes with a  recipe book
Cons
Not for a large number
Not suitable for iced substances (can't be used for smoothies)
---
Qualities of a good food processor for kneading dough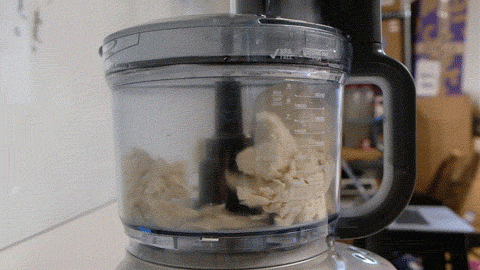 So here are the important features you should consider when choosing a multi-purpose food processor. Especially one that you plan to use for making pizza dough or kneading dough for general pastries.
Watt and power
The main reason why most people choose a food processor for kneading dough is that they want a fast and convenient operation. Only a food processor that is big and powerful enough can get the job done.
In addition, any food processor you are buying should come with a power output of about 700 watts or more. Don't go for ones far below this figure.
This will ensure that the rigid needs of kneading your dough with comfort are adequately met.
The dough blades must be reliable
A quality food processor should come with blades; dough blades this time, that are capable of kneading large slabs of dough in the bowl without any flaw or break.
On second thought, you probably won't need those special dough blades that come with food processors. The standard blade of a food processor is capable of kneading dough best.
So instead of being concerned about the dough blade, pay more attention to the onboard pulse button which is highly essential.
While using the sharp and durable metal blades of a food processor, rather than the dough blades, the pulse button helps to keep control of how quickly the blades work.
This will reduce the risk of over kneading and dense loaf. This brings us to the next factor to consider when choosing a food processor for kneading dough which is the pulse and control button.
The pulse and control button
As mentioned earlier, the food processors that are used for kneading dough usually come with a pulse button that controls the kneading of dough in short bursts.
This helps greatly in avoiding overworked dough. Buying a food processor without this essential feature means you want to make a dough that will taste like sawdust. Eeew!
There is also another ingredient that does not involve mixing or kneading of dough that will also require this pulse button. The button gives you control over the food item being processed.
Long-lasting for multiple tasks
Any kitchen appliance that serves more than one purpose must feature long-lasting components and parts.
The best food processor for kneading dough which we have shown you in this article is 100% reliable and long-lasting.
They are designed to tackle even the hardest or thickest ingredients and food items without deterring the efficiency of the motor.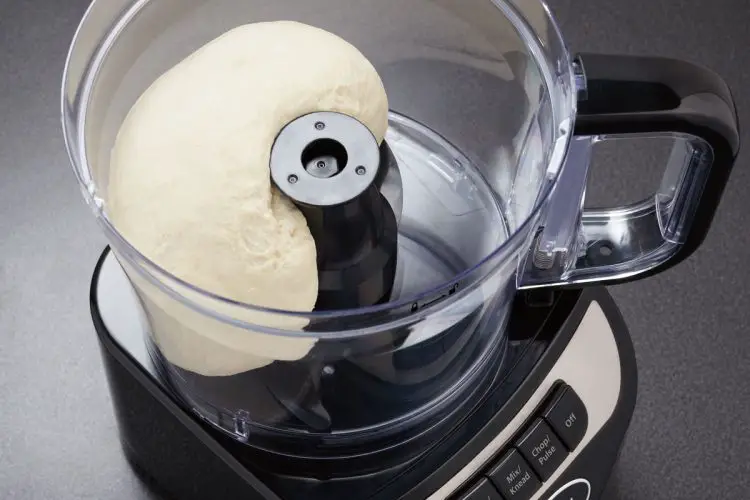 Generously-size work bowl
Any food processor for kneading the dough should come with work bowls that are wide enough for working large quantities of dough. This will save time and prevent stress.
The best decision will be to buy a food processor with larger capacity variations. There are some that are equipped with ten (10) to twelve (12) cups.
Easy To Clean and use
It would be like a frying pan to fire the situation when you buy an appliance that you can not use. Food processors that can knead dough work almost the same way basic food processor work.
Before choosing any food processor, you should be aware if they are easy to clean or not. How do you know?
Food processors made with stainless steel blades and body parts are much easier to clean and maintain with just simple cleaning materials like towels.
Thankfully, there is a standard food processor for kneading dough that is made with dishwasher safe body parts.
In addition, they are made with high-quality stainless steel that resists rust.
Broader Chute Feed
Choose food processors that have a chute feed that is wide with about five (5) inches. They should also feature an adjustable slicing blade that will prevent ripping.
All these features can be checked under the description of the product. That is why it is very important to go over the review of a product before adding to the cart or buying.
Reversible Shredders
You will appreciate a food processor that features reversible shredders. This is an important quality for food processors used for kneading dough.
The universal micro-serrated S-blades, as well as reversible shredders, help to achieve fine and coarse grating.
An excellent food processor for kneading the dough should also come with protective brakes to ensure that the blades stop once the lid is extracted.
Design and appearance
Modern food processors are now taking new looks and posing as perfect gift ideas for loved ones who are fond of cooking sumptuous meals for their family and friends.
After going through all the necessary qualities that a food processor for kneading the dough should have, do not forget to check how beautiful it is!
Those food processors made with stainless steel and comfortable handling structure are more like what I mean. The beauty of your food processor can help embellish your kitchen table.
In addition to the appearance of the machine, portability, and convenience when moving the food processor from one place to another should not be ignored.
Compact size food processors will save space in the kitchen area.
While you go after the food processor with a large capacity of the bowl, also consider that a portable one will be easy to keep in drawers or cupboards.
Price and Warranty
Lastly is the price, warranty, and after-sales service of the product. This is where I'd suggest that you buy food processors form notable brands like the brain, Cuisinart, kitchen aid, and some other cool brands.
An ideal food processor should offer users lengthy warranties and guarantees. With this, you can be sure that any faulty product bought would be replaced without any extra charge.