Who Makes Aucma Stand Mixer: If you are a budding baker looking for a great mixer that is an alternative to the Popular Kitchen Aid Stand Mixer, then you should check out this Aucma Stand Mixer.
The Aucma Stand Mixer is available in the colours of black, red, blue, and luxury red for all bakers who intend to take their baking game to the next level. This cool mixer will be a very good addition to your kitchen and you should surely try it out.
The design is specifically made for easy and quick mixing for a list of tools such as pastry, doughs, and most importantly.
Who Makes Aucma Stand Mixer
The maker of Aucma stand mixer is the Aucma Brand itself. Acuma Co., Ltd is a Chineses brand established in 1987, and they have gone ahead to be a leading brand in the production and supply of refrigeration and kitchen equipment all around the world. The Aucma Company have leveraged existing technological knowledge and advancement to bring further innovation and development in the refrigeration industry.
Their core business comprises the supply of refrigerator, freezer, and commercial cold chain equipment. They have grown this company to a level such that they have become a force to reckon with all over the world.
Some of the kitchen equipment comprises of the Aucma Stand Mixer, Aucma Air Fryer, Aucma Vacuum cleaner and so on.
BUY THE AUCMA STAND MIXER NOW!
Features of the Aucma Stand Mixer
The Aucma stand mixer is specifically manufactured to meet your kitchen mixing and baking needs. It is professionally designed to help you get better use and feel of mixers for mixing your dough and batter.
Let's get into the major features of the Aucma Stand Mixer.
The mixer possesses a 660W high performance with an amazing ABS housing. This improves the power of the performance of this Machine.
Usually, you would expect such mixer performance to bring about a lot of noise. However, Aucma stand mixer attempts to eliminate noise with its low noise level of ≤76dB.
The 6 optimized speed with pulse function allows you with the flexibility to pulse and mix various recipes that you bring into the mixer. The pulse function gives you the control you need to make your batter better.
The 6.5QT large capacity stainless steel bowl allows you with a decent volume to hold all that you intend to mix. The bowl also possesses a dual handle for easy holding and convenience.
The Aucma stand mixer also possesses a tilt-head & outside design that allow you to add and remove bowls and other additional attachments as easily as possible.
The paint of the Aucma Stand mixer is double-coated and it protects it from rust and other fierce environmental reactions.
The speed control also has a blue light indicator around it which shows you when the Aucma Stand Mixer if OFF or ON.
the anti-slip pad under the Aucma Stand Mixer allows to rigid and sturdy performance as it is difficult to get the mixer to slip off whatever surface you put it on.
Aucma Stand Mixer Specifications
This Model is SM-1518N
Rated Voltage is given as 120V
The Rated Frequency is 60Hz
Power of the Mixer: 660w
Capacity of Bowl: 6.5QT
Dimentions: 15.2 inches x 9.4inches x 12.4 inches
Possesses FDA certificate
What are the Aucma stand mixer attachments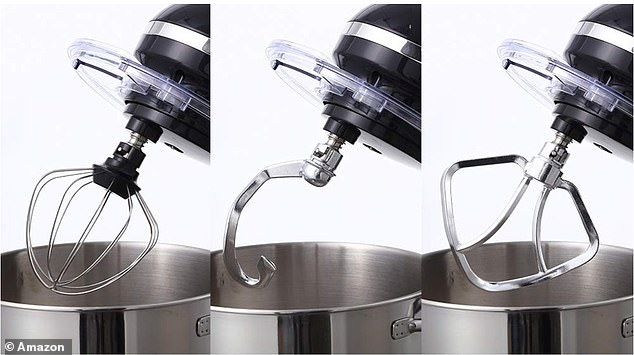 This powerhouse of a stand mixer has three mixing accessories. These are:
Whisk
This gives you the opportunity for mixing light mixtures. Examples of these mixes are egg and butter,
Dough Hook
Allows for slightly heavy mixes such as pancake batter, idli batter.
Mixing Beater
Helps for heavy mixes as bread and pastry.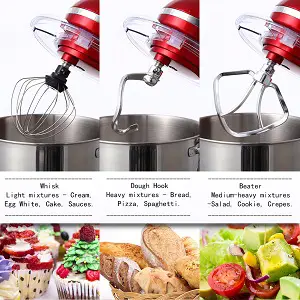 What are Aucma stand mixer replacement parts
I believe that the Aucma Stand mixer should have replacement parts, so if you need anyone at all, you can talk to their customer care.
---
Some of the Frequently Asked Questions on Aucma Stand Mixer
Are the dough hook and beater metal or plastic?
The dough hook and beater metal are made of Aluminium, so it isn't plastic at all.
Where was the Aucma Stand Mixer Made
The Aucma Stand Mixer is made in China
Will kitchen side attachments fit this mixer?
Only Aucma attachments can fit into the Aucma Stand Mixer.
Does the mixing bowl spin or does it stand still while it's running?
The mixing bowl stays in a fixed rigid place while the Stand Mixer is still running. Only the whisk moves around the bowl to allow for an easy and consistent mix.
Can you remove the splatter guard?
Yes, the splatter guard is removable.
Is the body stainless steel or plastic?
The body is made of plastic.
Are all the internal gears and parts metal?
Yes, the internal parts and gears are made of metal.