Have you ever thought of whether you can put vegetables in your meat grinder and expect evenly chopped texture as a result? Well, this article will expose you to a lot more.
Apart from meat, vegetables are among the things you can grind in a meat grinder. The exact result you want by prepping vegetables is to get an even size and texture and this is what a meat grinder is designed to do in a clinch.
Additionally, grinding vegetables in a meat grinder mean that you no longer need to pre-chop the vegetables (only if they do not fit into the grinder chute). The blades in meat grinders can easily dice vegetables into a uniform consistency.
Let's face it, almost all cooks at home do not subscribe to any food prep activities that will take a huge amount of time. Unfortunately, one of the most important food prep – chopping vegetables – can put you off because it takes time.
From this view, I find it understandable when most people would prefer to pre-cut or pre-ground food items from local stores because of their valuable time. Now, this can be really unhealthy.
Meanwhile, smart cooks would search for kitchen tools that can serve more than one purpose. A meat grinder is no exception.
In my previous article, we looked into the other things a meat grinder can do in the kitchen where I mentioned that you can use a meat grinder for chopping vegetables and making amazing falafel.
Well, in this article, we are going to dig into the details on why it is suitable to put vegetables in a meat grinder and get excellent results just like that of a stand mixer. Let's start with why choosing a meat grinder for this purpose.
Why use a meat grinder for prepping vegetables?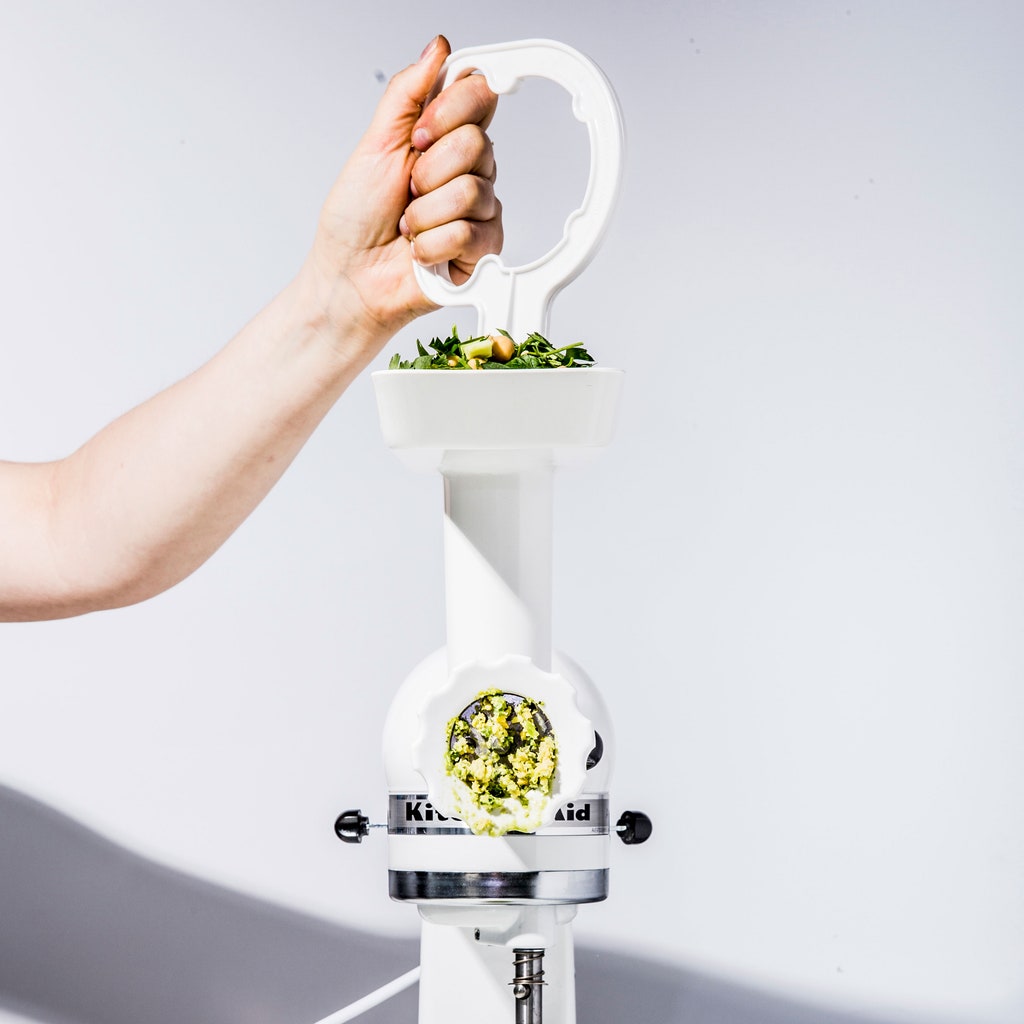 Quite a number of home cooks do not know that meat grinder, the one you probably think is only meant for meat processing, can actually be used to finely grind onions, peppers, garlic, tomatoes, and cilantro for a big batch of soffrito.
Apart from the fact that meat grinders have been designed for this purpose, most models are made with dishwasher safe parts making it easy to clean after use. (We know the challenging clean up needs that ground vegetables can leave behind, yeah?)
As for me, that's the beauty of using meat grinders to grind vegetables. Along with this advantage is that the blades are sharp enough to coarsely grind up cucumbers, peppers, and onions for a homemade pickle relish.
It saves time and money because you may not have to worry about getting a standard vegetable grinder anymore as a meat grinder can serve almost the same function.
Lastly, there are heavy-duty meat grinders that are specially made to grind huge chuck of vegetables in no time. This saves a great amount of time that could have been spent in food prep, added with the fact that you no longer have to pre-chop the vegetables before grinding as long as they can fit into the feed chute without a problem.
What type of meat grinder is best for prepping vegetables?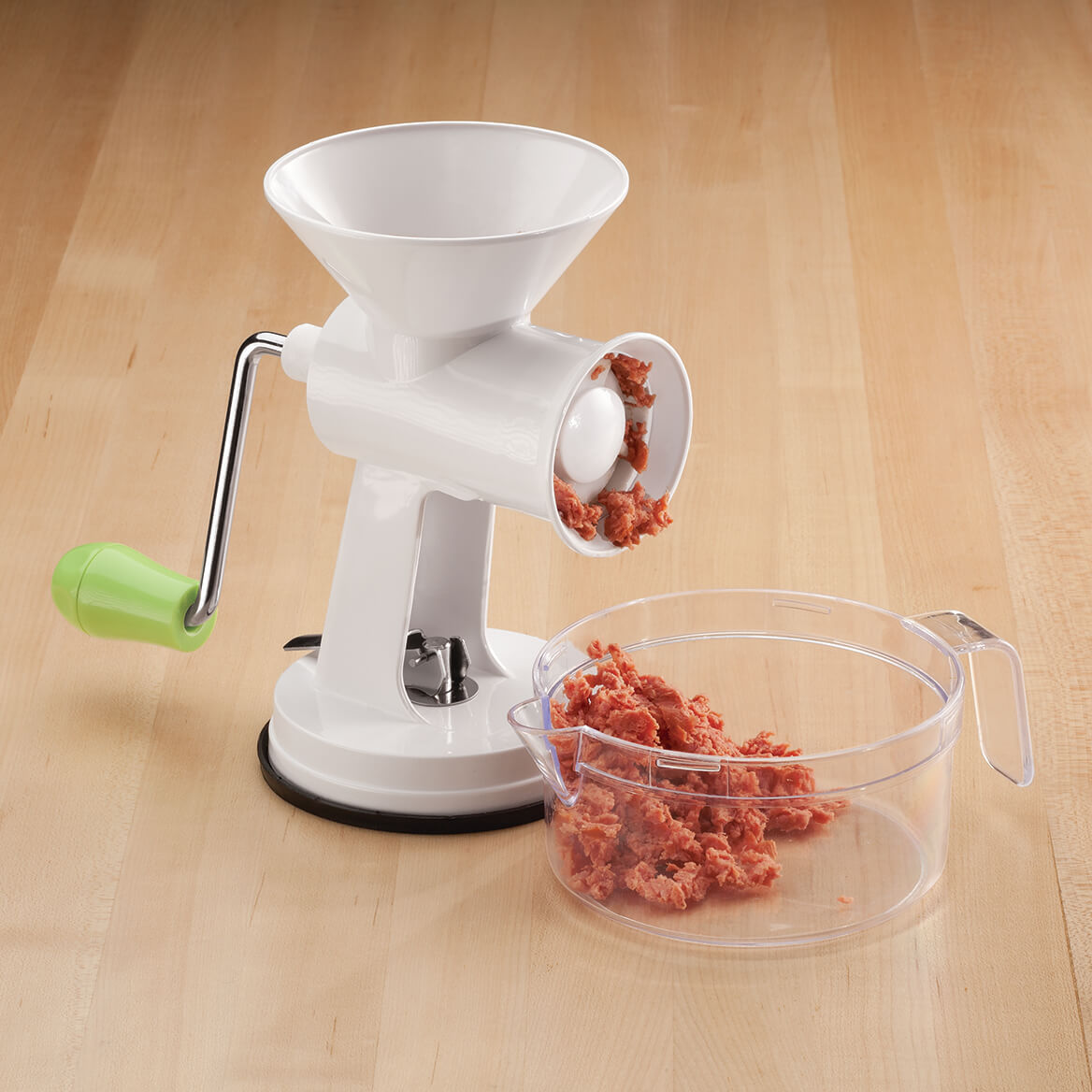 This may be the most vital information you will need to get about using meat grinders for vegetables. Basically, there are three types of meat grinders which are :
Manual meat grinders (I call them hand-crankies)
I will only be comparing the manual and electric meat grinders because commercial ones are used for gigantic heavy-duty tasks like that of a meat grinding company of a sort.
Most home cooks and restaurants are quite familiar and conversant with manual and electric meat grinders.
So, when deciding on the type of meat grinder to use for vegetables, the two types of meat grinders that should come to your mind include manual or electric.
While there are some manual meat grinders that are specially designed to grind meat and other vegetables, you want to make sure that you are aware of the pros and cons.
But really, there is no specific type of meat grinder for processing vegetables because it is almost the same way you grind meat in the appliance.
Manual meat grinders are made with a handle to grind the meat. This handle requires manpower for it to rotate causing the grinding mechanism to work. Do you see why I call them hand-crankie?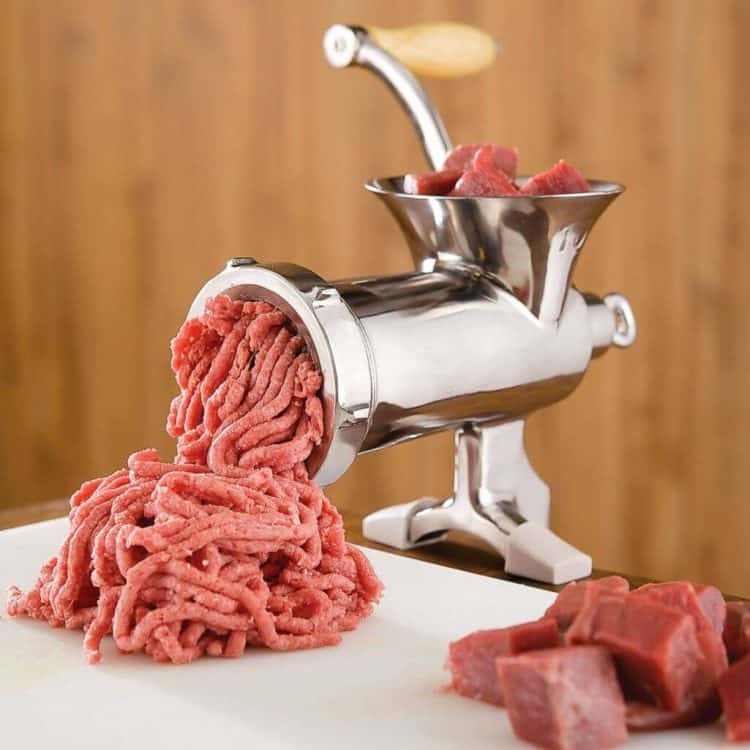 An electric meat grinder, on the other hand, runs and operates on electricity. It is powered by a durable motor to make the blades rotate speedily, thereby grinding meat or any other food items.
We are not going to talk extensively about the components of each of the types of meat grinder. We only want to conclude on which among these types of meat grinders is best for vegetables.
If you have a manual meat grinder already, then you should be smiling because manual meat grinders are really ideal for processing vegetables. The problem is that it requires much effort and usually takes time.
An impressive advantage of using electric meat grinders for vegetables, however, is that such devices can provide some smooth finishing in no time and with less effort – only a push of a button.
At this end, we can say that it is based on personal preference. However, you want a quick and smooth operation that will require less effort. When considering all these, electric meat grinders seem to be favourable.
Take a look at the table below, I have been able to distinguish the benefits attached to using either an electric or manual meat grinder for chopping all kinds of vegetables.
If you have both appliances in your kitchen, you may want to use this table to determine your choice.
| Manual Meat Grinders | Electric Meat Grinders |
| --- | --- |
| Excellent look | Recommended for professional use |
| Saves space | Multiple grinding options |
| Requires less maintenance and cleaning | VERY durable |
| Relatively cheap to buy | Worth the expensive price |
So in my opinion, most people tend to use manually meat grinders to attend to little grinding needs in the kitchen because it is very handy and easy to manoeuvre.
Plus, anyone can get it as it is relatively economical. Not too many components and parts. Easy to set and use. Having spoken with many experts, they recommend that anyone new to the world of meat grinding should begin with manual meat grinders.
But if you are looking for meat grinders with multiple grinding options such as coarse grinding, go for electric powered ones.
For real, manual meat grinders are lacking a lot of features that aids comfort and swift performance compared to electric meat grinders.
All in all, both types of meat grinders are time-saving when it comes to vegetable cutting process in the kitchen compared to traditional methods like knife and chopping board
Meat grinder care and maintenance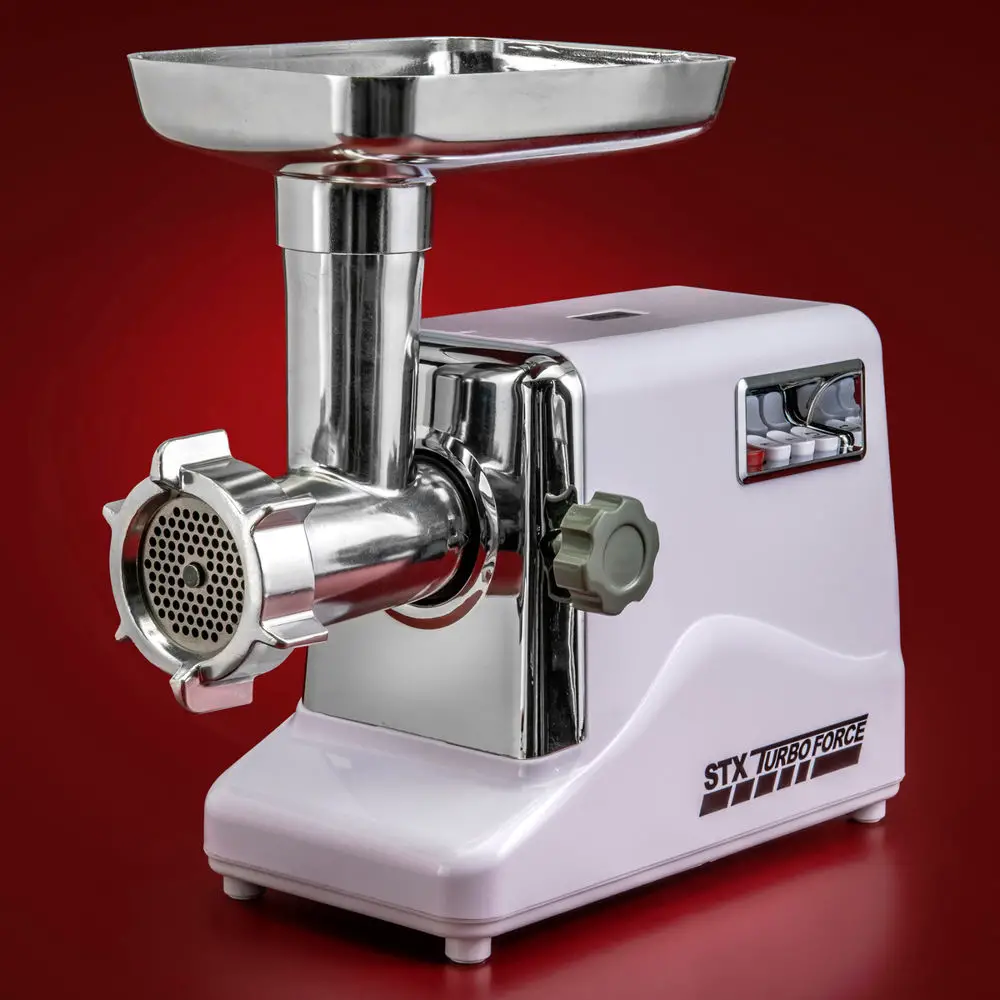 Unlike other kitchen tools and grinding appliances, there are not really many principles as regards how to use, clean, and maintain a meat grinder.
Both manual and electric meat grinders need proper cleaning and maintenance after each use to keep them working at optimum performance.
I've spent the past months doing research and testing most meat grinders from well-known brands like KitchenAid and Cuisinart and I have realized that you need to be aware of some basic maintenance tips to make them work perfectly well for a long period of time.
Here are the few nuggets you need to be aware of to keep your meat grinders at top performances regardless of how long you have been using it.
The first thing is to always see that the appliance is stored in a very cool temperature. Or if possible, keep 'em cold. All of the components. If you've read our article on how to use meat grinders, you will understand why you need to keep the meat grinder chilled in the freezer for at least one hour before grinding. Likewise the meat too. Everything should be chilled so that while grinding the meat, it will not smear and the fat will not leak out.
Along with the above point, make sure that the meat about to be ground are trimmed well before grinding. A great challenge to successful ground meat is smearing. The best way to avoid this is by trimming your meat well instead of chopping it.
You need to be observant when grinding meat in either electric or manual meat grinders. As the meat is churning out from the holes, you should be able to clearly identify fat and meat. You want to make sure that the meat is not coming out wet and in one mass, or else, This is where you need a reverse function.
Always keep your blades sharp to get perfect results. The potential cause of smeared meat is a dull blade. So make sure the blades are durable.
You can easily detach the meat grinder and replace the blades with a new one if it appears dull. New set if meat grinder blades are sold in various online stores. Alternatively, you can resharpen the blades.
Most models of meat grinders come with dishwasher safe body parts. Now, this is preferable because you need to always see that the plates and other components are clean to prevent sticky situations.
Unwashed parts of the meat grinder could attract flies and germs. I've seen this so many times in the cooking area of some local restaurants.
Now that we have answered your question and showed you that not only can you use meat grinders to grind meat, but that you can also use it to chop vegetables, then you can now go ahead and enjoy your multipurpose meat grinder.
Let me know how it works out.