I have seen this question so many times. Readers are asking me the question, "Can you grind salt in a coffee grinder?". Let's see if that is a possibility.
Can You Grind Salt in a Coffee Grinder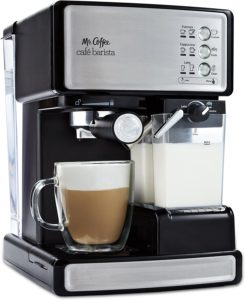 Yes, you can grind salt in a coffee grinder. In fact, there is nothing that stops you from doing that. Coffee grinder amazes me due to its wide range of uses. I noticed this fantastic ability the last time I wrote the best spice grinding machine for home use.
I remember my mom visited me and wanted to make the spice. While she was good at these things, she failed; which was using my coffee grinder to grind salt. I never realized that she did this until it was time for my espresso after she had left. Let a very terrible taste in my mouth.
While it is possible to grind salt in a coffee grinder, it is important to grind uncooked rice in the grinder later. This will remove any form of leftover or after-taste grinding salt might leave.
Using a coffee grinder to grind salt is usually not advised because of the constant need to grind uncooked rice to get your coffee grinder in shape. I'll, therefore, advise that you get a separate blade grinder for spices (like this one on Amazon).
I also want you to read this too: Mortar and pestle alternatives and where to buy them.
Can I Grind Salt Into Powder
Yes! You can do that through various means such as mortar and grinder, spice grinder, coffee grinder and many more. You can grind salt into powder by grinding it into a fine texture.
If you have an electric grinder, it shouldn't take you more than 10 seconds to grind salt into fine texture. If the salt is in large quantity, there is no problem grinding it in small batches.
Is Coffee Grinder the Same as Spice Grinder
They only work in a similar way but the blades are quite different. Coffee grinder uses conical burrs to grind ingredients while spices grinder uses blades to grind herbs into small pieces.
How Do You Clean Coffee Grinder After Use
It is actually easy to do, follow these steps below and you will get it done clean and clear:
Get one cup of uncooked rice of any kind
Put a ¼ cup of rice in your blade grinder and grind it for about a minute or until it's pulverized.
Remove the rice flour and wipe out the grinder with a damp paper towel
Repeat these steps every 7 days so that your grinder will be well maintained.
What Makes a Good Coffee Grinder, and Are Burr Grinders Really Better
These are the characteristics that determine the quality of a coffee grinder:
The grinding method; burr or blade
The power material volume maximum grinds dose number of grind settings
Electric burr grinders are really better compared to blade grinders and the reason is that they provide an even grind.
What About Manual Grinders
Manual coffee grinders are also a great choice if you decide to go for them, and believe me, you will enjoy the performance to the fullest when making coffee from grinding coffee beans to brewing them.
You can also use a manual coffee grinder to grind salt and it will give you a perfect job. One main advantage of such grinder is that the grinding process is not fast and as such the beans do not heat up or got burned, therefore, you can preserve the natural taste of the drink.
Is It Cheaper to Buy Beans or Ground Coffee
It is cheaper to buy ground coffee rather than whole bean coffee, but the reason is that the whole bean coffee is of better quality. Whole bean coffee brings out a better aroma and taste.
In fact, if you freshly ground beans, it will bring out better flavours compared to pre-ground coffee.
Read more: Can You Use A Mortar And Pestle To Grind Coffee
---
Frequently Asked Questions on What Can You Grind in a Coffee Grinder
The coffee grinder has always been a fantastic product when it comes to grinding ingredients like coffee beans, however, it has amazingly confirmed that coffee can also be used for grinding other ingredients such as salt, spices, breadcrumbs, a small amount of flour, dry herbs, herbs of tea, powdered sugar, chopped nuts and seeds.
In this article, I will be responding to various questions from the customers of various stores across the world. Here in grindit, we are always concerned with giving people solutions to their problems, if you are here, be rest assured that your questions will be answered to the best of our capacity.
Can I Grind Spices in a Coffee Grinder
Absolutely yes! There is nothing that should stop you from grinding spices in a coffee grinder as much as the density of the grinder can take it.
You could have got an electric spice grinder but if you don't have, the best second choice I will recommend to you is a coffee grinder of Baratza Encore Conical Burr Coffee Grinder, it will do the job as you wanted and will make you smile in the end.
You can always get many more of it for your loved ones. Sometimes, you may also want to use pestle and mortar to grind your spices, that's if you have the power and energy.
If you are afraid of tainting your regular blade coffee grinder forever, it is not an issue in this aspect.
Can I Grind Hot Pepper With Coffee Grinder
There should be no other alternative if coffee grinder cannot be used to grind hot peppers. It is more ideal to get an electric grinder to grind your hot pepper but when it is not available, a coffee grinder like KRUPS Grind and Brew Auto-Start can be used.
How Do You Grind Salt Without a Grinder
If you don't have a grinder, you can use a regular neat red stone to crush your salt ingredient. You can also do that by using a carving knife that has good mass and can chop spices on a hard surface.
This method cannot give you a powdered salt, but it will be a bit close to it. Another way is to place the salt ingredient in two plastic baggies and hammer it carefully with a clean hammer.
Can You Grind Tea Leaf in a Coffee Grinder
No! You cannot grind leaves with a coffee grinder because it will create heat that will destroy the health benefits of the leaves.
Can you grind wheat in a coffee grinder
It is very possible to grind wheat just that it is expensive to make delicious homemade bread for cheap.
You should also remember that you need to sift the flavour after you grind the grain in the coffee grinder. Grind in a small amount to avoid jamming the grinder.
Can You Grind Nuts In A Coffee Grinder
Yes, it is very possible for you to chop your nut and seed with a chopper and then grind them in coffee grinder this actually works well.
It can help you grind flax seed or any see you can think of into a nice, fine meal.
Can You Grind Wet Ingredients in Coffee Grinder
You cannot grind wet ingredient in coffee grinders because they are meant only for dry ingredients. If you are thinking of a blender, there is no problem with that, as you can blend your wet ingredients in a blender and it will work fine. There are also wet grinders, but the coffee grinder is not one of them.
Can You Grind Corn in a Coffee Grinder
Yes, you can grind corn in a coffee grinder but don't forget to sift the flour after you have ground the grain in the coffee grinder.
Grind the grains in small batches to prevent your grinder from jamming. Measure like ¾ to 1 cup of grains per batch in a small coffee grinder and grind.
Can You Grind Oatmeal in a Coffee Grinder
It is possible to grind oatmeal in a coffee grinder and the old fashioned oatmeal does not take 15 to 20 minutes to prepare. Grind those oats with a coffee grinder in order to make your oatmeal faster.
You can get this very Mr Coffee Espresso and Cappuccino Maker to make your oatmeal.
Can You Grind Rice in a Coffee Grinder
Absolutely yes! In fact, the coffee grinder will turn the rice grains into a smooth powder. You should grind the rice in small quantities so that it doesn't clog or overwork the coffee grinder.
If you notice the grinder is getting hot, just unplug it and allow it cool down for a few minutes before you continue your grinding.
Are Burr Grinders Really Better
The fact is that both blade and burr grinders perform best in their nature. The conical burrs are normally used on a low speed.
The Coffee aficionados tend to choose the burr grinder above the blade grinder because beans are ground in constant sizes and this gives more control over the ingredient you grind.
As for a blade grinder, it will be difficult to achieve a constant grind.
How Long Does a Coffee Grinder Last
A coffee grinder is expected to last 5-7 years but still, this question is a bit hard to answer by giving an exact year it can last.
Sometimes, it depends on the quality and maintenance level. If you don't know how to maintain a property, it is actually possible for it not to last up to the stated years.
If you grind 500 to 1000 pounds of coffee with a flat steel burr, it may last, and ceramic burrs, when used to grind up to 500 to 1000 pounds, may last too.
---
Final Words – Can You Grind Salt in a Coffee Grinder
The coffee grinder has a lot of uses and I have successfully mentioned most of the uses of the coffee grinders and also made some links where you can get them.
Don't hesitate to make that happen so you can enjoy the benefits of the coffee grinders as they are the best in the store.