Looking for the perfect grain mill to help you grind your acorns to the ground? Check out the collection we have reviewed for you in this post.
Acorns grow in abundance almost everywhere and they are nuts of oak trees. We have observed that these types of nuts are not consumed regularly today. They contain nutritional contents to a great extent but there are debates that arcons are not safe to consume.
In this post, we want to share with you the best grain mill for grinding acorns, but not only that. We are also going to cover all the facts you need to know about consuming and preparing arcons for healthy consumption.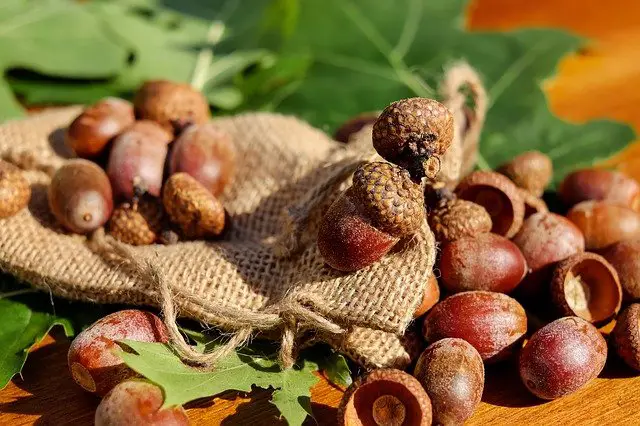 As for the best grain mill that is particularly ideal for grinding acorns, we recommend this Victoria Cast Iron Grain Mill. It is made with high-quality material and a large capacity that gives you that great convenience in grinding large batches of acorns. Ideal for home use and commercial purposes.
You can also try more affordable options of grain mill like this Lucky Labor-saving Mill Crank Grinder. It has been designed to grind a variety of grains and nuts such as acorns without difficulty.
The reasonable fact that makes arcons seem not safe for consumption is because they contain tannins. Tannis is a group of bitter plant compounds that may be harmful to the body when consumed in high amounts. They are contents that are opposite to what the nutrients in Nut stand for. Consumption of tannins that is present in acorns will reduce your body's ability to absorb essential nutrients from food
Another factor why most people consider acorn unsafe for consumption is that The high amounts of tannins may lead to adverse health effects when consumed. These health effects include severe liver damage and cancer. We should also mention that the tannins contained in raw acorns can be toxic to humans and cause an unpleasant bitter taste.
But you may be wondering why we are even recommending best mills for acorns when most people consider it to be unsafe for consumption, yeah?
So here is the catch:
It is a pure fact that raw acorns contain a high amount of tannins which are potentially harmful plant compounds. But when acorns are properly prepared, they will contain reduced tannins that are generally safe to eat.
There are, of course, people who have been safely consuming acorns for thousands of years. One will need to properly ground acorn to make flour for bread, pancakes, pastries, cookies, and even pasta. Now if you plan to do any of these, you will need just the perfect mill for grinding acorns which is why we have developed this buying guide.
There is more to the preparation process. We will also show you how important it is to leach with cold water such that the starch will be preserved and the dough will hold together.
Full review of the best grain mill for grinding acorns

Victoria Cast Iron Grain Mill
About product
This amazing table clamp grain mill gives you all the courage you need to grind your acorn, prepare it, and cook the flour! It brings along with it the intervening time for some real, authentic tortillas and bread made from healthy and finds ground acorns.
This impressive manually operated High hopper grain grinder is super versatile and can work as a coffee grinder, pepper grinder, spice grinder, rice grinder, and nuts grinder.
You can also use it to grind wheat, oats, barley, rye grinder, and much more. It is compact, space-saving, and easy milling. You can now achieve from coarse to fine texture using the Victoria kitchen grain grinder.
What we like about Victoria Cast Iron Grain Mill
One of the features we admire in the Victoria Cast Iron Grain Mill is that you can adjust the coarseness and fineness of your milling using the adjusting screw. This is not found in all manual grain mill. It also has more capacity in the high hopper to accommodate more grain content
The product is Made of Cast-iron with sanitary double-tin plating that goes against stains and corrosion. It delivers High performance with durable discs that are made of anti-erosion white iron for maximum performance regardless of the type of grain,.
The product also features a protective non-slip rubber that prevents the grinder from slipping.
Pros
Adjustable
Larger batch processing
Heavy-duty construction.
Capacity of adjustment
Cons
It doesn't help reduce the mess as much as we thought it would.
SHKY Corn Grain Grinder Mill
About product
This impressive manual grain mill is ideal for acorn because it is made with A long-lasting cast iron construction that makes it durable and easy to clean. It is also designed with a Longarm wood handle that makes it easy to crank.
The mill features a double tin coating that will prevent rust. This is perfected by the easy to operate components and assembling. It is a manual grain mill of Large capacity and High-Quality Hopper that allows you to grind large batches of acorns and other types of nuts and grains quickly and easily.
The rubber pad keeps the mill from scratching the work surface while handling heavy-duty tasks.
What we like about SHKY Corn Grain Grinder Mill
We like that the hand grinder is made of Cast Iron with Electroplated Tin Surface. This assures users that it will not get rust because you don't have to wash it with water directly. All you need is a cleaning brush or damped cloth.
It is labor-saving and simple to use. Super convenient as it has been Designed into hand cranking operation. Additionally, it is super versatile. This machine will work well-grinding items like Grains, coffee, rice, chili, soybean, wheat, corn, cocoa, pepper, acorns, and so on.
We do not recommend it for oily grains though. You also want to grind rice or other materials for like two times at first use. The product also features a long wooden handle that makes it convenient for hand-operated and easy cranking when you grinding.
Specifications of the SHKY Corn Grain Grinder Mill
Material: cast iron
Surface Finish: electroplated tin
Pad: Rubber
Handle: Wood
Dimension: 43cm – 32cm – 16cm
Weight: 3.5Kg
Pros
A long-lasting cast iron construction
Ease of cleaning
Longarm wood handle
Simple operating and assemble
Cons
Most users were satisfied with the performance and use of this product.

UPANV Hand Cranking Grinder
About product
You can now make fresh and healthy milled grain products in minutes, thanks to this super affordable but durable UPANV Hand Cranking Grinder.  It is designed with a manual operation and features a  wooden hand crank. The ergonomic design of the machine builds your arm strength and saves your energy big time.
You can also adjust the powder fineness of this grinder. You can easily control the powder coarseness by adjusting the nut and the spring design. The product is very durable and steady enough to transform your shed acorns into fine flour for tasty pizza!
It is very easy to use as it is a table clamp. It features a bottom rotating nut design, and also labor-saving. You won't face any problem when fixing the countertop. It is super versatile too and not just limited to grinding nuts. It works perfectly well for wheat, oat, barley, grain, nuts, spices, and coffee. We recommend it for both home kitchen and commercial use.
What we like about UPANV Hand Cranking Grinder
Once you get this grinder, you can use it at home or for business purposes. This adds to the advantage, we also love it because it is made with Top-grade material that makes the grinder durable to use. Adding to the Ergonomic design, and user-friendly structure, it can be used to grind any type of grain and ideal for acorns too. It is labor-saving and the Maximum clamping distance is within 4.5cm.
Specifications of the UPANV Hand Cranking Grinder
Material: Aluminum Alloy
Color: Silver
Applications: All Kinds of Grain
Dimensions: 40 x 12.5cm
Weight: 120.28oz / 3410g
Pros
Widely applicable use
Labor-saving
Affordable
Cons
There are some decry from reviewers that this product is expensive for a manual mill
Lucky Labor-saving Mill Crank Grinder
About product
With great adjustable grinding performance, you can now achieve the finest flour grinding using this innovative Lucky Labor-saving Mill Crank Grinder. With this grain mill, you can control the thickness of ground grain or nut and this is ideal for grinding acorns.
What we like about Lucky Labor-saving Mill Crank Grinder
We have dug further and seen that the Lucky Labor-saving Mill Crank Grinder is made of highly superior material as it displays high strength, durability, and long-lasting components
It is a beautiful machine also and capable of grinding just any kind of grain. It is designed with a  Supporting hand cranking operation that makes it labor-saving. Expect maximum efficiency and good performance from this grain mill as it is the right choice to grind your acorns.
Specifications of the Lucky Labor-saving Mill Crank Grinder
Model: 500#
Material: Aluminum Alloy
Color: Silver
Applications: All Kinds of Grain
Dimensions: (17.12 x 5.31)" (L x Dia.)
Weight: 120.28oz / 3410g
Pros
User friendly
Ideal for home use
Made with quality materials
Estrella Manual Crank Corn Grain Grinder

About product
Lastly, this Estrella Cast Iron Manual Crank Corn Grain Grinder 14″ Tall & 5″ Hopper offers a simple way to grind foods with the fresh, natural goodness of home-ground products. You can now conveniently create various textures of flour made from not only acorns but also any type of grains for cereals, snacks, or desserts using this Grain Mill!
The machine is designed with Cone-shaped grinding burrs that are self-aligning, the product is also made of cast stainless steel. You can use this machine to grind wheat, rice, oats, barley, non-oily seeds, peppercorns, and other dry grain, nuts, and spices.
It is space-saving, which means you can conveniently store, yet, it holds up to 2 cups of grain Wide clamp base securely grips thicker countertops.
What we like about Estrella Cast Iron Manual Crank Corn Grain Grinder 14″ Tall & 5″ Hopper
It is a multi-functional grain mill that can grind wheat, rice, oats, barley, quinoa, and other small, hard dry grains. It also grinds nuts like acorns. We also like that the grinder features Cone-shaped stainless steel grinding burrs that are self-aligning.
Using this grain mill, you can easily adjust the front dial from coarse for cracked grains to fine. This enables you to make delicious whole-grain bread, cereals, and other bakery items. You also do not need a large space to store this blender at home.
Pros
Versatile
Durable milling cone
Coarse to fine options
Fresh homemade acorn flour
Space-saving
Cons
The machine can rust after first use and cleaning, so it must be thoroughly washed and dried off completely after every use. 
A brief history of Acorns
There are probably some things you don't know about acorns. Before we dive into the review of today, we will run through a brief history of acorns. The purpose of sharing this is to ensure that you have a proper understanding of what you are getting a mill for.
Acorns are widely consumed by the wildlife that we depend on for nutrition. Wildlife such as birds like jays, pigeons, some ducks, and several species of woodpeckers feed on acorns. These nuts are also consumed by mice, squirrels, and several other rodents.
Acorns appear large and efficient to animals mostly, and that is what attracts animals to them. They can be efficiently cached. Acorns are highly rich in nutrients. We can not clearly state the percentages of nutrients that can be found in acorns as they vary from species to species. However, one can obtain nutrients such as protein, carbohydrates, and fats,  minerals calcium, phosphorus,
potassium, and the vitamin niacin when acorn is consumed.
But as we have mentioned earlier, the bitter tannins are significantly a factor for consideration when planning to grind and consume acorns as humans. There is a lot of science to this but what you should know is that these tannins that are very much present in acorns are plant polyphenols, which means that they will interfere with a human ability to metabolize protein.
If you are going to consume acorns, you should learn the different ways to use the nutritional value contained by acorns. Tannins present in acorn should not blindfold you to all the nutritive benefits of consuming arcons.
By soaking chopped acorns in several changes of water, until the water no longer turns brown, or by making use of Coldwater leaching which may take several days, you can get rid of or reduce the tannins present in your acorn such that they will now become very safe to eat.
Acorns are rich in fat and can mold easily. if you are going grind acorn, you need a unique hand-powered grain mill that will give you the healthy result you want after leaching them.
We have considered this and have come up with the best grain mill for acorn. While we will still share with you the process of grinding and preparing acorn that is safe to use, let's quickly examine if truly, they are safe for consumption.
How safe is acorn for consumption?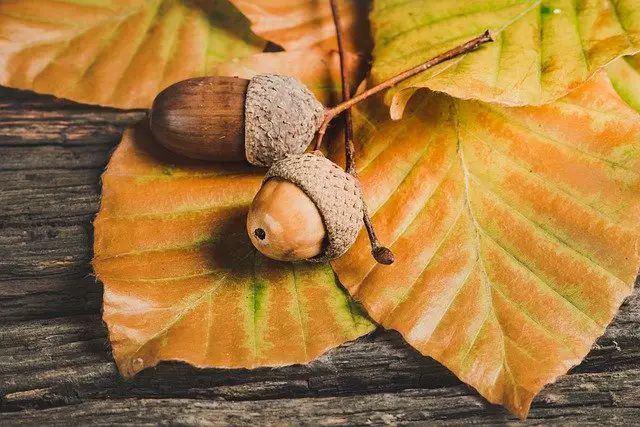 When prepared properly, and the tannins in them is reduced, acorns are safe for consumption. They can be ground to make flour for bread, pancakes, pastries, cookies, and even pasta.
To make acorn safe for consumption to make flour, we recommend you to leach with cold water to preserve the starch.
To get rid of the harmful tannins present in acorn that makes them unsafe for consumption, just use hot or cold water to leach them. Your choice on the temperature of water to use will depend on your planned recipe.
The process of leaching with either cold or hot water involves, first, shelling your acorns, soaking them in the hot or cold water, draining the water once it turns brown, and repeating the process with fresh hot or cold water until the water is clear.
We will still go into details on how this is done, measurements, and duration for soaking. But, for now, let's dive into the best grain mill for grinding acorns.
Our guide for grinding Acorns
We can tell you that it is not a difficult task to make flour out of acorns. It can be a little tricky for beginners and time consuming too. But we are sure that these steps below will help you greatly.
Putting the acorns together
Needless to say, the first step involved in grinding and preparing flour out of acorns is gathering them in the right proportion. Depending on the volume you plan to work with, you may choose to gather up about a gallon of acorns. It would also be better when we are in the season where they are available in abundance from oak trees.
Removing the Caps of the nut
Now that you have gathered up your acorns, the next thing to do is to remove the caps from the nuts. This is a really easy thing to do and you don't need any one-hour duration youtube video to show you how this is done. It may be time-consuming, though.
Shelling the Acorns
The shelling process of the arcons contributes to the process of getting rid of the harmful tannins compound present in them that is not safe for consumption. Shelling can require either hot or cold water depending on your planned recipe as we have explained earlier.
When shelling your acorn, you have to first put the acorns in the freezer overnight so that it will be easier to crack them and they will be kept fresh. After freezing, the paper-like membrane around the nut and inside the shell will come off the nut. You also want to make sure they are thrown into water before they turn brown because, at this stage, they tend to oxidize quickly.
Blending the Acorns
Any durable countertop blender with the right attachment for grinding nuts will do. All you have to do is move the water containing the nutmeat into a blender. At this stage, the acorns have been shelled, so you can blend on the high for some minutes.
Leaching the Tannins in the acorns
This is one of the most important steps of all that should not be missed. After you have blended the nutmeat, transfer the result to a bowl that is wide enough to contain all the blended stuff, and then put inside the fridge until the next day. Doing this will allow the acorn to settle and allow you to pour off the water in the container.
Continue this process with fresh water and place it inside the fridge again. Doing this for about three days will successfully leach out the bitterness of the acorn. They taste bitter, but this is the best way to get rid of that bitterness.
Grinding the Paste in a grain mill
We recommend the use of any of the grain mills shared in this article as they are all perfect for this process. If you can't afford a grain miller, a food processor is another alternative. Use the grain mill to grind the acorns into flour because they will be clumpy. By grinding them properly, you should get fine flour. If there are still larger chunks, you may need a mortar and pestle to further break them down.
Sifting the Flour… and sifting again!
You now have your fine ground acorn flour, thanks to a capable grain mill. The next thing is to get rid of any debris by separating them from the flour, this is done by using a fine-mesh sieve to sift. Sift and sift till you can see that it is smooth.
You can now decide on what to use the cups of flour made from acorns.
Disclaimer
Our editors have carefully selected, used, and researched products reviewed on this post.
We will earn a token from Amazon on any purchase from you. This will be at no extra cost to you.