Shredded chicken is chicken cut into smaller sizes. It is quite easy to make and it comes in handy for meal plans.  You can do lots of things with a blender, foremost of which is the ability to shred chicken. In this post, we will get into more details of if you really can.
Can you shred chicken in a blender? You can absolutely shred chicken in a blender. I use my blender for a lot of things, one of which is the shredding of chicken. After cooking my chicken, I then place it in my high-powered blender and pulse from slow to fast. This allows the blade to catch all the skin of the chicken and shred to taste.
You have to take note though, that you need to push the chicken down to the bottom of the blender and ensure you allow for space in the blender when shredding. You do not need to push too much chicken such that it does not give allowance for the blender blades to rotate.
Different methods or tools have been used to shred chicken from time immemorial which also includes the use of your hands but this manual method, in particular, is more strenuous compared to the use of equipment.
How do you shred chicken in a blender?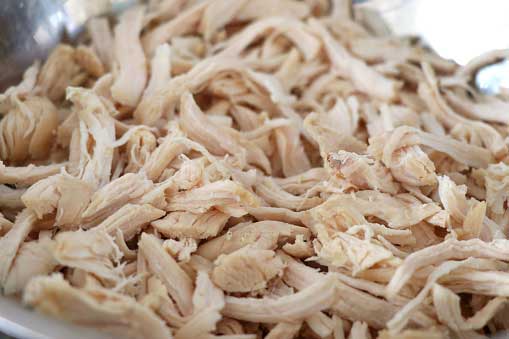 Cook the chicken for tenderness
Before you shred chickens, ensure to cook them to make them tender and soft for easy shredding. Raw chicken when shred does not always come out as nice as the cooked one so it is better to shred the cooked chicken.
Make sure you take it from raw to cooked
There is no specific type of cooking that is devoted to just shredding, you can decide to poach it, grill it or get it ready however you please as long as it is no rawer as at the point of shredding.
Remove the chicken bones
The next thing is to de-bone the chicken, that is, removing the bone from the flesh, this is done to make the shredding easier and also so that the machine you are using to shred doesn't crush the bone and include it in the shredded chicken. This deboning can also be done before cooking the chicken at all.
Add the chicken bit by bits into your blender
Your blender must be a high-powered blender with sharp fast blades. Put the chicken into the blender and increase your blending speed from low to high. As soon as you realize the chicken has started blending, increase the pulse of the blender so the blender can shred fast.
You can use a tamper which can be wood or metallic to push down the chicken to the bottom of the blender. In case the tamper is not doing enough work, make sure you shake the blender as it shreds to allow the blades hit all parts of the chicken so as to give the desired consistent shred that you want.
Now, you good?
Examples of blenders that can shred chicken
This is a professional-grade blender with a 65oz container. It has 5 pre-programmed settings. It is easy to use, it is durable and also easy to clean. Its blade is made from hardened aircraft-grade stainless steel which makes it for blending varieties of food substances. It is a self-cleaning machine too.
This Cuisinart Smart Stick has a 200-watt motor that makes it powerful and gives it a high blending power. Its blades blend smoothly. It is lightweight and quite easy to use with a protective guard that prevents splattering. It has the following accessories: a stainless steel blending shaft, 2 cup plastic beakers.
It is very durable and versatile as it performs a variety of functions like pulverizing, shredding, blending, crushing, and so on.
It has a two horsepower – 1500 Watts professional kitchen system with an extra-large with a capacity of 72oz. Apart from this container it also has eight food processing bowls for other activities like making dough, it has Nutri Ninja cups for extracting nutrients and vitamins. It is a professional blender with different types of blades modified for total Crushing.
This immersion blender comes with different attachments that make it rm different functions like; chopping, pureeing, blending, frothing, whisking, and shredding which makes it a great choice for shredding chicken. It is very versatile and not expensive.
It has an 8-inch long blending arm and also has four safety guards included which are: a pan guard and three bell guards to protect the blades of the blender attachments when it's not in use. It includes a case that stores everything excluding the chopping jar, the blending pitcher.
This is very good because it helps the organizing of the attachments which eventually takes up less space in your kitchen.
It has a stainless steel blade that makes shredding easy. It has BPA free plastic and it is easy to clean.
The Hamilton Beach hand blender is powerful enough to process different kinds of food including shredding chicken, Its 225-watt motor enables this. Its different accessories include a 3 cup chopping bowl attachment, Stainless Steel Blending Wand, Stainless Steel Whisk, and Stainless Steel Blades. Some of these attachments are dishwasher safe while the hand blender itself as a whole is easy to clean.
It is made of quality material that makes it durable and it's also versatile. Quite easy to use too.
This blender is a three-speed hand blender with an eight inches long arm that has a soft and very comfortable grip.  It has a blade made of stainless steel and it is more powerful with more functions compared to the KitchenAid KHB2561 hand blender Brand. It's a superior alternative to it.
It comes with different accessories like the chopper, whisk, 3 cup blending jar. Its container is BPA free.
In conclusion, it is durable, dishwasher safe, and easy to clean, very easy to use as it is versatile and a very powerful hand blender.
This hand blender is a 200-watt blender that has two speeds. It is long and designed to reach into hollow containers. The handle is designed ergonomically to make the grip easier and less strenuous. It operates with one-touch easy control. It includes a mixing cup and it is dishwasher safe, easy to clean. Has a high blending power and quite versatile.
This Vitamix E310 Explorian Blender is an easy-to-use blender with a high blending power and it has 10 variable speeds which you can choose from depending on the operation you want it to perform.
It has a 48oz container and it is very durable. It has a motor power of 120v and comes with the pulse feature. Has an aircraft-grade stainless steel blade and it has a low noise level which is uncommon to most blenders.
It is easy to clean and some parts are dishwasher safe.
This blender has a motor power of 120volts and therefore a powerful blending machine. It has one-touch buttons and 4 pre-programmed cycle pulse. It has a thick stainless steel blade with wings.
It has a BPA free container that is 90oz with 36oz blending capacity. It is self-cleaning and also easy to clean. Valuable for its money because it is quite expensive.
This blender is a professional grade blender with six pre-programmed cycles and 10 speed that can be controlled manually. It is versatile, durable, and made from top-grade quality material. It has a very good warranty.
It has stainless steel forged blades with wings powerful enough for different blending operations including shredding.
It has a BPA free 4 side just that has a volume of 75oz and a blending volume of 32oz. It has a motor power of 120volts. It has a very good warranty and it is easy to clean.
This blender is durable and easy to use. It has even blending kinetics performance that combines the functionality of a powerful blender with some food processing tasks that makes it versatile and convenient.
It crushes, chops, purées, and of course shreds, low noise level, and efficient machine whose blade is designed in a way that makes it easy to achieve this. The blades are surgical grade stainless steel, this ensures the blades stay sharp for a long time. The LCD display counts up on speed settings and down for pre-programmed settings.
It has a Painted Plastic Base. It's quite easy to clean and around the blades, it has an assist lid unique ring pull design which ensures the lid is easy to remove yet sealed tight while blending.
How you can store shredded chicken?
Chicken can be shred in advance in case you are not using them to prepare meals immediately and as such, they need to be stored carefully.
You can store them in a refrigerator. They are either kept in airtight containers before putting them in the freezer or kept in freezing bags after it has cooled down.
When the need for them arises, they should be brought out of the freezer and heated up in a microwave machine before use.
It can also be heated up on a cooker or anything that would make it warm.
Stored shredded chicken can last up to six months in the freezer.
What can shredded chicken be used for?
They can be used when making the following:
Tacos
Crepes
Chicken Sloppy Joes
Empanadas
Chicken noodle soup
Chicken Quesadillas
Burritos
Casseroles
Buttermilk baked chicken
Chicken Verde Enchilada.
Salads
Baked chicken cacciatore
Sandwiches
Chicken nachos
Chicken piccata
Chicken pizza
Bacon chicken pot pie
Health benefits of shredded chicken
It is a good source of vitamins like vitamin B6, vitamin B3. Vitamin B3 helps lower cholesterol levels while Vitamin B6 helps the white blood cells known as thrombocytes function properly.
It is a low-fat protein that helps the body maintain and build more muscle mass
It is a very good source of minerals including one called Selenium, this selenium is a powerful antioxidant and it defends the body against chronic diseases like a disease of the heart and cancer.
Chicken contains the amino acid tryptophan which is responsible for raising serotonin levels in the brain which results in a better mood.
Foods high in protein can be used to maintain weight and normal blood sugar and as such, lean chicken is a very good source of protein that can help in the weight loss journey.
Chicken soup made with chicken is a traditional home remedy for relieving cold, flu, and other common respiratory infections. It helps clear nasal congestion and prevents the invasion of respiratory linings by microbes to cause infection thereby preventing inflammation during common infections and boosting immunity.
Chicken is a great source of phosphorus that plays an important role in how the body utilizes carbohydrates, it also helps repair worn-out cells and tissue of the human body.
Chicken contains magnesium, a nutrient that helps soothe symptoms of premenstrual syndrome, and fight the various mood changes that a woman might experience during period or ovulation.
Chicken helps relieve stress
Chicken is a good source of creatine, a compound that the body produces naturally from amino acids, this creatine can enhance cognitive health, physical performance, strength, and stamina.
Because of the absence of purines in chicken unlike other types of meat, chicken is easily digested.
Equipment that can also be used to shred chicken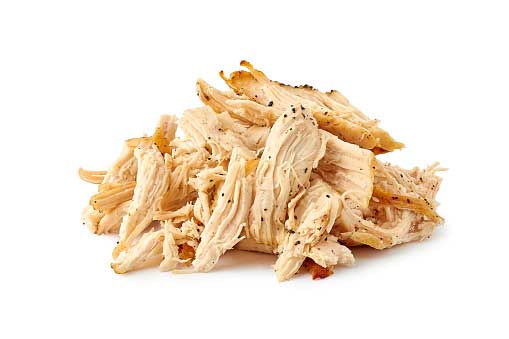 Other tools and equipment that have been used and can still be used to shred chicken include:
A mixer
Could be a stand mixer or a hand mixer and using this equipment, it's best to do the shredding when the chicken is still warm and put the mixer on a medium speed under close supervision, ensure its paddle attachment also known as the flat beater is firmly in place before shredding and then shred away.
Manually using your bare hands or cutleries like a fork
This method takes more time but if you want more defined and prominent chicken shreds pieces then this is your best bet
Shredded claws
This is also an attachment useful in shredding chicken, it's called an attachment because it needs to be attached to a machine for it to be used.
Potato masher
Just like the name implies, it is used to mash potatoes but it can also be used to shred chicken. How is this done?
The chicken is first torn into small pieces and the potato masher is used to shred it even better. That tells us that it might not be advisable if you don't want the chicken too shredded.
Food Processor
This is easily used to shred chicken using its slicer blade attachment because if another type of blade is used, it can blend into powder or purée the chicken.
Using a mortar and a pestle
Chicken can be torn apart easily using mortar and pestle and of course, cooked chicken. The downside of this method is that if the pestle is jammed too hard against the mortar while pounding, the chicken shreds would lose their juice to the mortar, and add such it is advisable to pound lightly against the mortar when employing this method.
In conclusion
A blender makes shredding chickens easier and faster compared to the traditional methods of doing it so if you have one, you can always make use of it when there's a need to shred chicken. Remember that the type of blender you use in shredding your chicken is important, and we have listed the powerful blenders you can use.
You can't just use any blender is the power and capacity is low, and if the blades are not strong enough to cut the chicken into pieces.
Have you tried shredding your chicken with your blender? Let me know how it goes.