Did you recently purchase a meat grinder to be mystified by this "kubbe attachment" among the accessories?
Or maybe you have had one for a long time but have not quite figured out what it is or what it is used for.
A tasty and sweet dish that is made by enclosing a spiced lamb in a wheat-based shell is known as kubbe which is also transliterated as koubba, kebba, or kibbe.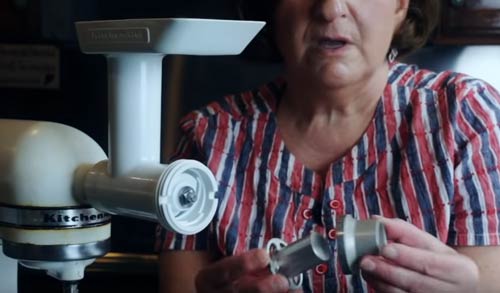 So, what exactly is a Kubbe attachment? The Kubbe attachment is an attachment in form of a casing that either comes with a meat grinder or is bought one and attached to a meat grinder and is used to make the Kubbe dish. It is made of aluminum pieces which is mounted on a grinder attachment to allow for the stuffing of the spicy kebba.
Wheat flour is added to the meat grinder in addition to the kubbe attachments on the meat grinder which is used to create hollow tubes of minced meat.
This kubbe attachment helps to speed up and simplify the preparation of this dish which is really popular in Middle Eastern cuisine. In summary, the kubbe attachment shapes the outer shell and makes it ready for stuffing.
You will find a wide and different variety of recipes of the kibbeh that can be seen from many sources out there. But there is no stopping you there; you can try experimenting with different compositions of fillers as well to create a recipe that will suit your unique taste.
How to use the kubbe attachment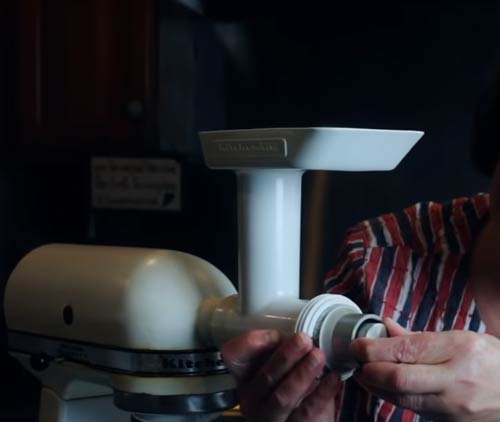 Below, I'll be listing in steps on how to use the kubbe attachment properly.
Step one: Unplug the Meat Grinder
First and foremost before anything is done, you would want to make sure that your meat grinder is unplugged. When you are certain of this, go ahead and take out the grinder blade and grinder plates that are found inside the meat grinder
There are two portions in which the kubbe attachment is manufactured and they are:
The threaded and extruder tube and
The ring-shaped flange which helps to hold the tube firmly
Step two: Drop the tube end through the flange
You would then proceed by dropping the end of the tube through the ring-shaped flange and then securely lock the ring-shaped flange in the region at the end of the meat grinder.
Step three: Fill the meat grinder
Fill out the hopper of the meat grinder with the kubbe dough and then plug in the meat grinder and start the motor. This, in turn, will make the kubbe attachment flip out a prolonged, holed cylindrical shaped even and thin, consistent dough.
Step four: Cut the dough
Depending on your choice, you can cut the tubes of dough into fine lengths of two to four inches or as desired and fill them up with the spiced lamb.
Seal the end of every kubbe and either fry the kubbe until it is golden brown or you can bake it until it is equally golden brown.
Can the Kubbe attachment be purchased separately
Although the kubbe attachment comes with the meat grinder in most cases, you can also purchase it separately. But something to note is that the attachment alone can be quite expensive and it will be a reasonable thing for that amount to just purchase a meat grinder with a kubbe attachment
If at this point, you have not yet purchased a meat grinder or a kubbe attachment. Below are a few electric meat grinder options that you can consider buying.
BBday electric meat grinder
When you think of stylish and upscale, this electric meat grinder should come to mind. This great meat grinder and sausage stuffer maker adopts a steel silk brushing treatment.
With a 2000W power output, it not only reduces noise and the engine powers up to 350W but it is very durable. This is a very good choice for a meat processor (chicken, pork, deer meat, etc) producing three pounds of minced meat every minute.
Every part of the meat grinder that comes in contact with food is made of one hundred percent food-grade material which does the work of preventing the contamination of the ingredients.
The durable and strong anti-corrosion three-layered stainless steel of the meat grinder is made of thickened aluminum alloy. Not to worry, this meat grinder comes with multiple accessories
One stainless blade
Three grinding plate
One food juicer
A set of three kibbe and sausage attachment
Which gives a finer and faster grinder? With all these accessories, the meat grinder is multifunctional giving you many opportunities to make tasty mouth watering kibbe, meatloaf, sausages, and many other meat blends with ease.
It is very easy to use, assemble and the parts of the meat grinder are very easy to disassemble, put back together, and also clean. Note that all parts of this meat grinder cannot be washed in a dishwasher and a neutral detergent should be used when cleaning.
Details
The manufacturers provide you with a twelve-month worry-free warranty and a lifetime of technical supply
This meat grinder is very safe and durable because its hundred percent food-grade material prevents contamination of ingredients and the pure copper motor provides enough power to grind multiple various foods like garlic, fruits, meat, and vegetable.
It is very easy to use and make the preparation of meals quick
Things to note
Carefully read the instruction manual and clean the accessories very well before use
Do not use the meat grinder to grind bones, frozen food, or nuts, and be sure the vegetable or meat is cut into strips.
Always allow the monitor to cool down and do not allow it to run more than five minutes continuously
Any bleaching solution containing sausage will definitely discolor aluminum surfaces and petrol will change the color of the unit
Some specifications
Item weight; 9.13 pounds
Maximum load motor. Approximately 2000W
Rated frequency and power;60 Hz and 350W
Rated voltage; 11oV
Package content; one electric meat grinder that comes with the accessories and one user instruction manual
OSTBA electric meat grinder
This meat grinder although on the pricey side is very professional, fast, and efficient and worth the price .here is why, with an engine that powers up to 500W (2000W max).
The meat grinder can 3.3 pounds of minced meat per minute. It is a convenient and ideal choice with its five in one multifunctional food grinder. You have this meat grinder working as
a kubbe maker
vegetable slicer
tomato juicer
meat mincer
sausage stuffer
It is very easy to make your favorite meal quick and easy as the meat grinder comes included with one kubbe attachment, three different stainless steel cutting plates, one sausage kit, one tomato juicer, and four vegetable slicer kits.
The spiral circles ( three in number) of the auger attachment have an extrusion that squeezes out the meat and in the process not destroying the meat fiber while keeping the meat cool and locking in the flavor and texture of the meat one hundred percent.
The meat grinder is seasoned clearly for high torque force. You are sure of the safety of your family member when using this private meat grinder instead of a public one because the parts that touch food is made with food-grade material which helps prevent contamination or pollution of food.
The built-in automatic circuit breaker in the thermostat system prevents the motor from overheating. The electric meat grinder is y easy to handle lean and use and you do not have to worry about jamming the switch case.
Also worth knowing that it comes with a two years warranty
Note; not all parts and components of the electric meat grinder can be washed by a dishwasher and you will want to use a neutral detergent when you are cleaning the electric meat grinder.
Details
this electric meat grinder comes with abundant accessories
it is made with a food-grade stainless steel material
the simple button control is very effective especially in cases of jamming
It is not only easy to assemble but it is easy to use as well.
Some specifications
Item weight; 7.26 pounds
Rated voltage and frequency; 120V and 60Hz
Maximum load motor; approximately 2000W max
Kubbe attachment for kitchen aid mixer
Already have a meat grinder but you are still on the lookout for a kubbe attachment, then this kubbe attachment will work perfectly well for you.
This item weighs 15.8 ounces and there is a directional video to watch for how to attach this component to your electric meat grinder
Kubbe attachment for # 12 meat grinder
The meaning and description of what a kubbe attachment is discussed above. Included with this kubbe attachment is two aluminum pieces with one of them having a small plastic piece insert and they are mounted on the grinder attachment.
This kubbe attachment is not also recommended for use in the dishwasher
Other meat grinder accessories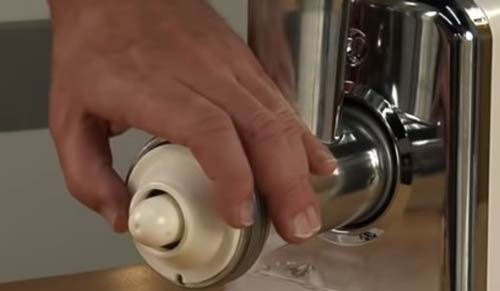 There is a wide range of different accessories that the market offers that help extends the functionality and use of the meat grinder. Below include some of the popular attachments.
Perforated plate disk which is used for mincing meat
This disc can process meat, fish, vegetable, poultry and so much more. It is made up of stainless steel that has holes over the whole area.
Something to note, the diameter of the holes does affect the consistency of the minced meat. Some models of meat grinders have multiple disks having different holes of different diameters.
Sausage shredder and juicer
This component is attached to the meat grinder outlet providing the filling is adjusted manual and usually a standard meat grinder with a complete set comes including one to three attachment with different diameters for cooking sausages.
The shredder part is a long drum for cutting of vegetables and this component id inserted into the housing of the meat grinder. As the name implies, the juicer or juicing attachment is used to process fruit or vegetables into juices or puree.
You can find other attachments like the attachment for forming cubes, noodles, spaghetti, or even traditional pasta form for sausages.
If you would still like to purchase any of this attachment, this is the perfect choice
Kitchenwin food grinder attachment
This is specially designed for all KitchenAid mixers and it fits greatly to it. This includes a grinding plate( three), cutting blades ( one)  for grinding all meat and they work to give the perfect results.
Included also are sausage stuffer and other attachments. This attachment is multifunctional and can be used to make kubbe, burger, pasta, etc easily. It is also not dishwasher safe.
---
Traditionally, preparing the kubbe was labor-intensive needing the lamb to be finely sliced and seasoned very well before being stuffed inside a dough shell (This is prepared with wheat and some portion of the minced meat by mixing it into a stiff paste and shaping it into hollow ovals).
But with the kubbe attachment, the achievement of that hollow shape and precise length and thickness is very much easier to achieve with a kubbe attachment on your meat grinder
In summary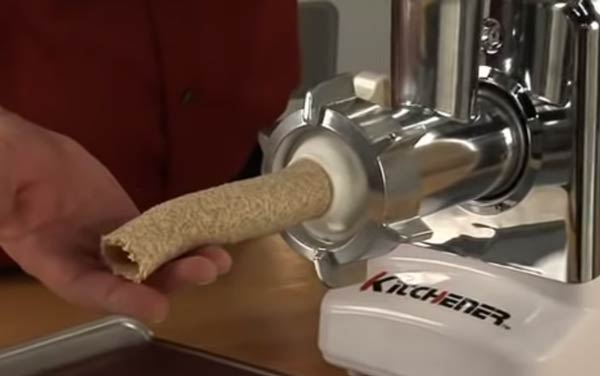 We talked about
What a kubbe attachment is and how it plays an important role in the meat grinder so this might be a great opportunity to experiment with different recipes. There are a lot of sources that talk about them over.
We also went ahead to discuss the parts of the kubbe attachment and how to properly attach it to your electric meat grinder. Also answering the questions about whether or not a kubbe attachment can be purchased separately
We took a look at some of the meat grinders that come with the kubbe attachment and serves another multipurpose while briefly talking about their descriptions, size and etc. some kubbe attachment were also mentioned with links to the product
To end it all, we took a look at other meat grinder accessories like the plate disc, juicer, sausage shredder and so much more. for a standard meat grinder, this attachment is found included in it
Now you have a total idea of what this kubbe attachment is and right now you should be sourcing out kubbe recipes to prepare.