The food processor is such a versatile tool and one can always ask the question if it can chop potatoes as it is known to chop vegetables. Your question is valid though, so let's get to it.
Food processors can perform an array of tasks such as slicing, shredding, grinding, pureeing, and much more in a fraction of time while saving your time. So to answer your question whether, in fact, a food processor can chop potatoes?  the answer is yes, they can be used in the food processor.
The rotary blades of the food processor allow for great processing and chopping of potatoes, and to make things easier, it saves more time. So, if you are stressed for time and you want potatoes chopped quickly, you may use your food processor.
You should however note that while you are saving time, you are giving up consistency, as food processors are not master of consistently chopped potatoes. The edge you have when you chop manually is consisently chopped potatoes as the rotary blades of the food processor do not allow for consistency when chopping.

I will advise you though, that you boil your potatoes before you go ahead to chop them in the food processor, also make sure you control your food processor to start and stop when due. So as not to over-slice the potatoes.
How do you use a food processor to chop potatoes?
Set up your food processor
Depending on the type of food processor, some may have an area where the potatoes will fit inside perfectly while others might not. Which means you can just use the wide mouth opening of the food processor. if need be, you may have to cut down your potatoes to fit into the food processor
Open the food processor and go ahead put your slicing disc into the food processor and put the top back on.
Turn it on and leave it on because when slicing you obviously do not want to use the pulse button
Put the potatoes inside the load area and using your own force, the weight of the food processor will pull the potatoes right through the slicer. You do not really need to use something to push it in. It is that easy and quick.
The slicing disc gives a uniform and perfectly even slice
How to clean the food processor after using it to chop potatoes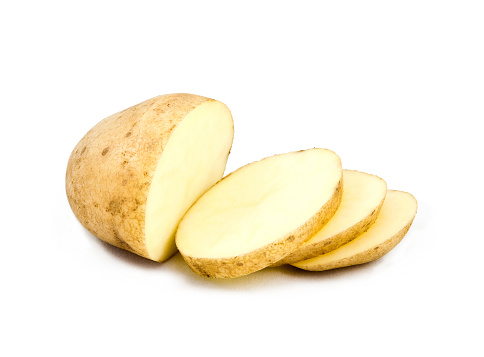 It is fun when using the food processor because it makes things quicker but cleaning it can be a bother and might leave you reconsidering when you are likely going to use it again
What you'll need
Warm water
Dish soap(a mild one)
Nylon brushes
Soft sponge or pad
towel
Step one: Remove the components of the food processor and take it apart
Every part and component of the food processor needs to be separate because tiny bits and pieces of the food can hide in some areas. You can start firstly by taking off the top of the food processor followed by the pusher unit.
Remove the blade and then go ahead and separate the food processor bowl from the motor. After removing the blade, it needs to be set aside somewhere because the blade needs to be cleaned specially.
Step two: Clean the blade first
The reason for washing the blades first is because when you soak the blades, the moisture can dull the blade, and also the food inside the tube attached to the blade or on the cervices might dry and be harder to rinse out.
So, washing the blade will keep it sharp and it will be very easy to wash out immediately after you use it. Using the mild soap and a pad/washcloth, gently wash the blade while avoiding cutting your hands.
You can use the small nylon brushes to scrub the tiny nooks and handle of the blade that may have been neglected. Rinse it off and then dry with a towel thoroughly making sure to dry all the moisture
Step three: Submerge the remaining parts in warm soapy water (except the base motor)
You can let these components soak for some while in the warm mildly soapy water. Wash these parts using a soft cloth or scrub brush keep in mind that the brush and washcloth should not be abrasive to avoid scratching the components.
You can also wash the removable components in the dishwasher that is excluding the blade and motor. Just put these components on the top rack of your dishwasher
Step four: Check the nooks and crannies thoroughly and wipe down the motor
Properly look at the tiny nooks or places that you might have missed and thoroughly check to make sure there are no longer bits of food there. Then take a damp cloth and clean the food processor motor. This does not need to be submerged in water, just simply wipe it down.
Step four: Allow the parts to dry
When you have finished rinsing the components, allow them to dry completely to prevent bacteria growth before assembling the component back together.
What other kitchen tools can you use to chop potatoes?
Cutting potatoes by hand can be a tedious and time-consuming task. Potato choppers are something that you should own in your kitchen if you are looking at ways to save time or simply just get the job done faster. They are a wide range of potatoes choppers out there with different blade sizes and shapes. The one thing they all have in common is that they all help save time. Below are four potato choppers that you should consider buying because they are amazing
Presto 02970 professional electric slicer/shredder
Potatoes, vegetables, fruits, cheese, and much more, this slicer/shredder do the work. It chops nut, grates chocolate and you can also use it to make bread and cracker crumbs.
This professional slicer/ shredder comes with added capacity and power. It has a big food chamber that holds whole potatoes and much more. It has so many uses like the slicing of vegetables, shredding of vegetables, chops nuts, and grates chocolate giving you the opportunity to make soups, pizzas, salads, tacos, etc very stress-free.
Details and features
This powerful professional slicer/ shredder features a strong powerful motor that comes with interchangeable cones giving you the preference of thick slices, ripple slices, medium shreds, and super shreds. A handy funnel for guiding the ingredient is included. This eliminates cleaning of extra bowls
This professional slicer/ shredder has a large food chamber which is able to hold whole potatoes and it is  also absolutely perfect for shredding cheese, slicing fruits, salads, and more
It is very versatile as it can chop nuts too, grate chocolates, make bread cookie crumbs, and cracker crumbs. it also has an adjustable food guide that can easily adapt to small or large foods
It is super easy to clean and apart from the motor component, all the other components are dishwasher safe. Very easy to store
Dimensions
11.5*8.5*4.12 inches
Item weight; 3.9 pounds
Mueller Austria adjustable mandolin vegetable slicer, cutter, shredder
The quality of this slicer, cutter, and shredder is unmatched at its price. This product is all about making your life in the kitchen easier, better, and even more enjoyable.
It has a white color and the blades are made of stainless steel. The cutter is perfect for chopping onions, vegetables, garlic, potatoes, etc.
Details
High quality; it is a very high-quality model built with the intent of lasting a lifetime, unlike some flimsy models. You can say it is unmatched by any other model that is under 70 dollars. You do not have to worry about the safety of the meals as it is made with ABS plastic which is nontoxic and a healthy meal is guaranteed.
This is an amazing addition to your kitchen. It comes with five blades for slicing, grating, and much more that can be interchanged. The setting gives an unlimited thickness setting which you can control with the thumb dial. Makes food prepping and clean up faster
Limitless possibilities with the fully adjustable slicer leaving you with many options. This lets your coking look professional even if you are not a pro and you do not have to break the bank. It has a slicer blade, wavy blade, shredder, coarse shredder, and a grater.
A replacement or full refund is given if you are not satisfied with the item
Dimension
13.5*6.26*5.08 inches
Item weight; 2.2 pounds
New Star foodservice commercial restaurant French fry cutter with suction feet
This is perfect for making French fries, sweet potato fries, zucchini sticks, and much more cutting the potatoes easily up to 6" long.it is very durable with a rust-proof solution.
The components are stainless steel and the body is made with heavy-duty cast iron. It comes with suction feet that are used on smooth countertops and this French fry cutter can be permanently mounted on walls or countertop.
It has also been tested to cut high volumes of carrots and other vegetables consistently.
Details
This French fry cutter saves time and cuts down labor. It is not only very versatile but this French fry cutter is also very convenient and efficient. It gives you the option of cutting other vegetables, onions, celery, peppers. These French fries are a huge moneymaker, so whether you are using this French fry cutter for your restaurant or food truck or just simply to have a professional cutter at home, this specialized tool is perfect and efficient.
It is very easy to use. The throw handle with just one stroke gives a smooth easy cut and when combined with the sharp stainless steel blades, it is very easy to use and gives no trouble
It is very durable. The stainless steel blades are very resistant to corrosion and the cast aluminum base construction sure holds up to wear and tear of daily use. This makes it very reliable and you do not have to worry about corrosion.
This French fry cutter is also very easy to maintain, assemble, and dissemble. It is advised that this item is only hand washed and sanitized to preserve the quality. The suction cups (four) is there to provide stability when it is placed on the countertop and prevent unwanted sliding when the French fry cutter is in use. The blades can also be changed to accommodate fluctuating menus
Dimension
13*8.5*14 inches
Item weight: 11 pounds
Professional potato cutter/ French fry cutter
It is great for cutting potatoes, carrots, and cucumbers with its stainless steel blade.
Details and features
The blade is of high quality made with 304 stainless steel which is engineered for years of use. It needs just a tiny effort to slice the potato, carrot, eggplant, onion, cucumbers into ½ inch thick strip. The blades never bend
You can cut through the potato with ease with the single lever action of the extended handle. This makes everything so much easier. The handle is also detachable and the French fry cutter also comes with an anti-slip sucker
The entire potato can be put inside and there is no need to cut the potatoes in half or quarter. This cutter box can take up to 5.58*3.51 inch potatoes. This cutter chops the whole potato in one go and is it is large enough for most potatoes, sweet potatoes
The potato cutter is very convenient and it is also god for cutting cucumber, zucchinis, and other vegetables
This cutter does not take up too much space. With its small volume and commercial-grade quality, it is very easy to clean and you do not have to be worried about rust
How to use
Clean a work surface and place the cutter there making sure the sucker is holding it firm
Peel the potato and slice off the end of the potato so it would balance easily on the cutting board
Pull the handle opening the compartment and then put the potato in making sure the flat end is facing the pushing plate. Then go ahead and push the handle arm
The blade of the French fry cutter needs to be cleaned after cutting two or three pieces of potato
Why this cutter is called the upgraded version
The capacity of this cutter which surpasses most cutters in the market holds the whole potato with ease
The sucker cup that comes with it keeps it firm and prevents moving while cutting
The rolling shaft design reduces the resistance while saving you time
The high-quality robust blade made for years of use would not break or even bend when chopping foods like sweet potato or even carrot
Dimension
10.23*5.22*7.87 inches
Item weight: 4.99 pounds