Making use of a Food Processor in your Kitchen makes cooking a lot easier and faster, hence, owning one would ease you off the stress of having to do tons of tedious work as a machine is within your reach.
Can you crush ice in a Kitchenaid Food Processor? YES! Why not? A powerful Kitchenaid food processor has been equipped to carry out the functions of crushing ice. All you need to do is throw a handful into your Kitchenaid food processor, and you'll come up with those cubes required to have a great cocktail.
Food Processors by KitchenAid is what I recommend; Out in the market for close to a Century or a bit more, the brand (KitchenAid) has been deliberate about food, and its products are topnotch for your use.
Kitchenaid food processors have got all of the features required to achieve crushing ice. Although, they do not advise users to grind ice in their food processors though, when you try to blitz ice in those higher-powered food processors, they can do the work.
Although there are usually downsides when one crushes ice using the regular food processors, making use of KitchenAid products has got fewer downsides than you can think or even imagine.
Technically speaking, it is important to note that for you to crush ice making use of your food processor, it (the food processor) needs to be strong and powerful enough to carry out the function.
If you go-ahead to use the normal chopping blade in your food processor to crush ice, you'll only end up having blunt blades, thereby making the product useless as the blade is what does the main work.
If you would be using the regular food processors to crush your ice, you should note that you won't just throw the ice cubes and begin to crush, but painstakingly, in a bid to reduce the risk of damaging your food processor as it wasn't originally designed to carry out this task.
While you're thinking of crushing ice using your food processor, it is advised that you crush them in batches in order to reduce the risk of damaging the blades.
Being a brand with strong food processors, you'll always get products with artisan quality and iconic design. Now, what makes KitchenAid products strong? It's just its artisan quality and iconic design.
As I earlier mentioned, this brand has been so much intentional when it comes to food and its processors, resulting in them providing you with all you need in your kitchen.
The right food processor to crush your ice cubes is one. Looking into the possible aftermath effects of crushing your ice with regular food processors, the KitchenAid food processors have solved the problem of worrying as there's nothing you cannot achieve when making use of their various products.
Why not come along with me on this quick expedition? It's really going to worth your while.
From what I have stated above, you could easily come to the conclusion that crushing your ice cubes in a KitchenAid Food Processor is utterly possible.
Features to look out for in your Kitchenaid processor to enable it to grind ice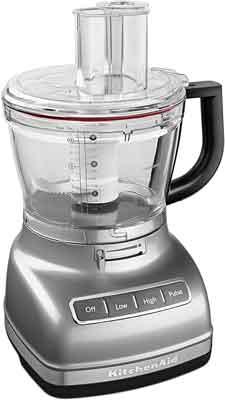 What features do you need to look out for to assert that your KitchenAid can really crush ice? Very quickly, let's take a look at them.
Power
Yes, one of the very important features to look out for when purchasing your KitchenAid Food Processor to see if it is capable of crushing ice is its power.
Knowing that KitchenAid Food Processors could be used for anything in the kitchen (kneading, chopping, dicing, crushing, grinding, etc.), the power ordinarily required to pulverize whatever you deem fit is around 1,500 watts or even higher.
However, if you wish to thaw your frozen fruits or smoothies a bit before blending or using small ice cubes, making use of a lower – wattage motor will suffice (say around 500 – 700 watts), bearing in mind that less powerful machines are usually budget-friendly.
The motor control in many cases usually senses contents and keeps up with optimal speed in order to efficiently crush ice cubes, puree soft fruits, and blend frozen smoothies, etc.
Blades
The blades are arguably the most important feature to be found in your food processor as they determine how smoothly you can blend your ingredients.
Simply having a combination of patented, sharp stainless steel blades with vortex action would do to crush your ice into the desired form. We've had people complain about their blades becoming blunt after crushing ice with their food processors.
Well, if you'd like to use a multi-purpose food processor as it is for KitchenAid products, making use of blade assemblies that have sharp edges and a large number of tips may best suit you.
Succinctly, the robust and powerful motor of the food processor, the stainless steel blades, as well as electronic controls all, combine to create a powerful vortex that is fast and thorough enough for exceptional blending results.
In addition, strong and durable blades are all you need to help you achieve the desired result – crushing your ice.
Durability

You should be on the lookout for the durability of the parts and warranty time-space of the food processor as they also lend credence to how well you can crush your ice cubes with it.
For instance, as earlier mentioned, having strong and durable blades will allow you to use the food processor for other purposes as the blades wouldn't get dull.
You of course want your food processor to be a long-lasting one, hence, using it as prescribed in the user manual / usual guide (if available) is strongly recommended.
Proper maintenance of appliances as such goes a long way to make them last longer.
See other features to look out for (although it is not very compulsory to meet up with the features below, it is however expedient to have them)
Quiet and smooth operation
Making use of a quiet food processor really pays off as noise in itself is pollution. One might begin to wonder how possible it would be to have a quiet process whilst crushing ice.
Certain food processors even by KitchenAid help eschew noise, hence, you wouldn't have to worry about noise whilst crushing your ice, thus, having a smooth operation.
Easy to use and clean – Food processors are meant to be easy to use, and after crushing your ice cubes or doing anything at all, the processor is meant to be easily cleaned
Versatility
You could use these food processors for several other purposes other than crushing your ice cubes, thus, making them versatile
See these KitchenAid Food Processors below – simply make your choice from them; to purchase, click the link of your selected product and place an order on Amazon:
Best Kitchenaid food processor ideal for crushing ice
See these KitchenAid Food Processors below – simply make your choice from them; to purchase, click the link of your selected product and place an order on Amazon:
KitchenAid KFP1133OB 11-Cup Food Processor
This product is a food processor with an exact slice system. It is made of Polycarbonate and is of the color – Onyx Black.
Interestingly, it has the high, low, and pulse speed options which would allow you to handle your ingredients properly and precisely as you want them – just with the touch of a button!
You would have to choose any of the 3-speed options to achieve the ideal taste, texture, and consistency that you desire. Most importantly, it helps you crush your ice cubes in a matter of seconds, simply make use of the pulse button for a better and quicker result.
Also, it has a 3-in-1 wide mouth feed tube which allows for large items such as tomatoes, potatoes, cucumbers, etc.
You do not have to worry about creating a mess of your Kitchen after its usage as it's got an ultra-tight seal with the leak-resistant ring, allowing you to fill the work bowl to capacity. Speaking of its power, this product is utterly powerful to crush your ice as established earlier.
KitchenAid KFP1466CU 14-Cup Food Processor
Similar to the product reviewed earlier, this one also has an exact slice system, and of course, helps you crush your ice. Peculiar to it is its dicing kit and contour silver color.
To make the work a lot easier for you, it is the industry's first hands-free dicing kit. Its extra slice system features optimized speeds – the high, low, and pulse speed options.
One stark difference it has with the product reviewed above is its 2-in-1 feed tube as opposed to 3-in-1 for the other product.
The feed tube lets you use either the narrow or larger opening during continuous slicing, crushing, or shredding, as it depends solely on the size of the ice. It also has an ultra-tight seal, saving your kitchen from being a total mess.
Ultimately, it has a 1-year hassle-free replacement warranty.
KitchenAid KSM2FPA Food Processor
This product is a food processor attachment, dicing kit, made of plastic, silver in color, with a blade made of stainless steel.
The product does attach to the power hub of your stand mixer and uses the power of the motor to operate the attachment to dice, slice, crush, shred, or juice your favorite fruits, vegetables, hard cheeses as well as ice cubes very quickly and easily.
It also has a wide feed tube which allows for a plethora of food sizes. Its extra slice system gives precise slicing and accuracy for all kinds of food.
KitchenAid 11-Cup Food Processor
This Food Processor possesses an extra slice system. It weighs 12.4 pounds and is of the color – liquid graphite.
It is capable of crushing your ice cube to the desired size so long as you monitor it. As the name suggests, it's an 11-cup work bowl food processor.
It features an innovative design with a one-click, twist-free, bowl assembly and lid that is very easy and quick to use, and clean.
To crush your ice in your food processor;
You are to take out as many ice cubes as possible (as you need) and put them in your food processor. If your plan is to crush a lot of it and perhaps store the rest for later use, it would be best that you crush them in turns.
Whilst you crush, it is advised that you put only small-sized ice in your food processor as it is much easier to crush that way – make sure not to fill your food processor with extremely large chunks of ice.
Once you have filled the food processor with the ice cubes, covered with the lid, crush the ice by turning on the pulse button control.
You are advised to turn it off at an interval of 4 seconds so that you don't get to over-crush the ice, bearing in mind that the more the ice is crushed, the faster it is for it to melt and become water, hence, diluting your smoothie.
At this, you should constantly check to see if the ice has been crushed to the level you desire.
We cannot rule out the fact that a percentage of the ice would have gotten melted and become water. In the light of this, you are advised to strain out the already melted part into your zinc by making use of a sieve.
You are to make sure that there is no water at all in the crushed ice as the water will only help you melt the rest of the ice.
Once this is achieved, you are good to go! Simply pour the already crushed ice into your drink. If it seems to be more than you need, you can always store the rest of it in a Ziploc bag and then put it in the freezer afterward – it'll be useful for future purposes.
How to care for your food processors after crushing ice?
Caring for your food processor simply means paying close attention to and giving it proper maintenance, keeping it in good shape as well as keeping it clean especially after each use.
No one needs to be told that they ought to properly and thoroughly clean their food processor before and after use; be it after crushing ice, blending ingredients, or what have you. The question now is 'how do I go about cleaning my food processor before and after use?'
To clean, you'll have to separate some parts of the food processor
Taking off the top, removing the pusher unit, taking out the blade, and taking the bowl off the motor. It is a known fact that bits of food can hide in any of these places, thus, separating them would make cleaning a lot easier. You should however set the blade aside for special care.
Wash your food processor blade immediately
The blade is meant to be washed immediately after use as moisture from ingredients can cause the blades to become dull. It also prevents food from drying in the crevices or tubes attached to the blade as it'll be easier to rinse off that way.
Also, you should take care not to cut yourself with the blade, hence, gently scrubbing using a mild soap and a pad would do.
Afterward, dry the blade using a dish towel to avoid moisture which will eventually lead to rust.
Wash the removable parts
Wipe down the base
Fully dry and assemble the processor
If your processor is smelly, simply employ the use of a baking soda mixed with water. Store the mixture in the bowl of the processor for about 10 minutes then rinse thoroughly – the baking soda absorbs the bad odor.
Final thoughts
Finding the Food Processor that best suits your needs (chopping, dicing, crushing, grinding, and other food prep needs) may be very much challenging.
However, with this article, I have been able to help you find the best options available. It might interest you to know that the best of Food Processors aren't usually the most expensive as it has been believed to be – you could as well work with your budget.
If you've got any comments to make, any recommendations, suggestions, etc., simply drop them in the comments section below as I'll appreciate it; if it is a question, perhaps you wish to make further inquiries, and I'll attend to them very swiftly.