If you want to become a great chef like Gordon Ramsay, then you need to consider the cookware he uses. Apart from having the right skill, knowledge and great recipes. Having the right kitchen essentials can make your cooking a ton better, and that is exactly what Gordon Ramsay does.
What kitchen cookware does Gordon Ramsay Use? Gordon Ramsay uses mostly, cookware made by ScanPan, the Wüsthof and Henckels knives, M.V. Trading MTP92stine granite mortar and pestle, Mauviel M'Steel Carbon Steel Skillet, Gordon Ramsay digital toaster amongst others.
Here is the breakdown of Gordon Ramsay's kind of cookware.
Non stick

8-10"

frying pan cookware for Omelette made by ScanPan

Non stick 11-12

"

frying pan cookware used in general frying by ScanPan
ScanPan Sauce Pans
Wüsthof and Henckels cookware knives

Mauviel M'Steel Carbon Steel Skillet Cookware for meat and steak
You don't have to break the bank to use exactly these Cookware, but you can research the suitability of the cookware that Gordon Ramsay uses and find out if there are substitutes that are available and within your budget.
In this article, I'll break down the types of kitchen equipment that Gordon Ramsay uses and also remember that along with the proper skill to become a great chef, you require and need also proper types of kitchen equipments to carry a kitchen.
All this combined makes sure your food comes out as delicious as it can.
Gordon Ramsay uses quite several kitchen equipments when it comes to grinding, processing, and blending. As he said Cooking great food does not mean you have to spend a fortune on kitchen equipment and just having the basic essentials, you will be set in the kitchen.
We will go into details about the kitchen equipment Gordon Ramsay uses along with the pots, pans, skillet, and other cookware.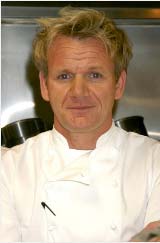 Fry pan with lid
The Scan pan frying pan is still Gordon Ramsay's favourite to use. The ScanPan frying pans are safe to use, they are very washable that you can wash in your dishwasher, PFOA free and you can use them in the oven without any fear.
Gordon Ramsay suggests buying an oven proof frying pan with a metal handle if you want to cook like a professional. You can then finish off your dishes in a hot grill or the oven keeping in mind to note that the handle of the frying pan when you take it out of the oven will be hot.
He also suggests if possible getting a high quality non stick frying pan that has a thick heavy base to distribute the heat evenly.
Buy the Scanpan Professional Fry Pan
Non-stick fry pan
Gordon Ramsay uses the scan pan brand pans for the same reasons stated above.
These scan pans are of very high quality, use little or no oil at all, non stick, they are PFOA free and they have a thick heavy base that evenly distributed heat.
You can equally just purchase a reliable, affordable pans that are nonstick and have a thick bottom. It will do the work just fine. This pan works well for searing, deglazing, braising, and browning.
Buy the Scanpan Non-Induction Fry Pan on Amazon.
Wüsthof and Henckels Knives
The Wüsthof and Henckels knives are a brand of knives that Gordon Ramsay uses. Knives are a basic essential that you need in your kitchen. Gordon Ramsay recommends three basic knives that are essential, heavy duty chopping knives, a small pairing knife, and a serrated knife.
A pairing knife is used by Gordon Ramsay for prepping vegetables and peeling fruits, serrated knife for carving and slicing.
Note that it is better to have just a small set of some good quality knives than a whole bunch of bad low quality ones. Before buying a knife, hold the handle and make sure you're comfortable with it and the grip is firm as this makes cutting so much easier.
Buy the WÜSTHOF Gourmet Knives.
Buy the HENCKELS J.A International Modernist Knives.

ScanPan Sauce Pans
Gordon Ramsay uses pans made by Scanpan and also Gordon Ramsay by Royal Doulton Stainless-Steel 8-Quart Pot. A medium sized pan and a large pan is basically what is essential and this reduces cost. The smaller pan is great for sauces, heating rice and liquid.
The larger one on the other hand gives you the space, it is great for cooking in bulk, making pasta, soups, stews. They are made from copper to stainless steel.
When purchasing, find what is right for you, buy the best sauce pan that you can afford, and make sure to get a lid for the sauce pan as this will help the pan heat up as quickly as possible.
Gordon Ramsay says that a secret behind a great sauce pan is that the heavier the bottom, the more heat it will conduct while the thinner the bottom of the sauce pan, the more likelihood of the sauce pan burning with food.
If you take good care of your sauce pan, they are able to last you for years and in the long run, saving you money.
Buy the Pans made by ScanPan on Amazon.
Mauviel M'Steel Carbon Steel Skillet
The Mauviel M'Steel Carbon Steel Skillet is Gordon Ramsay's favourite. For searing food quickly or blackening food fast, cast iron is the way to go.
Just put the food on the cast iron skillet on a very high heat and it will stay hot. To achieve a similar output as a nonstick pan would, just season the cast iron skillet correctly.
Buy the Mauviel M'Steel Carbon Steel Skillet on Amazon.
Other cookware that Gordon Ramsay uses are talked about below
Pestle and mortar
Gordon Ramsay uses only this kit to grind spices and get the most out of them. The M.V. Trading MTP92 stone granite mortar and pestle is what he uses.
They are essential for any good kitchen and they look fantastic. Although they are ancient kitchen tools, they are almost perfect for everything. The mortar and pestle are so versatile and worth its price.
They are used to grind spices and herbs and the mortar and pestle maximize their flavor. The texture gotten from using the mortar and pestle to grind is perfect and you are equally in control of how you want the texture of the spice and herb to turn out.
When buying one, a mortar with a large nice circumference is ideal so you can grind easily. Most times, the more heavier they are, the more durable it is and it also gives you more comfort when you are pounding.
Grind spices, herbs and make pesto, dressings, even pound garlic, and much more with the mortar and pestle. When using the mortar and pestle, it gives a more earthy texture than what an electric blender or food processor will grind.
Buy the M.V. Trading MTP92 Stone (Granite) Mortar and Pestle on Amazon.

A peeler
Gordon Ramsay uses a stainless peeler, the fast ones that are light, have silver blades with enough flexibility. See an example of a typical Gordon Ramsay Stainless steel peeler on Amazon.
Good peelers are not that pricey and they are great for things like peeling vegetables to making chars of chocolate and slicing cheese finely with minimal waste.
Any peeler with a good comfortable grip and a sharp blade will always work fast.
Grater
According to Gordon Ramsay, the box grater is another versatile tool he deems essential to a kitchen. It has sides for coarse grating, fine grating, and super fine grating with blades for slicing.
The box grater one with a solid handle is good for a lot of things, from shredding onions thinly, zesting oranges/lemon to pureeing ginger. While grating, place the grater directly into the bowl and grate, it's that simple.
Gordon Ramsay Everyday 12 Piece Multi Blender
Gordon Ramsy uses his Gordon Ramsay Everyday 12 Piece Multi Blender along with his Gordon Ramsay by Bamix Hand Blender.
The blender is another kitchen essential, not only does it grind and process, it can be used for soups, making aioli, smoothies, making smooth purées, and much more
Gordon Ramsay pro food processor
He uses Gordon Ramsay pro food processor. The food processor is another versatile kitchen equipment. The food processor is used by Gordon Ramsay for making crumble toppings, pastry, pasta dough.
A recommended food processor is one with a low starting speed as most of the food processors are really powerful and can easily just blow your flour and other ingredients around the place when you switch it on.
Whisk
For sponges and meringues, Gordon Ramsay uses the electric whisks.
Chopping board
Gordon Ramsay uses the boos block cutting block and any wooden board that is sizeable, he suggests buying. A great chopping board is very useful and serves a long way.
Gordon Ramsay prefers a heavy duty chopping board as they are much more durable and can be flipped anytime you want to change from cutting vegetables to prepping meats or fish. Buy the wooden chopping board that you can afford.
The chopping board Gordon Ramsay uses is not susceptible to slipping when in use but he suggests using a little towel underneath your chopping board if it slides to prevent that. Wooden chopping boards are always the best as they are easy to clean and are long lasting.
The wooden chopping board can be cared for by rubbing oil on it often times, any type of cooking oil can do the trick.
Note that you should never put the wooden chopping board in the dishwasher or let it soak in water while washing the wooden board as it may start to split. Take good care of it.
Knife sharpener
They work great in making sure your knife stay sharp always
Casserole dish
Casserole dishes and very versatile and also a good investment as you only need one which lasts long if taken care of well. The casserole dish is essential for a good home cooking. It is made of cast iron and this conducts the heat.
This allows you to have the gas lowered to the absolute minimum or the oven reduced to the lowest setting and your food will cook naturally. Absolutely great for one pot dishes.
Roasting tray and baking tray
The baking tray is great for making bread, baking whole fish and they are very affordable. A roasting tray with two handles is fantastic for roasting whole chicken and finishing gravy. A more solid tray is better.
Scale
A digital scale with a large display (like this one on Amazon) is what Gordon Ramsay uses. The scale has both imperial and metric functions and allows you to easily subtract the weight of the container to show only the value of the food being measured due to the tare function.
Digital scales are so easy to follow and can convert from pounds and ounces to kilos and grams. They are also so much easier to use
Thermometer
With the use of a thermometer, you do not have to guess when cooking meat. There is the instant read thermometer which works for on and off reading.
Alarm thermometers let you know when the temperature has reached the level that was set while the probe thermometer comes in handy when roasting meat and you want to be certain the center is cooked.
Strainer and sieve
Both are needed for straining sauces, draining vegetables, sieving flour, and much more. A sieve with a long handle is preferably and it should have balance hooks so you are able to rest it over the mixing bowl or pan, it is is as easy as that.
The sieve is an essential kitchen tool to have in your drawer as the cost is very cheap but it is highly effective especially when it comes to baking. Baking combined with the scale sets you on the right track to baking like a professional
Finally
In summary, we have talked about the kitchen equipment and cookware that Gordon Ramsay uses while also clarifying that you do not have to spend a lot of money on fancy equipment. If you just get some basic essentials then your kitchen would be set.
As one of the reputable names in the culinary industry, Gordon Ramsay's kitchen equipment are top notch. One of the reoccurring things here was that most of this kitchen equipment are so versatile when using.
Again, before trying to learn how to cook like Gordon Ramsay, make sure you have the right equipment. Because then you can get the best results while cooking his recipes.
I hope that this article has given you a guideline about the different kitchen equipment Gordon Ramsay uses and that now you can be able to invest in durable and high quality cookware he suggests because they are vital to helping you pursue your passion.