It is very easy to make a mess when you put your hand mixer into use for mixing. To avoid flinging batter or dough around your space then you need to really understand how to use your hand mixer without splattering everywhere.
I am sure you must have once questioned yourself how some people can keep the kitchen and their clothes neat after using a hand mixer, there is a secret behind it.
Splattering liquid is one of the major reasons why some people don't like using a hand mixer. If that's your nightmare about a hand mixer too, consider it gone from now on.
You can take advantage of the wax paper. That's the magic phrase – take advantage of the wax paper! Or, spend 1 hour cleaning your clothes and countertop.
How to take advantage of the wax paper:
Get a sheet between the beater attachment and the body of the hand mixer.
Ensure that the beater has enough space to spin freely around without making the sheet an obstacle.
Once you are done using your mixer, just pack your sheet like mat along with the mess and you have saved yourself from spending hours cleaning yourself and the kitchen.
Let's get into proper steps to use hand mixers without making a mess of your kitchen countertops and surroundings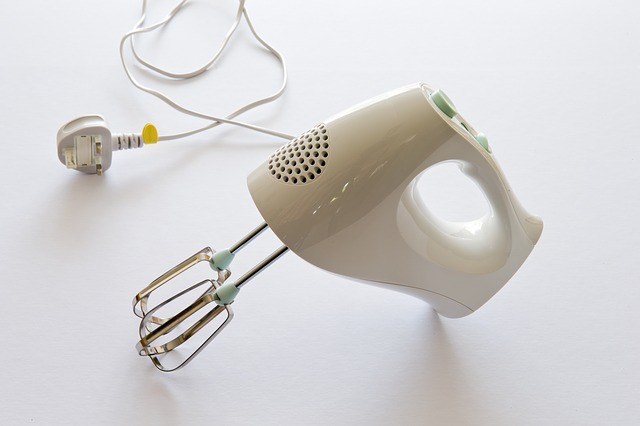 Steps on how to use hand mixers effectively without making a mess
Step 1: Ensure that the bowl you will be using it is deep or narrow
It is important that when you are making your mixer to mix, the bowl you are to use must be deep.
This will allow for deep and consistent mixing without your mix having to splatter all over the surface where you are using your hand mixer. A deep mixing bowl like this one on Amazon will just be suitable as a mixing bowl.
Step 2: Place your bowl on a soft conduit before mixing
Do not allow your bowl or wherever you want to insert the mixer be on a flat surface. There must be like a conduit between your bowl and maybe your flat table.
An example is your thick kitchen towel folded circularly or in fours before placing your narrow bowl on it on the table.
This will allow for rigidity and stability as you use your hand mixer in the bowl or container.
Step 3: Start from the lowest speed when mixing
Starting to mix from the highest speed may increase the likelihood of spatter all over your kitchen.
So I would advise that you start first from low speed and then gradually increase as you intend to achieve a uniform consistency for your mix.
You get?
Step 4: Circle your mixer in constant motion as you mix
Move your mixer constantly to whisk in a circular motion along the same direction.
If you are whisking clockwise, let your mixer circle your mix in that motion consistently circularly and through the centre to bring all ingredients together until you get your desired mix.
If you will also mix anti-clockwise, ensure you move your mixer around in a circular motion in that direction for you to ensure a constant and consistent mix.
The unmixed parts will stick by the side of your deep bowl, so use a spatula to scrape the unmixed parts into the bowl to keep the bow from being messed up and to also allow for consistency of the mix.
Step 5: Carefully remove batter stuck on your mixer into the bowl
Now to get the batter off your mixer, you'll need to remove the mixer from the bowl. However, you'll keep the mixer below the lip of the bowl but not touching the batter in the bowl anymore.
Turn on your mixer to mix for some seconds to allow the batter on the mixer base to get off into the batter in the bowl.
Ways to handle your hand mixer carefully
Here are some secrets that will help you master the use of your hand mixer.
Are you ready? Now enjoy your new experience, enjoy your cooking engagement.
Follow the Manufacturer's Instructions
Being humble will not cost you a dollar and still, you will be successful in your path to greatness. The first thing to do before using your hand mixer for the first time is to read the user guide.
This will guide you on how to efficiently use your hand mixer. Although, most of the hand mixers come with similar instructions but the manufacturers are different remember, and as well they know more about what they made by their own hand than the end-user.
To enjoy The durability of your hand mixer, and improved safety reasons, the manual guide is your best companion.
The manufacturer will provide you with enough valuable advice that will guide you in how to quickly fix any technical problem that may arise while using your appliance.
This will save you the time of going to amazon to give bad reviews about a product that will have served you better if you have read the manual carefully.
To save your time and money, stick to the user manual.
My advice is that you should purchase the hand mixer that has detailed manual information.
Don't allow water touch sensitive parts of your mixer
I have to emphasize that you shouldn't allow water to touch the sensitive parts of your mixer the reason is that a hand mixer should work with water and other liquids.
Remember, you will need water to clean the machine especially when it dishwasher safe and most of the hand mixers are water safe systems.
Which parts are then sensitive to shock? The hand mixer, the cord, plug and body are the sensitive parts water must not touch. You got that?
It means your mixer will become useless if you make such an expensive mistake. Huge blaze might embrace your kitchen and if care is not taken, you might also receive a warm hug from the flame if the cord and plug are wet.
Another thing that could possibly occur when these parts are wet is that you might get an electric shock. Have you been grabbed by a giant before? If so, how did you feel after he or she released you?
Good, I don't need an answer. You must be careful using the mixer and avoid water from touching the mentioned parts while using it.
Have the knowledge of how to use your mixer
Every kitchen appliance comes with some attachments or tools that allow your creativity comes to reality. You must learn how to use your mixer as may be necessary.
This knowledge will give you more advantages and then the end result will be that your mixer will serve you right and also last longer because you have mastered it.
You can choose to read the directions once more so that you can memorize the most important steps to take while handling your mixer for any purpose.
Know the kind of ingredients a specific tool is used for, that will save your time make also make your work faster. For instance, you can:
Use a dough hook to make your dough
Use a simple Beater for ingredients such as whipping your cream or eggs
Use a wired beater for aeration.
This is how you will be able to achieve the best out of your hand mixer.
There is a button common with all hand mixers, it allows you to alter different beaters when you press it. Ensure you know the exact button instead of forcing the accessories out less you break your machine into pieces.
Store your hand mixer carefully
The good news is that most of the hand mixers come with built-in storing box unless a person is not aware. For instance, Hamilton Beach 62695V power deluxe hand mixer comes with a built-in storing case to ensure that the entire items are safe and protected.
There are some products that don't provide a built-in storing case, if yours is that type, don't worry there is an alternative way to tackle it. Find a box that's dry and store the appliances.
This can prevent your mixer from getting damaged just like that. Don't forget to ensure that the entire tools are dried before putting them in the provided box.
Remember, if your appliances are wet, they will be easily covered with rust and dust due to oxidation.
Best hand mixers to use
I am very sure you will enjoy using hand mixers now since the secret to curbing the mess it causes has been revealed. This gives me the confidence to select these hand mixers as recommendations.
Cuisinart HM-90S Power Advantage Plus 9-Speed
Here are the features of this hand mixer:
It is a machine with 220watta motor and automatic feedback
It comes with simple on and off button, 1 touch speed control and 9-speed options for your convenience
It is BPA free as said by the sellers on amazon
It has 3 low start speeds that can prevent ingredients from splattering and comes with built-in storage case.
KitchenAid KHMB732VB Cordless Hand Mixer, 7 Speed, Blue Velvet
This is another powerful hand mixer I can recommend to you so you can enjoy the benefits that come with it. The features are fantastic too and besides that, made by the popular KitchenAid brand.
Question and answer about hand mixers
What can I use in place of a hand mixer
Sometimes a hand mixer may not be available and then you are forced to use something else, what will it be?
Perhaps you don't even have a food processor too. You can use two table knives to cross-cut into ice-cold butter
Can you hand mix instead of a mixer
There is no recipe that cannot be made by hand after all recipes of all kinds have been in existence before the arrival of mixers.
Using a hand to mix does not change the ratio of the ingredients it may only take you time to prepare food, unlike the hand mixers that deliver faster.
Having observed the best hand mixers around the world, I am sure you will be ready to experience the best taste they can give you. Each of the mixers is excellent in their performance and for sure you need to grab one of them to prepare delicious foods for yourself and family, your friends included.
Hand mixers are not immersion blenders, this should be noted. There could be some similar jobs they can offer you such as mixing egg and butter but hand mixers will do the job better compared to hand blenders, just like hand blender too will blend food items better than how a mixer will do, that's if they can actually blend.