I made a very silly mistake when I bought my first marble mortar and pestle. I went ahead to grind cinnamon sticks in without seasoning it. Oh, what an error. I definitely had to pour away that cinnamon. The mix of sand in my ground cinnamon rendered it unusable.
My mistake?
I failed to season my marble mortar and pestle when I bought it.
The surface of your marble mortar and pestle may be deceptive, as you may believe the smooth surface means a smooth grind! Well, let me story serve as a lesson to you.
So, does a marble mortar and pestle need to be seasoned? You definitely need to season your marble and pestle after purchase in order to remove all forms of grit, dirt, stones, and any other particles that may have stuck in the mortar and pestle prior to purchase. The first-time seasoning allows you to remove all these particles and enables you to have a smooth grind devoid of unnecessary alien additions.
It is not only the marble mortar and pestle that needs to be seasoned, every new mortar and pestle needs to be seasoned so that you can remove any available grit from the inner part of the mortar.
When talking about one of the best tools ever discovered on earth, mortar and pestle cannot be easily excluded and will continue to be the peoples' favorite if they must go traditional once in a while. Having this tool in your kitchen; is a perfect decision to work with all kinds of recipes.
Mortar and pestle are especially important in making spicy foods. So, you can use it to grind spices,  you can mash ginger and garlic with it and then grind delicious chilies and sauce, salsa, and marinades as far as you desire. For this reason, mortar and pestle is a great tool for the kitchen.
How to season Mortar and Pestle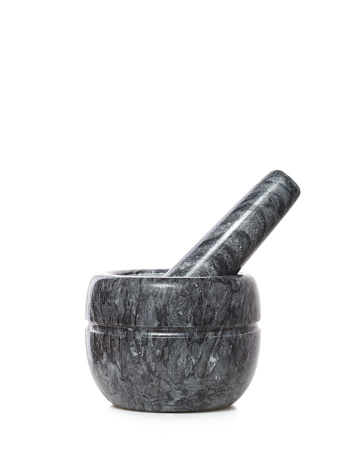 If you are in a hurry and just want to season your marble mortar and pestle quickly, then just take a dig at my outlined suggestions below.
Wash your mortar using hot water and allow it to dry. Don't wash a mortar and pestle with soap as it will spoil the flavor of any ingredient ground in it.
You may want to take it to the car wash too so that it can be washed with the pressure water coming out of the pipe, but the next step is agreed upon as the best.
Put a small amount of uncooked rice and grind in the mortar, do this several times in batches until the entire surface is completely neutralized.
Be careful so that the rice doesn't jump out of the mortar.
After grinding batches of rice, you can also grind some cloves of garlic
Add salt, sugar and lastly, peppercorn, match them into a paste and use the past to rub the sides of the mortar.
Wash the mortar with hot water, and allow it dry; if done well, your mortar is now seasoned and is ready to be used.
The reason why you must cure your newly purchased marble mortar is that it comes with a porous surface that the easily release some hidden particle into your food.
The particles are not just sand, including grit, and stones when using t for the first time. It is important to prepare your mortar and pestle before use so that you are free from unwanted dirt in your ingredient.
The detailed steps in seasoning your marble mortar and pestle are as follow:
Step 1: Rinse off the Dirt from your Pestle
The first step you should take when curing your mortar is to first of all rinse off the dirt with clean water. You have to do this because it helps get rid of the grit and dust that may be attached to it.
You will not stress yourself since all you need to do is run water over the mortar and pestles in a number of times. If you don't want it that way, you can get a sink and fill it up with water and then submerge your mortar and pestle in it and then swap out the water several times.
You can also leave the mortar and pestle soaked in water overnight if that's your choice. These entire steps are the first vital steps to seasoning your new mortar and pestle.
You may also want to use pressurized water to wash your mortar and pestle so that it will be thoroughly washed out the grit and dirt with the pressure that comes with the water.
Another thing you may want to use is a garden hose, and these methods are super recommended.
How do you do this pressure water washer method? Using the pressure water washer; spray the mortar and pestle for about 6 minutes.  Continue to spray the water until you are finally satisfied that debris is not coming out again.
The fact remains that this step cannot get rid of the dirt that comes with mortar and pestle completely.
Step 2: Use White Rice and a small amount of water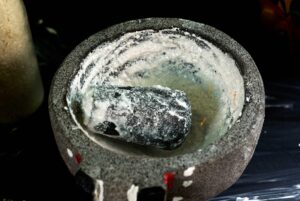 Get some amount of rice and then pour in your mortar, add a small amount of water, for instance, you can add like 1 tablespoon of water.
Ensure that the rice is white so that you can easily spot dirt as they come out of the mortar while you gently grind the rice. Some people don't add water to the white rice in this process.
Any means you make the seasoning; there is no problem the result is what matters.
How you should grind the rice to cure your mortar and pestle
Grab your pestle in your right hand (if you are used to right hand) and then hold down the mortar with your left hand. Begin to grind your rice in a circular motion all around your mortar.
Ensure that you grind the rice around the entire part of the mortar, both the inner surface of your mortar.
After minutes of grinding the rice, you will realize that the rice will turn into a gray-colored paste. The pestle too will be covered with gray paste.
This is an indication that the rice paste has been removing the dirt and debris from the whole of the marble mortar and pestle.
Step 3: Rinse and Repeat
After the appearance of the gray paste, it is now time for you to rinse both the mortar and pestle and then pour some little amounts of rice in the mortar again, and add a small amount of water and then repeat the same step above.
If you still encountered gray paste, brush the paste with a kitchen brush and throw in a garbage can. Then, rinse the mortar and repeat the same step several times until you can no longer see a gray paste.
At this point, you can now rinse your mortar and pestle, thoroughly before you finally are able to cure them of dirt and debris. Grind your ingredients conveniently using your mortar and pestle.
Products you need to season your marble mortar and pestle
There are different products you can use to clean your marble mortar and pestle. A tool like cleaning brush will go a long way to help remove the gray rice after using grinding it in the mortar to remove debris and dirt.
Probably during the process of curing your marble mortar and pestle and you got some stains, you can apply chlorine bleach to the stained spot and then get it off in a few seconds.
After the initial curing of your kitchen tool, you may subsequently want to clean it based on the nature of the stain, t may not necessarily mean that you want to get rid of stocked dirt or debris again.
Sometimes, the stain may involve that you need to use a scraper, or maybe you will need to apply some liquids to get rid of unwanted stains too.
You can also use a Drill Brush Power Scrubber tool for cleaning. This is a brush cleaner that is very effective in removing unwanted dirt or debris from any surface, meaning it is versatile especially or marble, lava, and granite surfaces.
If you are planning to clean your mortar and pestle made of marble, this is your best choice as far as I am concerned.
A Grout Removal Tool for mortar and Pestle can also be used to scrape off dirt from your marble mortar and pestle. The scraper tool is versatile. It removes dirt and debris from tile joints, removes, grout and other unwanted stains from your appliances at home.
Summarily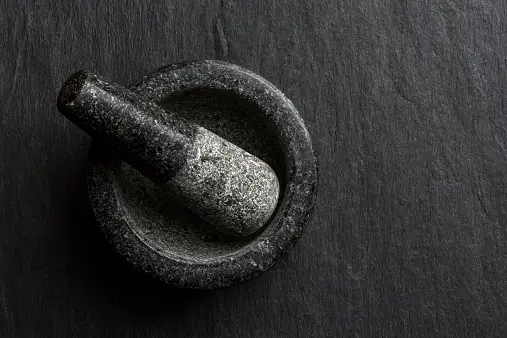 It is an ideal decision for you to prepare your newly purchased mortar and pestle before using it. the reason why you should do so is that it helps to remove the industrial dirt and debris that may come with it.
There are different steps through which you can get that done, and I was able to demonstrate some steps above. Apart from the traditional means to get rid of stains, dirt, and debris from your mortar and pestle, there are also products in the market such as cleaning brush, chlorine bleach, and the rest that are mentioned.
Sometimes, some stains may be very hard to remove even at the back of your mortar not necessarily the inner surface; making use of cleaning tools will not be a bad idea.
I recommended the entire products featured in this article to you so that you can easily clean all kinds of surfaces apart from mortar and pestle surfaces. These means the items are all versatile and will add value to your investment.
To round everything up, it is very important for you to cure your mortar and pestle before making use of it; this act will not only make your newly purchased product clean to use but will prepare it for grinding your ingredients in the subsequent time to come.
You can re-prepare an old mortar and pestle but never wash this great appliance with soap or detergent as it will contaminate the taste of your recipes due to the residue that may be trapped in the hole of your mortar or pestle.