Here, you will find out if, indeed you can grind meat in your ninja blender. Commercial blenders are capable of performing many tasks like grinding meat but these blenders differ from each other because they are mostly not of the same capacity which means that some are more powerful than others.
No matter what you want to perform with your blender make sure your blender has the capacity of handling such a task before you try to use it for the blending. Check how powerful the motor of the blender is and how sharp the blades are.
Can you grind meat in a Ninja Blender? You can surely grind meat in a Ninja blender, however, you should note grinding meat in a blender can overwork the blender motor if the motor is not powerful enough and it can cause some resistance by making it hard for the blades to rotate.
Although it depends on the type of meat-type and texture that you are blending, some may be quite easy while others like steak may be difficult and could take a long time before it blends completely.
Many people around the world especially bakers cannot do without grinding meat. It is one of the prime ingredients for many kinds of dishes like a burger patty, meat pies, sausages, meatballs, etc. Blender is one of the easiest and fastest ways to grind your meat even though we have other kitchen appliances that can be used in grinding the meat.  So, you have to choose a quality blender to get quality ground meat, and you can surely ground either raw or cooked meat using your blender.
The best machine that I'll advise you to use though is a powerful meat grinder which is made specifically to grind different meat types. It is quite possible for a Ninja blender to get the work done, but you should be sure that the meat type can easily pass through and be blended by your Ninja blender.
Why a Ninja blender?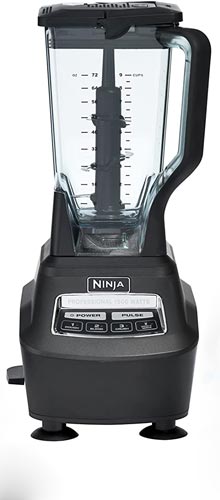 Ninja is an excellent blender that can deliver unbeatable professional performance with its sharp blades that pulverize, slice, dice, grind, blend, and mix ingredients within a second. The Ninja blender is a high-powered blender that is very durable, lasts longer than many blenders, is very easy to maintain, and can help to serve many purposes including grinding meat.
Although it varies from model to model depending on your choice and the things you will be using the blenders for. Ninja blenders generally are always made of high-quality materials and most of them are capable of handling every cooking task.
Most of the models come with a big pitcher of about 72oz. and has an Auto-IQ technology feature with different programs or precepts for easy blending, ultra-blending, pureeing, chopping, pulsing, or making smoothies and frozen drinks.
The Auto- IQ programs also help to blend manually at low, medium, or high speed. It is also made for easy cleaning, and all of the attachments of Ninja are dishwasher safe. Having a Ninja blender alone can serve many purposes and you don't need a bunch of accessories that need to be stored everywhere around your kitchen, and that's what makes this blender different and outshines others.
The Auto-IQ programs make it easy to get the perfect results every time you want to blend anything including your meat or any other food.
Even though most Ninja blenders are made of plastics material but they are well-built and they feel sturdy. The design can easily be cleaned by putting the jar, lid, and blade assembly into the dishwasher.
Apart from the large jars that can help to serve the whole family food, some also come with a personal jar or two with many other attachments like a dough blade or a micro-juicer, so that you can take your blends with you everywhere you go and for more versatility.
However, the major backside is that they tend to favor preset speeds rather than speed dial and most of the Ninja blenders cannot be used for making hot foods or soups.
What are Ninja blenders used for?
Ninja blenders are undoubtedly one of the best blenders that are available around the world, it is an effective blender that can perform many tasks around the house. It can make smoothies perfectly, crush ice, chop up small batches of vegetables for making soup, and can grind your meat but only a few models can be used for mixing and kneading your dough for baking.
Although some of Ninja models are called Mega kitchen system and can be used as a professional mixer to create your cookie dough, for making your cake batter, and also for beating egg whites for your meringue cookies or any other baked food.
The Ninja blender can even perform some functions of a food processor at home. It can satisfy up to 90% of your blending and processing needs at home. So to a certain degree, the Ninja blender can be used to replace your food processor.
Reasons for blending your meat
Blending ground meat at home by yourself is better than buying it from the supermarket to prevent cross-contamination and also to be sure of the quality of the meat you consume. By blending it yourself, you can blend in your spices right into the meat while it grinds for easy meal preparation and you can get to choose the type of meat that is suitable for your meal instead of buying what you are not sure of.
Blending your meat yourself can help to save costs. Packaged ground meat or beef can be overpriced because it is more like you are paying a convenience fee. After all, the meat would have passed through many stages, from the butchers to grounding, to extra packaging and also displaying measures, all these are summed up and that is what brings about the high price.
Your health is more important and that is why you have to be watchful of what you consume. When you grind your meat by yourself you are in control. Your meat has to be freshly ground. Ground it up as soon as you buy it to avoid some form of bacterias growth on it. Also, ensure you make your work area as safe and clean as possible.
The ground meat at your local stores may not be fresh and might have been placed on the grocery store shelves for a very long time and it may not even be ground at the store itself. Buying the freshest meat cuts and grinding them in your blender is the best to retain the freshness and nutrients in the meat.
You will retain that reddish pink color throughout the grinding process. Seasoning the meat to your liking and grinding it with control over what you want to add to the meat is a guaranteed way to have much tastier meat after being cooked.
There is a lot of difference between the meat that you grind at home using your blender and the pre-ground meat sold at the store. Just put them side-by-side to see the comparison, you'd be surprised at how different they appear.
Things to consider before choosing a Ninja blender for grinding meat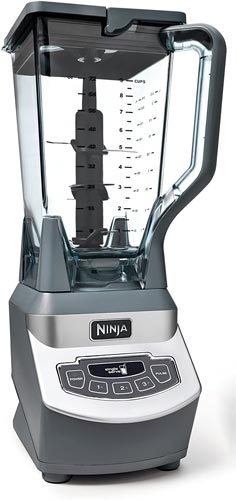 Ninja blenders are made of different types based on needs, demands, and the amount a customer is ready to pay for it. The blender you want to get for grinding your meat must be a heavy-duty blender. A Ninja blender that is powerful enough to grind anything and everything without failing.
Before considering choosing any Ninja blender for grinding meat, make sure you check the following measures well;
Powerful motor
A higher power motor in a blender is very necessary for blending meat. Ensure the blender is powerful enough, with that you will be certain of a smooth and efficient operation. Consider having nothing less than a two-horsepower motor, it will give plenty of speeds to perform an easy and quick blending of your meat.
It will help to save time and energy as you do not have to wait for long before getting the result and it helps to get a perfect blend and gives a better taste of the mixed ingredients.
Blade
Sturdy and sharp blades in a blender are a major component when blending your meat. Strong blades help to determine the speed of the blender. When you have high quality and shape blades in a blender, crushing your meat will not be a big deal and with other hard foods.
It is majorly for cutting through food at a very high speed. A high-quality blade is made of durable and strong stainless steel that cannot rust. Rusting of blades would endanger the health of the users.
Blender Container Material
Blender containers are made of so many materials but the most common ones are glass and BPA-free plastic materials. Even though both are easy to clean and they are dishwasher safe but it is best to go for the glass material over the plastic ones because, with constant usage, the plastic materials tend to absorb the fats from meat which can cause an irritating smell after long use and can even be difficult to wash the fats off from the blender. The glass material container cannot easily break, they are always thick and sturdy.
Pitcher Size
When grinding your meat, you need a very large pitcher size.  A large capacity container of nothing less than 48 oz, will enable you to prepare large batches to save time and energy. Considering something that offers a higher capacity of blending food is the right choice.
Warranty
A powerful blender needs to have a long warranty. Having a blender that does much work and can also blend food as hard as meat without a warranty can be term as a fake blender, it will have a short lifespan. In other words, you must not buy any blender that is powerful enough for blending meat and other hard food, if it does not have a warranty, even if it has so many features described on it. Not having a warranty or a low warranty is an indicator of a low-quality blender.
A company that can boldly indicate a long year warranty for its products usually means that the company stands behind its product and the users can expect a long service life. It is always of benefit to the user if the investment made will yield a good return with great service and that is why you need to be sure of a long year warranty before you consider buying a blender.
What Are The Best Ninja Blenders you can choose For Grinding Meat?
As we have mentioned earlier, you can grind meat with a blender if it is a heavy-duty blender and sturdy. After great research, we chose the two best Ninja blenders for grinding meat perfectly.
Ninja 1100W Motor Professional Grade Blender
The blender has a powerful operating capacity of 1100W motor housed in a high-quality casing that can crush your meat within a second. A higher motor power blender is very important for grinding meat.
The blender has a BPA- Free SAN plastic lids, which is dishwasher proof. It has 72 oz. pitcher which can be used to grind more meat at a time and it comes with two single 16-oz cups attached for smaller batches.
It comes with three different speeds that you can choose from depending on how smooth you want it and It has 6 blades assembly that helps to crush the meats in minutes.
This blender is a multipurpose blender that can serve many functions So other than meat, you can use it for preparing your smoothies or any other drinks.
Pros
It is a versatile blender
Powerful operating blender and yet quiet
Crush your meat very fast
It has sturdy and sharp blades that are well built and easy to remove
It is easy to use and clean
Cons
The blades are incredibly sharp
The base of the blender is not durable
It is expensive
Ninja BL642 personal blender
The Ninja BL642 is another highly professional blender, it is a high-performance power machine, and it is perfect for your meat.
It is a 1200-watts or 2 horsepower blender with a durable pitcher of about 72 oz. which can be used to crush any hard food including grinding meat. It comes with additional mixing cups, they are 18oz, 24oz, and 32oz, with sip & seal lids.
The mixing cups can be used for making personal food and smoothies and the giant container can be used to make huge batches of food and suitable for grinding your meat. It has Auto-IQ technology features like time, blending programs, speeds control buttons, and a pulse function. It is super easy to use and easy to clean, all the components are dishwasher safe.
Ninja BL642 is a good blender for making your meat, very easy to use, the components are super strong and will last for a long time.
Pros
Has an Auto-IQ technology feature
A powerful motor of 2 hp and work perfectly for grinding meat perfectly
Has a large pitcher of 72 oz for large batches of food
Has an additional blending cups for making personal drinks or smoothies
Easy to use
Cons
It can be loud especially when blending hard food
A 1-year warranty